September 18, 2011 -
Barry Dorey
NFP Sunday Blitz
Quarterbacks. Who needs em?
That's what a number of NFL teams appear to be saying by keeping fewer of them on their rosters than ever. Fourteen teams are going with only two quarterbacks on their 53-man rosters this year. Three of them, the Jaguars, Raiders and Saints, don't even have a third on their practice squad. The Rams went the first week without a practice squad QB, and then signed Tom Brandstater last week.
The third quarterback has become a roster pawn with the new rule that enables teams to have a 46th player active at any position. One general manager who kept a third indicated that player could be dropped to the practice squad whenever the team needs a roster spot.
In the first week of play, only two teams, the Vikings and Broncos, had three quarterbacks active. If the third quarterback isn't going to be active, the only reason to keep him on the 53 is to protect him from other teams.
The Seahawks prefer to keep only two quarterbacks on their 53, and they even did that last year before the rule change. But this year, they felt compelled to keep Josh Portis as their third. Portis lit up the Chargers defense in the first preseason game, and the Seahawks would have risked losing him if they waived him to put him on their practice squad.
"It's not ideal to keep three," Seattle GM John Schneider said. "I'm not in favor it unless you have a young guy you can't risk losing. The trend clearly is to go with two. When you keep three, your special teams feel it. You probably have to lose a spot to a pure core teamer."
The Chargers tried to sneak Scott Tolzien through waivers to get him on their practice squad, but the 49ers, who had been torched by Tolzien for 229 yards days before in the final preseason game, pounced. Historically, however, not many quarterbacks are lost in this manner. So teams usually feel reasonably secure trying to put a QB on their practice squad.
The problem with keeping three is the third quarterback rarely helps teams win games. "If your first two get hurt, what are your chances of winning?" asks Ravens personnel director Eric DeCosta. "So it doesn't make sense to keep a third just to keep a third. You don't do that at the expense of an eighth offensive lineman or a sixth cornerback if they are players who can help you. It's all about keeping your best players."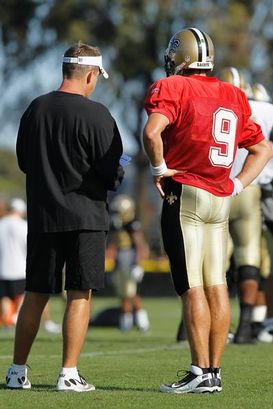 Sean Payton is going with just two quarterbacks on the Saints.
The Saints didn't go into camp set on keeping two quarterbacks. They decided to keep two in part because Drew Brees has been so durable, and in part because they needed the roster spot.
"A lot of it is the confidence you have in your starter, the type of player Drew is," Saints coach Sean Payton said. "More than anything else, it comes down to putting that value on certain other parts of your roster where it might help your kicking game. Maybe it's a second fullback, a fifth safety. We have two kickers on our roster now with [Garrett Hartley's] injury. That kind of hamstrings you a little bit."
The disappearance of third quarterbacks puts a premium on emergency quarterbacks. Players at other position who can play some quarterback like Brad Smith of the Bills and Randall Cobb of the Packers might be more valuable than ever as a result.
What's changing is the amount of preparation time teams spend with their emergency quarterbacks. "We do that at the end of the week just to be able to handle snaps and make sure we are able to finish a game," said Payton, whose emergency quarterback has been wide receiver Lance Moore.
The other factor in all of this is quarterback development gets de-emphasized. Practice squad players are great for working the cards and running the scout team, but they tend to come and go. You can tell the teams that are serious about developing a young quarterback because they keep that young quarterback on their 53.
The Patriots have Ryan Mallett on their 53. The Chiefs kept Ricky Stanzi on the roster. The Eagles wouldn't risk losing Mike Kafka.
Ultimately, de-emphasizing third quarterbacks should benefit NFL teams in the short run. How it will affect them in the long run remains to be seen.
Things I Didn't Used To Know
*David Garrard and the 49ers could end up a good match. And it's one the 49ers have given some thought to. The problem is how Garrard would fit in with the team while learning the offense. He could be viewed as a potential replacement for Alex Smith in the second half of the season if Smith falters. But in the meantime, he would take away valuable practice reps form Colin Kaepernick, and signing him likely would force the team to part with Scott Tolzien.
*Ndamukong Suh has overshadowed Gerald McCoy repeatedly, but it's not because lack of effort on McCoy's part. McCoy, in fact, worked hard in the offseason to make up ground between Suh, who was taken by the Lions one pick ahead of him in the 2010 draft. The Bucs DT didn't lose any weight, but he lost about six pounds of body fat and replaced it with lean muscle mass. His body fat dropped from 23 to 18 percent, and he's holding steady near 300 pounds. McCoy also worked hard to rehabilitate his torn biceps and has tried to improve his hand usage and technique by working with Bucs new defensive line coach Keith Millard.
*Lofa Tatupu is not out of football because no team has wanted him. The former Seahawks middle linebacker has turned down some opportunities and is waiting for the right situation. He stands out among players who are unsigned. Look for him to sign soon.
*It was no surprise to Ravens coaches when fifth round draft pick Pernell McPhee flashed in the team's opener against the Steelers. McPhee, who had a fumble recovery, has been making plays all through camp and has become a favorite of new defensive coordinator Chuck Pagano. The interesting thing about McPhee is that he might be a better fit in a four man front, but he is such an instinctive football player that he can probably make plays in any system.
*Rich McKay, who recently was promoted to president/CEO of the Falcons, will earn his money this year because his team has six significant contributors with expiring contracts. Scheduled to become free agents are offensive tackle Sam Baker, defensive end Kroy Biermann, safety Thomas DeCoud, wide receiver Harry Douglas, cornerback Brent Grimes and middle linebacker Curtis Lofton. It's likely the team will try to lock up most of them before they hit the open market next March.
My Sunday Best: QBs On The Street
With fewer and fewer teams carrying three quarterbacks, there should be better available quarterbacks who are unattached. But if you take Carson Palmer, Marc Bulger, Chad Pennington and Brett Favre out of the mix, the pickings still are mighty slim. When teams go shopping for quarterbacks, the best place to look now is on other team's practice squads. Here are my best available quarterbacks who are not on practice squads.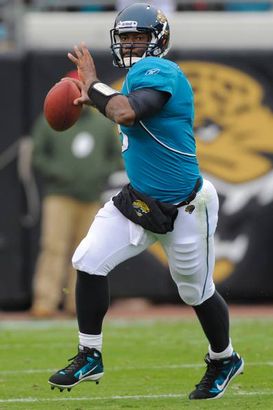 The line forms on the right for David Garrard.
1. David Garrard. He clearly is the most talented quarterback on the market, an aberration of a free agent. He is as good or better than a number of starters in the league.
2. Kellen Clemens. This former second round pick never had a chance in the two-man race that was the Redskins quarterback competition.
3. Trent Edwards. He was a starting quarterback a year ago for the Bills, but has bounced around with the Jaguars and Raiders since. His fate in Oakland this summer probably was sealed when the team took Terrelle Pryor in the supplemental draft, but he has some ability.
4. Dan Orlovsky. If Peyton Manning were healthy, Orlovsky still could be in Indianapolis because the Colts likely would not have signed Kerry Collins.
5. Jake Delhomme. The 36-year old wasn't with a team this summer, but he has enough gas left in the tank to get a team through a short stretch of games. He isn't going to be every coach's cup of tea, but he'll do just fine for a West Coast offense team.
6. Brodie Croyle. He was in camp with the Cardinals this year after five nondescript years with the Chiefs. Croyle is savvy enough to learn an offense quickly.
7. Josh McCown. This well-traveled veteran didn't last a month with the 49ers this summer, and played in the UFL last year. Maybe his stock will get a boost if brother Luke gets the job done in Jacksonville.
8. Dan LeFevour. The Bengals chose to sign Zac Robinson to their practice squad instead of keeping LeFevour. Even though LeFevour has never played in a regular season game, the youngster has some promise and likely will resurface. But he remains a developmental prospect, as opposed to a player who can offer much immediate relief.
9. Troy Smith. The former Heisman winner is playing for Omaha in the UFL, and might be better suited for that league.
10. Brian Brohm. He is trying to show what he can do in the UFL for the Las Vegas Locomotives. Maybe Jim Fassel can revive his career.
Scout Talk: Quarterback Draft Prospects
This is how the quarterback draft class is shaping up early in the college season, based on conversation with NFL talent evaluators. Included at the top of the list are three underclassman who likely to enter the draft.
1. Andrew Luck, Stanford, 6-4, 235. He is considered in the Peyton Manning-John Elway-Troy Aikman range by many. Some have better arm strength, some have more athleticism, but the total package with Luck is very impressive. Luck has top intangibles, too. This is one year every team would like to have the first pick in the draft.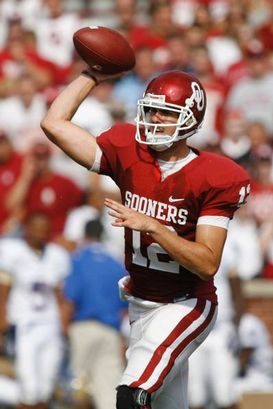 ICONIs Landry Jones the next Sam Bradford?
2. Landry Jones, Oklahoma, 6-3, 220. He has a better arm than the quarterback he replaced, Sam Bradford, but isn't as athletic or accurate. The arm talent is intoxicating, as Jones can spread a field with his cannon. He also can get out of trouble and extend plays.
3. Ryan Tannehill, Texas A&M, 6-4, 222. He is a little bit of a wild card because he is new to the quarterback position and still has a lot to learn. He has very good athleticism and can make plays with his feet. His mechanics are a little awkward, but he has nice touch on his passes. Tannehill seems to find ways to win. He could rise as the year goes on. Comparable to Colin Kaepernick.
4. Matt Barkley, Southern Cal, 6-2, 230. He is kind of a self-made quarterback—an average athlete by NFL standards whose movement skills aren't great. He throws a decent ball and is pretty accurate. He understands progressions and reads, and throws with anticipation well.
5. Nick Foles, Arizona, 6-5, 240. The talent won't overwhelm you, but he has more athleticism than he sometimes shows in that system. Foles gets rid of the ball quickly and has enough arm strength. He's a little like Matt Schaub.
6. Brandon Weeden, Oklahoma State, 6-4, 218. He does some nice things with his strong arm, including having a quick delivery, sound mechanics and consistent accuracy. He has a good feel for pressure. His decision making could improve. The fact that he is 27-years old will drop his stock a bit.
7. Kellen Moore, Boise State, 6-0, 195. If he were bigger, he'd be a slam dunk first rounder. Moore has enough arm strength. He makes good decisions, moves well within the pocket and has a flair for making plays. He is just not as big as scouts want NFL quarterbacks to be. Wes Bunting has an interesting take on Moore here.
8. Ryan Lindley, San Diego State, 6-4, 223. His arm will interest a lot of teams. He can make difficult throws, and has a lot of confidence in his passes. Lindley sometimes has too much confidence and is prone to some interceptions. He is mostly a pocket quarterback.
9. Kirk Cousins, Michigan State, 6-3, 205. He is an accurate passer with an above average arm. He has enough athleticism to avoid pressure and extend the play. He anticipates well. Cousins may be a good NFL backup.
10. Chandler Harnish, Northern Illinois, 6-2, 221. This athletic quarterback has been highly productive. Harnish makes good decisions. His accuracy is inconsistent. He throws better on the move than from the pocket.
One Man Yelp: Muscle & Fitness, iPad Tablet Portfolio
*Muscle & Fitness' annual NFL training issue is out with some interesting features. Among the inclusions on the magazine's all strength team were Broncos quarterback Tim Tebow, former Cowboy and current Ravens center Andre Gurode, and truck pulling Browns running back Peyton Hillis. Some worthwhile nuggets: 0.2 percent of high school football players make it to the NFL and 2.4 percent of D-1 college players are drafted; 1,600 pounds of force are exerted by a 200-pound defensive back running at top speed; and a six week combine prep course at Athletes' Performance in Phoenix will run you $12 grand.
The magazine offers a six-week training program to prepare athletes for the types of drills athletes are given at the NFL scouting combine. This one is free. And even if a combine type event is only in your dreams, it's an interesting read.
The cover story on Green Bay's Clay Matthews takes us inside his offseason workout program, and inside Matthews' head. Hint: there is a reason he works out as hard as he does.
Jets nutritionist Tom Bilella offers his advice on a diet for maximum performance, with emphasis on timing of meals and maintaining carb/protein/fat/ratio. If you are looking forward to a deep dish pizza tonight, you might want to skip this one.
Also, good stories on Herschel Walker still hitting it at the age of 49, and the secret behind Thomas Jones' bulging guns. his body didn't seem big enough to take that kind of beating. Jones believes his arms are critical to him as a running back because they help him hold onto the football and absorb punishment as a pass protector. The 12-year vet hardly works his biceps directly though. He works on his back and fatigues it so much that his biceps are recruited into the exercises. He also revealed he still goes heavy (400 pound bench) for upper body, but goes lighter for lower body to save wear and tear. That's an interesting concept.

*I've been getting some questions around NFL teams about my new Tablet Portfolio for my iPad2. It's another tool to help make the iPad functional, with slots for papers, cards and a pen holder, and it's much more sophisticated than the case Apple sells. It allows me to take my Ipad into the field and use it for interviews and information gathering.
One NFL coach who made note of it talked about getting iPads for his players, but said his one concern is having players goof off with their iPads during meetings. Instead of watching game tape or studying plays, they could be reading emails, playing games or downloading music. Interesting take.
You can get a better look at the Tablet Portfolio at brookstone.com.
*I highly recommend giving this Baltimore Sun story on O.J. Brigance a read. The former linebacker and current front office man who is battling ALS is an absolute inspiration.
Hot Reads
*New analysis by NFL Management Council shows the average NFL career now will last 6.86 years. Previously, it had been thought the average career was about three years. Of course, if you take Brett Favre out of the math, the average career still is three years.
*Ten grand can be a small price to pay for measured revenge, isn't that so Charles Woodson?
*Nothing wrong with a good chop block. As long as it's your knees and not mine, that is.
*There is no truth to the rumor that the Raiders, Chargers and Chiefs are funding this billboard.
*It wasn't beer Tom Brady was talking about. It wasn't water. It was Patriots Kool-Aid.
Dan Pompei covers pro football for the Chicago Tribune.