January 05, 2014 -
Dan Pompei
NFP Sunday Blitz
Less than a week into the NFL's annual firing-and-hiring cycle (forget that the Houston Texans got a jump on things, canning Gary Kubiak nearly a month ago, since the real purge-and-splurge doesn't begin in earnest until the season ends), and the momentum may be swinging back, ever so slightly, toward the old days.
With two of the half-dozen vacancies filled, the hiring scoreboard shows a 1-1 tie between the new guys (Bill O'Brien of Houston) and the old ones (Tampa Bay and Lovie Smith). On face, that's not as insignificant as it might seem. The league has skewed dramatically toward fresh faces and new ideas, as owners try to attract a younger demographic, and the result has been a divergence from the long-held practice of bringing back "retreads" for second and even third chances.
Case in point: At the outset of the 2013 season, only seven of the league's 32 sideline bosses had the entry "previous NFL head coach" on their resumes. One of them, the vastly overrated (at least without John Elway around) Mike Shanahan, was fired. Of the other six, half of them have their teams as No. 1 or No. 2 playoffs seeds. John Fox, in his second incarnation, owns the top seed in the AFC. The best record in the NFC belongs to Seattle, coached by Pete Carroll, in his third go-round. Bill Belichick's New England Patriots are second-seeded in the AFC.
It hasn't exactly gone ignored that, after winning only two games a year ago, Kansas City rattled off a 9-0 start and finished with an 11-5 mark under Andy Reid, in his first season after a14-year tenure in Philadelphia. "Retreads" are still more popular in tire stores than with league owners, and recycling remains the domain of tree-huggers and not the guys who sign NFL paychecks, but the successes of former coaches who were brought back for encores isn't unnoticed, either.
Said one veteran Chiefs' defender: "We've mostly had veteran guys here and it seemed to work better than when we had (Todd) Haley. I don't know why. They just sort of know their way around, you know. There's no breaking in period. There isn't a big adjustment. They may be new (to the franchise) but they know the landscape. Andy came in here and it was like he just picked up where he left off in Philly."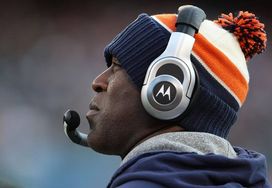 During his nine years in Chicago, Lovie Smith won 10 or more games four times.
And so, it seems, experience counts for something. Even if owners the last few years could have included "experienced need not apply" on the want-ads when seeking to make a coaching change.
Certainly the quick successes and speed turnarounds the last several seasons by first-timers helped to fuel a "fresher is better" mindset. It didn't hurt that four of the past six Super Bowl champions were led by first-time coaches, with Tom Coughlin the lone interloper. But with the quick hiring of Smith in Tampa Bay – and the sense that the Glazer family desperately placed a premium on experience (the only other "candidate" is said to have been Jon Gruden, who was not interested) after the failed experiments with Raheem Morris and Greg Schiano), momentum may be changing just a little.
Owners tend to be inveterate copycats and, if the new-coach approach remains the prevailing trend, they aren't just going to ignore, either, the turnarounds enacted by experienced coaches like Reid. Nor will some players. Peyton Manning, poised to win a fifth most valuable player award after his record-setting season, allowed last season that Fox's presence was "a factor" in his decision to sign with the Broncos when he was a free agent.
Former Arizona coach Ken Whisenhunt, currently San Diego offensive coordinator, seems to be in demand. In fact, some feel that "Wiz" is the top candidate in Detroit, where general manager Martin Mayhew is a onetime NFL teammate. Jim Caldwell, who had the unenviable task of following Tony Dungy in Indianapolis, is also on the "short lists" of a team or two. New England offensive coordinator Josh McDaniels, who was head coach in Denver for two seasons (2009-2010) before Fox, is one of the favorites for the Cleveland vacancy. There were even whispers to NFP from one franchise executive that, on the heels of a report that Jim Mora of UCLA could be a candidate in Texas, his owner asked about the onetime Atlanta and Seattle coach.
There are, as well, several longtime coordinators who will merit interviews. Almost as many as candidates with no prior league experience.
OK, so it's not quite a groundswell for returning to the "good ol' boys" network once so prevalent in the league. But just the return alone of Smith, who also interviewed for the Houston opening, suggests at least a small dent in the recent mindset that saw owners become infatuated with newcomers.
Over the past three hiring cycles, just four of 20 head coach openings went to men with previous NFL experience. Not since the 2010 cycle – when Carroll, Shanahan and Chan Gailey in Buffalo filled all of the vacant slots – have there been more than two experienced coaches hired. In the last 10 seasons, only about one-third (18 of 53) jobs were filled by experienced coaches. There certainly seems a chance this year that Smith won't be the only experienced coach to find a job.
That doesn't represent a wholesale change in the thinking – and, it seems, supply will outdistance demand for a while longer – but the pendulum may at least have been nudged a bit.
+AROUND THE LEAGUE
*Sources suggested to NFP this week that one of the reasons the Minnesota Vikings officials have demonstrated such interest in experienced coaches with offensive backgrounds (Caldwell and Whisenhunt), besides the preference for a guy who can fix the team's quarterback situation, is the belief that the club needs to emphasize wide receiver Cordarrelle Patterson even more in 2014. The club's first-round pick in 2013, Patterson was a scintillating performer at times, in just about every way possible. The former University of Tennessee standout registered four receiving touchdowns, but also added three scores on the ground, and two more on kickoff returns.
Patterson led the league in kickoff runbacks, with a 32.4-yard average. His 10 runbacks of 40 yards or more also led the NFL. But he also averaged just 10.4 yards per reception, on 45 catches, and Minnesota executives feel the numbers can be dramatically improved in his second season. Not simply with better, more consistent play at quarterback, but also with a design that emphasizes Patterson more and takes advantage of his enormous play-making talents. The club will interview defensive-oriented candidates as well (like Dan Quinn, Todd Bowles, Ray Horton and possibly Mike Zimmer), but seem to be leaning toward a coach with more offensive expertise. That could bode well for Whisenhunt or Caldwell, or for current coordinators such as Darrell Bevell (Seattle) or Jay Gruden (Cincinnati).
*Patterson was one of the two underclass wide receivers chosen in the first round in 2013, but that number will be dwarfed in 2014, with non-senior pass catchers such as Sammy Watkins (Clemson), Mi ke Evans (Texas A&M), Marqise Lee (USC), Allen Robinson (Penn State), Kelvin Benjamin (Florida State) and Brandin Cooks (Oregon State), among others, having either declared for the draft or expected to be in the talent pool. Vanderbilt standout Jordan Matthews, who could still sneak into the first round but is likely a second-day prospect, figures to be an outlier – a senior wide receiver projected in the first three rounds. Despite a lack of first-year numbers historically, all but four of the 18 receivers chosen in the first round over the past five drafts were underclassman.
In 2009, all six first-round wideouts were non-senior prospects and that could be the case again in 2014. A guy like Pitt's Devin Street, who is one of the top four or five seniors at the position and was highly regarded before the season began has "fallen into the middle rounds now," one area scout said. Noted the scout: "There might not necessarily be immediate impact, because the guy like (A.J.) Green and Julio (Jones) are still rare. But if you look at most of the underclass (receivers), they end up as players in their second or third years and that's enough (to make them first-rounders)."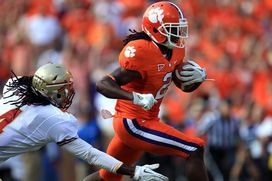 Watkins took a big step forward both on and off the field in 2013.
*Speaking of Watkins, who was exceptional in Friday's Orange Bowl victory over Ohio State, with an incredible 16 catches for 227 yards and two scores, scouts have noted that the Clemson standout is not only a more complete player on the field but also significantly more mature off it. On the league's radar screen since his debut in 2011, Watkins has developed his route repertoire and the Clemson offense has made him more than just a short and intermediate receiver. The Tigers still throw the ball sideways to Watkins a lot – a ton of screens designed to get the ball into his hands and take advantage of his explosiveness and running skills – but emphasized "verticals" more in 2013. It's paid off for Clemson and Watkins, who now could be a top five choice in May. The other notable element is that Watkins has grown up a lot the past year, after a 2012 marked by problems on and off the field. He was arrested on drug charges, suspended two games, saw then-teammate DeAndre Hophins eclipse him in the offense, struggled to get back to form, and probably was out of shape as well. All of it was motivation for Watkins to work on conditioning and on his study habits, the Clemson coaches said.
*Overshadowed a bit in the "Bear market" of the last couple weeks – with Chicago signing quarterback Jay Cutler, cornerback Tim Jennings, guard Matt Slauson, kicker Robbie Gould and fullback Tony Fiammetta to extensions – was the likelihood that Devin Hester will not return for the 2014 campaign.