October 02, 2011 -
Barry Dorey
NFP Sunday Blitz
Joe Flacco is feeling it. He wants to throw the ball more, and he has lobbied privately and publicly to do so.
And the thing is, it looks like the Ravens' fourth year QB can deliver. He threw for a career-high 389 yards one week ago against the Rams. It will be a little more difficult to do that Sunday against the Jets, but Flacco appears to be more capable than ever.
"There are probably very few quarterbacks in this league who have a higher ceiling than Joe," Ravens offensive coordinator Cam Cameron told me. "He's continuing to improve. He hasn't leveled off in technique, in accuracy or in any area. He just gets better every week. I'm really encouraged."
The perception in some corners of Baltimore is that Flacco has not lived up to the expectations that came with being the 18th pick of the 2008 draft. That's mostly because of how he has performed in big games.
But last week, the 26-year old threw his 1,500th career pass and subsequently broke into the all-time passer rating list. His 88.9 rating puts him 13th on the list. Now, we all know he has not been the 13th best quarterback in history, and the passer rating statistic is misleading. But he's probably been better than he's gotten credit for. And it's all ahead of this 26-year old.
Consider some of the ways he has taken his game to a higher level this year:
*Flacco has gained 10 pounds of muscle. The extra strength is helping him take hits.
*He is playing with more knee flexion. Flacco thought it could help his delivery to play with better bend, and it has been a point of emphasis for him since last season.
*He is being more aggressive with downfield throws. Flacco has a bazooka for an arm. Always has. Now he is taking more chances with it.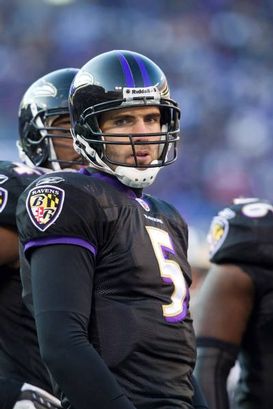 Joe Flacco is playing some of his best football.
Part of that is because he has better down the field weapons. Where he was throwing to Derrick Mason, T.J. Houshmandzadeh and Todd Heap last year, he is throwing to Torrey Smith, Lee Evans, Ed Dickson and Dennis Pitta this year. There is a noticeable difference in the Ravens' offensive speed.
The Ravens offense also is younger, which may be good for Flacco. He's been able to exert himself more. "The longer you play, the more you can play outside yourself and help others," Cameron said. "The last few years he's had to really focus more on what he's had to do. Now he's grown outside of himself."
Giving Flacco more freedom at the line of scrimmage to change plays is another logical step. "The more you can give Joe, the more he can use to his advantage and our advantage," Cameron said. "Joe basically has the green light to some degree to improvise on every play."
The coaching staff's confidence in Flacco has been evident in their willingness to throw. The Ravens have been more of a run first team in the past, but that may be changing. Cameron called for 58 passes against St. Louis, and said he wouldn't mind throwing every down if he believed the Ravens could protect Flacco every down.
Throwing that much against the Jets and Darrelle Revis and Antonio Cromartie would be risky. "At times, you can put it up against them," Cameron said. "We did it last year a lot. Against Revis and Cromartie, there are challenges. But you can't not do it, or they will sit on you all day and make you miserable."
If Flacco can make the Jets miserable, it's going to be impossible not to acknowledge him as one of the best young quarterbacks in football.
Things I Didn't Used To Know
*More than just a few people are puzzled over how the Dolphins are using Reggie Bush. In New Orleans, Bush' primary value was as a pass catcher. He caused matchup problems galore from the slot. But in Miami, he's had only two passes thrown his way the last two games and rarely lined up anywhere other than the backfield. It seems as if the Dolphins acquired Bush to be a blocker, because that's mostly what he's done. It's also interesting that the Dolphins are not disappointed with Bush a bit. I've been told he has been one of the hardest workers they have. In fact, he has worked so hard they have had to tell him to get out of the weight room and save his body for Sunday.
*The Packers have made a radical improvement in their run defense by shifting B.J. Raji and Ryan Pickett in their "Eagle" front. Last year Raji played nose and Pickett played five technique. This year, Pickett has been on the nose and Raji at three technique about 60 percent of the time, he told me. The move was made by defensive coordinator Dom Capers in part to offset the loss of Cullen Jenkins and to allow Raji to use his quickness as a pass rusher. But it's paid off in the run defense as well, as the Packers have gone from allowing 4.7 yards per carry last year (second worst in the NFL) to 3.1 yards per carry this year (fourth best). "It's hard to move us," said Pickett, who together with Raji brings close to 700 pounds of beef to the table. "Plus they never know where we are going to line up because they do a good job of mixing us up."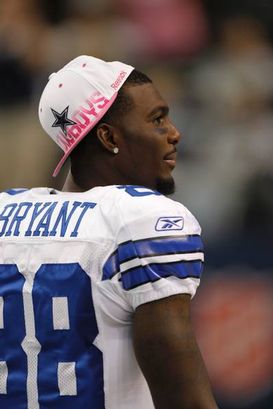 Is Dez Bryant starting to get it?
*Cowboys wide receiver Dez Bryant has become more accountable this year under Jason Garrett. The Cowboys coach has stressed the importance of being on time, paying attention to details and staying on course, and the team believes it is starting to sink in with Bryant. However, Bryant is not where he needs to be yet. He still has had lapses this season, including showing up late to functions, but he has gotten "significantly better," according to a Cowboys source. Cowboys coaches believe Bryant is not a prima donna or a bad apple—rather, they think he is merely immature and na