December 30, 2012 -
Dan Pompei
NFP Sunday Blitz
When John Fox hired Luke Richesson back in February, it was with an eye on this week.
Fox wanted the Broncos to be playing their best football of the regular season right here, right now. But the Broncos would have to reverse a trend to do that. They had lost their last four last year, and, before Fox's arrival, had lost six of their last seven in 2010 and eight of their last 10 in 2009.
How could Richesson stop the late season slides? By changing the way the Broncos trained.
And so he did. The first step was remodeling the weight room and a cost of approximately $500,000. The old equipment was donated to local organizations and several local high schools, including Eaton High School in Colorado, where Broncos defensive tackle Mitch Unrein attended.
Out went the old school racks, barbells and benches. In came pneumatic machines, cables, vibrating platforms and devices Arnold Schwarzenegger probably never would recognize.
"He's really got out in front of everything, which I'm excited about," Broncos executive VP John Elway said. "It's not that old mentality of throwing 300 pounds on the bench. We're still dong some of that stuff, but not nearly to the extent we used to. He tests players to tell where you are weak and he attacks those areas."
Richesson is a progressive thinker who many NFL players are familiar with. During his eight years at Athletes' Performance in Tempe, he trained more than 250 players in the pre-draft process, including 52 first rounders. He also trained many veterans in the offseason. He left Athletes' Performance in 2009 to work for the Jaguars, where he implemented a similar program.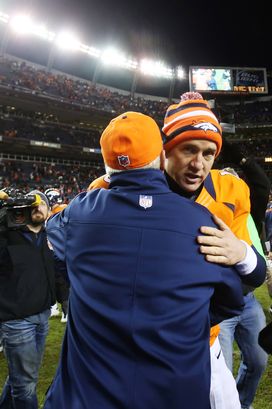 John Fox and Peyton Manning have been celebrating a lot lately, and it's no accident.
"This type of thing was different from old school NFL," Fox told me. "It was more new wave, new science, not loading up the joints, lot of flexibility training. I think our sport was a little bit behind in this area."
Richesson does things differently from a lot of his peers. He has three strength assistants, which is two more than most teams have. When other teams are enjoying "Victory Mondays," the Broncos are training under Richesson's supervision. "I think that has helped us endure," Fox said.
Richesson has integrated mixed martial arts principles into workouts. He has the players go through a 30 minute, light portion of practice before starting stretches. And he has each player tracked with an individual heart rate monitor.
Richesson believes proper training and nutrition may be more important to the Broncos than other teams. "I think it's clear, the research is clear, it's more difficult to consistently maintain maximum performance, maximum output at altitude," Richesson said in a story by Jeff Legwold in the Denver Post. "There's the build-up of [carbon dioxide] when you train that your body has to deal with, and we have less oxygen. So, to that end we have to make sure everything else in the program is in order. Even the simple things like meals, sleep, what we eat, take on greater importance."
Not everyone agrees with Richesson's approach. The argument against these new age workouts is they fail to build power the way traditional, Olympic style lifts do. "I'm kind of mixed on that," Fox said. "When you lift you are tightening your muscles and losing flexibility. Some of the most impressive physical guys I've ever coached—Bo Jackson, Herschel Walker, Junior Seau—they weren't huge lifters. They did a lot of body weight stuff and were just naturally strong. You look at boxers, they don't lift a lot of weights. They box. For some reason, in football for years, you had to bench press this, squat that. I think we are moving away from that."
If the Broncos are an indicator of how this style of training impacts a team, expect others to follow their lead.
The Broncos appear to be peaking, having won 10 straight. Their starters have missed 60 games due to injuries, but if you take out the early season ending injuries of Jason Hunter, J.D. Walton and Ty Warren, starters have missed only 20 games with injuries. None of the injuries to starters were muscle pulls. Fullback Chris Gronkowski recently said this was the healthiest team he has been on.
"I think our guys our fresh now," Fox said. "I like where our team is."
They didn't get to where they are the same way some of the great Broncos teams of yore did. But that's probably a good thing.
"There was a time you couldn't take your helmet off or drink water because they were signs of weakness," Fox said. "Things change."
And things have changed for the better in Denver.
Things I Didn't Used To Know
*People around the NFL who know are convinced Jon Gruden is coming back to coaching this year, provided the right situation presents itself. I've been told Gruden feels he needs to come back now if he's ever going to do it. He already has been away from the game for four years, and it becomes increasingly difficult for a coach to return the longer he is away. The right situation for Gruden very well could be in Philadelphia. People close to him think he has a good chance of landing there.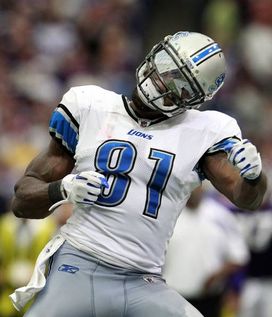 A good portion of Calvin Johnson's yards have come when the Lions are losing.
*Lions coach Jim Schwartz believes Calvin Johnson is not getting a lot of "meaningless yards," to use a Gruden term, but the numbers paint a different picture. Megatron has caught more passes (36, or 31 percent) for more yards (627, or 33 percent) in the fourth quarter than in any other, according to STATS. Johnson has caught only 11 passes for 185 yards when the Lions are within seven points of their opponent in the fourth quarter. Sixty three percent of Johnson's yards have come when the Lions are losing. And 41 percent of his catches and yards have come when the Lions are down by eight points or more. Here is more on this topic from Bill Barnwell.
*The Panthers credit Charles Johnson for helping Greg Hardy and other pass rushers get to the quarterback. Carolina coaches say the defensive end has seen a fair amount of chipping and doubling, and offenses and forced him to align wider. Through it all, Johnson, who has 10.5 sacks, has raised his level of play. Others have noticed Johnson sitting closer to defensive line coach Eric Washington in meetings and asking more questions. He also has been more focused in walk-throughs and practices, and has been more vocal to the point of even challenging teammates.
My Sunday Best: Non Pro Bowlers
You could put together a team of players who missed the initial Pro Bowl cut that could win a lot of games in the NFL. Here are my best non Pro Bowl players from 2012.
Quarterback--Russell Wilson, Seahawks. He should have been behind Aaron Rodgers, Matt Ryan and RGIII in NFC voting, and he was. But the little rookie played more efficient football than the large majority of quarterbacks in the NFL.
Running back--Alfred Morris, Redskins. Okay, so he benefits a little from playing with RGIII. Morris still has been very productive and consistent this season. He goes into Week 17 with more rushing yards than all but three players.
Fullback--Michael Robinson, Seahawks. You would find few quarrels with the selections of Jerome Felton and Vontae Leach. But next in line would be Robinson and Bruce Miller of the 49ers. Robinson is a big part of Marshawn Lynch's success.
Tight end--Greg Olson, Panthers. He had a career year as a receiver and was a big part of the Panthers' late season resurgence. Coach Ron Rivera testifies that Olson is more than just a receiver and says he is high on his ability as a blocker. Honorable mention to Jermaine Gresham of the Bengals.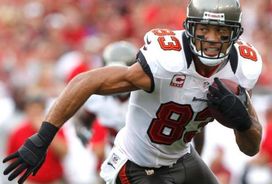 Vincent Jackson was a fine pickup for the Bucs.
Wide receivers--Vincent Jackson, Bucs, and Demaryius Thomas, Broncos. Jackson averaged 19.3 yards per catch with his new team. Thomas figured out Peyton Manning pretty quickly and played better than ever. He also was a fine big play threat. Roddy White of Atlanta also should be in the discussion.
Offensive tackles—Matt Kalil, Vikings, and Tyson Clabo, Falcons. In his first year, Kalil played with the consistency of a Pro Bowl veteran. Clabo easily was the best right tackle in the league. Another tackle worth mentioning is Andrew Whitworth of the Bengals. Despite the pub Andre Smith has gotten, Whitworth remains the Bengals' best blocker.
Guards--Alex Boone, 49ers, and Evan Mathis, Eagles. The 49ers entire offensive line could have made the Pro Bowl. It was easy to overlook Mathis given the Eagle's offensive problems. Another consideration is Josh Sitton of the Packers.
Center--John Sullivan, Vikings. Mike Pouncey of the Dolphins is more talented and nearly as deserving, but Sullivan did great work anchoring the line that cleared the path for Adrian Peterson and helping young Christian Ponder with protections.
Defensive ends--Calais Campbell, Cardinals and John Abraham, Falcons. Campbell is a lesser version of J.J. Watt. It's hard for 3-4 defensive ends to get much notice, but Campbell has earned some. Where would the Falcons be without Abraham's pass rush, which has yielded 10 sacks and six forced fumbles?
Defensive tackles--Ndamukong Suh, Lions, and Nick Fairley, Lions. Suh probably was the best two-way tackle in the NFL this season, but he only seems to get noticed for the wrong reasons. Fairley came on strong in his second year but is missing the last three games with a shoulder injury. He and Suh worked exceptionally well together.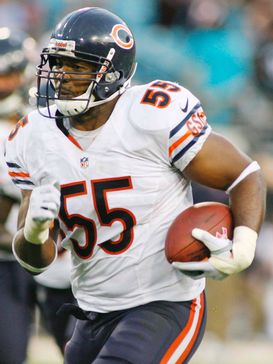 US PRESSWIRELance Briggs had made a lot of plays this year.
Outside linebackers--Lance Briggs, Bears and Sean Weatherspoon, Falcons. Briggs has played in seven straight Pro Bowls and might have never had a better season than this one. Weatherspoon probably is the best defender on the team that has the best record in football. It's easy to overlook both, as well as every out outside linebacker in a 4-3, because they don't have double digit sacks. But Briggs and Weatherspoon played as well as anyone in the context of their schemes. Strong cases also could be made for Chiefs pass rushing outside linebacker Justin Houston and Broncos 4-3 man Wesley Woodyard.
Inside linebacker--Daryl Washington, Cardinals. I thought he would make the team because of his nine sacks. Washington is a great blitzer, but his fine play goes beyond getting after the quarterback. He plays the run exceptionally well, both in terms of recognition and in terms of getting to the ball carrier.
Safeties--Eric Weddle, Chargers and Reshad Jones, Dolphins. Tough to leave Jairus Byrd of the Bills off this list. All three safeties played as well as any safety in the NFL. All were easy to overlook because they didn't play on very good teams.
Cornerbacks--Richard Sherman, Seahawks, and Antoine Winfield, Vikings. Sherman doesn't have the elite man cover skills of the very best cornerbacks, but he was as effective as any corner in the league this year. And he made big plays—seven picks, three forced fumbles. Winfield, a three time Pro Bowler, told me he thought this was the second best season of his 14-year career.
Kicker—Sebastian Janikowski, Raiders. The Raiders don't have a single Pro Bowl rep, but Janikowski certainly is worthy. He missed only three field goal attempts all year, and all were over 50 yards.
Punter—Bryan Anger, Jaguars. He got a lot of work because of the Jaguars' offensive problems, and his net average was an impressive 42.4. Others in the mix were Andy Lee of San Francisco and Dave Zastudil of Arizona.
Hot Reads
*A lot will be decided in the NFL Sunday. A lot more will be decided Monday, as Don Banks explains so well here.
*The Bills needed fans to help shovel snow from Ralph Wilson Stadium on Friday. And all are welcome to come back Monday to pack up and move out boxes.
*Lomas Brown should not be remembered for one foolish play. He should be remembered for hundreds of outstanding plays. He was a really fine offensive tackle and a class act for 99.9 percent of his career.
*Move over Otto Graham, Johnny Unitas, Joe Montana, John Elway, Dan Marino, Peyton Manning and Tom Brady. Here comes RGIII.
*I love Mike Westhoff's idea to be a media expert on special teams. That's the kind of outside the box thinking that made him a great coach. Hopefully, some media outlet will have the foresight to hire him.
*There probably are a lot of things Warren Sapp could teach Ndamukong Suh, like how to cheap shot an opponent who is looking the other way on an interception return, for instance.
*Anyone who is in favor of an 18-game season should try to make the argument for one right now, when virtually every roster in the league is a shell of what it was intended to be.
*So nice to see you again, Chuck Pagano.
Dan Pompei covers pro football for the Chicago Tribune at chicagotribune.com