June 09, 2013 -
Dan Pompei
NFP Sunday Blitz
If the first round of the draft is the time to try to get a can't-miss player, and the second round is the chance to get a solid starter, the third round is the time to blow on those dice.
Taking a risk makes sense in the third round. Many times, players are available in the third round who have first-round ability. But they have some hickey -- perhaps it's character, medical or inconsistency -- that has influenced teams to exercise caution. The value of a third-round pick is such that teams are willing to gamble with them where they would not be so willing with earlier selections.
This year there were several such talented but flawed players who went in round three. They included Travis Kelce (he was suspended for an entire season and brings character concerns) and Knile Davis (durability issues and he had eight fumbles last season) by the Chiefs, Tyrann Mathieu (multiple failed drug tests) by the Cardinals, Damontre Moore (interviewed poorly according to multiple teams) by the Giants, Brennan Williams (personality concerned some teams) and Sam Montgomery (personality also was an issue) by the Texans and Zaviar Gooden (very inconsistent performer whose workouts were off the charts) by the Titans.
Chiefs general manager John Dorsey acknowledges it sometimes makes more sense to take more risk in the third round than it does in previous rounds. But he still doesn't feel comfortable gambling too much.
"I like to err on the side of being conservative," he told me. "But sometimes it's hard to pass up a really talented player. You can work with certain things. Sometimes when you are 2-14 you have to do something like that to get jump started. And when you have a head coach like Andy Reid who is a very strong leader of men, who can guide men in the right direction, you can do that."
Texans general manager Rick Smith understands the theory of taking a shot in the third round. But he won't minimize the value of the third-round pick. "In the third round you see teams take guys who have the potential to be really good players but there is something that doesn't allow you to say, 'He's a second rounder,' that you know can be an impact player pretty quickly," Smith told me. "The third round is the part of the draft where he could potentially develop into a really, really good player. He may have some holes, but there is something about him that leads you to believe you might get a steal."
Smith didn't see Houston's choices of Williams and Montgomery as being very risky. "There were varying opinions on their personalities, but you see tremendous potential athletically in both of them," he said.
Smith is excited about Williams, the son of former NFL player Brent Williams, lining up at right tackle for the Texans. "When you started the scouting process, you heard that he was different," he said. "But when you started to dig in and assess what was going on, you found out pretty quickly there was nothing to it. He's a competitive guy, wants to be good. He has a great NFL pedigree. And he's a big, good looking athlete."
He has a similar take on Montgomery, who will play outside linebacker for the Texans. "We have no reason to believe he can't fit into the larger scheme of the team and not be a distraction," Smith said. "From that standpoint we felt comfortable with him. He is a guy who we think has tremendous upside from a pass rush standpoint. He's a powerful guy and he can do some things athletically that we were attracted to. In our dealings with him, there was nothing that we felt would prohibit us from adding him to our team."
Some teams wanted nothing to do with Kelce, but Dorsey got to know him and subsequently his comfort level with him grew. "We sat with him in the combine interview, then I went on my own and talked to him on the side at the combine at various points during the week," he said. "In my own little way, I kind of got to know him over time. I feel very comfortable with the kid. I think he likes football. I think he wants to be a good football player. I think he respects the game. He just needs to understand talent alone doesn't get you success in this league. You have to do the little things. I think Anthony Fasano is a good leader and role model for him."
As for Davis, Dorsey acknowledges the fumbles were a concern. So before the draft, he spoke with three or four running back gurus who told him they thought Davis' ball security problems were correctable. One of them was Chiefs running backs coach Eric Bieniemy.
"Eric liked the kid a lot, felt very confident in him," Dorsey said. "I have a lot of trust in Eric, how he motivates men, his teaching."
And Davis is an unusual talent. He came into 2012 as the top-ranked running back by many. "We're just in shorts now, but he looks fast and explosive," Dorsey said. "Holy crap, can he run."
If Davis overcomes his issues, he can be a very good NFL player. If not, he will fall by the wayside. In a lot of ways, the third round was the perfect spot for him to be picked.
My Sunday Best: Third Round Picks
Some of the all-time great NFL players have come from the third round. Among them are Joe Montana, Dan Fouts, Fran Tarkenton, Jackie Slater, Art Shell and Curtis Martin, Hall of Famers all. It is the perfect round to take a shot on a player who has great upside but might not be a completely safe pick. Here are my Sunday best third-round picks who played last season in the NFL.
Ronde Barber—A classic third round home run. He was too small and slow to be considered an early pick, but Barber had the instincts and toughness to be a perfect cornerback in the Tampa 2 scheme. He went to five Pro Bowls and lasted 16 seasons for the Bucs before deciding to retire this offseason.
Navorro Bowman—At one point he was considered a potential first-round pick but then he missed some time as a senior at Penn State and ran a disappointing 4.70 at the combine. He turned out to be an excellent value for the 49ers, who didn't pick him until the 27th selection of the round, 91st overall.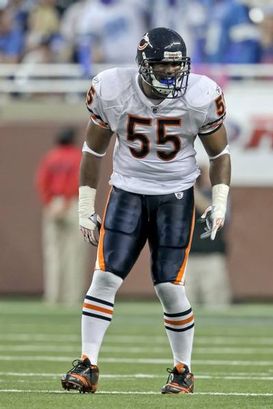 ICONLance Briggs
Lance Briggs—His talent was obvious, but teams were scared of him because he ran a 4.75 and had a reputation as somewhat of a nonconformist. But he has been one of the best 4-3 outside linebackers of a generation and a seven-time Pro Bowler for the Bears.
Darnell Dockett—His character scared teams. I looked back at my notes from 2004 when he was coming out. One personnel man told me this about Dockett: "He is a first0-round talent, but he has a free agent head." The Cardinals took a chance on him, nabbing him with the first pick of the third round. Three Pro Bowls later, they sure are glad they did.
Frank Gore—Teams were concerned about his ability to stay healthy and play with speed and power after he had two ACL injuries. The 49ers' pick of Marcus Lattimore in the fourth round this year is a little reminiscent of Gore's selection with the first pick of the 2005 third round.
Jimmy Graham—Scouts loved his upside, but couldn't make a strong case to take him too high. Graham was a college basketball player who turned to football as a senior. He caught 17 passes at Miami before the Saints took a wise gamble on him with the 31st pick of the third round in 2010.
Adrian Wilson—This five-time Pro Bowler had all of the qualities to be chosen higher in the draft than the second pick of the third round in 2001. But the Cardinals are g lad he made it that far.
Steve Smith—At 5-9, he was considered too short to be a first or second round pick in 2001. The fact that he has been to five Pro Bowls for the Panthers might have helped Tavon Austin be a first-round pick this year.
Russell Wilson—He had all of the qualities of a first-round quarterback except height. So the 5-10 Wilson fell to the Seahawks with the 75th pick of the draft.
Jason Witten—Scouts I spoke with predraft in 2001 thought Witten could be a late first round or early second-round pick. They said he didn't have special athleticism, but he had a nice package of skills. He also clearly had a desire to be great, and that has helped him become an eight-time Pro Bowler in Dallas. Dallas Clark, Bennie Joppru and L.J. Smith were taken ahead of him, and Witten clearly has been the best pro.
Honorable mention goes to Jamaal Charles, Evan Mathis, Matt Schaub, Mike Wallace, Ladarius Webb and Marshal Yanda.
Things I Didn't Used to Know
*Deacon Jones, maybe the greatest pass rusher of all-time, used to have a little help in defeating blockers, according to one who knew him well. Former Bears offensive lineman Bob Wetoska recently recalled how Jones' trademark head slap was especially hurtful. "He'd wrap his forearm with a couple of tin cans he'd cut in half," Wetoska said. "His first move was to the side of your head. When you moved offside, he'd give a vicious forearm to the side of your head. If you ever moved offside in those days, they would go right for your head. You couldn't do anything about it. And the helmets in those days weren't that great. We never had suspension helmets, just the foam helmets." Jones passed away last week, leaving many -- except perhaps blockers like Wetoska -- with fond recollections.
*Bucs coach Greg Schiano thinks Darrelle Revis is the best cornerback he has evaluated in 25 years. He referenced Aeneas Williams and Deion Sanders as others who were highly impressive because of their coverage skills. "Darrelle is all of those things," Schiano said. "He's big, physical, a cover guy, he'll tackle you. And he works his rear end off. His passion for preparation is something I love." He said Revis will afford the Bucs the opportunity to take a receiver out of a game and play 10 on 10 -- not every snap, but some of the time. "That allows you to do some things," he said.
*The Redskins like ball skills in their defensive backs. They really like ball skills in their defensive backs. Cornerback Dave Amerson, whom they chose in the second round, had 18 college interceptions. And safety Bacarri Rambo, whom they chose in the sixth, had 16 picks at Georgia. They will fit in well in a secondary that features cornerback DeAngelo Hall (39 career interceptions, including an NFL record-tying four in one game), cornerback Josh Wilson (13 career interceptions, including four returned for touchdowns) and safety Brandon Meriweather (13 career interceptions). "This isn't new, but turnovers are key," Redskins general manager Bruce Allen told me. "We liked Amerson and Rambo. We liked their playmaking abilities. The fact they created turnovers makes you like them a little better than others who may have been similarly talented otherwise." He pointed to the fact that Rambo is a former quarterback, and quarterbacks turned defensive backs usually have good ball skills. As for Amerson, he said, "He had a phenomenal year a couple years ago. I don't know if it will translate into the NFL immediately, but he has traits you look for."
Hot Reads
*I know one thing about Jim Kelly. He's a fighter, and he will not roll over for cancer.
*My heart goes out to Broncos assistant Eric Studesville, one of the best guys in the business.
*Check out Pete Prisco's list of breakout candidates. Good reading.
*If God makes left tackles, is church a better place than the draft to find one?
*The Ravens had hoped Courtney Upshaw would be feasting on quarterbacks. But it's hard to do that when you are feasting on McDonalds, Jack In The Box and Taco Bell.
*If Bill Callahan is going to be calling plays for the Cowboys, what is Jerry Jones supposed to do during games?
Dan Pompei covers pro football for the Chicago Tribune at chicagotribune.com.