January 06, 2013 -
Dan Pompei
NFP Sunday Blitz
Of all the trends in the NFL this January, none is hotter than Moneyball.
To wit:
*One of the first orders of duty for new Bills president Russ Brandon will be establishing a Moneyball department. At his opening press conference, Brandon said, "We are going to create and establish a very robust football analytics operation that we layer into our entire operation moving forward. That's' something that's very important to me and the future of the franchise."
*The Jaguars, under the influence of Shad Khan's number-crunching son Tony Khan, are prioritizing finding a general manager who is data friendly.
*The Browns recently hired Alec Scheiner as their president with an eye on Moneyball. Among Scheiner's duties with the Cowboys in his previous job was overseeing their analytics department.
*Two of the hottest general manager candidates, 49ers personnel director Tom Gamble and Falcons personnel director David Caldwell, come from organizations that have established analytics departments and are cutting edge with their use of data. Ravens assistant G.M. Eric DeCosta, whose team recently has gone big into analytics, also rebuffed job inquiries.
*In a season ending news conference, Bears general manager Phil Emery cited extensive use of numbers from STATS and profootballfocus.com in player evaluations.
Among the teams that are borrowing a page from their MLB and NBA brethren and riding the Moneyball wave are the Packers [Mike Eayrs has been a pioneer in the field), Patriots (hello, Ernie Adams), Bucs, Eagles, Lions and the previously the aforementioned Bills, Jaguars, 49ers, Falcons, Ravens, Browns, Cowboys and Bears. And there may be many more teams relying on intense statistical research that aren't letting on because this is one of the few areas in which NFL teams are not sharing much information. Many are trying to get an edge with superior data.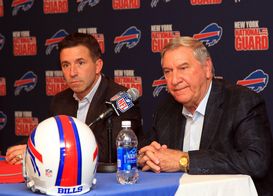 New school meets old school: Russ Brandon and Buddy Nix of the Bills.
They say there are benefits to be gained in putting numbers to work on coaching decisions, player evaluations, salary distribution and medical choices. One executive who is delving in said his team can sort players with up to 200 components, some of which are subjective. Or, they can easily look at how many quarterbacks with a Wonderlic score of less than 15 have been successful. They can find out if there is a link between Adderall prescriptions and production. There are so many potential applications.
But that isn't to say everybody is on board. A lot of Moneyball in the NFL is driven by owners or suits who never played the game. Many old school football men scoff at it. Former Colts president Bill Polian recently said Moneyball can't work in the NFL. Sources say there had been some tension in Jacksonville because some of the talent evaluators didn't buy Tony Khan's approach of evaluating with statistics.
One veteran talent evaluator spoke for many when he explained his disdain for the trend. "There are so many variables in football," he said. "In baseball the batter stands at the plate and there is one moving part, the ball. In football, 22 people are moving, there are so many different situations, different yard lines. There are too many variables you can't measure. Just watch the tape and tell me if he can play, and if he's a good guy."
Another front office man believes there is a benefit to analytics regarding player evaluation, but he said you can't allow numbers to override what your eyes tell you. "It can help if used properly," he said. "But you have to be careful because there are not a lot of absolutes in football. When a guy gets 12 sacks, you better figure out how he got those sacks. You have to study film to validate production."
Case in point: a source said in 2010, the Eagles relied heavily on analytics to select Washington defensive end Daniel Te'o-Nesheim in the third round of the draft. Many were stunned he was chosen so high, and the Eagles cut him before the start of the 2011 season.
Here is the thing about Moneyball in the NFL. You can disagree with it. You can point out its flaws. But you can't ignore it.
Because it's not going away.
Things I Didn't Used To Know
*When people think of the Broncos offense, they think of Peyton Manning, Eric Decker and Demaryius Thomas. But one of the keys their success has been Jacob Tamme. The tight end has been productive and consistent, but his value goes beyond his 52 catches for 555 yards, and his blocks. Broncos insiders say Tamme helps Manning do his job as well as anyone because Tamme's presence makes it easier to identify defensive intentions. Manning often makes decisions at the line of scrimmage depending on if Tamme is being covered as a receiver or a tight end on a given play. Manning is able to identify the soft spot in a defense more easily with Tamme on the field.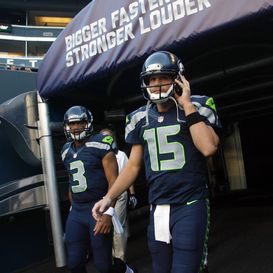 Two is a crowd in the Seahawks' quarterback room with Russell Wilson and Matt Flynn.
*One name who could spice up the veteran quarterback market is Matt Flynn. We've heard Flynn could be on the move for the second time in as many seasons, this time via the trade market. Given that Russell Wilson has established himself as the clear No. 1 in Seattle, the Seahawks likely will listen to offers. And given there are more teams in need of quarterbacks than there are attractive, available veterans, it is likely John Schneider's phone will be ringing. In fact, if a team is willing to take on Flynn's big contract, it wouldn't be surprising if they could get the former Packer for reasonable trade compensation.
My Sunday Best: NFL Awards
Last Thursday was the deadline to turn in ballots for the Associated Press awards. Of the seven major awards, I struggled with six of them. I felt there were at least two candidates who could have won every award but defensive player of the year. Here are my best in each category.
Most Valuable Player: Adrian Peterson, Vikings 1/2; Peyton Manning, Broncos, 1/2. I had Manning winning this award until the last week of the season. Then after watching what Peterson did to the Packers, and considering how he carried the Vikings into the playoffs, I switched to Peterson. Eventually, I decided I had to split the vote. The reason I went back to Manning is I kept thinking about how he made everyone around him better. He completely changed the identity of a team. Going into the playoffs, he had his team functioning at a level that was arguably higher than any team was functioning at. And no player at any position can impact the game like a great quarterback can. As for Peterson, I don't know that any of us ever has seen such a one dimensional offense be so effective. His 2012 season didn't break the record for most rushing yards, but it was undoubtedly the best and most impressive season by a running back I've ever seen. I also really thought Aaron Rodgers had an exceptional season, a season that would have won him an MVP award in many other years.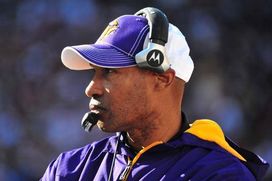 Will Les Frazier beat out Bruce Arians for coach of the year?
Coach of the Year: Leslie Frazier, Vikings. Another tough, tough call that came down to the wire. Bruce Arians was No. 1 on my list until the Vikings beat the Packers last Sunday. I don&rsq uo;t think a coach in Arians' position could have done a better job than he did. It was one of the most impressive coaching jobs I've seen in a long, long time. But I voted for Frazier because he was responsible for coaching the Vikings from start to finish. Ultimately, I decided being a head coach for one full year at a high, high level was more impressive than being a head coach for ten games at a high, high level. Frazier's was a more complete job, from bringing in Alan Williams to run his defense, to participating in a draft process that netted the Vikings three key contributors, to running the team's most successful offseason program in years, to developing young players and overcoming key injuries. Frazier took the Vikings from 3-13 to 10-6 while playing in arguably the toughest division in the NFL. He got the Vikings to step up in the key, defining moments of the season. That was one great coaching job.
Comeback Player: Peyton Manning, Broncos. Peterson would have won my vote in any other year. But I thought Manning's comeback was even more remarkable than Peterson's for a few reasons. Manning sat out an entire season, not just an offseason. He had a more serious injury, and one that can be unpredictable. Players come back from ACLs all the time, though none have done it as spectacularly as Peterson. Neck injuries still end careers. Manning also had to change teams, and learn to work with a new offense and teammates for the first time in his career. And there is this: Manning is nine years older than Peterson. Coming back from any big injury at the age of 36 is really, really impressive.
Defensive Rookie: Luke Kuechly, Panthers. There were a number of strong, strong candidates for this award, and picking a winner was not clear cut. To me, the two strongest candidates were Kuechly and Harrison Smith of the Vikings. Smith was a difference maker in Minnesota, both against the pass and run. He has as much potential to be great as any defensive player in the class of 2012. I voted Kuechly because he was exceptionally productive, becoming the first rookie to lead the NFL in tackles since Patrick Willis did it in 2007. He also was a very good pass defender for a linebacker. Other strong contenders were middle linebacker Bobby Wagner of the Seahawks, cornerback Casey Hayward of the Packers, cornerback Janoris Jenkins of the Rams, linebacker Vontaze Burflict of the Bengals, defensive end Derek Wolfe of the Broncos and linebacker Lavonte David of the Bucs.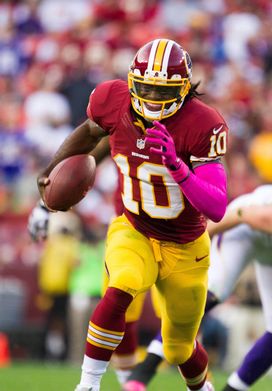 US PRESSWIRERG3 has run away from defenders this season. Will he run away with the offensive rookie of the year award?
Offensive Rookie: Robert Griffin III, Redskins. Andrew Luck would have been a runaway winner in many years. Griffin wins by a nose over Russell Wilson. Interestingly, they both threw 393 passes. Griffin got a little more out of his. He completed 65.7 percent of his to 64.1 percent for Wilson. His passer rating was 102.4 compared to 100 for Wilson. He threw for 8.1 yards per attempt compared to 7.9 for Wilson. Griffin was sacked three fewer times and ran for 326 more yards and averaged 6.8 yards per run compared to 5.2. Wilson also threw five more interceptions.
Defensive Player: J.J. Watt, Texans. This was the only runaway winner. Watt was dominant like no other player.
Offensive Player: Adrian Peterson, Vikings. For me this award came down to Peterson and Calvin Johnson of the Lions, who set the single season record for receiving yards. Peterson gets the nod because he helped his team achieve excellence, whereas Johnson could not.
One Man Yelp: Any Given Monday
Dr. James Andrews has one of those names you've read a million times. But you've never really heard what's on his mind until now. Andrews, the preeminent orthopedic surgeon to sports stars, teamed up with Don Yaeger to write Any Given Monday.
The book would be a lot more interesting if Andrews went into detail about the work he did with players like Troy Aikman, Drew Brees, Brett Favre, Bo Jackson, Emmitt Smith, Terrell Owens, Peyton Manning and Matthew Stafford. But the book isn't about that. It's about how Andrews' work with star athletes has taught him lessons that can benefit youth sports. This is a book for parents and youth coaches and administrators.
Andrews writes about the specific injury perils in baseball, basketball, cycling, dance, equestrian sports, field hockey, figure skating, football, golf, gymnastics, hockey, in-line skating, skateboarding, lacrosse, martial arts, rowing, rugby, running, skiing, snowboarding, soccer, softball, swimming, tennis, volleyball, water polo and wrestling. He also writes about what could be the most dangerous "sport" of all, cheerleading. NCAA medical reports indicate that 25 percent of the insurance money spent on college athletes' injuries are for cheerleaders. In 2008, 30,000 cheerleaders took trips to the emergency room.
Girls soccer is another sport more dangerous than you might imagine. Andrews writes that girl soccer players suffer more concussions than athletes in any other sport other than football.
Andrews says 3.5 million kids under the age of 14 are treated for sports related injuries every year, and 50 percent of those injuries are related to overuse.
His message, and it's an important one, is we can avoid a lot of these injuries. The first step is education.
Hot Reads
*The NFL is going to miss Ray Lewis. Nice tribute to one of the all-time greats by Mike Silver here.
*This