December 10, 2011 -
Barry Dorey
NFP Sunday Blitz
Something happened to the Titans after their Week 9 loss to the Bengals. They were 4-4 at the time, a mediocre team with no running game and not a lot of hope.
Their star player, Chris Johnson, was a candidate for biggest disappointment of the NFL season. He had held out for a new contract during training camp, then been given the richest running back deal ever, and then proceeded to run like some undrafted free agent. Javon Ringer was taking away his carries.
Against the Panthers in Week 10, Johnson started out like he had in most games. Seven of his first eight carries were for two yards or fewer. But the Titans were in control of the game, and in the fourth quarter he helped put away the Panthers by running for 64 yards, averaging 7.1 yards per crack.
Now, Johnson has had 100 yard rushing performances in three of his last four games, and 40.3 percent of his rushing yards have come in the last two weeks.
The Titans, meanwhile, are 7-5, in the thick of contention for a playoff spot as they prepare to host the Saints Sunday.
I have a theory about the Titans. They might be a better team over the last month of the season because Johnson was off early. They have survived what could be their most difficult period, going 5-5 while Johnson averaged 3.2 yards per carry, and still are standing.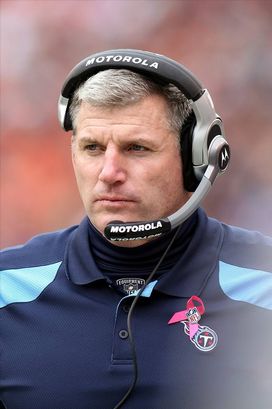 First-year coach Mike Munchak might have guided the Titans through the hardest part of their schedule.
It's a theory that Mike Munchak does not disagree with. "The run game was expected to be your strength and it wasn't the first half of the season," Munchak told me. "If we're going to run the ball well, it will give us a chance to make a move here. That's how it's worked out the last three, four weeks."
The Titans learned to win without getting much of a contribution from their best player. How did they do it?
It began with Munchak establishing his program in his first full year. He wanted his players to understand they were a part of a tradition just like players in Green Bay and Oakland are. The nine-time Pro Bowler for the Oilers and hall of famer talked with reverence about the history of the Titans and Oilers. "I wanted them to take pride in what they were doing, so they would play for this organization and the guys who came before them," he said."
He also has stressed all season that they be professional. Make a commitment. Be consistent. Don't make it more complicated than it is.
The Titans bought in, in part because their new leader bought in. The Titans aren't contenders if they don't sign Matt Hassebeck as a free agent.
"We needed a guy like him," Munchak said. "I didn't know what kind of leader he'd be, but that's the thing that stood out the most from the first day he walked in. He takes charge. He's been to a Super Bowl, Pro Bowl. Guys know who he is. You get respect there. He took control of the tempo of practice, and his confidence you could see from day one. For a first time head coach, there is no better thing than to have a quarterback who can be a leader for you. That's what's Matt has done. He's a big part of why we're in the conversation still."
The Titans did not plan on asking the 36 year old who was learning a new system to do too much. But with Johnson not feeling it, and with big time receiver Kenny Britt out for the year, they had no choice but to lean on Hasselbeck. And mostly, it was Hasselbeck who showed the Titans they can win in other ways.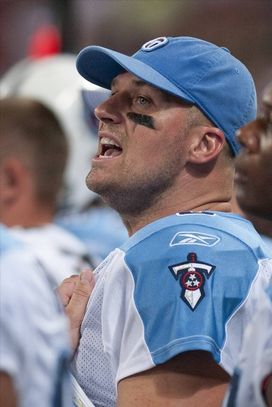 A veteran leader like Hasselbeck is just what the Titans needed.
"He took a lot of young receivers under his wing and instilled a lot of confidence in them," Munchak said. "They realized he would throw the ball to them if they did the right thing, if they were consistent with what they did. He spread it around early in the season. That's kind of what carried us for the most part."
Hasselbeck and offensive coordinator Chris Palmer were able to bring out the best in receivers Nate Washington and Damian Williams. And slowly, Johnson started coming around.
Munchak believes some of Johnson's burst was missing as a result of his holdout. "Missing camp, it definitely affected him," he said. "We knew it would. We just didn't know how much. Is that the only reason we weren't running well? No. But to be a running back in this league, you have to be in a certain kind of condition and shape, have a certain spring in your legs."
The Titans have seen that spring again recently. "I think you're always going to see a boost of energy in a player when he has some success," Munchak said. "When you put a couple good ones together, it gives you that extra adrenalin, that extra confidence. I'm sure he was shaken at one point as to why it wasn't working. He has his strut back."
This is Johnson time. In December games through his career, Johnson has averaged 104.8 yards. "In December, if you can run the ball well it can take a lot of pressure off the team," Munchak said. "The run game energizes the whole team, offense and defense."
There is no question the Titans are energized. And dangerous, very dangerous.
Things I Didn't Used To Know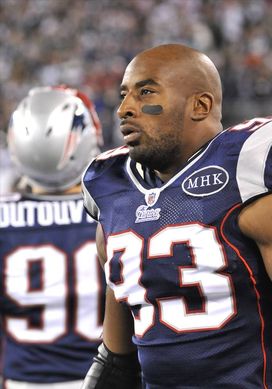 Andre Carter looks good in a Patriots uniform.
*Andre Carter's career has been revitalized in New England and the 32-year old has been one of the best defensive ends in football this year. Carter himself acknowledges that he wondered if he was finished at the end of last season. He may have been finished if he had been forced to continue to play outside linebacker in a 3-4 front for the Redskins, who will host the Patriots Sunday. Carter is a natural defensive end in a 4-3, but there is no place for him in a 3-4. The Patriots were interested in Carter way back in 2001, when the 49ers made him the seventh pick in the draft. In fact, coach Bill Belichick spent a day with Carter at Cal before the draft. But the Patriots were running a 3-4 primarily at that point, so Carter really wasn't a fit. Now, Belichick tells me Carter has performed well because he has the play strength to hang in there against tackles, he hustles, he's in very good condition, he's smart and he is gifted.
*Mike Sherman likely will make his return to the NFL soon. Sherman, who was fired as head coach at Texas A&M, has drawn interest from other colleges but he has the itch to get back in the league. He could be a candidate for the head coaching position in Jacksonville, as his 57-39 record with the Packers is pretty attractive. If Sherman does not get an NFL head coaching position, he could end up as an NFL offensive coordinator.
*Vikings head coach Les Frazier quietly is getting more and more involved in defensive game planning and play calling in an attempt to revive his injury-decimated defense. Frazier's job is not believed to be in danger, but it's possible some or all of the coaches on his defensive staff could be sacrificed.
*If, as expected, Todd Haley does not survive in Kansas City, Josh McDaniels could end up with the Chiefs three years after many thought he would land there. Chiefs general manager Scott Pioli could hire his old buddy from their New England days to be his head coach—if he could sell McDaniels to Clark Hunt. Or, Pioli could hire a defensive minded head coach and make McDaniels the coordinator, assuming McDaniels is fired in St. Louis. Aside from the Pioli connection, another reason McDaniels makes sense on the other end of Missouri is he has a strong relationship with Matt Cassel. In fact, the quarterback and his former offensive coordinator still talk frequently.
*At a time when some rookies are wilting, Justin Houston is emerging. The Chiefs linebacker has made steady progress all season and the coaching of Gary Gibbs and Romeo Crennel is starting to pay off. Houston had three sacks—his first three of the season—last week, but he has been getting close to the quarterback in recent weeks, so Kansas City coaches were not surprised by the third round pick's breakout game in Chicago.
*One of the biggest surprises of the NFL season is Brodrick Bunkley, who is playing great ball for the Broncos after the Eagles let him go and a trade to the Browns fell through. Scouts say Bunkley looks like a new player in Denver and has been one of the keys to the Broncos' defensive revival. Broncos coach John Fox tells me Bunkley has taken to the coaching of Wayne Nunnley. Even though Bunkley does not have exceptional size, he's playing with exceptional leverage. Bunkley also has been a great locker room guy for the Broncos.
My Sunday Best: Remaining Games
We're getting down to nitty gritty time. Here are my best games that are left on the regular season schedule, in order.
Dec. 11
Saints at Titans. This is a game the Titans need to win to prove they can play with the big boys.
Giants at Cowboys. Who wants the NFC East? Anyone? These two teams will play again on New Year's Day in what could be a better game, depending on what happens between now and then.
Dec. 18
Patriots at Broncos. The networks were fighting over this game for a reason. Tebow versus Belichick, and it means something. Best game left on the schedule.
Dec. 19
Steelers at 49ers. Finally, a decent Monday night game.
Dec. 24
Giants at Jets. It isn't often that these rivals play in a meaningful contest.
Dec. 25
Bears at Packers. If Jay Cutler and Matt Forte can come back, the Bears probably stand the best chance of any team of ending the Packers' bid for a perfect season.
Dec. 26
Falcons at Saints. Drew Brees could be standing in between the Falcons and the playoffs.
Jan. 1
Lions at Packers. You know Ndamukong Suh and the Lions are going to bring some attitude to Lambeau.
Titans at Texans. A lot could be at stake in this AFC South rivalry game.
Scout Talk: Defensive Ends in the 2012 Draft
The 2011 draft was an exceptional one for pass rushing defensive ends, as eight were chosen in the first round (Von Miller and Ryan Kerrigan technically are outside linebackers), and another three went in round two. The 2012 draft looks to be well stocked with defensive ends at the top as well, with five players looking like potential first rounders at this point and another four being talked up by scouts as second round players. Two of the players in the discussion, Whitney Mercilus of Illinois and Nick Perry of Southern Cal, are underclassmen.
Mercilus has a chance to overtake Quinton Coples of North Carolina as the top defensive end in the draft, depending on how he works out. He is a productive player with excellent athleticism and length. Coples has been the No.1 ranked DE since the preseason, and his combination of size and athleticism and speed is very impressive. Coples did not have a real productive year, however, and scouts question his effort level.
The other ends who could go later in the first round are South Carolina's Melvin Ingram, who shows some enticing flashes, Marshall's Vinny Curry, who explodes off the edge, and Clemson's Andre Branch, who has improved his stock significantly this year.
Perry, a powerful end who can be crafty, would be at the top of the next group if he comes out. Nebraska's Jared Crick was once thought of as a first rounder, but his stock is down a bit after battling through some injuries this season. He still has enough size and tenaciousness to be a second rounder.
Boise State has a pair of potential second round picks in Shea McClellin and Tyrone Crawford. McClellin, a productive, instinctive hustler, could settle in as a 3-4 outside linebacker. Crawford is more of a power end who has good athleticism.
Other ends to keep an eye on include Alex Okafor of Texas, Cam Johnson of Virginia, Frank Alexander of Oklahoma, Jacquies Smith of Missouri, Jack Crawford of Penn State and Jake Bequette of Arkansas.
One Man Yelp: John Lennon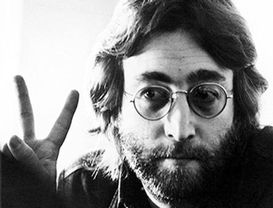 John Lennon: gone too soon.
In honor of the 30th anniversary of the assassination of John Lennon last Thursday, I'd like to share my favorite Lennon solo songs. Sad to think that Lennon would have had 30 more years of making music had he lived. Lennon, whose final interview three days before his death was released here,
http://www.rollingstone.com/music/news/john-lennons-last-interview-20111208 would be 70 years old today.
1. Beautiful Boy. Touching song about a father comforting his young son that shows a side of Lennon we never saw before. Paul McCartney has said this is one of his favorite Lennon songs.
2. Jealous Guy. This underrated Lennon classic actually was written, or partially written, during the Beatle years but not recorded until he went solo.
3. Watching the Wheels. This autobiographical Lennon song about his five year hiatus from music was released after his death.
4. I'm Losing You. Lennon was in Bermuda and feeling isolated from Yoko Ono when he wrote this song.
5. Whatever Gets You Through The Night. This brassy number, amazingly, was Lennon's only No. 1 solo hit. Helping with vocals is Elton John.
6. Imagine. Ranked the third best song of all-time by Rolling Stone Magazine, behind Satisfaction by the Rolling Stones and Like a Rolling Stone by Bob Dylan.
7. Grow Old With Me. This was one of the final songs Lennon wrote, and he never recorded more than a demo version, but it has become a wedding reception staple. Little known fact: Paul, George and Ringo tried to record this song with Lennon's vocals from the demo as they did with Free As A Bird and Real Love, but the quality of Lennon's demo was not sufficient.
8. How Do You Sleep. This angry song, written in the wake of the Beatles' breakup, is directed at Sir Paul.
9. Working Class Hero. "A working class hero is something to be." This piece is a little Dylan-esque.
10. Give Peace A Chance. Lennon's first solo song became an anti-war anthem in the 1970s.
What solo Lennon songs would you add to the list?
Hot Reads
*Why do we hate Tim Tebow? Jen Floyd Engel eloquently answered the question. And David Haugh tells us why we should admire him.
*If they build a statue for Frank Gore, don't they need to carve the heads of Bill Walsh, Joe Montana, Jerry Rice and Ronnie Lott into Mount Diablo?
*Maybe this is why Ray Edwards wanted to box—these kinds of blows are illegal in that sport.
*I guess this means the Lions won't be taking my advice on serving something other than pretzels to the media at halftime.
*I didn't join the stampede of people who bought Packers stock last week, in part because of stock advice I learned long ago: buy low; sell high. In fact, now would be a good time to sell Packers stock if you owned any.
*Wait a minute, is Andy Dalton talking about retiring already?
Dan Pompei covers pro football for the Chicago Tribune. Follow him at Twitter@danpompei