October 17, 2010 -
Dan Pompei
NFP Sunday Blitz
"Can you believe the Bucs?" one team's personnel director asked me last week.
My answer: "No. Not really."
Can you?
They are 3-1 and have a chance to make a colossal statement today with a victory over the defending Super Bowl champion New Orleans Saints. They have won five of eight games, including their upset over the Saints last December.
What's shocking about the Bucs is they are winning with young, unproven players. They got rid of Antonio Bryant, Michael Clayton, Chris Hovan, Jermaine Phillips and others. They didn't go for quick fixes in free agency. They appeared to be in complete rebuilding mode, and their actions said winning in 2010 was not a priority.
But Josh Freeman has had something to say about that. The 22-year old has taken a big step up in his second season. He was named NFC offensive player of the week last week for leading the Bucs to a comeback win over the Bengals.
Former Bucs quarterback and ESPN analyst Trent Dilfer has said Freeman seems to relax in tense situations. Certainly, he has made sound decisions under pressure. Bucs offensive coordinator Greg Olson attributes that to Freeman's comfort level with the system.
"He played the second half of the season last year and then had the whole offseason to learn," Olson told me. "The more you know, the quicker your decision making becomes, and the better at it you become. At first, all you can think about it what you are supposed to do. When you know the protections, the run schemes, how to get out of bad runs and how to protect yourself, you can start studying the defenses."
Last year, the center handled the Bucs' protection calls. This year, it's been Freeman.
It's not like Freeman has had the benefit of a veteran group of wide receivers to help his development. His leading pass catcher, Mike Williams, is a rookie. "It's a bunch of young, hungry wide receivers who are like him," Olson said. "They work hard for one another. They have good chemistry with one another, and there is good chemistry with the whole team."
Even if the Bucs don't stay on top of the standings this season, it's starting to look like the future in Tampa could be quite interesting.
Things I Didn't Used to Know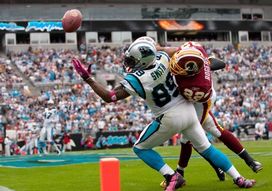 ICONSmith could be wearing a different uniform next Sunday.
*A decent chance exists that Panthers receiver Steve Smith will be dealt before the trading deadline Tuesday. Going back to last offseason, the Panthers are auctioning off just about everything but the black cat sculptures in front of Bank of America Stadium.
*Here are some interesting tidbits about two recent trades: The Vikings first approached the Patriots about trading for Randy Moss in the preseason. At the time, the Patriots weren't interested. But they called the Vikings back three weeks into the season…. After the Patriots traded Moss, Deion Branch asked the Seahawks to trade him to the Patriots so he could be reunited with his bud Tom Brady. The Seahawks never made a call to New England though. The Patriots contacted them. And one reason they were open to moving Branch is they thought recently acquired Brandon Stokley could fill his role.
*The Saints are going to have a tough decision to make, probably later this week, when Darren Sharper is ready to play. In his absence Malcolm Jenkins has become the starting free safety, and general manager Mickey Loomis tells me the team is pleased with what Jenkins has done at the position. What's more, the Saints believe this is Jenkins' best position for the long run.
*Tight ends like Antonio Gates and Dallas Clark get more publicity, but there might not be a more complete tight end in the game than Marcedes Lewis. At 6-6, 275 pounds, Lewis is a dominant run blocker, a huge target and a solid pass catcher. He isn't the kind of tight end who runs vertical routes and makes spectacular plays, but he helps the Jaguars win. He is, in the words of one AFC general manager, a dying breed.
*Everyone in Detroit—including offensive coordinator Scott Linehan--would like to see Calvin Johnson averaging more than five catches and 58 yards per game. But defenses continue to gang up on Megatron even though the Lions have added other weapons. Lions coaches don't want quarterback Shaun Hill to force passes to Johnson when he's covered for two reasons—they would risk turnovers, and they would be sending a message that they don't believe in their other players.
*Kareem Moore has been one of those players who is either going to hurt the opponent or hurt his own team. The Redskins safety has three takeaways in three games, but he's also missed some tackles and given up some big plays. The good news? Defensive coordinator Jim Haslett calls him a "ball magnet."
*The Bucs are the best team in the NFL that no one wants to see. A good chance exists they won't have a single sellout this year.
My Sunday Best: Guards who used to be tackles
This week the Bears are moving Chris Williams from tackle to guard. The move may not be permanent. It was prompted by an injury to starting guard Roberto Garza. But Williams might be better suited to be a guard than a tackle. That got me thinking about some others who have made the switch. Here is my list, with a little help from some front office men, of the most successful tackle to guard conversions (dealing with players currently in the league).
1. Logan Mankins, Patriots. He's probably athletic enough to be a good offensive tackle in the NFL. But he's a great guard. Mankins was a tackle at Fresno State.
2. Leonard Davis, Cowboys. He's struggling a bit now, but he made the Pro Bowl three times after his switch to guard. Davis is an unusual case because he started out playing guard for the Cardinals, then was switched to tackle. When he joined the Cowboys he became a guard again, and subsequently played the best football of his career.
3. Shawn Andrews, Giants. With rare size, Andrews looks more like a right tackle than anything. But he made it to three Pro Bowls as a guard after being a tackle in college. In recent years he has struggled with depression and spine problems, but he could resurface as a decent player again.
4. Chester Pitts, Seahawks. A left tackle at San Diego State, Pitts has shuffled between tackle and guard during his career. He became an above average guard before injuries derailed him last season. He could make his season-debut today in Chicago.
5. Travelle Wharton, Panthers. He has carved out a nice pro career as a guard after playing left tackle at South Carolina.
6. Robert Gallery, Raiders. A dominating college tackle at Iowa, Gallery was the second pick in the 2004 draft. But he struggled as a tackle in the NFL for three years before he was moved to guard, where he has played considerably better.
7. Daryn Colledge, Packers. He was a fine tackle at Boise State, but doesn't have the athleticism and quickness for tackle in the pros. He's a serviceable guard.
8. Todd Herremans, Eagles. A "functional" guard, according to one personnel man, Herremans was a tackle at Saginaw Valley State.
9. Andy Levitre, Bills. He played tackle at Oregon State, but most NFL teams pegged him as a guard from the start because of his lack of quickness.
Numbers Games: Revis vs. Champ
When the Jets visit the Broncos today, the torch should be passed from Champ to the champ. That's the torch the best cornerback in football carries.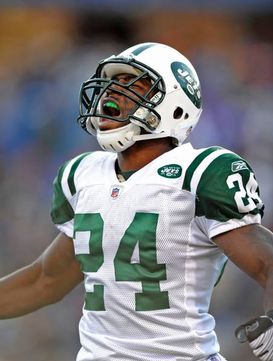 ICONRevis has a lot to crow about as football's best cornerback.
Champ Bailey once was the best cornerback in football, but at the age of 32, he's just a very good one. He was passed by Nnamdi Asomugha of the Raiders awhile back, and now Darrelle Revis is considered king of cornerbacks.
Revis has been playing with a hamstring injury, so he hasn't been himself this year. But when you compare the numbers of Revis and Bailey over the last two years, it's clear Revis is the superior player.
Here is the interesting thing: since the start of the 2009 season, both players have been targeted by opponents 119 times, according to Stats, Inc. But opposing quarterbacks have completed 49 percent of their passes against Bailey, as compared to 37 percent of their passes against Revis. Bailey has allowed 802 yards—an average of 13.8 per completion, compared to 544 yards and an average of 12.3 yards per completion.
Bailey's yardage total would increase to 872 if you threw in the two pass interference penalties he committed. Revis has not committed a single pass interference since the 2009 season.
Revis has gotten his hands on 32 percent of the passes thrown at his man, and intercepted six of them. Bailey has gotten his hands on 20 percent of the passes thrown at his man, intercepting four of them.
Scout Talk: RB Class of 2011
As the college season plows on, it is becoming very evident that NFL teams are hoping for an influx of underclassmen at the running back position. From the early looks of it, there is not a single senior who will be considered a slam dunk first rounder.
The best of the seniors at this stage is Kansas State's Daniel Thomas. He has a chance to be a first rounder if he can improve his 40 time. Thomas ran a 4.63 in the spring, but scouts like everything else about him. He has excellent size (6-2, 228) and is an instinctive runner who explodes upon contact. One front office man said he looked a little like Eddie George.
Oklahoma State's Kendall Hunter has picked up a little steam, but his draft stock has a ceiling because he is 5-8, 200 pounds. If he keeps doing what he's doing though, he can be a second round pick.
Other senior backs who could be gone by the end of the third round include Oklahoma's DeMarco Murray, Miami's Graig Cooper, Penn State's Evan Royster, West Virginia's Noel Devine, Maryland's Da'Rel Scott, and Nebraska's Roy Helu.
Murray was the top rated back by many coming into the season, but scouts think he's an upright runner who takes a lot of shots and gets knicked up. One even suggested Murray could be a third down back in the NFL. Cooper was looking like a very solid prospect before hurting his knee late last year, and he's been buried at Miami ever since.
Junior runners could add some spice to the draft—especially Alabama's Mark Ingram. If he runs well, Ingram can be a top 15 pick. One scout said he runs like Emmitt Smith. Another called him an elite runner.
Other interesting underclassmen include Virginia Tech's Ryan Williams, Wisconsin's John Clay and Oregon State's Jacquizz Rodgers.
One Man Yelp: Badasses
The Raiders of the 1970s had some darned good football teams. They also made for a darned good book. Badasses: The legend of Snake, Foo, Dr. Death and John Madden's Oakland Raiders is a rich read by Peter Richmond. What those Raiders did on the field wasn't nearly as interesting as who they were off it. But who they were was significant because of what they did—winning the 1977 Super Bowl.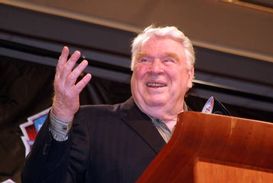 ICONMadden's counter culture coaching style worked in the 1970s.
Their stories have gotten better over time, maybe in more ways than one. That's what happens when young hell raisers turn into grandfathers. Of course, Ken Stabler was mum when the author asked him about his previous claim that he collected panties and tacked them to the wall of his training camp bedroom. This was the same man who would drink with Hell's Angels until 6 a.m.—the night before a game.
Tales of debauchery aside, what stood out to me most about this book is how different John Madden's coaching style was from the coaching style of every head coach in the NFL today.
Madden kept it very simple. He famously had only three rules: be on time, pay attention and play like hell. There were no dress codes. Players were allowed to sit on their helmets during practices. Madden almost winked at players who were in their rooms at curfew time, and then snuck out once the coaches checked them in. He didn't get uptight about guys goofing off. At one practice, when cornerback Skip Thomas said he didn't want to wear a helmet because he just had his hair fixed, Madden allowed him to practice without a hat and even told teammates not to run into him and mess his hair.
The comic book aspects of this team tend to obscure the fact that they also were very efficient. When I brought up Madden's portrayal in the book to Ron Wolf, who was Al Davis' chief scout in those days, he told me not to forget that Madden was a very smart, hard working coach who knew how to get the most out of his players. He just did it in a different way.
*For those of us whose mental development stopped at the age of 13, this article
in ESPN The Magazine by Dave Fleming is sure to inspire a few chuckles. It also will appeal to anyone interested in a career in gastroenterology. You might call it good bathroom reading.