October 07, 2012 -
Dan Pompei
NFP Sunday Blitz
If this season's most interesting trend continues, ten years from now we may be talking about huddles the way we talk about single-bar facemasks. That's because the use of the no huddle is skyrocketing this year.
After four weeks of play, 14.6 percent of all snaps have been in no huddle this year, according to STATS. Last year, only 9.3 percent of snaps were from no huddle. In 2008, the percentage was 7.1.
And this isn't just offenses trying to play catchup as the clock winds down. Outside of the last three minutes of the half, offenses have taken 13.9 percent of their snaps from no huddle.
"It's a trend," Ravens coach John Harbaugh told me. "A lot of people are doing it."
Rat race offense, I call it.
The team that has used it more than any other, surprise, surprise, is the Dolphins. With rookie Ryan Tannehill operating almost the same offense he ran at Texas A&M, the Dolphins have gone no huddle an astounding 61.8 percent of the time.
Next are the Ravens (54.2 percent), Broncos (45.6 percent), Patriots (32.8 percent), Packers (29.3 percent), Eagles (23.8 percent), Lions (20 percent), Chiefs 19.8 percent), Steelers (18.7 percent) and Falcons (18.5 percent).
What is behind this strong trend? The no huddle is the perfect antidote for complex defenses because it limits what defenses can do, both in terms of personnel substitutions and exotic looks.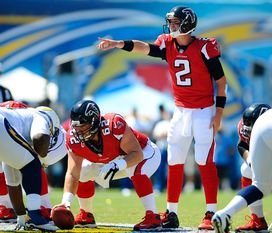 The no-huddle gives cerebral quarterbacks like Matt Ryan an edge on aggressive defenses.
"It makes defenses a little uncomfortable and creates a faster pace for them to operate under," Harbaugh said. "The calls come faster. It's harder for them to match personnel sometimes. It happens a lot faster."
One coach not quoted here told me he might use only 15 percent of his usual defensive game plan against a good no huddle offense. It can force a defense to play almost a base package.
"Normally when you are facing a no huddle offense as a defensive coach, it can shrink the volume you can have in your game plan," Falcons coach Mike Smith said.
What's more it wears out defenders, especially pass rushers. Defensive players lose 10 to 15 seconds of recovery time per play against a no huddle offense.
The flip side of the no huddle is it can wear out its own defense. If a team's no huddle doesn't click, it gives the ball back to the opponent before the defense gets a chance to regroup and recover. That's why some defensive coaches are known to lobby against the no huddle.
Harbaugh looks at it this way. "If our defense gets them off in three and we get first downs on offense, it's not going to be a problem and that's the same huddle or no huddle," he said. "If you can't get off the field, it's going to be a problem on defense, and if you can't get first downs on offense it's going to be a problem regardless."

There's more to the latest no huddle craze though. NFL never has been about scoring more than it is today. And the no huddle is a great way to score more. NFL teams are more concerned about their offenses than their defenses. The no huddle gives offenses chances for more plays, and chances for more plays are chances for more points.
Not every team can operate a no huddle efficiently though. Former Bengals coach Sam Wyche, who really began the no huddle trend, once told me the key to it is you need a very smart quarterback who can be a field general and not lose composure. The league is getting more and more players who fit that description.
That's why it makes sense that young passers who are coming into their own like Baltimore's Joe Flacco and Atlanta's Matt Ryan are leading the no huddle revolution. Quarterbacks who have a complete command of their offense are in better position to take advantage of the freedom at the line the no huddle offers.
"Matt has a very good comfort level with it," Smith said. "You allow the quarterback to put you in a play based on what the defense presents, and Matt is good at that."
Andrew Luck's Colts have run the no huddle only 4.5 percent of the time, but you know a lot more no huddle is in their future. The Colts have averaged 15 yards per play from no huddle, compared to 7.3 yards per play when they have huddled.
Other teams that have fared much better with the no huddle than without it are Tony Romo's Cowboys (9.8 yards to 7.1), Peyton Manning's Broncos (7.9 yards to 6.2) and Aaron Rodgers' Packers (7.2 yards to 5.7).
Those quarterbacks and others like them are convincing coaches all around the league that they should join the rat race.
Things I Didn't Used To Know
*Trent Richardson looks like he's going to be more than a fine running back for the Browns. He also looks like he's going to be a fine leader. A couple of weeks ago, he asked linebacker and respected vet D'Qwell Jackson if he could say a few words to the team. Jackson obliged and Richardson called out some of the veterans for accepting losing. That might not have gone over so well coming from most rookies, but it went over well from Richardson because he has walked the walk. Other players couldn't help but notice the times when Richardson has had to be pulled out of the weight room because trainers worry he might be working too hard. They also admire how Richardson often gains yards on his own, even when his blockers fail him.
*Matt Hasselbeck couldn't save the Titans last week, but that doesn't mean he won't give them a shot in the arm in the absence of Jake Locker. The word from the locker room is the Titans still believe the 37-year old Hasselbeck can help them win games for a short stretch. Locker had outplayed Hasselbeck in camp and clearly is the better option over a long season, but the belief in Tennessee is Hasselbeck can get the Titans through a stretch of time.
My Sunday Best: No-Huddle Quarterbacks
Two of the greatest no huddle quarterbacks in history will face off in Foxboro Sunday. They have shown us all how it's done. Jim Kelly and Boomer Esiason should be watching from a skybox at Gillette Stadium. They were great ones for running the no huddle. Here are my best no huddle quarterbacks in the league today.
1. Tom Brady—He is in a groove with the no huddle like no other quarterback because he has been doing it for so long and in the same system and with many of the same players. His aptitude for finding the weakness in a defense may be unmatched.
2. Peyton Manning—In his prime he took the no huddle to another level. He still is outstanding at it, but is getting used to new surroundings. He is the all-time master of presnap adjustments. Manning rarely loses those chess games.
3. Aaron Rodgers—He enjoys being the aggressor, and he uses the whole field and all of his options in the no huddle as well as anyone. The Packers are using more no huddle this year.
4. Matt Ryan—He has been operating the no huddle since his second NFL game, but he really has come into his own lately as a premier operator of the no huddle.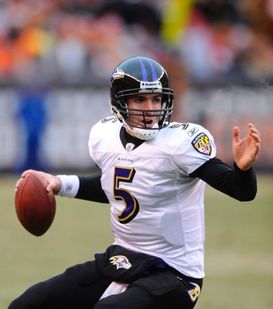 Joe Flacco has come into his own as a no-huddle quarterback.
5. Joe Flacco—The Ravens QB has a complete command of the offense at this stage of his career and has been outstanding in the no huddle so far. Given his physical tools, in time he could be as good as any no huddle quarterback.
6. Ben Roethlisberger—The Steelers don't use the no huddle as much as some team, but Roethlisberger runs it well as a change of pace.
7. Carson Palmer. He did quite a bit of no huddle back in his Bengals days, and he remains highly proficient at it in Oakland.
8. Matthew Stafford—The Lions offense has been out of sync this year, but Stafford is a dangerous no huddle passer who can put a defense on its heels.
One Man Yelp: Men of Sunday
Most of the time when pro athletes talk about their faith, the media ignores them. Curtis Eichelberger decided to swim against the stream when he wrote an enlightening book about Christians in the NFL called Men of Sunday: How Faith Guides The Players, Coaches & Wives Of The NFL.
He delves into the experiences of Ray Lewis, Mike Singletary, Les Frazier, Trent Dilfer, LaDainian Tomlinson, Andy Reid, Mark Brunell, Matt Hasselbeck and many others. He covers the gamut from pre-game prayers to post-game on-field prayers, from team bible studies to temptations from groupies. The book discusses the unique challenges NFL players face regarding to their faith, but it also presents those challenges in terms we all can relate to.
It's an interesting read that covers a lot of ground fans rarely are exposed to. This isn't about players thinking they can defeat opponents because God is on their side. But it is about players obtaining a perspective through their faith that can help them weather storms.
Singletary talks about wrestling with the concept of being a Christian and playing a violent game, and how frightened he was the time he thought one of his vicious hits might have had an unspeakable consequence for running back Sylvester Stamps. Said Singletary, "I thought to myself, 'What am I doing?' Something is wrong with this.'"
When Reid took over the Eagles in 1999, he was told he had a team full of soft "Bible Bangers." He recoiled at the notion. "I firmly believe if Christ came back today and decided He wanted to play this game, He'd be our middle linebacker," Reid said. "He'd be the toughest guy on the field. So I don't' buy that 'Bible Banger' image."
Men of