April 08, 2012 -
Dan Pompei
NFP Sunday Blitz
Ryan Tannehill could end up being an outstanding NFL player. But he is going to be chosen ahead of a lot of players who are much better draft prospects.
About one month ago, Tannehill wasn't even the consensus third best quarterback in the draft. It was between him, Brandon Weeden and Kirk Cousins.
What happened in the past month? Peyton Manning landed in Denver. The Redskins acquired the second pick in the draft so they can select RGIII. Matt Flynn chose Seattle. Alex Smith stayed put. The Jets traded for Tim Tebow.
And the teams that were in the market for a quarterback but didn't get one, especially the Dolphins, Browns and Chiefs, might have become more desperate. So Tannehill now looks like a lock to be a top ten pick, and a possibility to be a top five pick.
But his stock spike was manufactured by one thing: quarterback desperation.
"Because the position has such a high value and because there is such a need to have a quarterback who is consistent and stable, people are reaching," one general manager said.
Said a personnel director: "No one can tell you he's a sure thing. But people don't stick to their grades at the quarterback position."
If people did stick to their grades, Tannehill would be a mid-second round pick, based on the eight personnel men I polled on Tannehill. None of them said they would choose Tannehill in the first round.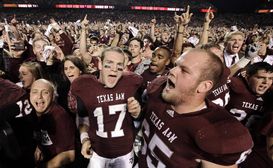 Tannehill's stock is sky high because of the quarterback vacuum.
There are some intoxicating qualities about Tannehill. He has the right mental makeup to be an NFL quarterback. He has excellent size and athleticism. His pro day was impressive. He can spin it. He can move. "He has first round skills," the general manager said. A second general manager went so far as to say Tannehill's traits may be better than Andrew Luck's.
But it takes more than traits to make a prospect. The GM also said Tannehill does not have Luck's feel for the game. A personnel director questioned Tannehill's decision making. Others pointed out that he had repeated chances to lead the Aggies to comeback victories, but wasn't able to. His record as a starter last season was 7-6. Against Texas, which was arguably his most important game, he threw three picks and completed 41 percent of his passes in a tough loss.
The real issue with Tannehill is it's difficult to evaluate him because he has a limited body of work. Whereas Luck has 38 college starts, Tannehill has 19 at quarterback. He spent two plus years playing wide receiver. He is relatively inexperienced and probably not ready to start, scouts say, but if he's chosen in the top ten he likely will be pushed onto the field anyway.
"Can he come in and play at a championship level?" the first general manager said. "When you start talking about a top five pick, that's what you are trying to say. I don't see that in him. He is still young in the quarterback position in terms of the reps and starts."
Really, the best chance for Tannehill to succeed and reach his potential is for him to be chosen where he should be chosen, in the second round. He is a quarterback who needs to be developed. If he goes as high as it appears he will go, he will be faced with unreasonable expectations and pressure to produce too quickly.
Ultimately, Tannehill's meteoric rise probably will not work out well for the team that drafts him, or for Tannehill.
Things I Didn't Used To Know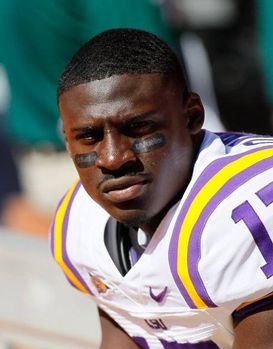 Wonderlic scores can be deceiving for people like Claiborne.
*Morris Claiborne's reported Wonderlic score of 4 didn't shed light on Claiborne's intelligence as much as it shed light on his learning disability. Claiborne, according to NFL front office men who have done their homework, has trouble reading. At Louisiana State, the cornerback was given extra time for tests. The consensus is Claiborne has enough football smarts and instinct to play at a high level in the NFL for a long time. Cornerbacks don't have to be Einsteins in the large majority of NFL schemes, and many are not. Claiborne's coaches will have to make allowances for him, however. Claiborne can't be expected to learn through a playbook, rather, he will learn best from walk throughs. The only issue is whether or not that will impact the other cornerbacks on his team. But multiple personnel men have said Claiborne is a great, unspoiled, engaging kid who they would like on their team.
*West Virginia's Bruce Irvin may be heating up in the draft to the point he could creep into the first round. He is scheduled to take 12 visits to NFL teams. He is appealing both the 3-4 teams as an outside linebacker and 4-3 teams as a defensive end. Among the teams he is visiting are the Bears, Browns, Chiefs, Dolphins, Forty Niners, Jets, Panthers, Patriots, Texans and Titans. Part of the reason so many want to see him is coaches want to put him on the board and watch tape with him, and have a chance to see what makes him tick.
*The Texans took DeMeco Ryans off the field on third downs last season, but the Eagles see their new middle linebacker as a three down player. In fact, coach Andy Reid tells me Ryans has a "pretty good feel" for nickel play, as well as the smarts, intangibles and leadership for the position. And the Eagles are covered in case Ryans struggles. If need be, the team can use Casey Matthews, Brian Rolle or Keenan Clayton in that role. The Eagles believe Ryans will be more comfortable returning to a 4-3 defense, which he played for most of his life before Wade Phillips' arrival in Houston.
*The Chargers believe they can get something out of Jared Gaither that no one else has been able to get out of him in five seasons: consistent play. After Gaither joined the team late in the year and played at a high level for the Chargers for the last five games of the season, San Diego re-signed him to be their starting left tackle. In the past, Gaither has been considered a poor practice player who lacks passion for the game. Coach Norv Turner told me he is evaluating Gaither based on his experiences with him, and those are all good. He thinks Gaither will benefit from having a complete offseason and full camp in San Diego.
My Sunday Best: Tall Quarterbacks
The list of effective tall quarterbacks is, well, a short one. According to my research (which might not be entirely accurate because heights are not always listed properly) there have been only 15 quarterbacks in NFL history who measured in at 6-5 1/2 or taller. The next will be Brock Osweiler, who measured in at nearly 6-7 at the combine. Some scouts think Osweiler is too tall for his own good. NFP's Greg Gabriel believes Osweiler doesn't deliver the ball like a tall player, but he has some other issues with the QB.
Some teams prescribe maximum heights for each position, and if a prospect is taller than the second tallest productive player in the NFL at that position, he is flagged. Osweiler is flagged on those team's boards. Other teams say a quarterback can't be too tall. Most agree the ideal height for a quarterback is 6-5.
The tallest QB ever was Dan McGwire at 6-8. The brother of home run king Mark played in only 13 games over five years, in part because he was so tall he didn't have the flexibility and quickness to avoid the pass rush.
Tall quarterbacks aren't going away though. Of the 15 who are taller than 6-5 1/2, nine have been on teams in the past decade, including 2011 rookies Ryan Mallett (nearly 6-7) and Terrelle Pryor (6-6).
Here are my best ever tall quarterbacks.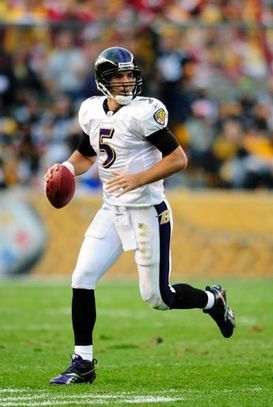 ICONJoe Flacco can get the glassware off the top shelf.
1. Joe Flacco (6-6). Last week he said he was the best quarterback in the NFL. Maybe he should have said the best "tall" quarterback. No one could have argued. For all the criticism he takes, Flacco is the only quarterback in history to take his team to the playoffs in each of his first four seasons. Last year, he likely would have had the Ravens in the Super Bowl if not for a dropped pass.
2. Scott Mitchell (6-6). He started 71 games and threw 95 touchdown passes, so he was doing something right. Ultimately, his accuracy issues (he had a 55.5 percent career completion percentage) did him in. It is not uncommon for tall quarterbacks to lack accuracy.
3. Josh Freeman (nearly 6-6). He's had only one good season, but the pickings are slim for tall quarterbacks. Freeman doesn't play like a tall quarterback. He moves like a smaller man. And Freeman still has a chance to be really special.
4. Marc Wilson (6-6). He had a 32-28 record as a starter with the Raiders and Patriots, but a 52.1 completion percentage, a 67.7 passer rating and he threw 102 interceptions. Wilson started more than half of his team's games only three times in a 10-year career.
5. Derek Anderson (shade over 6-6). He went 10-5 as Cleveland's starter in 2007, but never has been able to play to that level since. His strong arm has been an enticement to coaches, but decision making and accuracy have been bugaboos for Anderson throughout his career. He is on his fourth NFL team.
Scout Talk: Players Who Might Not Be NFL Ready
Last week, we looked at draft prospects who could be quick studies. This week, with some help from college scouts, we examine players who might not be immediate contributors.
Quarterback—Ryan Tannehill, Texas A&M. He is a bit green as a passer and there is a lot he has not seen. On the plus side, he has played in a pro style offense. On the negative side, he has been inconsistent in it. Brock Osweiler of Arizona State also is a contender here. He left school early and was a starter for only one season, so he isn't an experienced passer. What's more, he played in a simple offense and was mostly in the shotgun.
Running back—Lamar Miller, Miami. This is a one-year starter who turned pro after his junior season. Miller is not a finished product. "He could be thrown into the mix too quickly in the NFL," one personnel man said. "He needs a good running backs coach and a patient offensive coordinator."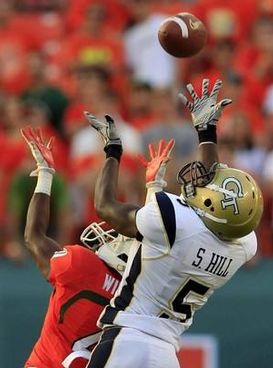 ICONStephen Hill has a lot to learn before he is considered a polished receiver.
Wide receiver—Stephen Hill, Georgia Tech. In the triple option offense, Hill's primary role was to block. He had only 1,248 receiving yards in college. The routes he was asked to run were pretty much straight ahead or slants. Hill may be the most gifted wide receiver in the draft, but he needs to learn to run routes and get in and out of breaks.
Tight end—Ladarius Green, Louisiana-Lafayette. Although he had some production against big schools, Green is in for a major jump in level of competition. He also needs to improve his strength, according to one front office man.
Offensive lineman—Jonathan Martin, Stanford. He could have used another year in college to refine his techniques. One scout found him to be "raw" and "inconsistent" on tape, but said he wouldn't be surprised if eventually he turned out to be the best tackle in the draft. Martin also needs to be stronger to thrive in the NFL.
Defensive lineman—Michael Brockers, Louisiana State. This underclassman is very raw in the estimation of many. One front office man said he needs to learn to pass rush but he should be effective against the run fairly quickly. He often was taken out on nickel downs in college. His athleticism, size, strength and passion makes him promising, but Brockers has had only one top season and will need time to hit his stride.
Linebacker—Ronnell Lewis, Oklahoma. He left school early because of academic problems, and started only 14 college games. Some front office men think he needs to mature in order to become a pro. He also might struggle to find a position, as Lewis might be too small for defensive end and not instinctive enough for outside linebacker.
Safety—Justin Bethel, Presbyterian. He was a corner in college and might be moved to safety, which could be a big transition. What's more, he's in for a huge jump in level of competition.
Cornerback—Jamell Fleming, Oklahoma. This is a player who needs to clean up his technique and take fewer risks. If Fleming can't conform to the wishes of an NFL defensive backs coach, he could be in for a long, slow indoctrination to the league.
One Man Yelp: American Sniper
I think a lot of people would like to get inside the head of a Navy Seal. Former Navy Seal Chris Kyle and co-authors Scott McEwen and Jim DeFelice take you there in the best seller American Sniper: The Autobiography of the Most Lethal Sniper in U.S. Military History. The mind of Kyle, who had more than 160 confirmed kills in the Iraqi conflicts, is indeed fascinating.
This man is a military legend who won two Silver Stars and five Bronze Medals. But he also became a professional killer who lived for the squeeze of the trigger. He was so adept at it that he writes he had one kill at 1,600 yards. His first Seal kill was of a woman who pulled out a grenade in the presence of group of Marines. He wrote that because she was trying to kill Americans, he can stand before God with a clear conscience. Kyle became so well known that the insurgents put a $20,000 bounty on his head.
To Kyle's credit, his book is blunt and raw, and he does not portray himself as a duty-bound hero. He calls the enemy "damned savages," and shows no sympathy or remorse for taking lives.
The book also contains passages from Kyle's wife Tara, who complains that her husband put her and their two children second. His first love, she indicates, was war. And he really can't dispute it.
Seals like Kyle pay an incredible price to protect our freedom. They risk their lives, obviously. But some like Kyle also risk losing their families and their very souls.
Hot Reads
*Interesting thing about Gregg Williams' pregame speech in front of the cameras: he was so open about it that he apparently didn't think he was doing anything untoward, or didn't care if he was.
*Sean Pamphilon just gave NFL teams more reason to distrust outsiders and cut off access. He took advantage of the Saints and of Steve Gleason. Even though he does not call himself a journalist, he gave all of us bad names.
*If Jimmy Buffett and Sean Payton are in cahoots, maybe Payton's suspension won't be so miserable after all.
*A bidding war for Bill Parcells? Never heard of such a thing. Wonder how that could have gotten started.
*Instead of cutting Nick Fairley and Mikel LeShoure, as this columnist suggests, the Lions could take the opposite approach and sign Sam Hurd.
*Aren't we supposed to be excited about what's wearing the uniform, as opposed to the uniform itself?
Dan Pompei covers pro football for the Chicago Tribune. Follow him at Twitter@danpompei