November 14, 2010 -
Dan Pompei
NFP Sunday Blitz
Back in the mid-80s I remember a couple of big ball boys hanging around the Bears. They were there in training camp and on game days. They seemed to fit right in with that wild team that belonged to Mike Ditka and Jim McMahon, always having fun and partaking in some give and take with the players.
They were the twin sons of one of the coaches, defensive coordinator Buddy Ryan. And today, in Cleveland, they will oppose each other on opposite sidelines—Rex Ryan as the head coach of the Jets, and Rob Ryan as the defensive coordinator of the Browns.
And their 76-year old father will be there too. He's traveling up from his horse farm in Kentucky to see his boys. "They are similar to each other, and they are both like their old man," Buddy told me.
The Ryan twins learned a lot from their father, who was one of the greatest defensive minds in modern NFL history. They observed him as a coach from the time they were kids, and then worked for him in 1994 and 95 as assistants when Buddy was head coach of the Cardinals. Their defensive philosophies, not surprisingly, are the closest thing in the NFL to what Buddy espoused during his career with the Jets, Vikings, Bears, Eagles, Oilers and Cardinals.
Asked if he expected to see a lot of blitzing in Cleveland, Buddy said, "It depends on what they need to do to stop one another. Whatever they need to do is what they'll do. They aren't stereotyped into doing one thing. Rex has more blitzes than Rob though."
Buddy said he talks with each of his boys once or twice a week. "They call me and tell me what they are doing," he said. "They might have a question—'What do you think about this?' But they are their own men."
He will be torn watching them oppose one another, but it's nothing new for Buddy. He has attended games before when one coached at Tennessee State and the other at Eastern Kentucky, when one coached at Oklahoma and the other was at Oklahoma State, and when one was at the Ravens and the other at the Raiders.
He's just happy to see his boys doing what they love. "Rob is doing a great job rebuilding that Browns team," Buddy said. "Rex is getting a lot of attention now, but he's been a great coach in the league for a long time."
Things I didn't used to know
*Falcons' sack man John Abraham already has put the quarterback on the ground more times this year (he has eight sacks, including two Thursday) than he did all last year (5.5). There are a few factors at work for Abraham, according to my Falcons peeps. The defense has helped him with more inside pass rush this year. And the coaches have helped him by keeping him fresh. Abraham is playing only 25 to 30 snaps a game, down from about 40 he played a year ago. Also interesting: Abraham has tended to have one good year followed by one off year in his career. He's due for a big year in 2010.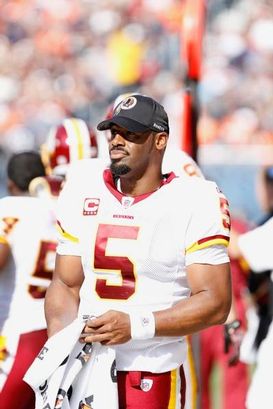 ICONRedskins quarterback Donovan McNabb helped make Michael Vick a better pro.
*Donovan McNabb and Michael Vick meet again Monday. They have known each other since McNabb tried to recruit Vick to attend Syracuse, and McNabb considers himself a kind of big brother to Vick. It's interesting that McNabb's work ethic has been questioned in Washington, because Vick credits McNabb with instilling a better work ethic in him. McNabb told me that after the Eagles signed Vick last year, he would tell Vick to meet him at the NovaCare Complex at 7 a.m. Wednesday through Friday. Together, they would start the day with a cardio workout. After practice, they would gather the centers and guards and watch tape as a group, on their own. And on Monday and Tuesday, they would spend extra time at the facility watching tape.
*The Jaguars have been puzzled by David Garrard. Coach Jack Del Rio tells me when Garrard has been on this year, he's been better than ever. But when he's been off, he has been way off, and his team has struggled in those games. The Jaguars looked at some of Garrard's inconsistencies during their bye and addressed some of his issues. They hope it shows when they play the Texans today.
*There has been a lot of talk about how LaDainian Tomlinson has helped the Jets so much, and a lot of talk about how Jamaal Charles is breaking through in Kansas City. But the player the Jets let go to sign Tomlinson (who also is the player the Chiefs signed to complement Charles) has been pretty good too. Thomas Jones has only 29 fewer rushing yards than Tomlinson, and 24 more carries than Charles. Jones has given the Chiefs a complete running game, and he's also provided unusual leadership. Coach Todd Haley compares him to Curtis Martin and Bryan Cox in terms of being able to lead both in words and actions. Charles and the other young Chiefs running backs have followed Jones' lead, and Haley believes the whole group has been better for it.
*NFL front offices still haven't gotten game tapes from Pac 10 schools because of the ongoing negotiations over paying universities for the tapes. The late start is not helping the draft stock of prospects from the schools.
*The Ravens haven't used Haloti Ngata at fullback in their last four games. The last time the DT played offense, he got tangled up with a defensive player. He's been so valuable on defense that the risk of getting him hurt on offense might not be worth it. But coach John Harbaugh told me he won't rule out playing Ngata on offense. He said if the Ravens need him on offense, he'll play offense. "We're not trying to save anybody—we're trying to win," he said.
*Danny Amendola isn't supposed to be anyone's leading wide receiver. He is smaller and slower than ideal. He was undrafted and spent time on the practice squads of the Cowboys and Eagles before being taken in by the Rams last year. He initially made his mark as a kick returner. But this year he has become Sam Bradford's go-to guy. Rams coaches believe Amendola succeeds because he plays as hard as possible on every single play. He never lets up. Of course, having outstanding hands helps too. They say he also has been a quick study. He now understands how corners play him and he knows how to counter it and set up defenders.
My Sunday Best: Interim head coaching moves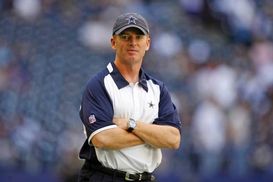 ICONInterim head coaches like Jason Garrett sometimes can make a lasting impact.
With the Cowboys firing Wade Phillips and replacing him with Jason Garrett last week, I thought it would be a good time to look back at the best interim head coaching hires in modern NFL history. Hiring an interim head coach, as you can see, is not always just a temporary move to stop the bleeding. Here are my top eight. What do you think?
1. Jeff Fisher. He replaced Jack Pardee as coach of the Oilers in November of 1994. Sixteen years later, he still is guiding that franchise, now the Titans, and is one of the most respected head coaches in the National Football League. Fisher helped make his team a consistent contender.
2. Marty Schottenheimer. In 1984 he was promoted by the Browns to succeed Sam Rutigliano and started winning quickly. In his four plus seasons as Cleveland's head coach, Schottenheimer went to the playoffs four times and won 62 percent of his games. If it weren't for John Elway, Schottenheimer might even have a little finger jewelry.
3. Raymond Berry. After taking over for Ron Meyer during the 1984 season, Berry, who was out of football at the time, took the Patriots to the Super Bowl the following season. It was the first of four straight winning seasons for Berry and the Patriots.
4. Bruce Coslet. When he replaced David Shula in 1996, the Bengals were 1-6. Under Coslet, they went 7-2 the rest of the season. But he never won more than seven games in three subsequent seasons, and he resigned three games into the 2000 season.
5. Mike Singletary. The 49ers he inherited in 2008 were 2-5, but they played above .500 the rest of the way. That earned Singletary a new contract, and he has gone 10-14 since.
6. Gary Moeller. In 2000 he took over the Lions after Bobby Ross' resignation and guided them to a 4-3 finish. The Lions barely missed making the playoffs, and Moeller was fired. But he finished as the first Detroit head coach with a winning record since Joe Schmidt.
7. Jim Bates. The Dolphins didn't retain him after his interim season, but he coached Miami to a 3-4 finish after they had started out 1-8 under Dave Wannstedt.
8. Perry Fewell. He gave the Bills a shot of adrenalin last year, taking over a 3-6 team and winning three of their last seven.
Numbers Games: Irresistible force vs. Immovable object
Tom Brady, say hello to James Harrison.
When the Patriots offense takes the field against the Steelers defense tonight, it will be a clash of strength against strength. So sayeth the Aikman Efficiency Ratings, the formula championed by the Fox-TV analyst and former Cowboys quarterback. The Steelers have the top-ranked defense in the Aikman Ratings, and the Patriots have the fifth rated offense.
Let's examine how they got those ratings.
Twenty percent of the formula is for points scored or allowed not counting points from returns or safeties. The Patriots have scored 184 offensive points—11th most in the league. The Steelers have surrendered 123 offensive points—third fewest in the league.
Twenty percent of the formula is based on turnovers. The Steelers have a league-high 21 takeaways. The Patriots have had only nine giveaways—second lowest in the NFL.
Ten percent of the formula is yards per play. The Patriots average 5.36 yards per play—which ranks 16th in the NFL. The Steelers allow 4.75 yards per play—fourth best in the league.
Interestingly, both units both rank 14th in the NFL in yards per pass play, which accounts for another ten percent. The Steelers have given up 5.89 yards per pass, while the Patriots have gained 6.3 yards per pass.
First downs are ten percent of the formula. The Steelers have allowed 141 first downs, sixth best in the league. The Pats have 159 first downs—12th most.
The Patriots have converted 44.2 percent of their third downs—fifth best in the league. The Steelers have allowed 36 percent of third downs to be converted. That counts for the final 10 percent.
Scout Talk: Class of 2011 Wide Receivers
Early indications are the juniors are going to save the day for the wide receivers in the next draft. A strong influx of underclassman at the position is expected. As many as four look like first round picks, and it's possible a half-dozen underclassman wide receivers will be off the board before the first senior goes.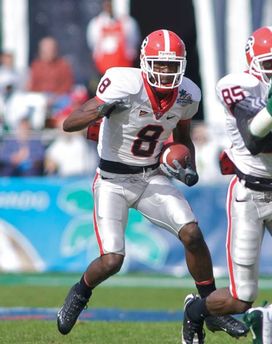 ICONAn NFL team will likely need a very high first-round pick to be in the running for A.J. Green.
The best of the underclassmen are Georgia's A.J. Green and Alabama's Julio Jones. Both are expected to be top of the draft choices. What makes both players rare is they have excellent size to go along with top speed and athleticism. Green might have the edge over Jones as of now, but that could change depending on how they perform in the postseason and how they work out.
Pittsburgh's Jon Baldwin and Wisconsin's Nick Toon are two other big juniors who scouts love. Both are playmakers, though Toon might not have elite speed. Toon, the son of former pro receiver Al Toon, has been injured some this year and could decide to return to school.
Notre Dame junior Michael Floyd should give an NFL team a high quality possession receiver should he decide to come out. He has good size and body control. Other underclassmen to keep an eye on, should they declare, are Ohio State's DeVier Posey, Southern Mississippi's DeAndre Brown, Oklahoma's Ryan Broyles and Texas A&M's Jeff Fuller.
The highest chosen senior likely will come from a group that include's Miami's Leonard Hankerson, Cincinnati's Armon Binns and Nebraska's Niles Paul.
The most interesting senior is North Carolina's Greg Little, who is sitting out the season amidst allegations that he received improper benefits from agents. Little is very talented, but he's a former running back who is raw and hasn't had a chance to master the position. As a result he is considered a high risk pick. He could become an NFL star, but it's probably not going to happen quickly.
Other seniors who should be drafted fairly high include two from Boise State—Austin Pettis and Titus Young, as well as Troy's Jerrel Jernigan.
One Man Yelp: The Greatest Generation
In honor of Veteran's Day last week, I'd like to tell you about a book my wife bought for me in the souvenir shop at the USS Arizona Memorial in Honolulu over the summer. It isn't a new book, but it was a New York Times bestseller. It's called The Greatest Generation. Written by Tom Brokaw, it tells the stories of many of the brave men and women who made incredible sacrifices for our country during World War II. This should be required reading in schools.
There are stories about ordinary people like Lloyd Kilmer, the son of a Minnesota dairy farmer who spent 10 months in German POW camps after the plane he was piloting while bombing a Nazi tank factory crashed. There are stories about heroes like Bob Bush, who received the Medal of Honor for fighting off the Japanese in Okinawa while administering plasma to injured soldiers despite suffering serious injuries himself, including the loss of an eye. And there are stories about people we know about like George Bush, who, despite being a child of privilege, volunteered for the Navy on his 18th birthday. And there's more—stories about non-military, about women in the service, about Americans who were discriminated against because of their ancestry and about couples who were brought together by the war.
What stands out about the book is the nobility of those people, of that generation. I'm afraid my generation, and every generation since, has been much more self indulgent and has not met the standard set by the greatest generation. It made me wonder what would happen if there ever were a military undertaking again as massive as the one required by World War II. Would we, as an entire country, answer the call the way our country did in the 1940s? Could we care more about the United States, about future generations, than about ourselves?
I mean no disrespect the military men and women who have sacrificed so much since. From Korea to Viet Nam to Cambodia to Iran to the Persian Gulf to Iraq and Afghanistan and beyond—our country has been blessed by the heroism of thousands. But I'm not talking about individuals. I'm talking about a generation, and the World War II generation was in a class by itself.
So I'd li ke to thank all veterans today—especially those from the greatest generation.
*On the subject of vets, is there anything better than a warm welcome home? If you are having a rough day, this video