June 26, 2011 -
Dan Pompei
NFP Sunday Blitz
Andy Dalton apparently will be the starter on day one. Cam Newton, the first pick in the draft, is expected to move mountains and part seas. At the moment, at least, Jake Locker and Christian Ponder are the No. 1 quarterbacks on their teams' depth charts.
None of them may be in as advantageous a position for long term success as Blaine Gabbert. The only expectations for him this season in Jacksonville are to get splinters on his rear end from sitting on the bench, and blisters on his index finger from keeping charts on the sideline.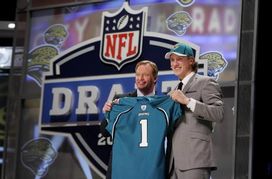 ICONBlaine Gabbert might not be No. 1 on the Jags' depth chart for quite awhile.
Jaguars general manager Gene Smith did not trade up to take Gabbert with the tenth pick in the draft in order to have Gabbert to save the franchise in 2011. He chose him to develop him and play him down the road. Gabbert's role for the foreseeable future, barring anything unexpected, will be as the No. 2 quarterback to David Garrard.
"Fortunately for us, with David returning as a very capable starter, you don't have to rush the development of Blaine," Jaguars coach Jack Del Rio told me. "That's a good situation. We're operating from a position of strength as opposed to having to force a guy into duty before he's ready."
Del Rio doesn't have a time in his head when he expects Gabbert to take over, or even when he expects Gabbert to make his debut. He wants to remain open minded about it so he can play him when the time is right. His only plan is to play the quarterback who gives the Jaguars the best chance to win.
Del Rio was a linebacker with the Cowboys in 1989 when they drafted a quarterback in the first round. Steve Walsh was the incumbent, and the best player was going to start. Back then, it turned out the rookie won the job. Troy Aikman took some lumps but managed to overcome them on his way to a hall of fame career.
It's going to be different with Gabbert. Del Rio and Jaguars offensive coordinator Dirk Koetter are more likely to develop Gabbert the way the Bengals did it with Carson Palmer, and the way the Packers did it with Aaron Rodgers. Palmer didn't take a snap as a rookie. Rodgers sat behind Brett Favre for his first three years.
"In a perfect world, I'd like to see him not have to play this year in terms of having time to develop," Del Rio said. "That doesn't mean I would keep him on the bench if I thought he was the best option to win. Ideally he's able to get that time to develop and really learn the game at this level. I'd love to see Garrard have a nice season, lead us into a playoff position, and then see if we can get hot. Things don't always happen the way you have them planned though."
It didn't happen quite the way Del Rio had it planned in 2003 when the Jaguars drafted Byron Leftwich in the first round. Leftwich became the starter four games into his rookie season when Mark Brunell was injured. Del Rio said he will handle Gabbert's development differently after learning from some things he did with his first quarterback. Leftwich was on a faster track than Gabbert will be on.
Part of it their reasoning is Gabbert is a little green. He left Missouri early and had only two years as a starter. He played in a spread offense and will have to transition to being a pro style quarterback. And because of the lockout he won't have the benefit of spending the offseason before his rookie year learning the offense and being coached. Whereas Leftwich was considered to be an NFL-ready quarterback with an extensive history of production at Marshall, Gabbert probably is at least a year way from being ready for the NFL.
In order to push Gabbert's development, Del Rio plans on giving him a significant amount of practice reps, both during camp and during the regular season.
He also wants Gabbert to seek mentorship from former successful quarterbacks, and plans on setting up meetings as soon as he is able. "I'd love to see him spend some time with a Joe Theisman, a Rich Gannon, guys I know well who have done it at the highest level," Del Rio said. "Find out what it takes to be a quarterback in this league, what are some of the things you should and should not be doing. How you manage your time, deal with people pulling at you from different directions, prepare for different teams, digest a playbook. All those things that experience helps with."
Gabbert has everything it takes to be a successful quarterback in the NFL. And the Jaguars are planning on making his introduction as smooth and seamless as it can be.
Things I Didn't Used to Know
*The future of Chad Ochocinco remains very much up in the air. I hear the Bengals are keeping all options open with him, meaning he could remain with the team, he could be traded or he could even be cut. Some of it has nothing to do with Ochocinco. If rookie A.J. Green looks like he's ready to play, and second year man Jordan Shipley looks like he's ready to keep up, the Bengals will have little motivation to continue to put up with the flashy veteran. In that case, they likely would test the market and look to have their young receivers grow with their young quarterback Andy Dalton.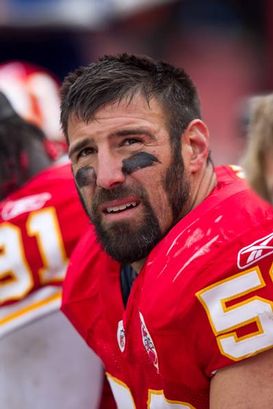 Graybeard Mike Vrabel needs to find the perfect spot if he's going to keep playing.
*Mike Vrabel has sent some mixed messages about whether or not he intends to retire in 2011, but the latest messages from the 35-year old say he wants to lace them up again. If Vrabel does play, it's difficult to imagine him playing anywhere other than in Kansas City or New England. Scouts say there is no question Vrabel has lost quite a bit. He is no longer capable of playing a lot of snaps. But to those who know him well, Vrabel has great value as a leader and mentor. The Patriots have a history of keeping around old guys like Vrabel who don't play a lot (see Anthony Pleasant, Troy Brown and Junior Seau) because they can benefit from their intangibles. And Chiefs general manager Scott Pioli was part of that Patriots' history.
*With his current salary, Marion Barber isn't much of a fit in Dallas. So don't be surprised to see the running back working for another team next year. The Cowboys drafted a potential replacement in DeMarco Murray, and toyed with the idea of trading up to take Mark Ingram. They didn't want to give up a 2012 first rounder, however. The Cowboys believe in splitting the carries among two or three backs, and new coach Jason Garrett wants to get good use from Felix Jones. That means whoever is in the backfield with Jones will be somewhat of a role player and should not be pulling in big bucks. The team has not asked Barber to take a pay cut, but the possibility is not out of the question.
*The Falcons could lose three starting offensive linemen in free agency, but they aren't panicked about it because they have been planning for the possibility. Tyson Clabo, Justin Blalock and Harvey Dahl all could be former Falcons come August. In fact, had the team not moved up in the draft for Julio Jones, a good chance exists they would have chosen an offensive lineman in the first round. But they also have been developing three players who they believe could step up as starters if needed. Garrett Reynolds, a fifth round pick two years ago, could take Clabo's spot. It's just a matter of time before Mike Johnson, a third round pick last year, becomes a starting guard. And Joe Hawl ey, a fourth rounder a year ago, also appears ready to start.
My Sunday Best: Hard Knocks Candidates
HBO usually is happy to take whoever it can get to be featured in Hard Knocks. And the willing team never fails to be at least mildly entertaining. But who would you pick if you had your choice of 32 teams? Awhile back, Joe Fortenbaugh gave his top five. Here are my best five candidates for the show, pre free agency.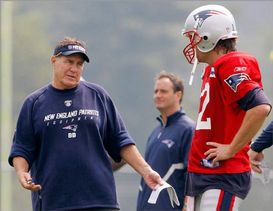 The Pats on Hard Knocks probably could never happen. But we can dream, can't we?
1. Patriots. You might say they would be boring, and they probably would be more boring than the Jets were last year from the standpoint of candor. But if cameras had inside access to Bill Belichick's operation, we'd all get an incredible education. I'd love to see Belichick interacting with players and coaches. I'd love to be a bug on the wall during his decision making processes. Ryan Mallett's introduction to the Patriots should be fascinating. I'd like to see the way Tom Brady prepares for a season. And there could be some contract fireworks with this team.
2. Lions. Knowing how these coaches push their players, I can guarantee this team would make for great TV. There isn't a more passionate coaching staff in the league. You could do a mini-series on Gunther Cunningham. Matthew Stafford's comeback should be riveting. The dynamic with Nick Fairley joining the stacked "Silver Crush" defensive line would provide an interesting storyline.
3. Redskins. It may be a little early to tab the Skins because of the uncertainty over the quarterback situation and Albert Haynesworth's status. But something tells me there will be good theater in Ashburn, Va., with our without Haynesworth and Donovan McNabb. Kyle Shanahan is someone we'd all like to get to know. Big personalities Chris Cooley and DeAngelo Hall likely would provide some comic relief.
4. Broncos. As of now, it appears there will be no better quarterback competition than in Englewood, Colo. Even if Kyle Orton is traded, Tim Tebow and Brady Quinn, and probably another contender, will duke it out. It also would be interesting to see John Fox put his footprint on this team in his first season.
5. Saints. Sean Payton may be the league's most entertaining coach this side of Rex Ryan. Sidekicks Gregg Williams and Joe Vitt would be sure to get plenty of screen time too. I'd love to watch Drew Brees' approach to a training camp. And the running back situation should be rife with drama as Mark Ingram tries to establish his turf and Reggie Bush (assuming he sticks), Pierre Thomas and Chris Ivory try to defend theirs.
Scout Talk: Supplemental Decisions
The spring ratings from the scouting combines should not be taken too seriously. A lot will change in the next year for prospects, and limited resources are put into the ratings.
That being said, it was interesting to see how some of the players who were considered possibilities for the supplemental draft were perceived by one of the two services.
Cornerback Janoris Jenkins was the highest rated cornerback among all senior prospects and was rated one of the top prospects at any position. His 6.9 grade was well above the 6.5 given to Alfonzo Dennard of Nebraska, the No. 2 ranked corner. After his dismissal from Florida, Jenkins decided to enroll at North Alabama rather than enter the supplemental draft.
Michael Floyd also decided to forego the supplemental draft. The wide receiver is returning to Notre Dame despite the fact that he was the highest rated receiver among seniors to be. His 6.5 grade put him ahead of Texas A&M's Jeff Fuller and Wisconsin's Nick Toon.
Terrelle Pryor of Ohio State did decide to enter the supplemental draft, but the rankings indicate he could have used another year in school. Nine quarterbacks were rated ahead of him.
Hot Reads
*The 2011 season could be the one that defines Mark Sanchez.
*And Joe Flacco.
*And Jay Cutler.
*It would not shock me to see the Texans trade Mario Williams.
*Al Saunders can do a very nice job with the Raiders offense—if he is not interfered with by his boss. Or the boss of all bosses in Oakland.
*The defending world champions will have a bigger head start this year than the defending world champions usually have, given the unusual nature of the offseason. It's going to be interesting to see what the Packers can do with it.
Dan Pompei covers pro football for the Chicago Tribune at chicagotribune.com. Follow him at twitter@danpompei