November 19, 2011 -
Barry Dorey
NFP Sunday Blitz
Jared Allen has no business being on track to break Michael Strahan's NFL sack record of 22.5. But with 13.5 sacks, he is.
He's playing on a bad team, which means fewer ideal pass rush opportunities. Opponents may be throwing a lot against the Vikings, but they aren't often throwing in desperate, predictable situations with five-man protections.
He's had half of his team's 27 sacks, and has been the only consistent pass rushing force on the Vikings. Head coach Leslie Frazier last week made a public plea for somebody — anybody — to step up and help out Allen, especially when he's drawing three blockers. Vikings opponents have little else to concern themselves with when drawing up their protection schemes.
The best time to be a pass rusher is in the second half. Only four of Allen's sacks have come in the second half — 9.5 have come in the first, when the Vikings haven't yet been out of games.
The best down to be a pass rusher is third. Only 4.5 of Allen's sacks have come on third down; 9 have come on first and second down.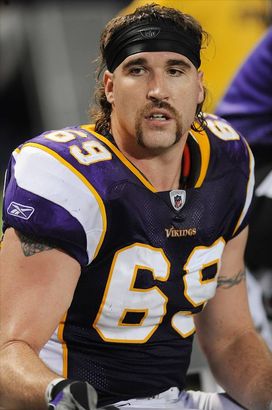 Allen's accomplishments are even more impressive in the context of the team he plays on.
What this points to is that Allen is a serious contender for defensive player of the year even though such honors usually don't go to players on bad teams. He has been productive and dominant in a way no other defender has this season.
At the age of 29, Allen clearly is at the peak of his pass rushing abilities. I asked Allen to share some of the secrets of his pass rushing success this year.
This is what he told me.
*He keeps it simple as a pass rusher.
Allen hasn't added any fancy new rushes, and he's not one of these defensive ends with a dozen moves in his arsenal. "I'm probably not the prettiest pass rusher," he said. "You won't see a spin out of me unless I'm getting chipped. Too many people try to do too many things. I know what my strengths are. I know what my weaknesses are. For me, football is all about leverage and technique."
Allen doesn't even like running stunts and twists. "I'm not a big advocate of pass rush games," he said. "They are a good changeup, but if you do them too often I think you are taking peoples' strengths away from them. If I have an option to run a game or not run one, I'm typically not running one."
*He focuses on hand use.
Many people think pass rushing mostly is about feet. Not Allen. "I have to try to get that [blocker] to try to stop speed, and then I have to defeat his hands," Allen said. "If I'm playing a guy who is a heavy puncher, I might use a double slide or a chop flip, or might stab or try to knock his outside hand down. A lot of it is a rhythm breaker. A lot of it is showing a guy one thing and countering it maybe an inside move later. It depends on what the guy is giving me. A lot of it is just hand fighting."
*He is relying more on film study.
"As you get older, you have to really study the game and take advantage of opportunities you get," he said. "I had a lot of chances last year, a lot of plays I left on the field. I've just been able to make them this year. Studying helps you pick up any tells."
*He is not letting all the blocking attention get to him.
Allen is used to getting a lot of double team action, but he's seeing more variations this year. "I've seen [doubles] from different angles this year, guys coming from the outside in, coming back across the formation to chip or cut."
And how does he deal with all the chips? "When I first got in the league I learned the best way to deal with a chipper is to chip a chipper," he said. "That guy really doesn't want to get hit. He wants to make a play. So take the bite to him."
*He has improved his attitude and outlook.
Allen doesn't consider himself Purple Tebow, but there are some similarities. Allow him to explain.
"Last year was so miserable around here with the outside stuff," he said. "I let it get to me more than I like. The one thing I could really change from last year to this was my attitude and focusing on something greater than myself. As I continue to grow in my faith, I realized one of the things I hadn't done was let the Lord have total control of my life, including in my profession. I said I'm not going to stress it. God's will is going to get done. I've been trying to go out and play for the Lord this year. No matter how hard I tried myself to do something, you can't get it done. But when you turn to the Lord, anything is possible.
"I'm going to have a good attitude week in week out and enjoy playing football and the opportunity given to me each Sunday. It's affected my overall look. This is the most fun I've had playing football since high school."
Allen said he is not concerned with breaking the sack record. His goal at the start of the season was to have 17 sacks, which will put him at 100 for his career. He also said he is not obsessing over what Dallas' D'Marcus Ware, who is one half sack behind him, is doing.
"I admire Ware as a fan of the game," he said. "He's a heck of a player. But I'm not going to sulk or go into a game wracking my nerves saying I've got to do this because he did something. I go into every game trying to win. I don't see myself as just a pass rusher. I don't want to be known as a great pass rusher. I want to be known as a great defensive player."
That's one goal Jared Allen has already accomplished.
Things I Didn't Used To Know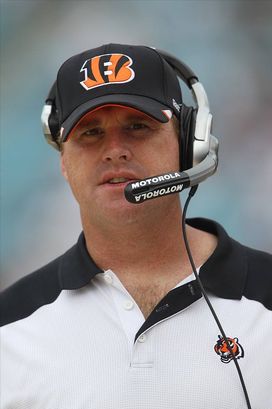 The Bengals might not be able to keep their offensive coordinator for very long.
*Jay Gruden might not be long for Cincinnati. His brother Jon may be off limits to teams seeking a head coach, but Jay may be the next best thing. Jay was Jon's right hand man during Jon's Super Bowl season with the Bucs. Jay also is being credited with helping to turn around the Bengals this year. The offensive coordinator convinced team ownership to select Andy Dalton instead of Ryan Mallett in the draft, and his development of Dalton has been stunning. Jay also has head coaching experience, having led the Arena League's Orlando Predators to a 93-61 record and two league championships over nine seasons.
*Also on the topic of the Bengals, their coaches believe the hustle of second-year defensive tackle Geno Atkins has been contagious. Atkins, who is having a fine season, plays so hard that other Bengals defenders have revved up their motors to try to match his intensity. When the Bengals chose Atkins in the fourth round of the 2010 draft, they thought he was the third-best interior rusher in the draft after Ndamukong Suh and Gerald McCoy. It looks like their assessment was pretty accurate, as Atkins' intelligence, quickness and effort have led him to 4.5 sacks this season. Atkins also has been solid against the run because he gets good leverage.
*Ronde Barber has found that less is more when it comes to training. The 36-year-old is a marvel, having started more consecutive games — 192 — than any player in the league. I asked the Bucs cornerback about some of the keys to aging gracefully. He said he doesn't push himself physically in his workouts as much as he did when he was younger, when he sometimes would work out up to three times daily in the offseason. "I've gotten smarter," he said. "I understand my body a lot better." Barber said his he has tried to protect his joints and gone for lower impact workouts with less jumping and power lifting. He does more biking and fitness exercises. Barber's weight has been the same, about 182 pounds, for quite awhile. About six years ago he lowered his body fat though. He also helps his recovery and corrects imbalances by using MAT — which is an acronym for Muscle Activation Techniques. "I think I've made some smart decisions with the way I take care of myself, but also I've been blessed," he said. "I haven't had any major injuries that kept me off the field."
*The Cowboys are not surprised that Sean Lee has become one of their best defenders this year, and they also are not surprised that he has is wearing a cast on his wrist. The thinking in the Cowboys' draft room last year was that Lee would have been a first rounder if there were no questions on durability. They took him in the second after Lee tore his ACL in 2008. Lee also was dinged up a bit during his rookie year. But there is little question about his ability. Lee is instinctive and physical. The Cowboys see him as a bigger, stronger version of former Dallas linebacker Zach Thomas.
*The Colts defense has been dreadful, but it's not the fault of their linebackers. Middle man Pat Angerer in particular has been outstanding filling in for injured Gary Brackett, and it looks like the Colts have found a long-term leader for their defense. Angerer is leading the league in tackles and has done everything well, according to Colts president Bill Polian. Angerer has shown instincts, speed, explosiveness and intelligence. What's more, many of those ball carriers Angerer has tackled have felt it. He's a vicious tackler. Outside linebackers Kavell Conner and Phillip Wheeler also have played well.
My Sunday Best: Punt Returners
Devin Hester was named NFC special teams player of the week after scoring his 12th career punt return touchdown last Sunday. The 12 career punt return touchdowns extended Hester's NFL record for most punt return touchdowns. That got me thinking. Who are the best punt returners in the NFL today? Here are my best, with a little help from special teams coaches and pro scouts.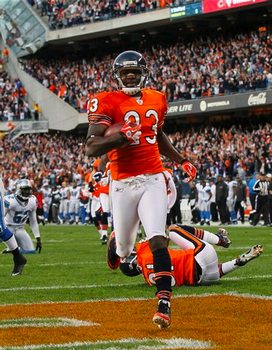 Devin Hester: catch him if you can.
1. Devin Hester, Bears. He is the best today and the best ever. His combination of speed and instinct is unmatched.
2. Patrick Peterson, Cardinals. He is a bigger, younger version of Hester. Peterson, who has scored on three punt returns as a rookie, has excellent vision and unusual lateral movement to avoid contact.
3. DeSean Jackson, Eagles. No one has more make-you-miss than Jackson. If he gets a crack, he's gone.
4. Randall Cobb, Packers. His hands are an issue, but the rookie has a nice combination of speed and quickness. His vertical burst is exceptional, and he is a natural returner.
5. Ted Ginn, 49ers. He isn't as elusive as some of the others, but if he gets a crack, he will blow by everyone.
6. Stefan Logan, Lions. He is the king of quickness and change of direction, and he runs with a low center of gravity.
7. Marc Mariani, Titans. His return style is defined by two traits: fearlessness and shiftiness.
Scout Talk: Centers in the 2012 Draft
If it weren't for the Big Ten, the 2012 draft would be nearly bereft of centers. It's a lean year for snappers even with the Big Ten centers.
The center who will likely be chosen first, should he decide to make himself available, is Wisconsin underclassman Peter Konz. He is a total package center considered to be equitable to Mike Pouncey, who was chosen by the Dolphins with the 15th pick in the first round last April. Konz has athleticism, size, power, intelligence, toughness and long arms. He can also play guard.
The top rated senior likely will be Michael Brewster of Ohio State. Brewster is a smart technician who plays consistently. His physical package is not spectacular, but he gets the job done. Brewster looks like a second round possibility. Ranked after him is Michigan's David Molk. His only drawback is he lacks ideal size. But Molk is a nasty blocker who understands schemes and leverage.
Two centers in the fourth to fifth round range are Ben Jones of Georgia and Quinton Saulsberry of Mississippi State. Jones is tough, smart and competitive but is not an elite athlete. Saulsberry is more athletic than powerful.
Also in the mix to be drafted are Philip Blake of Baylor and Scott Wedige of Northern Illinois.
One Man Yelp: Between The Lies
The best part about Marv Levy's fictional Between the Lies is how he blends his 47 years of coaching experience into a wild story about a plot to throw the Super Bowl.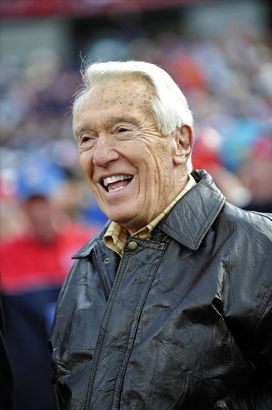 Former Bills coach Marv Levy brings a refreshing perspective to his first work of fiction.
There aren't many people in the world who could have written this book the way Levy did. In addition to being a Pro Football Hall of Famer who brought his team to four Super Bowls, Levy also was an English and History major who loves writing. So he's able to tell a tale, and he's able to work in what it feels like to be in a draft room, what the relationship between a coach and a sportswriter is like, how the head coach-owner dynamic works, and even how the grind of an NFL season affects equipment men.
Levy told me he took snippets of real life NFL people and included them in characters in the book. For instance, there is a little of Jim Kelly in his fictional quarterback Kelly James. And Bills fans will recognize a little of good old Phil Hansen in the character Bill Hanlon.
The plot is about cheating at the highest level, but the book is about so much more. "Everybody's first reaction is, 'Are you hinting?'" Levy said. "The answer is absolutely not. This is pure fiction. It could happen sure, but I'm not even hinting that it ever has. When I worked for George Allen, he was always paranoid that someone was filming our practices or wiring out locker room or something. So that's kind of what got me started on this."
If you like Levy — and who doesn't — you'll like his book. You also might like some of the last things he did as general manager of the Bills.
Before he stepped down four years ago, Levy pushed for the Bills to acquire Fred Jackson and Ryan Fitzpatrick. "I'm very gratified those two guys are starring for them," Levy said. "They are high character guys. I think they will help the Bills weather out this little bit of a losing streak."
Hot Reads
*Bet you never realized Jordy Nelson has a little Eminem