July 31, 2011 -
Barry Dorey
NFP Sunday Blitz
Howie Roseman is on the phone, calling while heading back to his office after Eagles practice at Lehigh Universisty Saturday. And he is buzzing.
The general manager just signed Cullen Jenkins. He just traded Brodrick Bunkley to the Browns. And he still is working the call waiting button because something else might be brewing.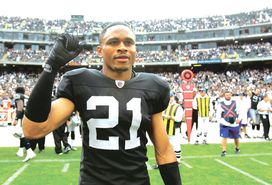 The Eagles landed the prize of free agency in Nnamdi Asomugha.
Also acquired in recent days have been Nnamdi Asomugha, Dominique Rodgers-Cromartie, Jason Babin, Vince Young and Donald Lee, among others.
Pretty good team you are assembling there, don't you think Howie? "We are a talented team, but I have to get back to the office and look at the depth chart again to say exactly. It's changed since I left for practice."
Young was so impressed with the assemblage of talent that he called the Eagles "the dream team." Whether or not that was a compliment or curse is debatable, but the Eagles suddenly are everyone's pick to win the Super Bowl.
"That's not our name," Roseman said. "We just are trying to put together the best possible team we can to compete the best we can for a world championship."
We all know that "dream teams" can be undone by a lack of chemistry. The most talented group of players often do not make the best team. And this is a concern in Philly.
Roseman said he, Andy Reid, the assistant coaches, team president Joe Banner and owner Jeff Lurie carefully considered the team chemistry in each of the moves. They didn't just want talented players; they wanted players who fit in the Eagles' culture.
"We felt character was very important, so all of the guys we brought in had high character and a passion for the game," Roseman said. "We have to get the chemistry right. The continuity we have with our core group should help."
The Eagles were also sensitive to having an older roster. Roseman pointed out the roster was so young before the moves that he believes the average age of the Eagles still will be among the five youngest teams in the league.
The plan for what Roseman and the Eagles did last week began to take shape early in 2010. "Last year we decided to be very conservative because the rules of free agency [six years of service were required for unrestricted status] meant there would be half as many available players as usual. What you had was more older players. We decided to save our money for a rainy day. We knew there would be twice as many players this year. As it turned out, we also had extra time to evaluate them and formulate a plan."
Even Roseman allows he didn't expect it would work out quite like this though. Some of the players, most notably Asomugha and Jenkins, signed for considerably less than many thought they would. Part of this phenomenon is the Eagles might have become a "destination team," or a team that players love to play for.
Reid is a well-liked head coach. The staff of assistants is highly regarded. Michael Vick is a quarterback players like to play with. The Eagles' facilities are top-notch. Their organization is among the most respected in the league.
In fact, more players could even be headed to Philly. Said Roseman, "Stay tuned."
Things I Didn't Used To Know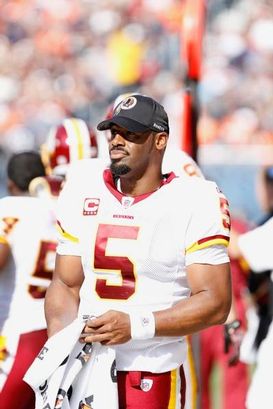 ICONThe Vikings hope McNabb looks better in purple.
*No matter what you've heard, Tyler Thigpen was not the Vikings' first choice to be their quarterback. Thigpen was the Vikings' fallback plan in case they could not acquire Donovan McNabb. There were other QBs the team liked as well, but the Vikes did not want to sink too much money or trade compensation into a quarterback who hopefully will only be keeping the position warm for Christian Ponder.
*Mark Herzlich's decision to join the Giants was puzzling to a number of NFL executives, who won't be surprised to see Herzlich struggle to make the team. Three NFL teams that deploy four man fronts, as the Giants do, dismissed Herzlich as not being a fit for their defense. They projected him as a 3-4 inside linebacker only who will struggle in space. In defense of the Giants, they have had some success with bigger, less athletic linebackers than some 4-3 teams prefer. General manager Jerry Reese indicates the plan for Herzlich is to use him at multiple positions.
*The Bengals are jacked up about offensive tackle Andre Smith showing up at 338 pounds. It's the lightest and best shape Smith has been in since he first stepped foot in Paul Brown Stadium. The team still has high hopes for the sixth pick of the 2009 draft, in part because he has not been healthy for an extended period of time since he has been with the team. The team's coaches remain as enamored with his ability as they were the day he was drafted.
*Gabe Carimi lined up at left tackle in his initial day of practice for the Bears, but he'll only stay there if he shows the ability to protect the passer. Bears line coach Mike Tice told me he will consider moving Carimi early in camp if he feels J'Marcus Webb is the team's best option at left tackle in pass protection. As of now, Webb is playing right tackle.
*Kyle Orton's contract not only prevented the Dolphins from trading for him, but it also deterred other teams that coveted the quarterback.
My Sunday Best: Veteran pickups
Free agency is filled with fool's gold. Teams don't win championships by loading up on other teams' mistakes. So I don't get as excited about veteran pickups as a lot of people. The moves I liked best last week were the moves that saw teams retain good players like Davin Joseph, DeAngelo Williams and Santonio Holmes. That being said, I liked a number of acquisitions from last week. Here are some of my best pickups.
Jason Babin—It's true he was a one year wonder, but Babin should bring energy and effort to the Eagles even if his sack production diminishes. A reunion with line coach Jim Washburn bodes well for Babin's second go-round in Philly. And the reasonable (by comparison) price the Eagles paid for the defensive end minimizes their risk.
Matt Hasselbeck—He still can play, and he can lead. He should be a good mentor for Jack Locker. The only question is how many games he can stay healthy for.
Greg Olsen—This is a fast tight end with above average receiving skills who can make a lot of big plays for the Panthers if they get their QB situation straightened out. The Bears never figured out how to use him, and his best football should be ahead of him.
Jonathan Joseph—The Texans got good value on a solid young cornerback. He is three years younger and considerably cheaper than Nnamdi Asomugha – not a bad consolation prize.
Paul Posluzny—He is as good a young run defender as there is in the league, and he will be an instant upgrade for the Jaguars. Guys like him are not often allowed to switch teams.
Darren Sproles—He isn't as dynamic and versatile as the player he is replacing, but Sproles will give Sean Payton the same type of player for his game planning toy chest. Payton will be able to do just about everything with Sproles that he did with Bush, though Sproles likely won't be as effective taking handoffs. Given what the Saints saved in replacing Bush with Sprole s, this was a nice deal.
One Man Yelp: Growing Up Colt
You might ask why Colt McCoy wrote a book. You might ask why Colt McCoy was leading offseason practices. You might even ask why Colt McCoy is the Cleveland Browns' starting quarterback
McCoy understands. The 2010 third round pick doesn't mind stepping out and trying to be a leader, even if it means exposing himself. That's one of the messages I got from reading Growing Up Colt, which the QB co-wrote with his father Brady McCoy and author Mike Yorkey.
Usually, leadership follows accomplishment. In McCoy's case, the cart is in front of the Colt.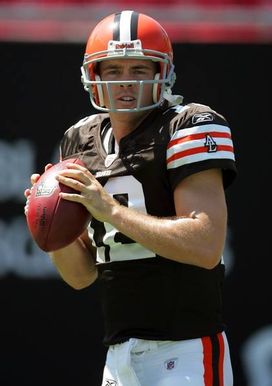 ICONColt McCoy does not act like a young quarterback.
McCoy understands that he's only started eight NFL games, and that he hasn't even established himself as a pro quarterback yet. But with Jake Delhomme in limbo all offseason (he was cut last week), there was no one else to take over. McCoy told me he tries to lead by being a servant, giving everything he has and being the same person in every situation.
And he doesn't apologize for trying to lead a franchise that hasn't had very effective leadership for a long time. "We needed to get work done as a team," he said. "You look across the league. It's pretty much on the quarterbacks, so I assumed that role. I know where we're headed as an organization and team. But it's not solely focused on me. I have to commend my teammates—tight ends, receivers, running backs, and those guys who have been willing to fly around the country and come together and work out and train and study. I feel I have a good grasp on offense in what we're trying to do in the West Coast because I did that in college. I have a pretty good idea of it. I'm able to teach and coach a little bit even though I'm still a rookie. It's time to grow up and play."
This is a player who, when he got to camp for his sophomore season at Texas, told coach Mack Brown, "I'm going to be your quarterback, and I'm going to lead us to the national championship." This is a player who, when he was in seventh grade, gave up all soft drinks on the advice of a nutritionist. This is a young man, who, when he was in high school, decided he wanted to be in bed every night by 9:30. And this is a person who started committing regular hours to charity work when he was in grade school.
McCoy is not your typical 24-year old.
Some teams didn't have a player like McCoy step up. McCoy believes the Browns will benefit from their offseason work, but he wouldn't go so far as to say they'll be winning games they otherwise would not have won. "We needed the work as opposed to some other teams," he said. "We have a new defensive system, new coaches on defense, new system on offense, new coaches there, so we need the work. It was important to do some things this summer and work and go over the things we had. We accomplished that."
The offense being installed by new Browns coach Pat Shurmur is similar to the offense he operated at Texas under Brown. "I'm comfortable with it," McCoy said. "It plays to my strengths a little more than what we were trying to do last year. It's the West Coast, what I ran in college. Getting the ball out of your hands, having the ability to make a play, sometimes you get out of the pocket a little. Those are things I feel comfortable with and they are part of my game, so I'm excited about it."
McCoy has the intangibles part down. If he can deliver physically, he might make it an interesting season in Cleveland.
Hot Reads
*Yes, the Cardinals gave up too much for Kevin Kolb. That's usually what you have to do to get a quarterback.
*One of the first things it takes to be a New England Patriot is subjugation of ego. Forgive me if I question whether Albert Haynesworth and Chad Ochocinco are capable.
*I like Nnamdi Asomugha a lot better at $12 million a year than I would have liked him at $18 a year.
*Robert Kraft is one of the things that is really good about the NFL. He is the new Dan Rooney.
*John Fox has to be wondering why Jerry Richardson is making it rain in Carolina after such a long dry spell when Fox was there.
*Mike Brown says he won't "reward" Carson Palmer by trading him. This is the equivalent of refusing to cut off your nose to spite your face.
*Palmer is no more retired than Brett Favre was in 2006. Or 2008. Or 2009. Or 2010. Just consider him locked out.
Dan Pompei covers pro football for the Chicago Tribune. Follow him at Twitter@danpompei