September 08, 2013 -
Dan Pompei
NFP Sunday Blitz
The petulance and somewhat polarizing personality of Heisman Trophy winner Johnny Manziel probably won't keep the Texas A&M star from being considered as a potential first-round choice if he opts to forfeit his remaining college eligibility and enter the 2014 draft after this season.
But the nasty, edgy and downright exasperating "Johnny Football" persona often on display, like in the opening game victory over Rice last weekend, could have some ancillary affect on another high-profile Aggies' personality whom NFL teams have already begun to closely watch: head coach Kevin Sumlin.
NFP noted in the "Sunday Blitz" a few weeks ago, after talking with several NFL decision-makers, that Sumlin is a guy commanding early interest from franchises that might seek to make a change on the sideline in 2014. And you'd better believe that Sumlin's ability to control the strong-willed and sometimes bullheaded Manziel is a component to which the NFL teams are paying attention.
It's a fairly esoteric angle that really hasn't gotten much play or consideration in the wake of Manziel's immature antics against overmatched Rice. But the display, and Sumlin's uneven handling of the matter, wasn't being ignored by some league folks in the days after the game.
On one hand, NFL people correctly noted that Sumlin clearly chastised Manziel, and pulled him from the game after he drew an unsportsmanlike flag for yapping at Rice defenders following a touchdown pass. But they also pointed out that Manziel essentially ignored his coach, brushing by him brusquely on the way to the sideline, and that Sumlin, while acknowledging the Heisman winner's obvious absence of class, loosely defended the actions and attempted to rationalize the situation.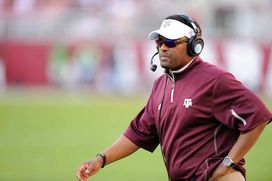 US PRESSWIRESumlin went 11-2 during his first year in charge at Texas A&M.
"It's more than just X's and O's, you know?" a league general manager noted to NFP last week, in discussing Sumlin and Manziel. "You have to find ways to manage even the more unmanageable people on your team. And time will tell if (Sumlin) has that quality. We'll see." Said a league director of operations: "Any team starting to look (at Sumlin), it just gives them one more thing to watch moving forward. It makes a difference when we're evaluating (coaching candidates)."
In fairness, Sumlin has repeatedly said that an NFL career is not a high priority on his "bucket list," at least for now. "Maybe way down the road," he said this spring when asked about stepping up in level. But while Sumlin isn't getting nearly the scrutiny of Manziel or offensive lineman Jake Matthews, or any of the other half-dozen or so Texas A&M players who might project into the '14 draft, NFL people have started taking notes on him. And the "Manziel matter," the term used by one high-ranking club management type in referring to last week's incident, was obviously notable. Sumlin is said to be a very good guy, and there is no denying his football acumen, particularly on the offensive side of the ball, but the NFL is about more than those things.
Certainly no one is suggesting here that Sumlin will be on any teams' "short lists" after this year, or that he will even want to be considered for an NFL position. But the league clearly is skewing toward fresher faces, such as former college coaches Greg Schiano in Tampa Bay, Philadelphia's Chip Kelly and Doug Marrone in Buffalo The onetime "good ol' boy" network that used to be so prevalent isn't quite extinct, but might be on life support, as reinforced by the fact that 25 of the 32 current head coaches are in their first top jobs in the league. And there is more openness now to elements like Kelly's up-tempo offense and zone-option quarterbacks, elements that not all that long ago were thought of as too unconventional for the staid league.
The bottom line is that, given the current dynamics, Sumlin could have some NFL suitors sooner rather than later. And if he ever does interview for a job, it's likely he'll be interrogated about Manziel and how he handled him. Last week's actions by the quarterback might be dismissed by some, but not by league people.
"The crazy quarterback didn't do (Sumlin) any favors," emphasized one.
+AROUND THE LEAGUE
*Making the easy (or some would suggest uneasy) segue from Sumlin's NFL head coaching prospects to guys who could be replaced in 2014, since it's never too early to begin speculating on "hot-seat" candidates: In an informal NFP poll of personnel guys, general managers and even a few owners last week, a total of eight coaches were cited as possibly being in some trouble if they don't win this season. There were a few obvious names, such as Ron Rivera of Carolina, Dallas' Jason Garrett, Jim Schwartz of Detroit, and the New York Jets' Rex Ryan. But in the wake of remarks made by Tennessee owner Bud Adams, that he had invested big money during the offseason to import talent and will be "real unhappy" if the Titans don't have a good season, several people prominently mentioned Mike Munchak as a guy who could be under scrutiny. The sentiment is that, even with Adams' ballyhooed additions, the club still lacks overall talent, and that second-year starting quarterback Jake Locker is the overarching key to the season. But the feeling is, as well, that Adams has essentially served notice, even without issuing a "playoffs or else" edict, that the Titans and Munchak will have to demonstrate significant improvement. Tennessee hasn't been to the playoffs in four straight seasons now.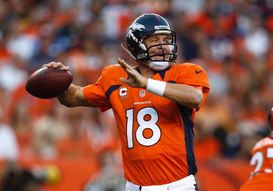 Manning went nuclear on Thursday night against Baltimore thanks, in part, to Thomas.
*Peyton Manning can claim that he foresaw a big game coming for third-year tight end Julius Thomas before Thursday night's eye-opening performance (five catches, 110 yards, two touchdowns), and maybe the Denver quarterback, whose sense for the game is uncanny, actually did. But it was Portland State coach Nigel Burton, who permitted the former basketball star to join the school's football program as a senior, and after a very good hoops career, who had the first inkling that Thomas had NFL-level potential.
"Just the (facility) with which he moved," Burton said on Friday, recalling Thomas' first venture into football since his senior season in high school. "He was powerful but still fluid. He had strong hands. And you could see that he had good athletic sense that could translate (to football)."
In his two previous NFL seasons, Thomas had appeared in nine games and had just one reception. But especially working with Manning last season, with the quarterback pushing more of the nuanced aspects of the game, as he always does, elevated Thomas, who beat out veterans Jacob Tamme (a Manning favorite) and Joel Dreessen (basically hand-picked by Manning a year ago) for the starting spot.
"If you do things his way, the right way, you're going to get better," Thomas said of Manning.
Some ironies: Manning's longtime target in Indianapolis, tight end Dallas Clark, was in a Baltimore uniform, and had an uncharacteri stic big drop. Ravens general manager Ozzie Newsome, a Hall of Fame tight end, has told us on many occasions that many of the best tight end prospects never get onto a field, because they're playing power forward on the basketball court. Turns out that, in the case of Thomas, he was painfully right.
*Two rookie quarterbacks, E.J Manuel of Buffalo and the New York Jets' Geno Smith, will start this weekend, and it will be the third straight season, and fifth time in six years, in which there will have been at least two rookie starters. The record, of course, is five, established last season, when Andrew Luck, Robert Griffin III, Ryan Tannehill, Brandon Weeden, and Russell Wilson all started in their teams' openers. The trend definitely is skewing toward starting younger quarterbacks, and you almost never hear anyone say anymore that it takes three years to develop a quarterback into a starter.
The Smith and Manuel starts will raise to 14 the number of rookie starters in the past six years. The 2010 season, when St. Louis' Sam Bradford was the lone rookie starter in Week 1, was the only time since 2008 that there were fewer than two. In the previous six seasons, 2002-2007, there were a total of just three –David Carr (2002), Kyle Boller (2003), and Kyle Orton (2005), and never more than one per year. Rookie starters from 2002-2012 are 6-9 in openers, and the lone winner last season was RGIII.
"You just try to remember that it's just a football game, but that's easier said than done," allowed Cincinnati's Andy Dalton, a winner in his 2011 debut. "People can say, 'Hey, it's just another game,' but you know it's not."
*There are plenty of people at least mildly surprised that Terrelle Pryor, whose NFL resume includes only 30 pass attempts, beat out Matt Flynn for the Oakland Raiders' starting quarterback job. But Ken Anderson and Ken Herock aren't among them. Anderson, the former standout Cincinnati Bengals' quarterback, tutored Pryor in the months preceding the 2011 supplemental draft. Herock worked with Pryor on preparing for interviews before the supplemental.
"Not only was he a bright and engaging guy," said Herock, the longtime league personnel exec, whose ProPrep firm has prepped hundreds of clients, "but you could see his raw football skills and ability to throw the ball. A lot of people thought he was just a great athlete who happened to play quarterback. I thought, watching (Anderson) work with him, that he was a real quarterback prospect."
Herock works more with clients now on the interview side of things than the physical, but still pays plenty of attention to a player's skills-set as well.
"He's still raw, obviously, but he can (throw) it," Herock said.
One other note about the Oakland quarterback competition: The reports that there were some players in the Raiders' locker room who preferred undrafted free agent rookie Matt McGloin of Penn State over Flynn or Pryor (or fourth-rounder Tyler Wilson, who ended up on the practice squad) were vastly overrated. Players admire McGloin, a onetime college walk-on, for his tenacity and resourcefulness, and his grasp of the Oakland offense, but very few actually feel he should be starting.
*"New faces in new places" is a fairly common theme in the league, what with so many players, and even coaches, changing franchises in the offseason. And it's made for some unconventional preparation techniques in recent seasons, as lately exemplified by the fact Washington defensive coordinator Jim Haslett, whose unit faces the Philadelphia Eagles in the opener, has spent considerable time the past couple weeks poring over videotape of University of Oregon games.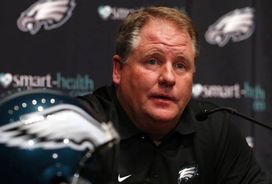 The entire country is eager to see what Chip Kelly has in store for Monday night.
Save for the preseason tapes, there is no celluloid, of course, of the offense that Kelly has installed with the Eagles for his debut NFL season. And, as Haslett allowed, there isn't a whole lot to be gleaned from the preseason. And so he's viewed tapes from approximately two dozen games Kelly coached at Oregon.
"You're trying to get a feel for the pace, for the way he calls plays, for the way it's run," Haslett said. "There's no track record from the NFL for this stuff. So you go back to where he's been and what he's done at places, and that means watching the (Oregon) stuff."
Atlanta players, especially the offensive linemen, have developed a similar tack in preparing for the new 3-4 front installed by first-year New Orleans defensive coordinator Rob Ryan. It's been a long time since the arch-rival Saints aligned in a 3-4 – no current Falcons' player has ever faced New Orleans in that defense – and so Atlanta linemen have been watching tape from Dallas games of the past few seasons.
"What makes it hard is trying to (project) the way Ryan will take guys who we've played in a 4-3 for so long and use them in (the 3-4)," said Atlanta guard Derrick Blalock. "You can get a little bit of a handle on what he did (when with the Cowboys), but figuring out the individual players, and what they'll do in a 3-4 is different."
*First-round choice Desmond Trufant will start at right cornerback for Atlanta at New Orleans on Sunday, and the former University of Washington standout has been getting plenty of advice from teammates about how to battle with the Saints' explosive wide receivers. He's also spent considerable time counseling with a couple of guys even closer to him, older brothers Marcus and Isaiah, both NFL corners. In fact, since being released by Jacksonville last weekend, where he had signed as a free agent following 10 seasons in Seattle, Marcus Trufant has become quite a long distance mentor for his younger brother, while he sits around to see if the phone will ring with a job offer.
"He's told me a lot," Desmond Trufant said last week as he prepped for his regular-season debut. "The best (advice) is to don't let the game and the moment become so big that it overwhelms you. You want to stay within yourself and just stay (resilient) if you have a bad play. Just take it snap-to-snap, you know? It's good to have people you can go to, and it's great when they're your brothers."
The eldest Trufant, 32, played 136 games for the Seahawks, but injuries have eroded his performance the past few seasons. An irony is that the Falcons, for whom his younger brother now starts, clearly picked on him, in his "nickel" role in their final drive of a comeback victory in last season's divisional round. Isaiah Trufant is a three-year veteran with the Jets, and primarily a special teams player.
*On the subject of the Atlanta-New Orleans matchup: Much has been made the past few meetings of the challenge for the Falcons' linebackers in attempting to cover New Orleans tailback Darren Sproles, one of the league's premier receivers out of the backfield. But the truth is, despite perceptions, Atlanta has actually done a pretty good job against Sproles, limiting him to 11 catches for 71 yards in three games. That said, the Falcons' young linebackers – especially undrafted rookie Joplo Bartu, from Texas State, who figures to play in "sub" packages – will be tested by Sproles. But for a change, Atlanta can offer a quality backfield receiver of i ts own to go up against New Orleans' thin linebacker corps. Ten-year veteran Steven Jackson was signed as a free agent in the spring, ostensibly to replace the released Michael Turner in the running game, but it's the former Rams standout's pass-catching skills that could make a significant difference. In his eight seasons as a starter in St. Louis, Jackson averaged 48.5 receptions, and six times had more than 40 catches. By comparison, the Falcons have only twice in the past 10 seasons had a back catch more than 40 balls in a campaign. And so when New Orleans linebacker and former Atlanta starter Curtis Lofton acknowledged that Jackson will present "a very different" kind of matchup for the Saints than did the downhill-oriented Turner, he wasn't just talking about his running ability.
"He catches the ball so well," Lofton said. "Not just on the screen, but up the field, too. And (the Falcons) haven't always had that kind of guy."
*There's been some churning in recent years of the old three-quarterback depth chart in the league, but nearly half the NFL (14 of the 32 teams) had stuck with the old tried-and-true, as of Friday morning. There were, though, six clubs that, at least for the time being, opted to go with only two quarterbacks – and none of their practice squads – for the opening of the season. Eight others had just a pair of quarterbacks on the 53-man roster, but had a third on the practice squad.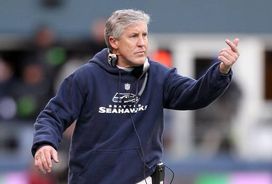 Carroll is one of several coaches rolling with only two quarterbacks in Week 1.
"The bottom line," said Seattle coach Pete Carroll, one of those who kept just two signal-callers (and none on the practice squad), is that you rarely use more than two anyway. And if you can get away with it, it gives you some flexibility at some other spots."
Oakland kept three quarterbacks active, plus one on the practice squad. The Jets and Redskins have four each on the active roster, although that could change quickly in either or both cases. And Jacksonville has five quarterbacks, although that includes "athlete" Denard Robinson, the former Michigan star who will be used as a running back and return man.
*As Peter King reported on Friday for Sports Illustrated, free agent quarterback Tim Tebow, now released twice in the past six months, recently rejected an opportunity to sign with an NFL team that wanted him to change positions. Tebow, with whom we sat at his home during the 2010 draft, has also rebuffed overtures, NFP has learned from people close to him, to test for some TV analyst work.
"His focus is still on the NFL and on playing quarterback," said a person close to the former first-round draft pick and onetime University of Florida star. "He still believes in himself a lot more than other people do. The other stuff (such as media opportunities) will be there. But not until he convinces himself that he's done with the NFL and that the NFL is done with him."
+SHORT YARDAGE
*So what does Manuel face in the opener against the Patriots? In his tenure in New England, coach Bill Belichick is 13-4 against rookie quarterbacks and has limited them to an anemic completion rate of just 53.9 percent. . . . On the aforementioned battle with the Saints' new 3-4 defense: The Falcons have had some problems with the 3-4 front in postseason play under Mike Smith, but are 18-6 during the regular season versus 3-4 teams during his five seasons. . . . More Falcons: Despite the team's publicly stated confidence in second-year veteran right tackle Lamar Holmes, who played just seven snaps from scrimmage as a rookie in 2012, coaches are hustling to get veteran Jeremy Trueblood, signed as a free agent last week, up to speed as quickly as possible. A former second-round pick in Tampa Bay, Trueblood's game has slipped because of injuries, but he has 84 career starts, and Atlanta thinks he has something to offer. . . . Some teams scouring around, putting together their "emergency" or "ready" lists, have young quarterback Mike Kafka, released last year by Philadelphia and then again by Jacksonville last week, rated higher than some of the veteran passers in the unemployment line. Kafka doesn't have a great arm, but he's a quick read, and showed some flashes in his four appearances with the Eagles over four years, and there was some mild surprise that he didn't fare better with the Jags. . . . For those wondering why there weren't more "vested" players (four seasons or more) after last weekend's cuts, remember this: A "vested" veteran who is on an opening day roster has his full salary guaranteed. And so clubs have taken to waiting, as they will this year as well, until after the first game to sign veterans. Look for some movement this week, now that the first-game guarantee is out of the way. . . . On a personal note, congratulations and best wishes to Steve Perry, who announced this week that he is retiring as executive director of the Pro Football Hall of Fame, a position he held admirably for seven years. Perry not only presided over a host of Hall of Fame improvements and additions, and significantly enhanced the profile of the Canton football shrine, but he was always even-handed in the annual deliberations for induction, treated the selectors with great respect, and was a consummate professional. He'll be missed by all of those involved in the Hall of Fame selection process.
+BY THE NUMBERS
*Baltimore's loss at Denver on Thursday night was the second in a row by a defending champion in a season-opening game and the streak comes after a dozen consecutive victories by reigning champions. It makes only the fourth time in history that defending champions have lost back-to-back openers and is the first time since 1992 and '93, when Washington (Super Bowl XXVI) and Dallas (Super Bowl XXVII), respectively, were defeated in their respective openers. Defending Super Bowl champions have never lost three straight lid-lifters. The 22-point margin is also the largest of defeat ever for a Super Bowl champion in the following season's first game. The previous worst was 19 points, with the Cowboys losing at Washington, 35-16, on Sept. 6, 1993. Reigning Super Bowl champions are now 31-15-1 in openers.