April 07, 2013 -
Dan Pompei
NFP Sunday Blitz
Relatively new owner. New general manager. New head coach. Apathetic fan base. Worst record in the NFL over the past two seasons combined.
If any team appeared ready to dive into the free agent market with reckless abandon, it was the Jacksonville Jaguars. Instead, the Jaguars have moved cautiously, slowly. They have let other teams sign the big checks.
What gives? This is a team that is committed to the long term as much as it committed to 2013.
"You can make some calculated free agent moves to fill some positions of need," Jacksonville general manager Dave Caldwell told me. "But I think we can find good players in the draft and college free agency. I really believe in building it through the draft and investing in your own players."
Of course he does. Caldwell cut his personnel teeth working for Bill Polian in Carolina and Indianapolis. During his highly successful reign, Polian signed free agents only begrudgingly. "You look at how that Colts team was built over a period of time, that's a pretty good indication of the way we would like to build," Caldwell said.
And it's not just Polian who led Caldwell to this philosophy. He points to the final four teams last season—the Ravens, 49ers, Falcons and Ravens—as examples of draft driven teams. Of course, Caldwell was part of the reason the Falcons were draft driven, as he was their director of player personnel after serving as their college scouting director.
With the second pick in the draft, the Jaguars are in position to add a player who can help them as much as one of the prime free agents could have.
"Mostly we're looking at building a long term foundation," Caldwell said. "But I don't see any reason why we can't be competitive short term. We still have a solid core of players here—Maurice Jones-Drew, Marcedes Lewis, Eugene Monroe, Paul Posluszny. There are some key pieces here that if you get a youth movement, some speed, some aggression, some hunger, we feel we can get competitive pretty quickly."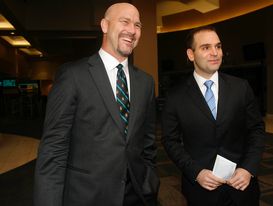 Gus Bradley and Dave Caldwell have a plan.
It's critical that the head coach is on board with the philosophy. "I think it's more than trying to win next year," Jaguars coach Gus Bradley told me. "Obviously we want to be successful next year. We want to get this thing going. That's our objective. But we are trying to create a vision that this withstands for a long period of time, not just one year up and then down. We all committed to build this thing right."
That isn't to say it is always easy. Bradley could be excused if he were jealous when he saw his old team, the Seahawks, adding premier free agents such as Cliff Avril and Michael Bennett. "I think at times you get caught up and say, jeez, that's a big signing," he said. "But because we talked about it before I was hired, we could stay strong with our vision."
The temptations of free agency sometimes were difficult for Caldwell to resist too. "It's hard," he admits. "It's even hard for me. I say, 'We need this, we need that, they all are getting signed.' But there is time. I tell Gus and Shad [Khan], I'm supposed to be the patient one, you guys help keep me patient. Keep in mind it's a process."
The Jaguars have added a few potential free agent starters in defensive tackle Roy Miller, outside linebacker Geno Hayes and cornerback Alan Ball. But those players will have to earn their playing time.
Bradley acknowledges he could have as many as four rookie starters, providing those rookies are able to beat out veterans he respects. Bradley is a major proponent of player development, so look for a lot of rookies to make the Jaguars' 53 man roster.
"When I hired a coaching staff I thought it was very important to get great teachers," he said. "That's a big part of it. I saw it take place in Tampa and Seattle. You get practice squad guys and you develop them into a role where they may be a backup and eventually a starter. At the stage we are in, it's so big for us. I can't emphasize it enough. If we get some free agents, some guys in August who are cut, it can be like having 10 draft picks instead of seven if we develop those guys."
One of the players Bradley hopes to develop will be under center. Whether that player is Blaine Gabbert, Geno Smith, Mike Glennon, Matt Barkley or some other rookie remains to be seen. But the Jaguars won't be turning anything around until they get better play from their quarterback.
The Jaguars have made no secret of the fact that they are considering a quarterback with the second pick of the draft. "There are some talented guys out there who have done some great things for their teams," Bradley said. "We have some needs but we are trying to capitalize on the best available. If there is a quarterback that shows up that we gravitate to, that will be an option for us."
Caldwell said the Jags also are open to a trade down, in which case Gabbert may have the upper hand to start. Bradley sounds as if he'd be fine with that. "We don't need [Gabbert] to be anybody other than himself," he said. "And we need to try to challenge him to be the best he can be. We've seen enough things on tape with both him and Chad [Henne], that if we can elevate his level of play, we can be successful with him."
Whoever is starting, it's likely the Jaguars will be young at quarterback. And a lot of other positions.
My Sunday Best: Remaining Free Agents
Nearly one month into free agency, the most desirable free agents all have been signed. But the market still offers a number of players who will start a lot of games and make a lot of plays. Some positions are much more picked over than others, however. Here are my Sunday best remaining free agents.
Quarterback—Brady Quinn. It's a pretty slim QB market at this point, but Quinn has value as a backup. He will be playing for his fourth NFL team and his days of being looked upon as a potential starter are over, but Quinn had some moments in Kansas City last year.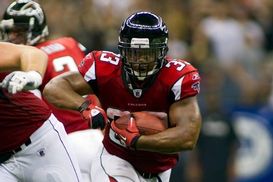 ICONMichael Turner still is a load.
Running back—Michael Turner. He is 31 and coming off his worst season since he became a starter. But Turner is a low mileage back who never was a speed back to begin with. He should be able to continue to power for tough yards if used in the right role. Ahmad Bradshaw also is still out there.
Wide receiver—Brandon Lloyd. At the age of 31, he had the second best season of his career in 2012. Then he was cut by the Patriots. It is unlikely he will produce the same way this year without Tom Brady throwing to him. But Lloyd still can contribute.
Tight end—Kevin Boss. He isn't as highly regarded as he was when he was with the Giants, in part because he has had head injuries the last two years. But if he's healthy, Boss still is a good receiver with the length, athleticism and ball skills to create matchup problems.
Offensive tackle—Eric Winston. You wouldn't think a player who has been cut in consecutive years would have much value, but Winston could in the right situation. According to front office men I respect, Winston could be a very effective right tackle in a zone blocking scheme. He is one of the more athletic right tackles in the league, but isn&rsquo ;t very powerful. Recently released Tyson Clabo is a similar player. Several personnel men I spoke with find Andre Smith highly overrated.
Guard—Brandon Moore. At 32, he's more of a stopgap than long term solution, but Moore is a physical blocker who can help a run game. One front office man said he thought Moore was "overhyped," but there aren't many quality guards still on the market.
Center—Dan Koppen. With Matt Birk, Jeff Saturday and Todd McClure retiring, there aren't many centers left to choose from. In relief of J.D. Walton in Denver last year, Koppen showed he still has game at the age of 33.
Defensive tackle—Sione Pouha. The Jets cut him to create nearly $4 million in cap space, but he remains an effective nose tackle. Problem: he is 34 years old. But nose tackles can last well into their mid 30s. Two Raiders castoffs, Richard Seymour and Tommy Kelly, also are interesting.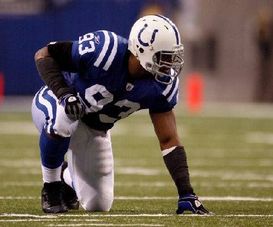 Dwight Freeney can help a lot of teams.
Defensive end—Dwight Freeney. He may not be all he was, but Freeney still can still turn the corner and get the quarterback. It won't be surprising if he gets double digit sacks next year.
Outside linebacker—Michael Boley. He remains a good cover backer with decent athleticism. But it's fair to question his ability to play every down for 16 games. If it's a 3-4 OLB you're looking for, Shaun Phillips is your man.
Middle/inside linebacker—Karlos Dansby. His combination of size and speed make him attractive to 3-4 teams especially. One scout said Dansby isn't a true Mike backer in a 4-3 because he's long and he struggles taking on. But he still can be a decent starter. Brian Urlacher is another player without a team who is going to help someone.
Cornerback—Antoine Winfield. This remains the position with the most available talent, even after some recent signings. Winfield may be old and small, but he still has sharp instincts. Others include Sheldon Brown, Quentin Jammer, Charles Woodson and Rashean Mathis.
Safety—Kerry Rhodes. He isn't the most consistent run defender, but he is a good athlete who makes plays. Given the attrition at the safety position every year, Rhodes is more capable than a lot of safeties who will start a lot of games next year.
Kicker—Lawrence Tynes. With his history of clutch kicks, Tynes won't be out of work for long..
Punter—Mat McBriar. He may not be what he once was, but he still can hang them with most punters in the NFL.
Things I Didn't Used to Know
*Many do not agree with Nolan Nawrocki's sources on Geno Smith. First, let me say I think Nawrocki from Pro Football Weekly is one of the best draftnik's out there. He does first class work, and he is very credible. But I haven't heard the things on the West Virginia quarterback that he did. The closest I heard was a couple scouts suspect Smith has a little con in him, and they find him to be a little hard to read. But one respected personnel man said his team believes Smith is a really good kid. He said his coaches in college loved him and he has a "phenomenal" work ethic. "Our report on him is completely different from what he wrote," he said. "We spent nine months talking to people, and our scout in that area is one of the best out there."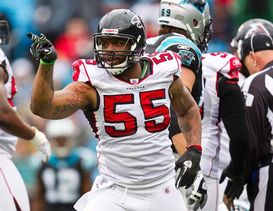 Are the Falcons better off with Osi Umenyiora than John Abraham?
*The Falcons could have upgraded by going from John Abraham to Osi Umenyiora. You might not think so by looking at the obvious stats—over the past three years, Abraham has 32.5 sacks to 26.5 for Osi. But if you delve a little deeper, you'll find that only 21 percent of Abraham's sacks over that time period came against division opponents, and only 20 percent came on third downs. According to Stats, Inc., only 21 percent of Abraham's sacks over that time period came when he beat a Pro Bowl offensive lineman. A lot of his numbers were piled up against blockers like Nate Potter, Guy Whimper and J'Marcus Webb. So Abraham wasn't getting sacks when the Falcons needed them, and his sack numbers were deceiving. Three bonuses working in Osi's favor: he'll make about $2 million less this year, he is perceived as a better team guy, and he is three years younger than Abraham.
Hot Reads
*A lot of people don't think of Chuck Fairbanks as one of the greats, but in his own way he certainly was. Even after his passing last week, his footprints remain in the NFL.
*We lost one of the giants in my business recently. He won the McCann Award for long and distinguished pro football coverage in 1985, and is a past president of the Pro Football Writers of America. .story Rest in peace, Cooper Rollow.
*And on the subject of the dearly departed, Roger Ebert,