November 07, 2010 -
Dan Pompei
NFP Sunday Blitz
This is the time of year when a lot of teams are starting to show the effects of injuries. Athletes who have been playing hurt no longer can produce like they did early in the year. And the shortcomings of players who are filling in for injured starters are starting to be exposed.
And then there are the Baltimore Ravens. Whereas other teams are starting to fade, the Ravens could be getting stronger. Instead of losing players, they are gaining them. The Ravens are stronger in all three phases of their team than they were two games ago.
The team added safety Ed Reed and special teamer Brendon Ayanbadejo in their last game, and after a bye last week, are adding wide receiver Donte Stallworth today when they host the Dolphins. None of the three had played previously this year.
The biggest difference for the Ravens is the presence of Reed, a six-time Pro Bowler. In their first six games, all without Reed, the Ravens had five takeaways. In their seventh game, with Reed, they had four—two on interceptions by Reed and a third on a fumble that was caused by Reed.
I asked Baltimore coach John Harbaugh about Reed's penchant for takeaways, and this is what he told me. "The biggest thing with Ed is he's not just a structure safety. He's a very disciplined player. But though study and innate football understanding, he has a great ability to play through a responsibility to where they are taking the ball. As a quarterback you can never be sure of where he's going to show up. That results in turnovers. That's why he's had so many."
Ayanbadejo, a three-time Pro Bowler on special teams, could have a similar impact on the Ravens kick coverage and return units. He had not played since early last season though, and at 34 will have to show he can still perform at an elite level. "Watching him run around, I expect him to be as good as he ever was," Harbaugh said. "He can be so disruptive in coverage."
As for Stallworth, he gives the Ravens something they haven't had—speed at the wideout position. Anquan Boldin, Derrick Mason and T.J. Houshmandzadeh form a fine trio, but they wouldn't win many relay races. Stallworth will help out in three and four wide receiver packages, Harbaugh said. "It adds a speed element that's going to be valuable. We have some really good receivers, but we don't really have that speedster. He's just fast, he has great run after catch ability, and he's a really strong runner with the ball."
Already 5-2 and in first place in the AFC North, the Ravens are looking like they could be a second half team.
Things I Didn't Used To Know
*Roddy White was named the NFC offensive player of the week, and is being called the offensive player of the year at the midway point by my friend Peter King of Sports Illustrated. The Falcons receiver is averaging 107 yards per game and is having the best year of his career. What's different? Falcons general manager Thomas Dimitroff tells me he believes White benefitted from working with quarterback Matt Ryan all offseason. White didn't get much work in with Ryan the previous offseason because he was angling for a new contract. The Falcons are impressed that White has taken his game to another level after getting paid.
*Also in Atlanta, the defense has been given a jolt by the ascension of second year safety William Moore. The second round pick took over as a starter in the second game of the season and has three interceptions. But his biggest contribution has been establishing a physicality that the Falcons had lacked. Moore was a non-factor as a rookie, mostly because of a hamstring injury. There is no doubt he is ready to play now though.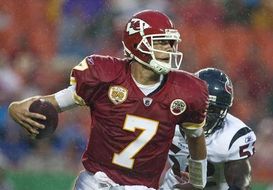 Even though Matt Cassel has been around awhile, he's still growing and improving at a rapid rate.
*Matt Cassel is 28 years old and a veteran of six NFL seasons. But the Chiefs believe he has more potential to improve than most quarterbacks. The reason, coach Todd Haley told me, is Cassel never started a game at quarterback in college or in his first three NFL seasons. "Each and every game is an experience for him that he'll draw from and learn and get better," Haley says. "He's got great passion about the game, to be one of the top players at his position. He made progress all last year, continued to make progress this offseason and through the first quarter and a half of the season. That's encouraging to me."
*Even though Johnny Knox has been the Bears' most productive wide receiver and is on pace for a 1,000 yard season, opposing defenses have shown more fear of Devin Hester. Bears receivers coach Darryl Drake tells me even though Hester's snaps have been reduced, defenses have been doubling Hester or putting a safety on top of him, which has opened up opportunities for Knox.
*Some of the Vikings' problems this year probably can be traced back to the offseason. The team had poor participation in its offseason program, with only three offensive starters being regulars. A number of players had medical issues. But there also was an air of complacency after the team made it to the NFC championship game last year, and the fact that exceptions were being made for Brett Favre did not help matters.
*A number of teams privately are getting motivational miles out of Raheem Brock's proclamation that the Bucs are the best team in the NFC.
My Sunday Best: The NFL's Greatest Players
The NFL Network's excellent series on the best players ever concluded last week with a show on the top 10, as voted by an 85-member "blue ribbon panel." I was one of the 85 voters, but like just about everyone else I did not completely agree with the top 10. The beauty of a list like this is that it's totally subjective. It's really almost impossible to compare players of different eras and different positions.
I should explain that as panel members, we did not vote for a top 10, per se. We were told to give a number grade to each of the players on a ballot, and also were allowed to grade write-in candidates.
I gave eight players the highest grade possible. Seven of them made the top 10. The only one who did not was Otto Graham, who ended up rated 16th by the panel. I had Graham and Peyton Manning as my two highest graded quarterbacks. The panel voted Joe Montana, Johnny Unitas, Sammy Baugh and Manning ahead of Graham.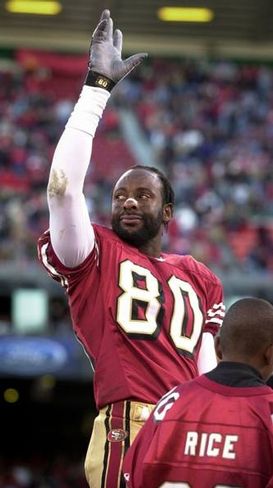 iconHe's No. 1: Rice was voted the best player in NFL history. Do you agree?
Jerry Rice was voted No. 1, which surprised a lot of people, including myself. Rice was in my top eight and there is really no argument you can make against him. But I thought Jim Brown was going to be a slam dunk for the top spot. He ended up No. 2. I also thought Rice might end up the second highest receiver behind Don Hutson, who was voted No. 9 but should have been higher in my opinion.
Three defensive players made the top 10. Lawrence Taylor was No. 3, Reggie White No. 7 and Dick Butkus No. 10. All were in my top eight, but I would have put then in reverse order, with Butkus at the top of the defenders and White second.
So my top eight, in alphabetical order: Brown, Butkus, Graham, Hutson, Manning, Rice, Taylor and White. To make it an even 10, I'll throw in Walter Payton, who was ranked fifth by the show, and Barry Sanders, who was ranked 17th. Montana and Unitas, the other two players who were voted top 10, would be in the group of players one level below in my personal rankings.
Numbers Games: Running the ball and stopping the run
When the Chiefs and Raiders throw down today to see who is the best in the AFC West, they might be playing a different style of ball than the rivals have often played in the past. Both teams have done a lot of business on the ground, not in the air.
The Chiefs, with help from Jamaal Charles and Thomas Jones, lead the league in rushing yards per game. The Raiders, with Darren McFadden leading the way, are No. 2. The Chiefs also have excelled at stopping the run (they have the No. 7 ranked rushing defense); whereas the Raiders are allowing the seventh most rushing yards per game.
Which leads us to rushing differential, an interesting stat being kept by my man Pete Moris in the Chiefs P.R. department. Rushing differential is the disparity between run yards gained and run yards allowed.
The Chiefs lead the league with a very impressive rushing differential of 94 yards per game. That's 29.3 yards per game better than the next closest team, the Jets. The Raiders, meanwhile, rank sixth in the NFL with a rushing differential of 41.1 yards per game.
There is a strong correlation between rushing differential and winning. Of the 16 teams with a positive rushing differential, only the Vikings and Chargers have below .500 records.
Of the 16 teams with a negative rushing differential, six have winning records. They are the Bears, Seahawks, Saints, Packers, Colts and Bucs.
Scout Talk: Randy Moss
What did the Tennessee Titans acquire when they claimed 33-year old Randy Moss? To find out, I asked three scouts who have studied Moss this year.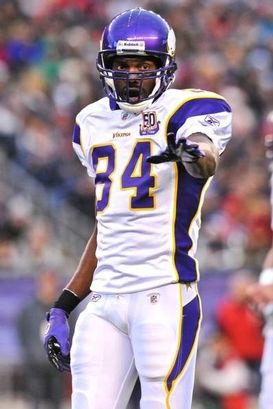 ICONIf he plays like he's capable, Randy Moss could be a worthwhile gamble for the Titans.
The consensus is Moss has lost a step, but he's still fast enough to beat almost any cornerback and still one of the game's most dangerous deep threats. "He used to be the fastest receiver in the league, and he could run by safeties as well as cornerbacks," one scout said. "That's not the case anymore, but if you don't put somebody on top of him, he'll still beat you deep."
Said another scout, "Slow for him is still fast for most guys." Moss may have been playing slow in Minnesota because he wasn't sure of his responsibilities. The scout said he saw some hesitation at times in Moss' routes. But there is no doubt he is not as explosive as he was a decade ago.
Effort, or the lack of it, always has been an issue with Moss, and it remains an issue, according to all three scouts. Playing for a coach he respects in an offense that is suited to his skills in Tennessee might help Moss play harder.
One front office man pointed out Moss really didn't fit in Brad Childress' West Coast offense. "He doesn't run real crisp short underneath routes like you are required to run in that offense," he said. "Shallow crosses never were his deal. Now, even more so."
Another agreed Moss is not a precise runner, and said he does not like to go inside. He said Moss is basically only good for vertical routes, and an occasional slant.
Two other points scouts made on Moss: he is a poor blocker. And he still can jump and extend for jump balls in the red zone as well as any receiver in the game.
One Man Yelp: Da Bears!
They celebrated the 25th anniversary of the Bears' Super Bowl season of 1985 last week in Chicago with a team reunion. Mike Ditka and Buddy Ryan even got together without throwing any punches.
The anniversary also is being observed by the release of Da Bears! The book by Steve Delsohn takes readers through all that happened crazy year, from Jim McMahon's heroic performance coming off the bench in Minnesota, to William Perry becoming an international celebrity, to Steve Michael throwing a chair through a chalkboard. It's a well-researched, breezy read, especially for those of you who are too young to have lived through one of the most incredible seasons ever.
Given the style of football they played, the way they dominated and the personalities of the individuals, the 1985 Bears were arguably the most fascinating team ever, and their defense was the best I've ever seen.
The book has some interesting interviews with many of the key players on that team, including Mike Ditka, Dan Hampton, Jim McMahon, Jeff Fisher, Leslie Frazier and Keith Van Horne. And they are just as honest today as they were back then.
The 1985 Bears had their roots in 1982, when Ditka was hired by George Halas. Delsohn writes about how Ditka set the tone in his first training camp: his first practice featured a live, 30-minute 11 on 11 scrimmage. And there was a second, identical scrimmage in the afternoon practice. Ditka wrapped up his first practice with 10 40-yard sprints. The next day there were ten 70-yard sprints, and then eight 110s. Could you imagine a coach trying to pull that off today?
"Back then, in the NFL, training camp was a five-week affair," the book quotes Van Horne as saying. "It was brutal. You were in full pads twice a day. It was 100 degrees, or 95 and 90 degrees humidity. Ditka set a tone, no question. This was when he first started, so he was all fire and brimstone."
It's a different NFL now. The 1985 Bears could never happen again, which is part of what makes this book worth reading.
Hot Reads
*Troy Polamalu contends Roger Goodell has too much power. Of course he does. And so does every other authority figure who makes a decision I don't agree with.
*Can't think of a tougher baptism for Seattle's Charlie Whitehurst: facing the Giants in his first NFL start.
*It's a good thing Jay Cutler isn't getting fined for poor body language, ala Mark Sanchez. A $7 million salary only goes so far.
*Retaining Wade Phillips for the rest of the season will give Jerry Jones more time to research/pursue Phillips' successor instead of starting over again with an interim coach.
*From the looks of things, Donovan McNabb and Michael Vick may be competing again in the future: as the top two available quarterbacks on the free agent market next offseason.
Dan Pompei covers pro football for the Chicago Tribune at chicagotribune.com.