September 09, 2012 -
Dan Pompei
NFP Sunday Blitz
More than any other team, the Miami Dolphins have their dirty laundry out for all the world to see on opening Sunday. Of course, they also have their clean laundry, folded, pressed and starched, available for viewing.
It's all there on five episodes of Hard Knocks on HBO. Now that it's over, I asked new Miami coach Joe Philbin to reflect on the experience.
He was not relieved to chase out the cameras and microphones. In fact, he grew to like and respect the employees from NFL Films he was working with. He said they treated players and coaches with great respect, and that they "became part of the fabric" of the team.
He is convinced the team is no worse for the experience; or better.
And he didn't take any of it too seriously. "We're coaching football--teaching guys to block and tackle and catch," Philbin said. "We're not curing cancer necessarily. We should be able to coach if there are no cameras or 50 cameras."
Interesting perspective from a lifetime assistant in his first head coaching job.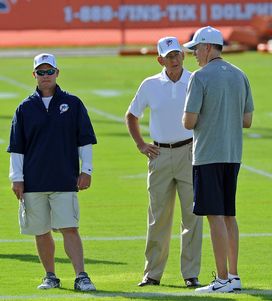 Thanks to Hard Knocks, the world has a better understanding of how Jeff Ireland, Stephen Ross, Joe Philbin and the Miami Dolphins operate.
And a head coach should be able to cut a player in private or public. Perhaps the most interesting moment in the series was when Philbin told Chad Johnson he was cutting him. Philbin had no second thoughts about doing it in his office in front of cameras. "Well, I had released Derek Dennis, a street free agent from Temple that nobody knows, and I had done it in my office in front of the camera," he said. "I felt this was fair to do it with Chad too. We told the players it was going to be this way."
Back in April well before HBO's cameras arrived, Philbin met with his team and told players they might hear and see some things on the show they wouldn't be completely happy with. There are many segments, for instance, in which a coach or general manager Jeff Ireland critiques a player in meetings or in circumstances that usually would be private.
"I told them one of the hallmarks of a healthy team is the relationship between the player and coach and part of that is honesty and trust," he said. "You are going to see some things that are said. Maybe you won't see the whole context of the conversation, but we're going to be open and communicate with you. You should have already heard a lot of these things you are hearing on Hard Knocks anyway. Your coach should be communicating things you need to work on, areas you need to improve upon."
The area was a little more gray when it came to injury information. Philbin said if a player had an issue with information about an injury getting out, the Dolphins and HBO tried to accommodate him. With players who weren't as concerned, the Dolphins let the cameras roll. Philbin said he wasn't worried about losing a competitive advantage because other teams knew about their injuries.
Philbin said he never watched the show, in part because he did not want to answer a lot of questions about it. But owner Stephen Ross did, and he liked the way the Dolphins were portrayed. He told Philbin he thought it was a positive for the organization.
For the most part, Philbin said he went about his business as usual. He said he did not feel inhibited by the camera's eye. It took him maybe an additional 30 minutes a week to do one-sit down interview, and to get mic'd up every day.
It became so second nature to him, he sometimes forgot he was wired with a microphone. "When I went to bed a couple times, I pulled my shirt up and almost took my neck off," he said.
Other than that, the Dolphins didn't see any danger in the Hard Knocks experience.
My Sunday Best: Unsigned Players
There is a surprising amount of talent out on the street on kickoff Sunday. Some of that will change this week, when teams can sign veterans without guaranteeing them a 17-week paycheck. But for now, at least, you could put together a decent team of players who are unemployed. After consulting with a few front office men on their ready boards, here are my Sunday best players who are out of work.
QB--David Garrard. What's up with all the quarterbacks who were cut? Joining Garrard, who was a late cut by the Dolphins because of his banged up knee, are Mike Kafka, Brian Hoyer, Josh McCown, Stephen McGee and Vince Young, among others.
RB—Tim Hightower. He averaged 4.8 yards per carry for the Cardinals two years ago. Also on the list: former Bear Kahlil Bell and former Packer Ryan Grant.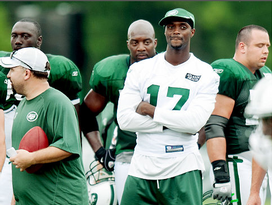 Plaxico still is standing on the sidelines.
WRs—Plaxico Burress, Jabar Gaffney. Both of these players are on the downside, but both were productive last season. Burress has some baggage, but he is an effective red zone weapon. Others include Deion Branch and Mike Sims Walker.
TE— Chris Cooley. His best days may be behind him, but he still can catch the ball as long as he's healthy. Jeremy Shockey gets honorable mention.
OTs— Kareem McKenzie, Jeff Otah. A number of teams have sniffed around McKenzie, but so far he hasn't signed. Money could be the holdup. McKenzie is 33, but he was good enough to start for the Super Bowl champs last year. As for Otah, he still is working himself into shape. If he ever gets there, he can be better than a lot of starting tackles in the league.
Gs— Deuce Lutui, Jake Scott. Lutui didn't make it with the Seahawks, but he likely won't be out long. Scott had a couple of free agent visits back in the spring, but he has not landed with a team. He is a capable NFL starter.
C—Dan Koppen. The Patriots went young with Ryan Wendell and released this 32-year old. He is likely to hook up with a team that has an injury at center.
DE—Andre Carter, Anthony Hargrove. There isn't much available at this position. Carter is coming off a torn quad and Hargrove just had his bounty-gate suspension lifted. Both still have talent—Carter was voted to the Pro Bowl last year. Among players who are ready to play now, Everette Brown, cut by the Lions, may be as good as it gets.
DT—Dwan Edwards, Brian Price. Edwards wasn't a fit in the Bills' new defense, but he has some talent. Price also is gifted, but he is a bit of a project who needs time.
OLB—Ernie Sims, Spencer Adkins. Sims might be better than he looked last year with the Colts. This is another thin position, which explains Adkins' presence.
ILB—E.J. Henderson. He is 32-years old and has quite an injury history, but he played pretty well last year for the Vikings. He probably would have signed by now if he would have been willing to accept less money.
S—Charlie Peprah, Eric Frampton. Peprah, a starter for the Packers last season, is available because he has knee issues. He likely will be healthy enough to return at some point. Frampton is more of a special teams player than safety, but he is an excellent special teamer.
CBs—Alphonso Smith, Alex Van Dyke. Smith had eight interceptions over the last two seasons, but has given up a lot of plays. Van Dyke is too fast to be unemployed long.
K—Neil Rackers. He lost a tough competition in Washington but still can kick. Actually, there are a few pretty good older kickers out there, including Olindo Mare, Ryan Longwell and Kris Brown.
P—Spencer Lanning. He has bounce d around for a year but eventually should stick. Others include Matt McBriar, Brad Maynard, Dan Supleveda and Ryan Donahue.
One Man Yelp: Tebow Time
Tim Tebow is only 25 years old. He has been in the NFL for only two years. He never has played in a Super Bowl or a Pro Bowl. He is not even a starter. Yet, a new book has been released that is a collection of his quotes.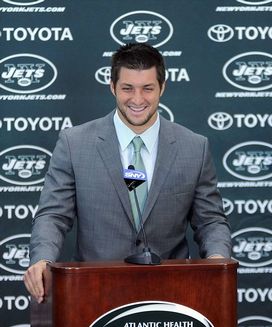 ICONTim Tebow resonates with fans like few professional athletes.
What other athlete in the same position could be so compelling? A quote from Tebow puts it in perspective: "If you believe, then unbelievable things can sometimes be possible." He said it after the Broncos' unlikely overtime victory over the Bears last year.
In Tebow Time: Insights on Winning form Football's Rising Star, we get a good glimpse of what makes Tebow tick.
A few of my favorites:
"A quote that I've always lived by, that's been at my door since I was 6 years old, is 'hard work beats talent when talent doesn't work hard.' So every day, I'm trying to go out there and outwork everybody else. It doesn't matter if you're more talented and more bless than me, I'm going to outwork you every day of the week."
"The number one thing that you can't teach is leadership, winning and competitiveness. Will I work at stuff for the next level? Yes. But you know what, I would rather want a coach that wants me for me. For those three things."
"My parents made sure I always understood that being good at something doesn't make you better than anyone else. I can play football, but anyone I meet can do something better than me."
There are some Tebow clich