January 09, 2011 -
Dan Pompei
NFP Sunday Blitz
I don't remember a year when there were so many legitimate candidates for coach of the year. Eleven coaches were outstanding this year and could have merited votes.
The two who were most impressive, in my opinion, were Bill Belichick and Mike McCarthy. I'm not supposed to let anyone know who I voted for until after the award is announced, so I'll just tell you what I liked about each of the top 11, in alphabetical order.
As one of 50 voters for the Associated Press award, I can base my selection on pretty much any criteria I see fit. Many times, it seems, voters are drawn to the coach who "overachieves" the most based on preseason expectations. But I like to think more broadly and find the coach who was most impressive regardless of what was expected. Here are my top 11.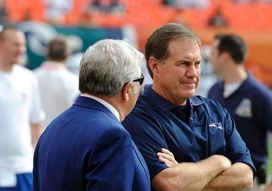 ICONThe coach of the Patriots has turned in another magnificent coaching performance.
Bill Belichick—I think he's the best coach in history, and this is arguably his second best coaching job after his performance in 2001. He traded Randy Moss and Laurence Maroney, then lost seven key players to injured reserve. Belichick has done it with the youngest defense in the NFL and 18 undrafted players, including his two top running backs. He runs the defense, and he runs the offense. He has a great feel for playing to the strengths of individuals and identifying and playing to the strengths of the team, and that has been very evident this season. Belichick has gotten more out of a number of players than any coach should have.
Jim Caldwell—He'll never win the award because the perception is the Colts did what they were supposed to do, and probably not very spectacularly. But Caldwell—with a little help from that guy under center—overcame a litany of injuries. The Colts have 17 players on injured reserve and won 10 games.
Todd Haley—He might win the coach of the year because he falls under the umbrella of someone who achieved something no one thought he would. The Chiefs improved as much as any team in the NFL in Haley's second season as his system took root. Hiring new coordinators worked, as I wrote about here, and Haley's player development was exceptional.
Mike McCarthy—His players lost 206 games to injury, and yet they finished the season strong. McCarthy's ability to adjust, which I wrote about here, was remarkable. He found ways to tweak his offense, and gave Dom Capers the latitude to bend the defense, so that the Packers remained a force throughout the season. What's more, McCarthy's leadership certainly had an impact.
Raheem Morris—This is another coach like Haley who got his team to play better than anyone thought they would. This was thought to be a rebuilding year in Tampa as the Bucs pared the budget and went young. In fact, they had the youngest team in the NFL and started 10 rookies. Morris was supposed to be on his last legs. He found a way to rally the troops, and nearly made the playoffs with 10 wins.
Sean Payton—It's easy to overlook him because of what the Saints accomplished one year ago, but that's exactly why Payton shouldn't be overlooked. Repeating is the most difficult challenge in the NFL, as I wrote about here. Despite what happened Saturday in Seattle, Payton coached his team to seven victories in their last nine regular season games, and the Saints had some key players out or hampered with injuries.
Andy Reid—Despite large scale organization change, the decision to trade Donovan McNabb and a number of defensive injuries, Reid has managed to keep the Eagles highly competitive. The consistency of Reid, year after year, despite moving pieces, is amazing. He and offensive coordinator Marty Mornhinweg managed to find a way to get more out of Michael Vick than anyone had done previously.
Lovie Smith—He allegedly was coaching for his job, but Lovie never lost his cool. He made some significant coaching staff changes, including bringing in Mike Martz and Mike Tice to reshape the offense and promoting Rod Marinelli to run the defense. Everything clicked, and free agent prize Julius Peppers was the perfect fit in Lovie's Tampa 2 scheme.
Mike Smith—You can't find a team in the NFL that was more prepared, focused and cool than the Falcons, and that is a direct reflection of their head coach, as I wrote about here. Smith emphasized all the right things through the offseason, camp and in season. He's without a doubt the best coach nobody knows about.
Steve Spagnuolo—Like Haley and Morris, Spags lifted his team in his second season. His staff's development of Sam Bradford, despite some problems at the wide receiver position, was particularly noteworthy.
Mike Tomlin—Missing Ben Roethlisberger for the first four games of the season would have put many teams in a big hole, but Tomlin would not allow it. He also overcame issues on the Steelers' offensive line and developed young players like Mike Wallace.
Things I Didn't Used To Know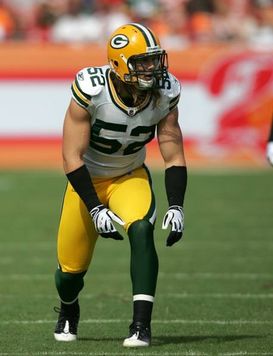 ICONPass-rushing Clay Matthews is playing better now than he was a few weeks ago.
*Packers outside linebacker Clay Matthews went through a period late in the season when he wasn't as effective as he was early. He had only one sack in five games. But the Eagles might find out Sunday that he's rushing the passer more like he was earlier in the season, when he had 8.5 sacks in five games. The reason? Matthews had a shin injury. Between how the injury limited him and the fact that he did not practice in pads for seven weeks, Matthews was a different player. "I feel he's back to where he was early in the season," Packers coach Mike McCarthy told me. "He's a young player. He's in his second year. It's not like he's been playing outside linebacker his whole life. He needs to practice. He would be the first one to tell you that."
*Why did the 49ers go through a dog and pony show in talking to various general manager candidates when everyone knew they were intent on promoting Trent Baalke all along? Sources say NFL commissioner Roger Goodell strongly suggested that 49ers owner Jed York consider other options.
*There appear to be some cracks in the relationship between Redskins owner Dan Snyder and head coach Mike Shanahan and general manager Bruce Allen, according to those familiar with the goings on at Redskins Park. And that might mean Shanahan and Allen better win in 2011 if they want to be around in 2012.
*Why the delay in the Cowboys' officially promoting Jason Garrett? Scuttlebutt is Jerry Jones was waiting to see if Jeff Fisher was going to shake loose from the Titans. One of the reasons Jones moved when he did may have been that other teams were pressuring him to interview Garrett, and he could not prevent Garrett from interviewing without promoting him.
*The Falcons are expected to shake hands with coach Mike Smith on a contract extension shortly after the season ends. Smith's first deal with the team expires after next season.
*The Bills want to build their defense aroun d middle linebacker Paul Posluszny, and have wanted to get him under contract before he becomes a free agent in the offseason. Problem? The 30 percent rule. He made $700,000 in 2009, and he can't make more than 30 percent more than that in a new deal. Posluszny therefore, is basically unsignable until a new CBA is in place.
*A rumor swept through the league that Bill Parcells was talking about a return with the Vikings in a role similar to the one he had with the Dolphins. There appeared to be no truth to it, however.
My Sunday Best: Coaching Jobs
Pretend you are Bill Cowher, the cat's meow. You can coach any team in the National Football League—not just the handful that have openings. Which would it be?
Here are my eight best coaching jobs in the league, based on ownership, organizational stability and structure, stadium situation, tradition and standing in the community.
1. Packers. You've got to love not having an owner. Just so long as you can answer to the millions that comprise Packers nation, you'll be fine. Living in Green Bay would be a drawback to some, but this is an organization that does things the right way and doesn't have many of the problems that plague other teams. The tradition of Packers football is unsurpassed. The facilities are top notch.
2. Steelers. No ownership group is more supportive than the Rooney family. The Steelers set up their coaches to do well, and their passionate fan base applauds loudly. The Steelers aren't looking to make changes every other year.
3. Giants. Like the Packers and Steelers, this is another old school operation that does it right. Patience and loyalty are trademarks of the Mara family.
4. Patriots. Robert and Jonathan Kraft are among the best businessmen in the league. They run this company so that it succeeds in all facets. Of course, it might be a tough act to follow the guy who currently is sitting in the head coach's chair.
5. Ravens. They don't have the longstanding tradition of these other teams, but the Ravens have excellent ownership. Stephen Bisciotti is committed to doing whatever he can to make the Ravens successful, but he also hires good people and lets them do their jobs.
6. Eagles. The fans and media might not be the easiest to deal with, but the organizational support structure is top notch.
7. Seahawks. This team has more financial resources at its disposal than any in football. No team has better facilities.
8. Bears. This is another old school organization with a great tradition that preaches stability and loyalty.
Numbers Games: Patriots Problem?
The Patriots have a bye this week for a reason. They were the best team in football with a 14-2 record. Many, myself included, think they will be in possession of the Lombardi Trophy on Feb. 7.
But not all of their numbers from their 2010 season do not paint the portrait you would expect from a dominant team. The Patriots are dominant on offense, alright. They are above average in every major offensive team statistical category, well above average in many cases. But on defense, they are below average in 11 major categories. They are:
Yards allowed per game—30.5 yards below average.
Yards allowed per play—0.23 yards below average.
Rushing yards allowed per play—0.01 yards below average.
Passing yards allowed per game—37 yards below average.
Passing yards allowed per play—0.2 yards below average.
Sacks per pass attempt—0.66 percent below average.
First downs allowed per game—2.9 yards below average.
Third down percentage allowed—8.89 percent below average.
Fourth down percentage allowed—10.83 percent below average.
Red zone percentage—1.3 percent below average.
Goal to go percentage—6.54 percent below average.
How can this be explained? Well, one great equalizer for the Patriots defense has been takeaways. With Devin McCourty leading the way with seven picks, the Patriots have more takeaways, 38, than any team. So they've given up yards but made up for it by getting the ball back.
And ultimately, this is the only number that matters: the Pats have allowed 19.6 points per game. And that's 2.4 points better than the league average.
Scout Talk: 2011 Class of Middle Linebackers
Teams in need of inside linebackers might want to see if they can secure a veteran, because the draft crop is pretty thin. As of now, it appears there is only one first round possibility—and he's a junior who has yet to declare.
Illinois' Martez Wilson isn't a slam dunk first rounder, but the underclassman has the size, speed and athleticism to really excite a team. His tape isn't as exciting to scouts, however. Wilson came back from a neck injury this season and probably could benefit from staying in school another year. He is a raw player who could take time to develop if he enters the draft.
The best senior in the group appears to be Quan Sturdivant of North Carolina. The drawback with him is at 6-2, 235, he's not as big as you'd like. But Sturdivant can run and has instincts. If he's not a middle linebacker, he might be used as a weakside linebacker in a 4-3, or a weakside inside linebacker in a 3-4.
Three others who are classified as inside linebackers but also could be considered outside are Miami's Colin McCarthy, Michigan State's Greg Jones and Georgia's Akeem Dent. All of them are expected to go in the range of the third round. The three players share a nose for the ball, and all could eventually be NFL starters.
The most interesting middle linebacker prospect is Casey Matthews. His brother is none other than Green Bay's Clay Matthews III, which makes Clay Matthews Jr. his father and Bruce Matthews his uncle. Unlike those threw Matthews, this one does not have elite ability, however. But he is a good player with strength and instincts. And like the other Matthews who came to the NFL before him, he will play his butt off. At the very least, Casey Matthews should be a very good special teams player. Look for him to be taken in the fourth to fifth round area.
Three other inside linebacker prospects to keep an eye on in the months leading up to the draft are North Carolina State's Nate Irving, Mississippi State's Chris White and Louisiana State's Kelvin Sheppard. All could be off the board by the fifth round.
One Man Yelp: Snoop Dogg
There is an interesting read in the latest ESPN The Magazine on Snoop Dogg and his passion for football. I'm no fan of his music, but I am a fan of what he's doing for youth football. His Snoop Youth Football League in Los Angeles is a big hit for kids from five to 13, some of them underprivileged. He has plans on expanding to Chicago and beyond.
I remember clearly when Snoop showed up at a Patriots walk-through I was at the day before Super Bowl XXXVIII at Reliant Stadium in Houston. Snoop was friends with Willie McGinest and a number of Patriots players. He had one of his youth teams with him, and he was wearing a bright red velour jacket and red sweats with a lei around his neck.
After Bill Belichick took a photo with Snoop and complimented his attire, the coach and I had a laugh about their respective wardrobes. You can guess what Belichick was wearing. "Snoop's got me beat on fashion," he told me. "I can't keep up with him."
Snoop has followed Belichick into coaching, running one team for each of the five age groups in his league. The Magazine quotes him as saying, "This is my natural calling. I have a passion for kids and a passion for football. I get more pleasure out of this than making music. Making music is my job, you know? I'm punching the clock, and when I'm punching the clock I'm trying to make you like me. When I'm with kids, I'm doing what I love."
Great to see someone doing what they love and benefitting others.
Hot Reads
*I don't blame Andrew Luck for staying in school. It worked for Sam Bradford, and it should work for him. Even if something happens to prevent Luck from being the No. 1 pick in 2012, he isn't going to need any tag days.
*The 49ers overachieved by landing Jim Harbaugh. Great to see him back in the NFL.
*Where does it say in the hiring manual that you are supposed to pursue candidates before you have an opening? What the Dolphins did to Tony Sparano was disgraceful, and provided good reason for coaches to not want to work for Stephen Ross.
*Good move by Bud Adams picking Jeff Fisher over Vince Young. There might be some Sundays when he regrets the move. But when he looks back 10 years down the road, he'll be happy he sided with his coach.
Dan Pompei covers pro football for the Chicago Tribune at chicagotribune.com.