June 30, 2013 -
Dan Pompei
NFP Sunday Blitz
It's a move that pretty much flew under the radar, but it wasn't just coincidence that the Denver Broncos recently turned to 11th-year veteran center Dan Koppen when starter J.D. Walton underwent a second surgery to address problems with a left ankle injury that forced him out for all but the opening month of last season and could potentially sideline him for the first half of 2013.
An unrestricted free agent, Koppen was signed last year by the Broncos when Walton first sustained the ankle injury, and he ended up starting the final 12 regular-season games and Denver's one playoff contest.
Even with the adjustments that first-year coordinator Adam Gase figures to make to the offense, Koppen, 33, knows the basic Denver system now, and his experience will allow him to quickly pick up any tweaks.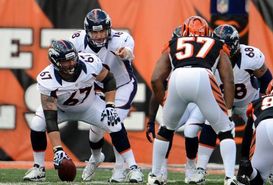 Koppen returns to Denver after an injury to starter J.D. Walton.
But, beyond the fact Koppen was probably the best center still available in free agency, there's another reason it's a very good choice and makes perfect sense: Having played the first nine seasons of his career in New England, and with Tom Brady, Koppen is eminently familiar with an offense in which the quarterback makes many of his play-calls at the line of scrimmage. And he's well-versed as well with the extraordinary demands of a no-huddle attack, and an offense where the center is counted on so heavily to make the blocking-assignment adjustments.
Essentially, he was the best fit.
The familiarity with the no-huddle and "check with me" systems that Peyton Manning employs definitely were a factor in the Broncos' decision to bring back Koppen on a second straight one-year contract. He's an upgrade over the alternatives, Manny Ramirez or Philip Blake. And at a veteran-minimum salary, he could have maximum impact. Barring complications, the Broncos could get Walton back for the second half of the season. But Koppen, if in shape and able to withstand the rigors of camp, should be able to hold the fort.
Koppen and Manning became quickly comfortable with one another in '12, and part of that synergy, ironically enough, was the center's past experiences with Brady. The bond between Manning and Koppen probably isn't as notable yet as the one that the quarterback had in Indianapolis for so long with Jeff Saturday, but Koppen does offer some similarities.
Manning and Brady will be inexorably intertwined for long after their Hall of Fame careers have concluded. Koppen, unwittingly, is just another link in the chain.
AROUND THE LEAGUE
*In light of the Aaron Hernandez situation in New England, the attempted murder charges against former Cleveland rookie Ausar Walcott, and some of the other off-field problems experienced by players the past few months, several NFL teams are revisiting the "vetting" processes they use. One team's personnel director and the security chief for another franchise acknowledged to NFP this week that they were advised by ownership to review their procedures. At least two teams have discussed the possibility of bringing aboard staffers expert in digital technology to research the backgrounds of prospective players. Which doesn't mean there's an opening for leaker/hacker Edward Snowden if he ever re-enters the country.
*Despite their shared success, one key area in which the Atlanta tandem of general manager Thomas Dimitroff and coach Mike Smith hasn't yet drafted and developed a player into a solid starter, besides pass rusher, is cornerback. In the pair's five drafts, the Falcons have chosen three cornerbacks – Chevis Jackson (2008), Christopher Owens (2009) and Dominique Franks (2010) – and none ever started more than six games in a season. Two, in fact, are no longer with the franchise. All that could change this year, with the back-to-back choices of corners Desmond Trufant and Robert Alford in the first and second rounds, respectively. One of them, likely Trufant, will start, and the Falcons need him to be good. Atlanta released big-money free agent flop Dunta Robinson and Brent Grimes left in free agency, leaving just Asante Samuel as a truly experienced starter. The Falcons prefer to keep Robert McClain, who blossomed as a "nickel" corner in 2012 after a reclamation project, on the inside in "sub" packages. McClain has only one career start in non-nickel situations, and is far better on the inside.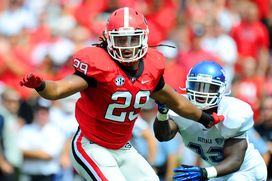 US PRESSWIRESteelers coaches hope Jones will develop into the next James Harrison.
*Pittsburgh coaches and officials weren't exactly thrilled when first-round linebacker Jarvis Jones showed up for early offseason workouts with a hamstring injury, a problem that cropped up, he said, during his "pro day" at Georgia, and which caused him to miss some field-time with the Steelers. But the team has seen enough of the 17th overall pick since then to privately acknowledge that he could be that rarest of commodities: a rookie who actually starts for the Steelers at the prized outside linebacker spot. There's apparently a decent chance now that Jones can bump fourth-year veteran Jason Worilds (10 sacks in three seasons) as the heir apparent to James Harrison's old spot on the right side.
One big reason: Unlike most of the players Pittsburgh has developed at outside linebacker, Jones is a pure linebacker. The standard paradigm for the Steelers is to take an undersized college defensive end, then develop him for a year or two as a 3-4 linebacker. Jones will have some rough patches, for sure, but he won't have to make the switch that so many Steelers' stars have in the past.
"He's got (linebacker) instincts," defensive coordinator Dick LeBeau said. "You don't have to (wean) him off the end stuff."
Jones was primarily a straight-ahead, rush player at Georgia, with 28 sacks in two years for the Bulldogs. But even though he posted just one interception and six pass breakups in college, he did have some pass-drop responsibilities in the 3-4 scheme of Georgia coordinator Todd Grantham.
*There's no doubt that San Francisco coaches are concerned about the absence of wide receiver Michael Crabtree (Achilles) from the passing game. But the suggestion that the Niners are considering moving Vernon Davis full-time to wide receiver, based on his extensive "reps" at the position in recent sessions, are overblown, the 49ers tell NFP. There are some new wrinkles planned for Davis, who can stretch the field like few tight ends and who possesses unique abilities, but he won't morph into a full-time wideout. The coaches note that, while it took Colin Kaepernick a while to develop the same chemistry that Alex Smith had with the tight end – Davis had 29 receptions (and 41 targets) in the nine games Smith started and just a dozen receptions (and 20 targets) in Kaepernick's seven regular-season starts – the two hooked up 11 times in San Francisco's final two playoff games. Although the Kaepernick-Davis tandem connected only six times in the last six regular-season outings, Davis was targeted 14 times in the NFC championship game and the Super Bowl. And he had over 100 yards in both those contests.
*The notion that a player's draft status can be enhanced (or even diminished) because of his choice of representation, most feel, is greatly overblown. That said, there is little doubt that St. Louis weighed the role of agent Pat Dye Jr. in selecting linebacker Alec Ogletree with the 30th pick in the first round. Dye and Rams' general manager Les Snead are very close, and St. Louis officials felt comfortable enough that Dye will keep Ogletree in line that they didn't hesitate to snag him. And to sign him to a four-year, $7.03 million contract that not only fits the No. 30 slot, but doesn't include a lot of safeguard-type caveats like the ones in Janoris Jenkins' contract from last year. Ogletree has had a problematic past – a February DUI, a four-game suspension at Georgia, some off-field indiscretions as a freshman – but the Rams are counting on Dye, in part, to keep him toeing the line.