December 31, 2011 -
Barry Dorey
NFP Sunday Blitz
The 49ers went from two Pro Bowlers last year to an NFL-high eight this year--a testament to what can happen when you create the proper environment and give good coaches the right players. What happened in San Francisco isn't about a team becoming considerably more talented as much as it is about a team becoming considerably more of a team.
"What it comes down to is coaches doing an excellent job in a tumultuous offseason, without time to get to know them to understand their strengths, weaknesses and hot buttons," 49ers general manager Trent Baalke told me. "It comes down to players buying in as quickly as they have, working as hard as they have, gelling as well as they have as a team, and putting the team above the individual."
Of course, selecting the right players has something to do with it to. Baalke has done so well in assembling the pieces that he is a strong candidate for NFL executive of the year.
Even though Baalke and 49ers head coach Jim Harbaugh agreed in the offseason they had a nucleus of players that was capable of winning a lot of games, they didn't set out to sign big name, big money free agents who could put them over the top. In fact, their cautious initial approach drew criticism back in July.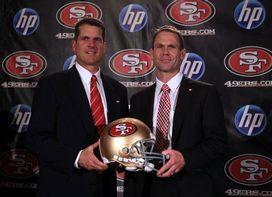 Jim Harbaugh and Trent Baalke: a good team.
They were out to find players who were good values and good system fits. That's why they decided to allow some of their own players such as Nate Clements, Aubrayo Franklin, David Baas and Joe Nedney to sign elsewhere. That's why they retained some of their own free agents such as Dashon Goldson and Ray McDonald. And that's why they eventually signed free agents from other teams such as Carlos Rogers, Jonathan Goodwin and Donte Whitner.
The 49ers weren't trying to acquire talent so much as they were trying to become a better team with their parameters that Harbaugh set. "There are only so many players in the National Football League who, regardless of system, can come in and perform at a high level," Baalke said. "After that, it's system fit. I learned that a long time ago. Coach [Bill] Parcells was the guy I looked at and learned the most from, he and Dick Haley. That was always the question with them, how do they fit what we are going to ask him to do? For us, it's critical."
Rogers is a good example. Baalke was familiar with him because he was on the Redskins' scouting staff in 2005 when Washington made Rogers the ninth pick in the draft. He felt confident Rogers would fit the 49ers from a personality and intangible standpoint.
Baalke also knew Rogers had talent befitting a player chosen with the ninth overall draft pick, even though he may not have always shown it with the Redskins. Because Jim Haslett's defense with the Redskins is similar to Vic Fangio's defense with the 49ers, it was easy for the 49ers to evaluate Rogers from a skill perspective. There wasn't a lot of projecting going on. In Washington, he played outside in base and moved over the slot in nickel and dime packages, just as he would be asked to do in San Francisco. Most of the techniques he majored in with the Redskins are the same techniques he has majored in with the 49ers.
Rogers has flourished in the environment created by Harbaugh. He has had the best season of his life, making the Pro Bowl for the first time and coming up with a career best six interceptions.
David Akers, the free agent kicker acquisition, also has had a career year for the 49ers, breaking the all-time record for field goals in a season and leading the league in scoring. Akers is with the 49ers because Harbaugh thought a premium kicker was necessary given the unusual circumstances of the season and the type of team the Niners had, and because 49ers special teams coach Brad Seely identified Akers as the best available kicker. Akers was worth a little more money because of the way he enhanced the team philosophy.
Goodwin was another fit. Maybe he wasn't the most gifted center available, but he was an even-keeled, intelligent veteran who could be a calming influence to a young offensive line that had yet to come together. He has controlled the line for the 49ers, making the calls and setting the tone.
What the 49ers teach us is great things can be accomplished when everyone works towards the same goals.
Things I Didn't Used To Know
*The Lions are trying to extend the contract of Cliff Avril. The team may regret waiting until late in the season to try to lock up the defensive end, who has 11 sacks and six forced fumbles. His value has skyrocketed through the course of the season. At 25, Avril is just starting to come into his own. "He is an elite, playmaking pass rusher who is going to get better," Avril's agent Brian Mackler told me. One way or another, the Lions are not likely to let Avril hit the open market. The franchise tag for defensive ends this year is expected to be in the vicinity of $10.5 million, and that remains a viable option if the two sides can't come to an agreement on a long term deal.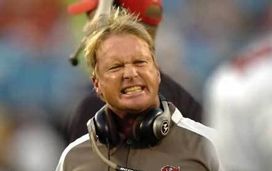 Don't expect to see this face anytime soon.
*Despite the rumblings, it's still a long, long, long shot that Jon Gruden returns to coaching. He's making too much money at ESPN and is too comfortable in his lifestyle to come back for anything other than a situation that is a slam dunk Super Bowl winner.
*Two coordinators for New York teams, Brian Schottenheimer and Perry Fewell, may be on shaky ground with the Jets and Giants, respectively, but that doesn't mean they won't be in play for head coaching openings. In fact, it will be an upset if both don't at least get interviews.
*Returning to Philadelphia as defensive coordinator is likely to be a possibility for Steve Spagnuolo after he is fired by the Rams, but it won't be the only possibility. Spagnuolo is likely to be pursued by multiple teams for defensive coordinator openings and one month from now could very well be the highest paid defensive coordinator in the NFL. The Eagles could be the most logical team though. I'm told there is no bad blood between he and Andy Reid, and Spagnuolo's wife Maria is from Philadelphia.
*Brandon Browner is a perfect example of a player being in the right place at the right time. The cornerback was cut by the Broncos. He worked out for the Bucs, Vikings, Bills, Dolphins without impressing any team enough to sign him. He worked out for the Seahawks twice and was told no thanks. So he went to the CFL, which is a good place to be for developing cornerback skills. Scouts say he learned to play with balance and body control. The Seahawks discovered him a third time, but this time they were playing the perfect scheme for him, one in which their corners are asked to press frequently. Browner wouldn't fit on a lot of teams. But at 6-3, 220, he's perfect in Seattle. Browner's arms measure 33 inches—that's nearly OT length. The Seahawks don't need their corners to be burners, and Browner isn't one. He ran the 40 in 4.59 and 4.60 recently. The lack of speed has resulted in Browner being flagged six times for pass interference (tied for most in the league), three times for illegal contact (tied for most in the league) and four times for defensive holding (tied for third most in the league). But Browner, a Pro Bowl alternate, has made plays on the football, as evidenced by his six interceptions.
*The Packers and Lions will meet for the 165th time Sunday, but this is the first game in which both teams have had double digit victories.
My Sunday Best: Players Who Didn't Make the Pro Bowl
You could field a team of non-Pro Bowlers that is nearly as good as the NFC or AFC Pro Bowl teams. A good number of players who didn't make the initial cut will end up being invited to the Pro Bowl because players who did make the cut will back out for various reasons. Matt Bowen gave you some of his best players who didn't make the Pro Bowl here. Here are mine.
QB—Tony Romo, Cowboys. You can make a good case for Matthew Stafford, and many have. I'll go with Romo though, who, strangely, remains an underrated player despite his high profile position. He has a 102.2 passer rating, which is fourth highest in the league, an average completion of 8.0 yards, a completion percentage of 65.4 and a first down percentage of 38.6. All of those numbers, by the way, are better than Stafford's. They also are also better than the numbers of Pro Bowler Eli Manning, with the exception of average per completion. Manning is at 8.3.
RB--Adrian Peterson, Vikings. He played in only 12 games and ended the season on injured reserve, but he still was one of the very best backs in football when he played. Peterson averaged 4.7 yards per carry and 80.8 yards per game despite not having much help from the Vikings offense.
WR--Victor Cruz, Giants. Was there a better big play receiver in the NFL this year? He averaged 17.9 yards per catch (third highest among receivers with at least 50 catches) and had 21 catches of 20 yards or more.
TE- Jason Witten, Cowboys. He isn't just a receiver, which separates him from some of the tight ends who made the Pro Bowl. Still, Witten averaged an impressive 12.2 yards per catch.
OT—Andrew Whitworth, Bengals. Without this guy, you might not be hearing so much about Andy Dalton. Whitworth is having a fine season.
G--Andy Levitre, Bills. He has been the best, most consistent player on a pretty good offensive line. Levitre has even filled in at left tackle and center.
C—Chris Myers, Texans. There is a strong argument to be made for his linemate Duane Brown as well. The Texans are among the league's most proficient teams both at run blocking and pass blocking, and it starts with Myers, who is playing as well as any center in the game.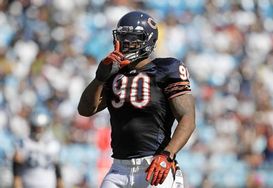 It's no secret among offensive linemen that Julius Peppers is one of the best.
DE--Julius Peppers, Bears. He doesn't have the kind of sack numbers a lot of pass rushers do, but Peppers is a force on virtually every play. Just ask any offensive tackle who has had to block him one on one.
DT--Geno Atkins, Bengals. He has lifted the intensity of his teammates on defense and been a breakthrough player. Ndamukong Suh is awfully good as well.
MLB--Brian Cushing, Texans. He has been the heart of one of the league's best defenses. Washington's London Fletcher could have made it too.
OLB--Aldon Smith, 49ers. How does a guy have 15 sacks and not make the Pro Bowl? If you had to pick a 4-3 outside linebacker who didn't make the cut, you'd look hard at Sean Weatherspoon of the Falcons.
CB--Cortland Finnegan, Titans. He is more than just a cover man, he's a football player. What other teams think of him will be evident if the Titans allow his contract to expire in the offseason and he becomes a free agent.
S—Jairus Byrd, Bills. There aren't a lot of safeties who are playing at a very high level this year, but Byrd is a solid all-around safety with ball skills.
KR—Devin Hester, Bears. His 17.3 punt return average is second highest in NFL history among players with at least 20 returns.
K—Mason Crosby, Packers. He doesn't get noticed much, but Crosby has been very consistent both with field goals and kickoffs.
P—Britton Colquitt, Broncos. He gets penalized by Pro Bowl voters because of the altitude advantage he enjoys, but he would have been outstanding playing in Antarctica. He has averaged 40.4 yards per punt, he has forced 27 fair catches and put, 31 inside the 20.
Scout Talk: Inside/Middle linebackers in the 2012 Draft
Three underclassmen will add considerable quality to the middle linebacker class, as Boston College's Luke Kuechly, Arizona State's Vontaze Burfict and Alabama's Dont'a Hightower all are expected to be first rounders. Without them, the middle linebacker class is very pedestrian.
At 6-3, 235, Kuechly doesn't have ideal size but he plays bigger than his height and weight in part because of his outstanding instincts. He also has enough speed to play outside in a 4-3. Burfict's stock may be down a bit after a so-so season, but he is a big, downhill linebacker who explodes on contact. A good workout will help him considerably. Hightower is a big hitter with a lot of talent who can be inconsistent. He also could play outside in certain schemes.
The fourth highest rated inside backer on some boards also is an underclassman, Kevin Reddick of North Carolina. His combination of toughness and instincts make him a fine prospect.
None of the seniors are so good that they transcend scheme fits. How teams rank them is going to depend on what kind of role the player would fulfill, and the ratings could vary significantly from team to team.
For instance, one personnel director told me he saw Cal's Mychal Kendricks as a second round possibility because of his ability to play all three positions and his tackling ability. Another rated him as a sixth or seventh rounder.
Others who are being debated around the league include Jerry Franklin of Arkansas, who is known for his athleticism and production; Emmanual Acho of Texas, who isn't as highly regarded as his brother Sam Acho who plays for the Cardinals; Chris Marve of Vanderbilt, who makes plays with effort and intelligence; and Audie Cole of North Carolina State, who is a good athlete with good size.
One Man Yelp: NFL Magazine
I'm a magazine guy. Always have loved to read them. I subscribe to several. Loved working for one when I was employed by The Sporting News.
So I was happy to see a new one in the marketplace. NFL Magazine is a glossy product, both in terms of paper and content. I'd like more journalism and less promotion though. It reads a little too much like a 128-page advertisement for the NFL.
Do we really need to know what Benjamin Watson received a red bike for Christmas when he was six years old? Or what Adrian Peterson looks like in a pinstripe suit? Or how they put on Marshall Faulk's makeup in preparation for NFL Network duties?
The most substantive story is Thomas George's Our Man Manning, which explores the argument that Peyton Manning should be the most valuable player this year. There are nice features from Phil Barber, Charles Chandler and Ray Didinger.
This magazine has potential, a lot of potential. A little more meat and a little less fluff would help realize it.
Hot Reads
*The league was a better one for having Jason Taylor in it. The retiring Dolphins great will be missed.
*Vikings fans are being encouraged to "beard themselves" in honor of retiring tight end Jim Kleinsasser. Representatives from Gillette, Schick, electrolysis clinics and waxing salons should picket the Metrodome.
*It's great that the Bengals are lowe ring ticket prices, but it would have made more sense to do it in years when their on-field product wasn't worth the cost of a ticket. They're not a bad value this year.
*Jon Gruden either is the savior of the Rams or a blowhard who doesn't know the rules. Which is it?
*The flawed Pro Bowl voting process could be fixed if the NFL allowed personnel directors and pro scouts to do the selecting. They know talent better than anyone.
*Terrell Owens would love to play for the 49ers.