March 27, 2011 -
Dan Pompei
NFP Sunday Blitz
In a league that is a slave to routines, the thought of drafting a cornerback with the first overall pick is cause for cold sweats, uncontrollable twitches and perhaps even momentary incontinence.
But would it be wrong or just different if the Panthers took LSU cornerback Patrick Peterson with the first pick in the draft? The short answer is this: it wouldn't be wrong if he's the best player.
"Why can't you take a corner first?" Panthers coach Ron Rivera said. "A shutdown corner, or a very, very good corner who can harass the receivers, throw off their timing is important as it is because it's turning into a passing league. How is he going to impact your defense? Can it also help the offense? There are a few really good ones out there. Does he help our pass rush? Does he help get the ball back and get our offense back on the field?"
In order to justify the pick—and the salary that could go along with it in the event that a rookie wage scale is not instituted—Peterson will have to be a shutdown corner and/or a defender who makes big plays.
Darrelle Revis and Nnamdi Asomugha are shutdown corners, and have been among the highest paid defenders in football, but neither makes many big plays. Revis has had 14 interceptions in close to four full years of starting. Asomugha hasn't had a pick in three years.
You have to go back to Deion Sanders in his prime to find a shutdown corner who consistently generated interceptions. Champ Bailey did it for a couple of years, but that was it.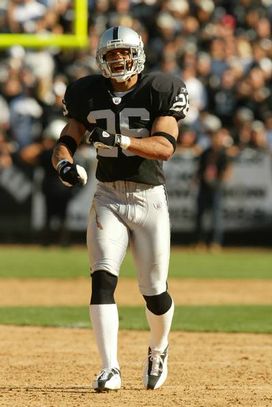 The player Patrick Peterson may be most comparable to is Rod Woodson.
Charles Woodson makes big plays, but really isn't a shutdown corner. The player Peterson may be most comparable to is Rod Woodson, according to a couple of scouts I've talked with. Rod Woodson was a great football player even though he didn't always fit the mold that you expect corners to fit into.
For Peterson to truly be worth the No. 1 pick, he'll have to play like Rod Woodson or Charles Woodson. Then again, everything is relative. You'd rather have a very good but not great cornerback with the No. 1 pick than a flaming bust of a quarterback.
Bill Polian of the Colts is one of the best drafters we've ever seen, so I asked him what he thought about taking a cornerback first. "I don't think there isn't any position that shouldn't be taken first," he said. "That pick carries a high price tag with it, so you want to make sure you are getting your money's worth. So it goes back to take the best player."
Is Peterson the best player? There is no consensus on that one. His combination of size and speed is very intriguing, very special. "He can do anything," an AFC college scouting director told me. "He even is an excellent punt returner. He's definitely good enough to take first overall."
But the fact that there never has been a corner quite like him—one who weighs 219 pounds—gives other scouts pause. So does his Wonderlic score, reportedly a 9. So does the fact that he is best in a press scheme, and might not adapt well if asked to play predominantly in a different coverage scheme.
Maybe people are unnecessarily picking apart Peterson, experiencing paralysis by overanalysis. But the truth is he's not a prospect with no downside, which is what you want with the first overall pick. If you can find a prospect with no downside, let the Panthers and me know.
If the Panthers decide not to select Peterson first, it should be because he's not all they want, not because he's a cornerback.
Things I Didn't Used To Know
*In past years, "signability" always has been a factor in the draft, especially for teams selecting at the top like the Panthers. Teams picking high typically start feeling out agents of top prospects a couple of months in advance. Parameters are discussed. Sometimes, deals have been agreed to before a pick is made. But that's all out the window this year for two reasons. First, NFL teams are forbidden from having contact with player representatives because of the work stoppage. Of course, that doesn't mean teams won't break the rule. But the bigger issue is the potential of a rookie wage scale. Without knowing what the rules can be, the Panthers have no way of kicking the contract tires on players they may be interested in drafting No. 1 overall. "You just don't know now," Carolina general manager Marty Hurney told me. "I don't think it changes anything. We're going through the same process as usual. You try to decide on which player will have the most impact on your team."
*It would seem to be that at the age of 36, Jake Delhomme would appear to be at the stage of his career where he would make an ideal backup. But it's starting to look like he either will be brought back to Cleveland as a starter, or he won't be brought back at all. My Browns peeps tell me everyone really wants Colt McCoy to be the starter. But if the work stoppage drags on into the summer, McCoy, a second year player, might not have enough time to learn what he needs to learn and prove to new head coach Pat Shurmur that he's ready to start. In that case, the team will likely feel more comfortable with the veteran Delhomme. Bringing him back to Cleveland as a backup is complicated. Delhomme has told the team he has no intention of being a backup. He wants to start. That means he might not be willing to take a paycut. And he's probably making too much to be brought back as a No. 2. If not for the labor situation, Delhomme would probably already be a former Brown.
*When the NFL tells us that safety considerations were behind the new kickoff rules, this is what it means: there have been an inordinate amount of head injuries on kickoffs (the league won't reveal the exact number), and if the NFL did nothing about it, it would leave itself legally vulnerable. Just think about what concussions might be leading to. CTE. Lou Gehrig's disease. Alzheimers. Twenty years from now, there could be a parade of players bringing lawsuits against the league if nothing had been done to make kickoffs safer. I'm hearing a number of prominent agents have begun keeping meticulous records of any symptoms and treatments their clients are having as a result of head injuries. And we all can figure out why.
*The Cardinals have their fingers crossed that 34-year old guard Alan Faneca will decide to return next year instead of retiring. They have told him they want him back, but don't want to push him. It would be nice to know what Faneca's plans are before the draft, so they can draft a successor if need be. But with the work stoppage, teams can't have contact with players. So the Cardinals will likely be guessing on Faneca on draft day—but knowing he will have to be replaced in the near future if not this year.
My Sunday Best: Draft Classes
The draft class of 2011 is a pretty good one, but it's way too early to say if it ranks with the best of all time. These are my best draft classes.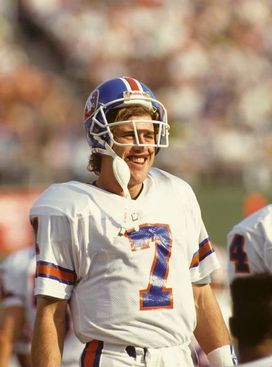 John Elway was the first pick in the greatest draft ever.
1. 1983. There is no way to argue this wasn't the best draft ever. Of course this draft is remembered for the six first round quarterbacks — John Elway, Jim Kelly, Dan Marino, Tony Eason, Todd Blackledge and Ken O'Brien &ndas h; but the class is impressive for more than quarterbacks. In addition to Elway, Kelly and Marino, the class featured five other players who would become hall of famers – Richard Dent, Eric Dickerson, Darrell Green, Bruce Matthews and Bruce Smith. The depth of this class was unparalleled. Karl Mecklenberg, a six time Pro Bowler for the Broncos, was chosen in the 12th round, 310th overall.
2. 1957. Very few people talk about this draft, but it produced legends Paul Hornung (the first overall pick), Len Dawson, Jim Brown, Jim Parker, Sonny Jurgensen, Tommy McDonald, Henry Jordan, Gene Hickerson and Don Maynard.
3. 1981. This arguably was the greatest defensive draft in history, as it produced Lawrence Taylor, Ronnie Lott, Mike Singletary, Howie Long, Rickey Jackson, Hugh Green, Eric Wright, Dexter Manley, E.J. Junior and Dennis Smith, among others.
4. 1996. Players who one day could get hall of fame play from this class include Ray Lewis, Jonathan Ogden, Marvin Harrison, Terrell Owens, Simeon Rice, Brian Dawkins, Mike Alstott and Zach Thomas.
5. 1964. This class features ten hall of famers who helped shaped a generation of pro football, including Roger Staubach, Carl Eller, Paul Warfield, Bob Hayes and Paul Krause
Scout Talk: Who's the No. 3 QB?; A.J. Green or Julio Jones
Less than five weeks away from the draft, there still is a lively debate about which receiver should be the first off the board. There is little debate that both A.J. Green and Julio Jones should be standouts in the NFL. But ask which should stand out the quickest and most, and you'll get different answers from different people.
For awhile, Green was the consensus No. 1 wide receiver. Then came the combine, and Jones' superior workout. Then came the report that Green's Wonderlic score was a 10. So Jones has closed the gap to the point where they now are neck and neck.
These are the factors that will determine which player will go first, according to NFL front office men.
*Hands. Green is a more consistent catcher and has been the more dynamic player. Jones can make the spectacular catch but sometimes flubs the easy ones because he loses concentration.
*Durability. Jones is hurt now with a stress fracture. He's had a number of injuries, and because he plays so physically he may become a durability risk. Green is cleaner medically.
*Football mentality. Jones is everything you want in terms of football character. He is as tough as they come, and he has an edge to him. "He's the kind of guy you'd want to go to war with," an AFC personnel director said. Green is a bit of a diva and can be difficult to coach.
*Size. Both of these receivers will create matchup problems, but Jones is more of a freak at 6-3, 220 pounds and with superior speed. His size will make him a dream player for teams that run a West Coast offense and require their receivers to run a lot of slants and crossing routes. But either player has everything it takes to fit into any system.
*Intelligence. You can't read too much into Green's Wonderlic score, but it will prompt interested teams to do more research. Teams had some of the same concerns about Andre Johnson, and he worked out just fine. Wide receivers don't have to be Mensa members, but you want them to be able to integrate a system quickly and be able to play multiple positions early in their career. Jones probably will have an edge in this area.
Which of these receivers goes first is going to depend on which team takes a receiver first, because any team can make a strong case for either.
One Man Yelp: Elizabeth Taylor
Since I watched Cleopatra as a kid, I have been fascinated with Elizabeth Taylor, who passed away last week. Initially, I was taken by her beauty. Later, by her behavior and her tempestuous relationship with Richard Burton.
You'll get a good feel for that relationship in the book Furious Love: Elizabeth Taylor, Richard Burton, and the Marriage of the Century. That relationship began in 1962 during the filming of Cleopatra. Taylor left her husband, Eddie Fisher, for Burton, who left his wife to begin what would become probably the most public love affair ever. So scandalous was the relationship that it was condemned by the Vatican and in the U.S. House of Representatives.
The book contains a collection of love letters Burton wrote to Taylor, which if you are a happily married male, you should not allow your spouse to see. When it comes to expressing passion, this Shakespearean actor was without peer. Cleopatra began a string of 11 films and nearly 11 years of marriage together. Those 11 years spanned two marriages, and Liz said she would have married Burton a third time if had lived.
The relationship was over the top in every way imaginable. Their fights were vicious. Their gifts were preposterous. He once bought her a $305,000 33.19-carat diamond, which would be worth about $2 million today, and later purchased a 70 carat diamond.
Burton wrote her his last letter three days before his death in 1984. It's the one letter Taylor would not share. She kept it in a drawer beside her bed, presumably until her death.
Hot Reads
*Happy trails and mucho gracias to Jeff Blumb and Dave Lockett, who are moving on from their public relations positions with the Packers and Steelers, respectively.
*With all that coin Dez Bryant is pulling down from the Cowboys, can't he afford a belt?
*What does it say for Chad Ochocinco that the thing he has done best lately is not play wide receiver, box, play soccer or dance—but tweet?
*We are a few days away from liar's month, which Jack Bechta explains here.