September 05, 2010 -
Dan Pompei
NFP Sunday Blitz
It was interesting to see Cardinals defensive tackle Darnell Dockett get paid last week. But what most people don't realize is there was an egg that preceded that chicken.
Dockett fussed and moaned his way through the 2009 offseason about wanting a new contract, but it got him nowhere. So Dockett took a different approach this year. He helped the Cardinals recruit free agents. He showed up for offseason workouts. And he became a good soldier.
The goodwill he created, and the enhanced value he subsequently gave his team, helped lead to his new deal. "He had a tremendous offseason for us, not only what he's shown us on the field, but his leadership, and his attitude in the locker room," Cardinals general manager Rod Graves told me. "Plus, he's been a beast on the field."
Of course, it also helped that Dockett had two years left on his deal this year as opposed to three. But the Cardinals generally have been opposed to extending any deals before the player was entering the final year.
It also helped that the team did not pay Antrell Rolle or Karlos Dansby. That meant there was more cash available for Dockett.
But Dockett's attitude, as much as anything, is what got this deal done now.
Lesson learned: sometimes, it's the wheel that stops squeaking that gets the grease.
Things I didn't used to know
*The NFL is more popular than ever. And the NFL is losing popularity. Must be the contract talks going on.
*The planets have aligned quite nicely for Laurent Robinson. He came back healthy and strong from a broken leg. He had a nice camp and preseason in which Rams officials report they saw consistent progress. And now he finds himself thrust into the No. 1 receiver role because of the season-ending injury to Donnie Avery. The Rams like the way Robinson uses his size and competes for the football. And they believe he has yet to plateau.
*Jason Pierre-Paul was considered one of the most raw players to be chosen in the first round in April. He also has missed time with a groin injury. But that does not mean the Giants are not expecting big contributions from him this year. They think he is fully capable of being an impact rookie. Pierre-Paul has destroyed Giants tight ends in practice this year, and his willingness to take to coaching has the Giants convinced they made the right choice. General manager Jerry Reese told me Pierre-Paul has everything you look for in a defensive end, including instincts. What Pierre-Paul has to adjust to is the speed of the game and NFL blocking schemes.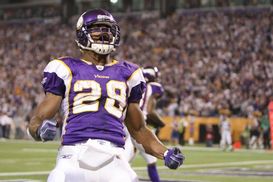 ICONAdrian Peterson may be on the field "All Day," as his nickname suggests, in the absence of Chester Taylor.
*The Vikings may miss Chester Taylor more than anyone realizes. They haven't quite figured out how to replace what Taylor gave them on passing downs yet. Second-round pick Toby Gerhart has not had a great camp and preseason, in part because Vikings defenders wanted to show him who was boss. Playing Albert Young is a possibility, but not a very appealing one for Minnesota. The other option is increasing Adrian Peterson's load. Two problems with that. The first is Peterson still has been inconsistent in pass protection. And the other is the Vikings don't want to wear him down. "It's such a long deal," Vikings coach Brad Childress said. "You get beat down, especially with his style."
My Sunday Best: Homefield advantages
There isn't any stadium in the NFL that's easy to play in from a visitor's perspective. But some stadiums, because of the vociferousness of their fans or the dimensions of their buildings, pose more problems than others. Here are my top five toughest places to play, in alphabetical order.
Heinz Field, Pittsburgh. When those Steelers fans get those towels waving in the fourth quarter of a late-season game that means something, this place absolutely rocks. No fans are more passionate.
Invesco Field, Denver. I've heard this place get louder for a preseason game than I've heard some stadiums for a regular season game. Fans bring the Rocky Mountain thunder by stomping on the steel bleachers.
Lambeau Field, Green Bay. It's the only stadium in the NFL in which a large percentage of fans are dressed in hunting gear. And Packers fans can be as merciless as most hunters. Not a good place to wear opposing team's colors.
Metrodome, Minneapolis. It's unquestionably a dump, but it's the loudest dump in history. Part of the reason you walk out of this place with a headache is the fans. The other part is the sound effects and earsplitting volume of the music. The blowing of the Gjallarhorn adds to the unique atmosphere — and the intensity of the headache.
Qwest Field, Seattle. This is probably the loudest outdoor stadium in the NFL because of its unique configuration. Opposing teams have more problems hearing their quarterbacks signals here than anywhere.
Numbers games: Does preseason carry over?
Everyone knows the preseason is not an indicator of how a team will perform in the regular season, right? That's what every coach whose team has a losing preseason record preaches.
Let's take a look at what the numbers say, eliminating all seasons in which a team had a .500 record either in the preseason or in the regular season.
Over the last five years, NFL teams have followed winning preseason records with winning regular season records 26 times. They have followed winning preseason records with losing regular season records 16 times.
They have followed losing preseason records with losing regular season records 21 times, compared to following a losing preseason record with a winning regular season record 17 times.
So a winning preseason record has been a better indicator that a winning regular season will follow than a losing preseason record is an indicator than a losing regular season record will follow.
But overall, there has been a 59 percent chance that a team will follow its preseason pattern in the regular season. That's good news for the Ravens, Steelers, Bengals, Raiders, Cowboys, Lions, Vikings, 49ers, Rams and Cardinals — the 10 teams that had winning records this preseason.
Two teams stand out in this study. The Colts have bucked the trend every year, skewing the results. They have followed a losing preseason with a winning regular season every year. The Steelers have been almost as consistent, but in a different way. With the exception of the 2006 season, when they lost in the preseason and played .500 ball in the regular season, the Steelers over the last five years have had a winning record every preseason — and a winning record in the regular season.
Scout talk: Cutting a player
When a player gets cut, as so many are getting cut this weekend, the process is considerably more complicated than how it often is portrayed.
One team's player personnel director explained it this way.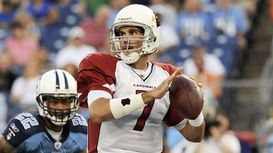 Players like Matt Leinart who get cut have a number of people to talk with before walking out the door.
"We always try to do it early in the morning, so the player doesn't get involved in meetings or practices. We have a mid-level personnel employee contact the player at his hotel and ask him to report to our facility, and he is asked to bring his playbook. Depending on the player's tenure with the team, either the employee who contacted him or myself will meet with him. In conjunction with this, we also contact the player's agent so he is kept in the loop on what's happening.
"If the player is being considered for our practice squad, we start recruiting him right then. Or if there is a chance he could be brought back later, we tell him we are putting him on our emergency list. But we are honest with him.
"That's just the start though. From there, he will meet with his position coach. On some teams the general manager will get involved. And on our team the head coach wants to meet with every player who gets cut. It's very important to our coach. He wants the player to hear directly from him why he was cut and what he needs to improve. But not every head coach wants to be involved in the process. Depending on the player's role, sometimes the special teams coach also will meet with him. In some cases, the strength coach might have something to say to him. If there is an injury settlement involved, we have our financial guy meet with him.
"From there, he checks in with the equipment guy and is asked to return whatever belongs to the team. Whatever the player can keep usually is packed up for him by the equipment man. And then he takes an exit physical exam, which is always referred to if a player makes a later injury claim against the team."
"While this is going on, the department assistant is setting up his travel plans, getting him a ride to the airport and helping him with a plane ticket if he needs one."
One man yelp: Sarah Palin, ESPN The Magazine
Vanity Fair magazine often does excellent profiles, and this one on Sarah Palin is worth the time. For those of you who are Palin fans, it's not very flattering. But regardless of your political leanings, the story is interesting, and it reveals quite a bit about a woman who has tried to be intensely private in a very public forum.
A few tidbits: she is a terrible tipper; she and her husband Todd throw canned goods at one another; when she ran for vice president in 2008, she didn't know who Margaret Thatcher was; and funds from the McCain campaign bought her $3,000 worth of underwear, including many Spanx girdles.
Author Michael Joseph Gross told "Morning Joe" that he started out thinking he was going to write a positive piece on Palin, but was shocked to hear what people had to say about her. He also said he didn't even include the most damning stories.
*I enjoyed ESPN The Magazine's NFL preview issue. Very sad story on Tony Washington, the promising offensive tackle from Abilene Christian who went undrafted last April because he slept with his sister when they were teenagers. My buddy Seth Wickersham did an interesting profile of Eric Mangini after being given complete access to the coach for five days. What stood out from the story is Mangini's interest in changing his image. And the team previews, with comments from Ron Jaworski and Jon Gruden, provide some good food for thought.
Hot reads
*No matter how many preseason games each team plays in the future, everyone should agree that overtime in preseason needs to be outlawed.
*Patrick Crayton is going to help the Chargers, especially if nothing gets resolved with Vincent Jackson. Nice move, A.J. Smith.
*Lions rookie Ndamukong Suh got off easy with a $7,500 fine for what he did to Jake Delhomme. He's lucky he didn't begin his NFL career with a suspension.
*Give Bucs general manager Mark Dominik a little credit on Antonio Bryant. The Bucs thought Bryant was too big a medical risk, so they let him go. Turns out, they made the right move.
Email Dan Pompei your questions at dan.pompei@nationalfootballpost.com