October 24, 2010 -
Dan Pompei
NFP Sunday Blitz
If the NFL wants to crack down on so-called devastating hits, that's OK. It's difficult, maybe foolish to make any argument against player safety.
But what I don't understand is how the league can, in effect, change policy (even though they say there is no change) in the middle of a season. That's not the NFL way.
In the old days, if you wanted to enforce a change, you had the competition committee study the issue in the offseason. You made sure every aspect of the change was considered, what all the implications were. You had a discussion with coaches, general managers and owners. And if the league agreed it was best, everyone moved forward in lockstep. Players knew what to expect, and there was no wailing and grinding of teeth.
But to alter the course after a particularly brutal NFL weekend smacks of a knee-jerk reaction. This issue deserves more attention than anyone could have given it in a couple of days.
Other issues that will come up in the future will too. Let's hope the league doesn't jump too quickly on those.
Things I didn't used to know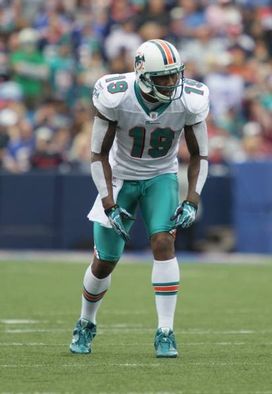 ICONThe Dolphins feel that Brandon Marshall is maturing as a player and a person.
*Brandon Marshall has only one touchdown catch and isn't in the NFL's top 10 in receiving yards, but the Dolphins are thrilled with what he's brought to their team. They believe they landed the wide receiver at just the right time because he is maturing as a player and person. Marshall hasn't complained or pressured quarterback Chad Henne about his lack of production. He's been focused on improving any way he can, and has watched a lot of tape on his own. In Denver, Marshall was unsettled in part because he felt he was underpaid. The Dolphins gave him the contract he wanted, and Marshall could be one of those rare players who gets better after getting paid.
*Safety Ed Reed, returning from PUP today, looks better than ever. He used his time off to develop his body, and could be healthier and stronger than he's been in years. The feeling in Baltimore is Reed might have been able to come back awhile ago.
*Much of the speculation has been that Bill Cowher, who lives in North Carolina, will return next season to coach the Panthers. But people who know him say there are other teams that make more sense for the former Steelers coach. Among them are the Giants (they are like the Steelers of the NFC and could be the most logical place for him), the Eagles, the Dolphins and Bears. Of course, it's possible that none of those teams will have head coach vacancies after the season.
*Parties on both sides sense a warming in CBA talks over the last few weeks. The Wall Street Journal article that revealed the league could lose $900 million (and players lose $550 million) if a lockout lasts until September might be sobering everyone up.
*Jared Allen has only one sack, but that isn't an accurate reflection of how he has played, according to people at Winter Park. The Vikings attribute Allen's lack of production to the fact that he's gotten a lot of attention from blocking schemes, opponents are using a quick passing game against Minnesota, and the Vikings have not had the lead often.
*The Shawne Merriman to the Ravens rumors may be fueled more by Merriman's interest in going home and playing in Baltimore than by the Ravens' interest in the outside linebacker. In fact, the list of teams interested in paying Merriman much money likely will be a very short one. Several team officials have told me they are concerned with the fact that Merriman, who was suspended in 2006 for failing a test for performance enhancers, has been physically breaking down in recent years.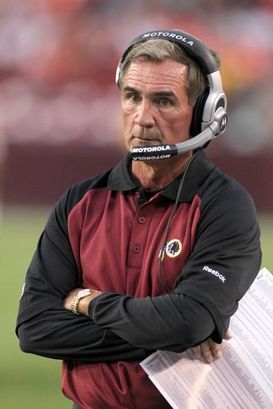 ICONMike Shanahan still keeps in contact with Jay Cutler.
*Redskins coach Mike Shanahan told me he still is in regular contact with Bears quarterback Jay Cutler, who he will see today at Soldier Field. Perhaps he can pass along some reminders of how Shanahan used Cutler in Denver. Shanahan frequently had Cutler rolling out and sprinting out. In fact, nearly 12 percent of his throws with the Broncos came outside of the pocket. This year, only three percent of his throws have come outside the pocket. Cutler, like Ben Roethlisberger, is very effective on the move. His career passer rating outside the pocket is 114.1, compared to 81.3 inside the pocket.
My Sunday Best: Stadiums in the North
A couple weeks back I told you how I ranked the stadiums in the AFC and NFC East divisions. This week, let's take a look at the stadiums in the North divisions, in order of preference.
1. Lambeau Field, Green Bay. This is probably the only stadium in the history of stadiums that keeps getting better as it keeps getting older. Ok, maybe the Roman Colosseum is in the same class. Lambeau is a treasure, and the perfect reflection of its tenant, its team's history and its community. There is only one place like it in the NFL, although there are maybe thousands of smaller places like it around the country that high school teams call home. You can feel the tradition of the Packers in every inch of this place. The atrium and Packers hall of fame are wonderful. Where else can you get married and then cheer your favorite team to victory all in the same facility?
2. Ford Field, Detroit. This might be the best pure indoor stadium ever (not including the ones with sliding roofs). The place has a really nice feel to it with brick walls, exposed duct work and natural light. The seven-story atrium and connection to Hudson's warehouse are nice touches. It's a pity Ford Field has been wasted on such bad teams. It really hasn't been appreciated the way it should be because of the Lions' ineptitude. The location isn't the best, but is there a good location in Detroit?
3. Browns Stadium, Cleveland. This is another stadium that deserves a better tenant. This place was a tremendous upgrade over the dump that was Municipal Stadium, but it kept the two best elements of Municipal—the Dawg Pound and the location on Cleveland's Northcoast Harbor. You can see downtown Cleveland from the stadium, and you can walk there for a beer after the game. Lots of glass gives this place a modern feel.
4. Heinz Field, Pittsburgh. A classy home for a classy franchise, Heinz enhances Pittsburgh's North Shore. The open south end zone and huge community concourse allows views of where the Ohio, Allegheny and Monogahela rivers meet. I never thought I could enjoy an stadium advertisement, but you've got to like the Heinz bottle that pours ketchup when the Steelers score.
5. Paul Brown Stadium, Cincinnati. This is another stadium with an excellent location, with views of downtown Cincinnati and the Ohio River. PBS gets points for design, which includes a canopy over the upper deck on both sides and an angled upper row of seats in the end zones. Being named after a man instead of a sponsor is a good thing.
6. M&T Bank Stadium, Baltimore. The home of the Ravens has a nice feel to it, thanks to the views of downtown Baltimore, the purple seats and more than 1 million bricks. It is situated in Camden Yards, next to Oriole Park. The two 100-by-24 replay boards were the largest in the NFL until Cowboys Stadium came along. These are plenty big, and much less obtrusive.
7. Soldier Field, Chicago. If you were blindfolded and dropped into this stadium, you would know you had to be in Chicago when you opened your eyes. The location on Lake Shore Drive can't be beat, and the views of the skyline and lakefront are spectacular. The mix of architecture—ancient Rome meets the Jetsons—is distinctive, but also disconcerting. The stadium isn't as wide as it should be because builders wanted to keep those colonnades from the old Soldier Field in place. It's the smallest stadium in the NFL and could have been built with better attention to detail, but the place does have style and provides a nice environment for watching a game.
8. Metrodome, Minneapolis. This is one of the NFL's worst stadiums. It's old, it's ugly and it all feels very fake. Parking is a problem. I usually pop an ibuprofen before a game here, knowing the preposterously loud sound effects will result in a headache.
Numbers Games: Flag Hags
With the increased awareness about violent hits, some teams and players might stand to lose more than others.
Take the Lions, for instance. They lead the league in roughing the passer penalties with four. Defensive end Cliff Avril has been penalized for roughing the passer twice. He's the only player in the league with more than one.
Avril also is tied for the league lead in personal fouls with three. The others with three are Eagles safety Kurt Coleman and Saints safety Malcolm Jenkins.
The Lions are the new Raiders. They have had committed 29 defensive penalties and 59 total penalties—both league highs according to Stats, Inc. They also have had an NFL-high 67 flags thrown against them (eight were not accepted).
Of course, the Raiders still are in the running in the penalty derby. Their 55 total penalties is second most in the league. They are tied for the league lead in most pass interferences and illegal contacts.
The least penalized teams in the league have been the Dolphins (21 penalties), Bucs (22), Chiefs (23) and Bills (23). And the teams that have benefited from the most penalties against them have been the Ravens (61 opponent penalties), the Rams (54), the Titans (51) and the Bears (49).
Scout Talk: Brett Favre comes back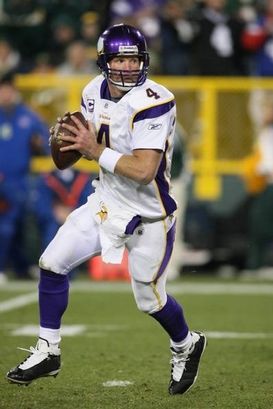 ICONBrett Favre goes back to Green Bay one more time.
Brett Favre is back in Green Bay tonight, perhaps to take his final bow in Title Town. The Packers will find he is a different player from the one they saw last year.
His passer rating is 72.1, compared to 107.2 last year. His completion percentage is 58.7, compared to 68.4 last year. His average per completion is 6.5, compared to 7.9 last year. He has thrown seven interceptions five games, the same number he threw in 16 games last year.
So what's going on with Favre? Have his 41 years finally caught up with him? I asked three pro scouts, and got three interesting theories. Here is what they said.
Scout 1: "In the NFC championship game, the Saints pressured and disrupted Favre's timing. They wouldn't let him pick them apart. They gave everyone a blueprint. Other teams have played him that same way. He has taken more hits early this year and it has affected him. But he still can play at a high level."
Scout 2: "It's been a combination of things. He was more banged up coming in than he was last year. He got in late and was missing his best wide receiver. He's had to play with three centers. His protection hasn't been as good. His arm is bothering him, but his skills are still there. He has the same arm strength.
Scout 3: "He looks a lot different. His feet aren't settled because his ankle is a problem. Legs are important to a quarterback. You have to have your legs to drive through the ball. It's like Tom Brady when he came back the year after hurting his knee. His lower body is not what it was. He still is making some throws, and he can get it deep or throw it across his body. But in the pocket, he's not getting his feet under him enough."
One Man Yelp: FanVision
I am a bit of a gadget guy, so I was curious about FanVision, billed as a ground breaking handheld device that provides fans attending games with revolutionary technological and viewing access. I gave it a test run at a game last week and liked it very much. FanVision, which is the baby of former Chiefs exec Carl Peterson, is a way to bring some of the comforts of watching a football game at home to an NFL stadium.
The device offers a lot of choices to increase your information and knowledge. First and foremost, FanVision is a television set. It offers the audio feed from the network or from the local radio broadcasters. The best part about the device is the viewer can see every play from four replay angles not available to the regular TV viewer. The angles—south 25 yard line, north 25 yard line, high end zone and 50 yard line. It's almost like watching game tape at the game.
There are many other perks with FanVision. You can enter your fantasy players and find out how they are doing. You can watch different games from the one you are at. The Red Zone channel is available. Postgame programming is offered, as is a view of the stadium's video board. There are rosters, stats and schedules of the participating teams, as well as statistical analysis of direction and length of plays.
In its first year, the device and a one-season subscription is offered in the stadiums of the Cardinals, Bills, Bears, Browns, Broncos, Dolphins, Vikings, Jets, Eagles, Seahawks, Rams and Redskins for the price of $199.
My only complaint: I wish it could work all week long wherever I go. The device only works at the stadiums.
*Check out excerpts from Keith Richards' upcoming book Life in the Oct. 28 issue of Rolling Stone Magazine. Some really interesting perspectives and stories. Can't wait to get the book when it comes out. If you love the Greatest Rock and Roll Band in the World, this is a must read.
It's funny. The headlines about the book yelled about the frayed relationship between Richards and Mick Jagger. The wire stories focused on how Richards called Jagger "unbearable," and refered to him as "Her Majesty," and "Brenda." But you get a different feel from Richards' own words. In one passage in which he delves into Jagger's possessiveness of Richards, he writes, "I have a feeling that Mick thought I belonged to him. And I didn't feel like that at all. It's taken me years to even think about that idea. Because I love the man dearly; I'm still his mate. But he makes it very difficult to be his friend." Good stuff.
Hot reads
*Disagreeing with the rules is one thing. Threatening to quit because of them is another, James Harrison.
*This poll from Sports Illustrated says Terrell Owens is the NFL's most overrated player. I never understood calling someone overrated. Rated by who? Not by whoever is calling him overrated, obviously. As for T.O., he was so overrated he couldn't find a job until after camp started.
*While Pete Carroll was working wonders with Mike Williams, you have to wonder why he—and his predecessors in Seattle--couldn't get much out of Deion Branch.
*The absence of Dallas Clark will change the entire complexion of the Colts offense—not to mention their chances of repeating as AF C champions.
Dan Pompei covers pro football for the Chicago Tribune at chicagotribune.com.