December 02, 2012 -
Dan Pompei
NFP Sunday Blitz
Roger Goodell's recent memo to NFL clubs about the possible elimination of all blocks below the waist has raised some interesting discussions.
Certainly, the suggestion is worthy of debate. And certainly, some blocks could and should be outlawed. But there is no way the NFL can eliminate all blocks below the waist.
Eliminating all blocks below the waist would give defenders license to run roughshod over offenses. It would change the competitive balance of the game, diminish offensive output and raise serious safety concerns for quarterbacks.
What can't be eliminated are cut blocks in pass protection, especially by running backs. And cut blocks by pulling blockers against second level defenders also cannot be eliminated. "Those kinds of blocks are necessary to neutralize the size and speed difference between players," said one long-time NFL executive.
If a running back can't go low on a blitzing linebacker or defensive lineman who breaks free, he has virtually no chance and no value as a pass protector. Defenses will be able to get numbers mismatches too easily.
"To ask a running back to stay up and take on a guy who's coming and is many times almost double his weight, I don't think he can stop that guy," said recently retired offensive line coach Hudson Houck. "I don't think he can do it. It would really alter the game."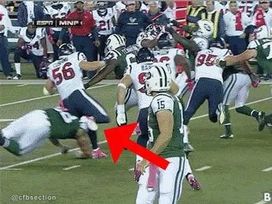 Blocks like this that injured Texans linebacker Brian Cushing need to be looked at by the competition committee.
Defensive coordinators quickly would find a way to exploit this weakness, and there wouldn't be anything offensive coordinators could do about it. Houck offers this scenario: "Say a linebacker walks up in the A gap. And you have a defensive tackle in a three technique, which is on the outside edge of the guard. Now if it's not shotgun, you are asking the guard to take the linebacker who is coming in the A gap. Who has the three technique? It's generally the back. How can he block this guy if he stays high on him? No chance. He'll run right through the back. I don't see how you can do that."
What is significant is you don't see many injuries when running backs go low in pass pro, or when pulling blockers go low on second level blocks. Why? Defenders can see the blocks coming and adjust.
But two types of low blocks can be eliminated from the game in which defenders cannot always brace themselves for the low hit. The first is the chop block, in which one blocker engages a defender high and another hits him low. Chops are already illegal on passing plays, but are legal on some running plays. The NCAA has made chop blocks illegal on run plays, and the NFL should follow suit.
"I always thought it was dangerous on the back side of a run block if you are holding a guy up and it's a zone scheme, you can go down to cut the guy as long as your head is in front," said Houck, who coached in the NFL for more than two decades with the Rams, Seahawks, Cowboys, Chargers and Dolphins. "We've seen some guys get knee injuries because of that. It would really hurt all these zone blocking schemes that have to cut a guy down on the backside to stop a guy from flowing to a play."
There are fewer teams in today's NFL that use zone blocking schemes than there were in the past. As the true West Coast Offense disciples have fallen off, so has the zone blocking scheme. Teams that still use a lot of zone blocks include the Texans, Broncos, Redskins, Raiders and Seahawks.
Eliminating the chop would not affect most teams, so there is not likely to be major resistance to the suggestion. "It wouldn't affect us at all because I have never taught it," one NFC offensive line coach said.
Said Houck, "The teams that use man blocking schemes don't block down below the waist very much. They stay up. There are double teams, cut off blocks on the back side, but generally guys are going to want to stay up unless it's that zone blocking scheme. That's what I taught anyway."
The second type of low block that should be eliminated is the downfield block in which the blocker lines up outside the tight end and goes towards the middle of the field, which is referred to as an "outside-in" block. This is the type of block in which Bills receiver Stevie Johnson hit Chiefs safety Eric Berry and tore his anterior cruciate ligament last year.
Johnson, interestingly, has said he won't block that way anymore. Starting next season, no one should be blocking that way anymore.
But some low blocks are necessary in the NFL.
Things I Didn't Used To Know
*Those familiar with Monte Kiffin's circumstances are saying the defensive guru won't be running an NFL defense next season after leaving Southern Cal. Soon to be 73, Kiffin's days of being a coordinator may be over. But he can bring value to an NFL team in another role, perhaps as a consultant or senior assistant or assistant head coach. It is likely he will end up in some such position.
*Giants senior pro personnel analyst Dave Gettleman is expected to be a candidate for the Panthers' general manager job, given how Ernie Accorsi values Gettleman's abilities. Accorsi is consulting Jerry Richardson about the opening. The issue may be whether or not Richardson wants to hire a GM with a personnel background or with an administrative background. Some believe he will go with an administrator/cap manager.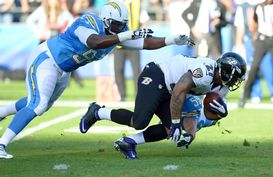 Corey Liuget has been one of the few bright spots for the Chargers this year.
*Not a lot has gone right for the Chargers this year, but one thing the team is happy about is the development of 2011 first round pick Corey Liuget. Word out of San Diego is the defensive end is coming into his own because the game is slowing down for him. He isn't thinking so much, and he's been more decisive in his movements. He's been difficult to block one on one, as he has used his great lower body strength and size to drive back blockers.
*Some people think Brandon Weeden has not taken advantage of many of his opportunities, but many others think he can improve in time. The Browns have put a lot on his shoulders, and he probably is not ready to carry the team. It will be interesting to see which side of the fence the new general manager and coach come down on.
*Richard Sherman has been a fine cornerback for the Seahawks since he began playing last year, and losing him to a four game suspension would be a devastating blow. In the Seahawks offices, they believe part of the reason Sherman is such an effective cornerback is he is a former wide receiver. He understands splits, routes, offensive priorities and down and distance situations. He also is an instinctive player who anticipates what the receiver will do. And like a good former receiver, he can catch the ball.
My Sunday Best: Candidates Who Didn't Make the Hall of Fame Cut
It is an extremely strong class of 25 semi-finalists for the Pro Football Hall of Fame that was announced Friday. So strong, in fact, that I'm certain outrage will reign when the inductees are announced. The outrage will be about most of the men who won't get in this year. But we can only pick seven, at best. There are six strong first time candidates in Larry Allen, Morten Andersen, John Lynch, Jonathan Ogden, Warren Sapp and Michael Strahan. My prediction is we will have two or th ree first ballot hall of famers this year. They will push some of the players who are carryovers from previous ballots. Among those who I had the feeling were close but did not make it last year were Charles Haley, Kevin Greene, Bill Parcells and Ed DeBartolo. Each of them will be strong contenders this year again. So, too, might Art Modell, given how many are reconsidering his contributions after his passing. And the three wide receivers—Tim Brown, Cris Carter and Andre Reed--will remain in strong contention for at least one spot. I was glad to see some finalists from two position groups that often have gotten the short shrift—defensive backs and special teams players. There are four DB semifinalists (Lynch, Steve Atwater, Albert Lewis and Aeneas Williams) and two special teamers (Andersen and Steve Tasker). The semi-finalists group is so loaded that there are a number of strong candidates who did not make it to 25 and could be eventual hall of famers. Here, in alphabetical order, are some of my best candidates who didn't make the cut.
Lomas Brown—He played left tackle at a very high level for an incredible 18 years in the NFL, and made it to seven Pro Bowls. He was the key blocker for Barry Sanders in Detroit, and he also was an exceptional pass protector.
Jimmy Johnson—Few coaches in NFL history have had the kind of swift and profound impact Johnson had when he took over as head coach of the Cowboys. He won two Super Bowls but was responsible for the Cowboys winning three. The argument against him is he only coached for nine years and couldn't turn the corner with the Dolphins.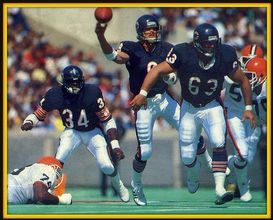 Jay Hilgenberg was the lead man for Jim McMahon, Walter Payton and the Bears offense in the 1980s.
Jay Hilgenberg—He was one of the premier centers of an era, playing in seven Pro Bowls and six division winners for the Bears. As one of the first pulling centers in the NFL in the early 1980s, he was a key part of an outstanding front five that helped Walter Payton make magic. A young Bill Belichick traded for him late in his career.
Chris Hinton—The key player in the Broncos' trade for John Elway, Hinton was a fine tackle for the Colts, Falcons and Vikings over 13 seasons. He played in seven Pro Bowls.
Robert Kraft—He saved professional football in New England (the previous owner was ready to move the Patriots to St. Louis), built a state of the art stadium, and was arguably the most important figure in ending an acrimonious lockout. He is a true leader among owners on NFL issues. Since he took over, the Patriots are the third winningest team in professional sports.
Bill Polian—A six time NFL executive of the year award winner, Polian took his teams to five Super Bowls in 24 seasons. With the Colts alone, he built a team that won eight division titles and a Super Bowl. He has drafted several hall of famers or future hall of famers.
Steve Wisniewski—One of the all-time great Raiders, Wisniewski played in eight Pro Bowls. It can be tough for offensive linemen to get hall of fame consideration sometimes.
Ron Wolf—He brought the title back to Titletown by hiring Mike Holmgren, trading for Brett Favre and signing Reggie White. Clearly he was one of the NFL's all-time great talent evaluators and administrators. Two other front office men worthy of consideration are Bobby Beathard and Gil Brandt.
Hot Reads
*Football seems a lot less important today with the tragic events in Kansas City. So sad. But the show goes on, as always.
*If your team has some of these issues, it might be time to turn in your season tickets.
*Any team that did not give serious consideration to picking up Jason Babin needs a housecleaning.
*Isn't Rolondo McClain the quintessential Raider?
*The Saints arrived in Atlanta with egg on their bus.