October 23, 2011 -
Barry Dorey
NFP Sunday Blitz
Never has an offense been more appropriately named. The spread offense is spreading like hotel bed bugs.
You see it more and more, from New England to Carolina to Buffalo to Detroit and many more points across the NFL map. "It looks like that's where the trend is," Patriots coach Bill Belichick told me. "Look at league numbers with three receivers or more on the field, number of times the quarterback is in shotgun. Those numbers continue to escalate, and I'm not sure if that will level off any time soon. We certainly weren't talking about that 20 years ago."
Why is the spread so popular? Because if your team has the weapons to operate it, it gives the offense decided advantages.
"When you go in the spread, it makes teams have to show their hand a little more," Packers quarterback Aaron Rodgers told me. "Either you have to bring pressure or go to coverage. It's a little more difficult to disguise a ton of things without leaving guys uncovered."
Packers coach Mike McCarthy estimates his offense operated out of the spread between eight and 10 percent of the time last year. "Are they going to pressure to get the hit?" he said. "Or will they play coverage? That's the cat and mouse game, and [the spread] helps you figure it out."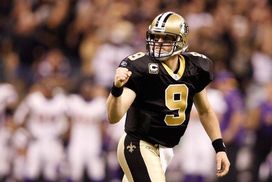 Drew Brees does some of his best work from the spread.
A defense facing the spread has to concern itself with the run game as well as the pass. Not only might Cam Newton line up in the spread and hand it off to DeAngelo Williams, but he might run a quarterback draw himself.
"It puts defenses in a bind because the run game is still prevalent in the defensive read," said ESPN analyst and former Patriots linebacker Tedy Bruschi. "How do you match up to it? Nickel or dime? Regular personnel? Sometimes they spread with two tight ends. You have to decide which personnel group to match with. The quarterback looks at it and picks the most advantageous play for success. Even before the snap the offense has an advantage. Okay, they are in nickel or dime, let's run the ball. They are in a regular defense, they're outmatched in the passing game, let's throw it."
The Packers ran the spread on roughly 10 plays in the Super Bowl. Why? They wanted to keep the Steelers in the personnel grouping that kept Casey Hampton off the field, according to Rodgers.
Defenses haven't figured out what to do with the spread yet. Belichick said some adjust more than others. Some will try pressure. Some won't. There isn't a trend because nothing has consistently worked.
Many offensive players, especially quarterbacks, receivers and tight ends, love the spread and lobby for it. A good number of passers like Blaine Gabbert, Tim Tebow and Sam Bradford are coming into the league having played almost exclusively in a spread system in their college and/or high school careers. It's what they are most comfortable with, and what they are best at.
Saints quarterback Drew Brees told me he enjoys the spread because it gives him control. "You have five guys to choose from," he said. "You can get in a great rhythm. You get the ball out quickly. You're already five yards behind the line of scrimmage so you are already away from the pass rush. I feel you have a lot of control in the spread offense. You can check to a lot of different things. It allows you a lot of flexibility, especially if you have a quarterback who can run. If they want to drop and cover every play, you can run. It's a very quarterback friendly offense."
Some say the spread won't last because quarterbacks won't last in it. Defenses that gamble with pressure can deliver some big hits against the spread.
To offset this, McCarthy said he moves around Rodgers in the spread. He also said the spread actually might help Rodgers avoid hits because he can see the field better. "You spread them out, he knows what's coming," McCarthy said. "Keeping seven men in protection, it's more bodies around him. He prefers it."
Defenders usually don't have much time to get to the quarterback in the spread. "You're seeing quarterbacks not hold the ball," said Belichick, who has spent offseason time studying the offense with Urban Meyer. "They just get it and throw it. It's not the run and shoot, but it's not far."
The spread actually makes football less physical. "There are so many passes within five yards of the line of scrimmage, a lot of times offenses don't have to block anybody," Belichick said. "It's the same thing in college. In college, a lot of these offenses honestly nobody blocks anybody. They run either some kind of dive option play where they are reading one guy, depending on what he does determines where the ball goes, or they throw a pass that's within five yards of the line, get it to a guy, let him run with it. It's more of a space game, not counting on executing a lot of blocks."
The spread will continue to spread—right up until the point when someone figures out how to stop it.
Things I Didn't Used To Know
*A lot of teams can't believe the high price the Raiders paid—possibly two first rounders--for Carson Palmer. One of the reasons the Bengals appeared to have no interest in trading Palmer prior to last week is there wasn't much of a market for him. One front office man who was in need of a QB looked hard at Palmer in the summer and wasn't doing cartwheels. He pointed out Palmer will be 32 in December. Palmer wasn't coming off a great season. Last year he tied his career high with 20 interceptions and also was sacked 26 times. What's more, he said Palmer doesn't move as well as he used to. The good news? He still has a live arm. If Palmer plays like an elite quarterback, he will make everyone forget the price the Raiders paid to acquire him.
*For some reason, teams were interested in dumping receivers more than players at any other position at the trade deadline. Of course Brandon Lloyd was traded, but other receivers who were available include Eddie Royal from the Broncos, Louis Murphy from the Raiders and Steve Smith from the Eagles. Some still think Reggie Wayne of the Colts also could have been had.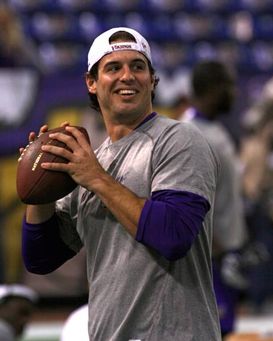 Christian Ponder hopes to be spreading smiles to the Vikings.
*Christian Ponder is the Vikings new starting quarterback, but you can't blame him if he isn't completely prepared to take on the Packers Sunday. Before last week, Ponder hasn't had any team reps in practice since the season began. The first rounder was given a few reps in nine on sevens, but Donovan McNabb was given all the team reps when he was the starter. Ponder has worked hard outside of practice though. He has been in early and out late since he joined the team, and he appears to have a good grasp of the playbook. Even though Ponder has a lot to learn, the coaching staff believes the offense can be more diverse with Ponder than it had been. Ponder is more mobile and accurate than McNabb. He also will be more prone to the turnover, however.
*Cameron Wake continues to have decent production, but Dolphins coaches believe the pass rusher has room to improve. Wake is all speed and effort as a pass rusher. He has not mastered a counter move. As a result, blockers know what's coming. This year, offenses have paid a little m ore attention to the outside linebacker. They are using different blocking schemes and having the quarterback roll away from him at times.
*One of the reasons Aaron Curry is a former Seahawk is the presence in Seattle of K.J. Wright. Even though the team's fourth round draft pick played strong side linebacker at Mississippi State, he was moved to middle linebacker by Pete Carroll in training camp because Wright, at 6-4, 250, has good size for a Mike. Wright did well in the middle and might have had a career there, but when Curry struggled, Carroll decided to move Wright to the strong side. He has played well enough there to quell any concerns about trading Curry. My Seahawks friends tell me Wright isn't the same kind of explosive athlete Curry is, but he is a reliable player who gets the job done. And sometimes, that's all it takes.
My Sunday Best: Spread QBs
Not every quarterback can be effective in a spread offense. But quarterbacks with varying skill sets can be. What has become evident is a spread offense can't work without a quarterback who can operate it well. "It starts with the quarterback," Packers coach Mike McCarthy said. "He is the key." Here are the best spread quarterbacks.
1. Aaron Rodgers, Packers. He is so good at reading defenses and picking them apart, he makes it look like seven on seven. He also can buy second chances with his feet. Having so many weapons to work with enhances his ability.
2. Tom Brady, Patriots. He waits until the defense declares, then pounces on the weakness. His quick and reliable decisions are a plus.
3. Drew Brees, Saints. He's good in any offense, but the spread might make him better because it helps offset the fact that he's only 6-0. The spread helps Brees find throwing lanes.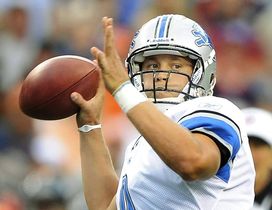 Matthew Stafford can fling it from the spread.
4. Matthew Stafford, Lions. He has a big arm and a penchant for finding the right guy at the right time—good attributes for a spread quarterback.
5. Ryan Fitzpatrick, Bills. He reads the field, finds the bet matchup and distributes the ball extremely well.
6. Michael Vick, Eagles. He isn't as savvy a passer from the spread as some, but his quick release and ability to run quarterback draws or run to the edge of a defense makes him a dangerous spread QB.
7. Cam Newton, Panthers. Eventually, he may be the best of all of them. His ability to run and his strength to shake off tacklers give him a dimension like no other quarterback.
Scout Talk: Tight ends
Teams in need of a tight end in the offseason better hope they can find one in free agency, because it appears that it will be an exceptionally lean year for tight ends in the draft. There isn't a single senior who is thought of as a potential first rounder at this point, and there very well not be an underclassman at the position who gets drafted in the first. This year's class lacks a true two-way tight end who can excel as both a receiver and running back.
The best of the bunch may be Coby Fleener of Stanford. He has good size and athleticism and can create mismatches in the passing game. He has improved his blocking and has the frame to continue getting better in that area. Right now, he looks like a second round pick.
Missouri's Michael Egnew may be the next best prospect. He runs well, can separate, and has a feel for routes and getting open. Egnew also has very good receiving skills. He is listed at 6-4, 236 pounds, too small to hold up as an in-line blocker. In the right system, he could flourish, but he won't be for everyone.
Five other tight ends are being discussed as fourth to fifth rounders. Kevin Koger of Michigan may be the closest thing to a two-way tight end in the draft. He has decent blocking skills, is athletic and shows good hands. He also can line up as a fullback. Michigan State's Brian Linthicum can run, separate and he has good ball skills. He is more of a finesse blocker than a power blocker, but he has the body to become more physical.
Ladarius Green has scouts flocking to Louisiana Lafayette. He's a big play receiver who could fit in a spread offense, but he weighs only 227. Good luck using him as a blocker. Louisiana State's Deangelo Peterson is a similar prospect. Both of these players could move up.
Southern Cal's Rhett Ellison has some all-around ability, but isn't special in any area.
One Man Yelp: