August 08, 2010 -
Dan Pompei
NFP Sunday Blitz
Tommy Zbikowski couldn't have bigger shoes to fill if he were replacing Bozo the clown. But the player he is replacing is no clown — it's Ed Reed, one of the best defenders of a generation.
Reed is expected to miss a good chunk of time, maybe a couple of months of the regular season, after hip surgery. The 31-year old also has had nerve damage in his shoulder.
So Zbikowski is at least the short-term fix for the Ravens at free safety, if not the long-term future. Zbikowski had two interceptions in four starts last year. He had a solid offseason. And so far in camp he has looked a little like Reed — making plays on the ball and leading the Baltimore secondary.
It's no coincidence. Reed has been serving as almost a personal coach for Zbikowski since he's been out, giving him advice on the practice field, in the tape room and even in games.
"He's basically my set of eyes — he passes along his knowledge of everything, and tells me how much he thinks outside the box," said Zbikowski, a third-year player out of Notre Dame. "When he's talking to you on the sidelines, you understand how he makes the plays he makes. When you don't have knowledge of it, you think he's a freak athlete. But then you understand how much he knows the game, how much he anticipates, how much he trusts his instincts. Having him in my corner is probably the biggest help I've had. Having someone who is a true free safety teaching you the game is great. In my opinion, he's the best free safety who ever played the game, and he's coaching me."
This is one of the great stories of training camp, and a story that's going to be worth watching all year.
Things I didn't used to know
*Mike Williams could have been the steal of the draft. The Bucs took Williams in the fourth round of the April draft and Arrelious Benn in the second, but so far Williams looks like the better wide receiver. My Bucs peeps tell me Williams has caught on quicker and shown softer hands than Benn. He also has made more big plays in practice. Maybe it shouldn't be a surprise. A lot of people thought Williams had first-round talent, but he was dinged on a lot of draft boards because he quit the team at Syracuse.

*Frank Omiyale is better suited to play offensive tackle, where the Bears have him lined up this year, than guard, where he lined up last year. Why? Mostly because Omiyale has 36-inch arms. Those very long arms are an asset for a tackle, but can be a hindrance for a guard.

*Not only do the Cowboys expect that Doug Free will beat out Alex Barron to be their starting left tackle, but they also expect that Free will be an upgrade over Flozell Adams. Free, who has yet to start a game at left tackle in the NFL, is a niftier, quicker run blocker than Adams, he hustles more and he is less apt to whiff at a pass rusher. However, he is not as strong and might be bulled easier.
My Sunday Best: Player interviews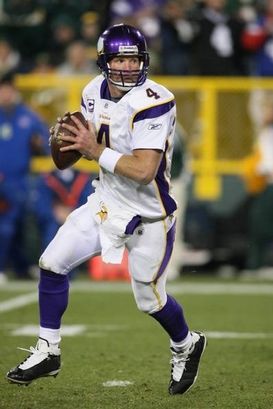 ICONBrett Favre has been one of the best interviewees in league history.
If Brett Favre does retire, the NFL will lose more than one of its greatest players. It also will lose one of its greatest talkers.
Favre may be the best interviewee in league history. He's funny, he's smart, he's glib, he's honest, and he actually enjoys talking with members of the media. I've interviewed him through the years when I literally could not shut him up. He can go on forever, and he almost can't help himself from telling you everything he's thinking. His production meeting talks with network folks are the stuff of legend.
Here are my ten favorite interview subjects currently playing in the NFL, not including Favre.
1. Peyton Manning. He is a total pro with the media, just like he is a total pro as a quarterback. He knows what the questioner wants, and he tries his best to be accommodating. Manning is friendly, respectful and very thoughtful, though he can be very guarded on strategic issues.
2. Drew Brees. He takes his media responsibilities seriously, and he gives good answers.
3. Aaron Rodgers. This is a player who gets it. He takes his time with the media, in part to make sure he is understood.
4. Darren Sharper. The Saints safety can be bombastic, which is always a plus. But he's also a real student of the game who can educate and inform.
5. Jared Allen. Here is a guy who is loving life and it comes through in his interviews. Allen has fun and doesn't worry about offending anyone.
6. Jason Taylor. A thinking man's pass rusher, Taylor communicates well on technical matters pertaining to the game, and he also offers interesting, relevant big picture observations.
7. Matt Hasselbeck. In addition to being funny and entertaining, Hasselbeck also is good about describing why something happened, or talking about offensive/defensive concepts.
8. Shawne Merriman. He has a lot of interesting things to say, and he doesn't mind taking the time to say it.
9. Carson Palmer. It may not be easy to hear him in the same locker room with Chad Ochocinco and Terrell Owens, but Palmer can help interviewers understand the "whys" of the game.
10. Tony Romo. Interviewing Romo is like chatting with a neighbor over the fence. He sees himself as just a regular guy, and is a pleasure to interact with.

Numbers games: What Favre means to the Vikes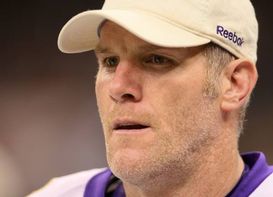 ICONWill he be back for one more season?
Wonder why the Vikings are willing to give Brett Favre an additional $7 million to make his ankle feel better? The numbers will tell you why.
Favre had an incredible effect on the Vikings offense that went beyond his passes. The team scored 6.4 points per game more in 2009 than they did the previous year, when they were quarterbacked by Gus Frerotte and Tarvaris Jackson.
They went from ranking 17th in yards per game to fifth. And they went from ranking 18th in first downs per game to third. Part of the reason why is they were so much more efficient on third down with Favre. The Vikes converted 44.8 percent of their third down opportunities last year compared with 39.4 percent the year before.
And Favre made the biggest impact of all in the red zone. With Favre, the Vikings scored touchdowns on 62.3 percent of their red zone possessions. With Jackson and Frerotte the year before, they scored touchdowns on only 43.2 percent of their red zone visits. It helped that Favre led the league with a red zone passer rating of 112. The previous season, Vikings QBs had a red zone rating of 88.4
If Favre can make the same kind of difference in 2010 that he did in 2009, he'd easily be worth the $7 million.
Scout talk: Best schools to visit
It's the time of year when scouts begin taking to the road, so I asked a few to tell me where they enjoyed visiting most. Here are a few of their favorites, in alphabetical order.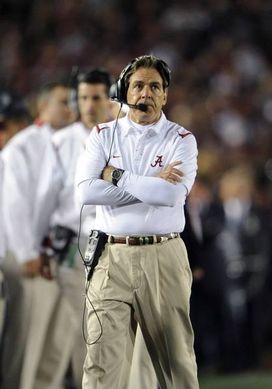 ICONNick Saban knows the NFL as much as he knows the college game.
Alabama — It 's like visiting another NFL team. Nick Saban runs the Tide the way he ran the Dolphins, and the talent in Tuscaloosa usually isn't too far off what some NFL teams have.
Connecticut — The facilities and the hospitality are top notch. The "scout's room" offers multiple flat screen TVs so scouts can watch more than one game at a time, and the most comfortable chairs in the NCAA. There is a hotel on campus, and the coaches sometimes even put out a nice lunch spread for scouts.
Iowa — It isn't the easiest place to get to, but coach Kirk Ferentz and his staff usually make it worth the trip. Unlike some coaches, Ferentz doesn't try to fool scouts. And most of his prospects are well coached, polished and ready for the NFL.
Oregon State — Former NFL coach Mike Riley knows what scouts want, and he's willing to help. The area is beautiful, and it's easy to combine the trip with a visit to Oregon, which is about an hour away.
Pittsburgh — Dave Wannstedt and the coaching staff will be happy to stop by and visit. And scouts can easily drop in on the Steelers to visit friends.
Southern Cal — Pete Carroll was a favorite of scouts, though it remains to be seen if Lane Kiffin will be as open and accommodating. The Trojans always have a lot of players, and Carroll worked them hard in practice — so there was something to scout. The only drawback — they have the air conditioning blasting in the film room. So bring a sweater.
Texas — If dinner and a drink are on the schedule (often there is no time), this is a great visit. The city of Austin is a lure, and the school usually has some of the best prospects in the country. Coach Mack Brown and his staff usually are helpful.
Wake Forest — Coach Jim Grobe goes out of his way to help scouts. It's a beautiful campus in a nice area of the country.
One man yelp: The Official Vince Lombardi Playbook, and Kenny Chesney
I've read a number of books about Vince Lombardi and his Packers teams, but what sets apart The Official Vince Lombardi Playbook by Phil Barber is the details about Lombardi's philosophies. The book is meant to feel as a playbook from the old days might feel, and it includes quite a few images of Lombardi's handwritten diagrams, letters and notes.
In the chapter called The Lombardi Sweep, the author states that offensive tackles Forrest Gregg and Bob Skoronski were nearly as important as guards Jerry Kramer and Fuzzy Thurston in the play they called "49." Gregg said the offside tackle would have to "pick up anything that was filtering through the line that had a chance to make a play on the running back. Or sometimes the guard in front of him would get knocked down, and he'd have to get out and lead."
A lot of the plays seem simple compared to what's being run today, and many of Lombardi's thoughts are elementary. But in the 1960s, this was cutting edge football, and it changed the NFL. This is a very interesting look inside one of the greatest minds in football history.
*You may have heard Kenny Chesney's new song The Boys of Fall, which beautifully captures the essence of high school football. You should check out the video as well.
Chesney's buddy Sean Payton opens up the video giving a speech to the Naperville Central High School team before a big game 27 years after Payton played for the school. Listening to Payton, you understand how he motivates the Saints. "I would give anything tonight to jump in one of those uniforms with you guys," he tells the high schoolers.
The rest of the video is filled with great football images, from Joe Paterno to Walter Payton. And at the end, some inspirational messages are offered from the likes of Peyton Manning, Brett Favre and Joe Namath.
If you love football, goosebumps are guaranteed.
Hot reads
*I'm happy that each of the seven enshrines to the Pro Football Hall of Fame are getting their moment this weekend, but the one I may be happiest for is John Randle. He came from nothing, was an undrafted free agent and was considered way too small to play defensive tackle. But the intensity, passion and ferocity he played with made everything else inconsequential. He was a joy to watch.

*Eliminating the three-point stance, as has been discussed by Roger Goodell, would be going too far. It would change the game dramatically. And it probably would not lead to a considerable decrease in concussions, as hoped. As a rule, linemen don't get concussions coming out of their stances.

*Miles Austin could be a better receiver in 2010, but a less productive one. With Dez Bryant in the mix, Martellus Bennett continuing to develop and a healthy Felix Jones, it's likely the touches will be spread out more evenly for the Cowboys this year. And there's another thing: defenses are going to be a little more concerned with Austin than they previously were.

*The only possible argument against having computer chips in footballs is people are afraid of technology. Get over it, and let's make the calls more accurate.
Email Dan Pompei your questions at dan.pompei@nationalfootballpost.com.