January 29, 2012 -
Dan Pompei
NFP Sunday Blitz
It wasn't the money that drew Jeff Fisher to St. Louis.
It wasn't the power.
It wasn't the Arch.
It was the quarterback.
If Sam Bradford were in Miami or Jacksonville or Washington or someplace else, chances are Fisher would not be in St. Louis. Bradford isn't the only thing the new Rams coach likes about his job, mind you. But Bradford was a big draw. "The exciting part is Mr. Kroenke's vision, the direction he wants to take this football team," Fisher told me. "I'm honored and privileged to be a part of that. This is an opportunity to build a foundation. And Sam was a big part of the decision."
Fisher arguably never has had a chance to work with a quarterback with as much potential as Bradford, though he has coached some good ones. There was Steve McNair, who was a three-time Pro Bowler and the co-most valuable player in 2003. There was Vince Young, the third overall pick of the draft and a Heisman winner. There was Kerry Collins, who has thrown for more yards than all but nine players in NFL history.
Bradford should be better than all of them. "We think he has a chance to be grrrreat," Fisher said, sounding a little like he was pitching Frosted Flakes. "A lot of people around the league believe that. We are going to everything possible to make that happen."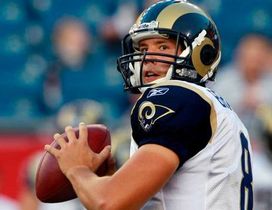 Sam Bradford was a powerful draw to Jeff Fisher.
Fisher and Bradford first met at a conference room at the Indianapolis Holiday Inn where the Titans were interviewing college prospects during the 2010 combine. Fisher walked away impressed. "I remember just about every word he said," Fisher said. "He was very, very impressive, sharp, motivated. Hates losing like most elite college players."
When Fisher thought the Rams job was a possibility, he started researching Bradford. He did some tape study. He called some friends who had worked with him to find out more about him from a personal perspective.
The coach and quarterback met again in January as part of Fisher's interview process. After Fisher's initial interview with Kroenke in Denver, he came to St. Louis and toured the Rams' Earth City facility. While there, he met with Bradford for close to two hours.
"It went way beyond getting acquainted," Fisher said. "I didn't need to get him on the board. He knows more offense than I do. We exchanged ideas. I wanted to get a sense of him and the team, his teammates, the pulse, where he thought they were. His injury [a high ankle sprain that limited him to 10 starts] was a difficult thing, especially with the lack of an offseason, and it being his second year. We covered it. I felt very comfortable as he did when we went different directions."
The thought of working with Bradford is enough to revitalize a 53-year old, 17-year NFL head coaching veteran. But having a year off helped Fisher too.
"The first objective when I stepped aside was to completely get away, get recharged," Fisher said. "I needed to distance myself from it."
In the offseason, Fisher didn't pay much attention to the NFL. He spent a lot of time training to climb Mount Kilimanjaro, which he did last May. He stayed on the competition committee as a non-voting member, attending meetings. When the season came, he made about a half dozen trips to New York to help out the league's officiating department. He watched his son Trent play football at Auburn, and his other son Brandon coach for the Lions. "To be able to go to an Auburn home game and sit with a ball cap on backwards as a parent was kind of a rare experience for me," he said. "I really enjoyed that."
The time away recharged Fisher and gave him a new perspective. "As I got back involved, I looked at what would you differently, what would you do moving forward," he said. "You look at things differently. I'm rested. I'm really excited."
Especially because of who he has under center.
Things I Didn't Used To Know
*A conversation between Bill Belichick and the Glazers helped convince the Bucs to hire Greg Schiano as their head coach. Belichick has conviction about Schiano because he knows him well. The two have spent time together during the offseason. During the 2011 season, Rutgers took Belichick's son Stephen on the team as a backup long snapper. Belichick, in fact, attended Rutgers' game against Louisville during the Patriots' bye week. He flew on the team plane, sitting with Schiano and talking blitz schemes the whole way.
*The Bucs have taken some heat for hiring Schiano, but they weren't the only team that thought he was head coaching timber. The Rams interviewed him as a backup in case they didn't land Fisher, and they loved him. In fact, Rams VP Kevin Demoff gave Schiano a glowing recommendation to his good friend Mark Dominik, the Bucs general manager. As soon as Chip Kelly turned down the Bucs, Dominik moved on Schiano. By the way, one of the reasons the Bucs thought so highly of Kelly is he was recommended by former Tampa Bay coaches Tony Dungy, Jon Gruden and Monte Kiffen.
*One of the reasons the Rams general manager search is moving slowly is the team is a little limited by the fact they aren't offering control of the 53-man roster. As a result, other teams can block the Rams from hiring someone who is under contract, such as Lake Dawson. Two names we're hearing are Mike Ackerly of the Titans and Rich Snead of the Raiders—both of whom have worked with Fisher.
*The Dolphins are fortunate to have landed Mike Sherman as their offensive coordinator. Sherman could have had a number of jobs, as teams that were interested in him included the Browns, Chiefs and Raiders. Sherman's relationship with Dolphins head coach Joe Philbin, and the fact he will have a say in some of the other assistants, steered him to Miami.
*Chargers receiver Vincent Jackson wants to remain in San Diego, and it's sounding more and more like the Chargers want to keep the free agent to be. "The way he performed this year speaks to how valuable he is to our team," Chargers coach Norv Turner told me. "From a coaching standpoint, I'd love to have him here. When you look at his production, his average per catch separates him from a lot of guys. "
My Sunday Best: Upcoming Eligible Hall of Famers
They have called this a "clean-up" year for the Pro Football Hall of Fame because the perception is the voting is wide open and there aren't any slam-dunk first time eligibles. That isn't to say that Bill Parcells and Will Shields aren't serious contenders. They are, but it is a good year for those who have been waiting patiently to get their turn. Certainly, the battle for induction spots is going to become more competitive in the very near future. Here are my best hall of fame candidates who will become eligible in the next three years, in alphabetical order. Name is followed by year of eligibility.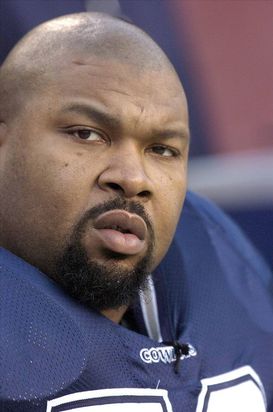 Larry Allen put a lot of defenders on their backs.
Larry Allen (2013)—He played in 11 Pro Bowls. He arguably was the strongest man ever to play in the NFL, and some think the former Cowboy was the greatest guard in history. He could be a first ballot inductee.
Morten Andersen (2013)—The board of selectors has not been very kind to kickers, but Andersen could be the exception. He is the leading scorer in NFL history, a seven time Pro Bowler and a member of two all-decade teams. He played in an NFL record 382 games. If any kicker belongs in the hall, it's Andersen.
Derrick Brooks (2014)—He was the classic linebacker who could run and cover. The rise of the Tampa 2 was made possible because of this guy. Brooks was a defensive player of the year, a Pro Bowl MVP, an NFL man of the year and an 11-time Pro Bowler.
Isaac Bruce and Torry Holt (2015)—I put these two former teammates as a package deal because they are going to be compared every step of the way. Hall of fame voters will have a hard time choosing. Bruce's 15,208 receiving yards are third most in NFL history. The board of selectors has yet to figure out how to gauge receivers in the passing era (witness the logjam with Tim Brown, Cris Carter and Andre Reed), so those yards alone might not get Bruce a free pass. Holt was voted to three more Pro Bowls, and over a six year period was phenomenal with at least 90 catches and 1,300 yards each year.
Marvin Harrison (2014)—He is behind Bruce in receiving yards, but all of his other numbers are eye popping. He played in seven Pro Bowls and averaged 84.7 catches per season, second best in NFL history. If none of the other receivers gets in over the next two years, it's going to get really interesting when Harrison comes along.
Walter Jones (2015)—He was the NFL's standard at the left tackle position for 12 years, earning nine Pro Bowls. He was once called the best player in the NFL by John Madden, and again by The Sporting News.
Jonathan Ogden (2013)—You can debate whether Jones or Ogden was the better left tackle. Neither argument would be wrong. Ogden went to the Pro Bowl 11 times, every year except his first.
Orlando Pace (2015)—The third of the three great left tackles of an era, Pace was the first pick of the 1997 draft and played like a first pick should. He went to seven Pro Bowls. Without him, the Greatest Show on Turf never happens.
Warren Sapp (2013)—Really, the only argument you can make against him is he rubbed a lot of people the wrong way. But as a hall of fame voter, I can't make that argument. I have to look at Sapp strictly as a football player, and he was a damn good one. He arguably was the greatest interior pass rusher in history. He made seven Pro Bowls and two all decade teams despite not being the most popular guy.
Junior Seau (2015)—He played for an incredible 19 years and was a 12-time Pro Bowler. Seau was a leader and winner, which is why Bill Belichick kept picking him up in the twilight of his career. As a matter of fact, it almost doesn't seem like a Patriots Super Bowl this week without Seau. He was reputed to be a great "freelancer" in San Diego, which was not completely inaccurate. But he changed his style late in his career and did what he needed to do to help his teams be successful.
Michael Strahan (2013)—His 141.5 career sacks rank fifth all-time, and his 22.5 sacks in 2001 are an NFL record. Strahan was a seven-time Pro Bowler and a big reason why the Giants won a Super Bowl.
Kurt Warner (2015)—The case against him is he didn't have sustained success. But if you take his first three years as a starter and his last three years as a starter, Warner was as dominant over six seasons as any quarterback in history. He is a two-time MVP and a Super Bowl MVP, and he was one of the most spectacular postseason performers in history.
Scout Talk: Senior Bowl
As usual, the Senior Bowl practices last week helped separate prospects in the eyes of NFL scouts. Here is what NFL front office men were talking about after they returned from Mobile Ala., last week. And be sure to check out what Wes Bunting had to say about Senior Bowl prospects here, and what Matt Bowen had to say about he DBs here.
Quarterbacks—The player who clearly stood out at this position was Brandon Weeden from Oklahoma State. His arm strength was very good comparatively. It helped that he seemed to pick up the offense quickly. He could be a second round pick, and one scouting director even said if Weeden were 22 instead of 28, he'd be a first round pick. NFL teams also liked what they saw of Wisconsin's Russell Wilson, even though he measured in at 5-10. The lack of arm strength Kellen Moore showed will not help his draft stock.
Running backs—This group did not leave a major impression, but two players created a little buzz. The first was Cincinnati running back Isaiah Pead, whose versatility appeals to NFL teams. The other was Florida's Chris Rainey. He's probably a down the line guy at 5-8, 178, but he partook in some of the receiver one-on-one drills and looked decent. He has some potential as an offensive weapon who can line up in different places.
Wide receivers—Wideouts often make a big impression on Senior Bowl week, but that didn't happen this year. A few scouts agreed Jeff Fuller of Texas A&M was disappointing. He had trouble separating and catching, and his stock remains on the decline. A number of the receivers flashed. Among them, according to front office men, were Cal's Marvin Jones, Arizona's Juron Criner, Ohio State's Devier Posey, Arkansas' Joe Adams, Appalachian State's Brian Quick and Houston's Patrick Edwards.
Tight end—Alabama's Brad Smelley has been on the rise all year, and he continued to help his stock at the Senior Bowl by getting open and catching the ball well. For a player who wasn't on anyone's radar in the preseason, Smelley has come quite a long way. Missouri tight end Michael Egnew was a little disappointing.
Offensive line—None of the offensive linemen really lit it up. Best of the bunch, according to a couple evaluators, was Ohio State's Mike Adams. He clearly was the most gifted blocker in Mobile, though scouts still have some questions on him. One player who helped his stock is Jeff Allen from Illinois. His competitiveness and effort left an impression. Two others who had good weeks were Ohio State's Mike Brewster and Baylor's Philip Blake. Less encouraging were the showings of Florida State's Zebrie Sanders and Wisconsin's Kevin Zeitler.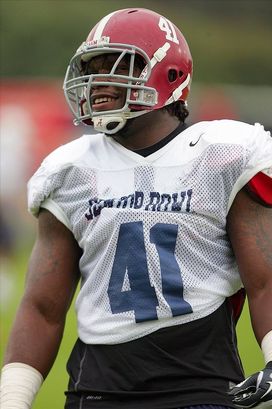 ICONTeams in need of pass rushers were drawn to Courtney Upshaw in Mobile.
Defensive line—There was more talent at this position than any other. North Carolina's Quinton Coples solidified himself as a top 10 pick and clearly was the class of the group. Two others who helped themselves and may have become solid first rounders were Alabama's Courtney Upshaw and South Carolina's Melvin Ingram, whose versatility makes him a fit for any kind of defense. Teams that use a three man front came away very impressed with Ta'amu Alameda of Washington. No way he gets out of round two. In one-on-one pass rush drills, Kendall Reyes of Connecticut showed surprising athleticism for his size.
Linebackers—Emmanuel Acho from Texas had a decent week, even showing some pass rush ability. There still is some question as to whether or not he is an inside linebacker or outside linebacker for 3-4 teams, however. North Carolina's Zach Brown also impressed scouts with is speed and explosiveness. Nebraska's Lavonte David flashed.
Safeties—Harrison Smith of Notre Dame had a pretty good week, but scouts still have some concern about him playing the deep middle. His interviews were strong. George Iloka of Boise State also did pr etty well. Dequan Menzie of Alabama played some safety and corner, but NFL teams still aren't sure what he is.
Cornerbacks—North Alabama's Janoris Jenkins confirmed what everyone already knew—that he has first round talent. He was the best corner in the game. I got mixed reviews on Nebraska's Alfonzo Dennard. One scout said he moved more like a running back than a corner. Cal Poly's Asa Jackson had a chance to really help himself, but didn't capitalize. He looked better on tape than he did at Senior Bowl practices. Dwight Bentley of Louisiana-Lafayette had a good week, competing well. Scouts loved the athleticism Georgia's Brandon Boykin showed, but he didn't cover all that well. His instincts and ability to react remain question marks.
Hot Reads
*The Cleveland Plain Dealer and Browns fans have lost one heck of a beat man in Tony Grossi, who has been re-assigned. I'll miss his insight on the team.
*The way some people responded to Kyle Williams has been shameful and disgusting. Get a life, people.
*A scoreboard screwup may have rushed Billy Cundiff on the field, but it didn't make his kick go wide left.
*The scoreboard situation in the AFC championship game should lead to some scrutiny on scoreboard operators, however. For the sake of perception if nothing else, maybe scoreboards should be run by independent employees assigned by the NFL, not by the home team.
*I'm looking forward to seeing those palm trees and beach cutaways during the Pro Bowl broadcast Sunday. I'm not looking forward to seeing rosters diluted by injuries, lack of interest, and the Super Bowl.
*There are several ways out of Indianapolis. Among them are Interstate 70, Interstate 65, and interviews like this.
Dan Pompei covers pro football for the Chicago Tribune at chicagotribune.com. Follow him at danpompei@Twitter