May 05, 2013 -
Dan Pompei
NFP Sunday Blitz
Something is going on with cornerbacks in the NFL.
"There has been a lot of discussion about cornerbacks," said Falcons general manager Thomas Dimitroff, who traded up in the first round to take Desmond Trufant, and then used a second round pick on another cornerback in Robert Alford.
By my count, the Falcons are at least 18 teams have acquired one or more cornerback in the offseason who they intend to start when the season opens. Fifteen of those teams have acquired a probable starting cornerback who can be listed at 6-0 or taller.
For some of this, we can thank Pete Carroll and the Seattle Seahawks. The success the Seahawks had with tall, press and run corners Richard Sherman and Brandon Browner has forced a lot of teams to rethink the position.
"There are a lot of defensive coordinators and head coaches and general managers who are tired of seeing their corners out jumped and outmuscled for balls by big receivers," Dimitroff said. "So there has been a wave of consideration for approaching it like Seattle does with bigger, athletic corners who can get up and jam and run and do the jump ball thing."
It isn't that teams still don't want highly athletic, fluid cornerbacks with the ability to cover quick receivers all over the field in man to man. But there aren't enough of those players out there. So rather than trying to play with a 5-10 corner who isn't quick enough or big enough to do everything a game plan may call for, some teams are going with a different style of cornerback, and ultimately, a different style of coverage.
It is easier to find big corners who can press and drop into zone than it is to find quick footed, loose hipped corners with the size and strength to muscle up against receivers like Julio Jones and Calvin Johnson. Sherman was a fifth round pick; Browner never was drafted, and the Seahawks picked him up after a stint in the CFL.
Some cornerbacks who play a similar style that were chosen late in the draft include Tharold Simon (fifth round by the Seahawks), Micah Hyde (fifth round by the Packers) and Jeremy Harris (seventh round by the Jaguars).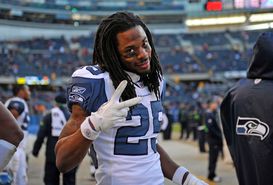 US PresswireMore and more NFL cornerbacks might start to look like Richard Sherman.
And some of those big press corners went early, too. The Vikings took Xavier Rhodes with the 25th overall pick. The Bucs chose Johnthan Banks with the 43rd selection. The Redskins went for David Amerson on pick 51. The Titans took Blidi Wreh-Wilson with the 70th pick.
Some thought Rhodes would be chosen about 10 picks higher. But taking him in the early teens may have been too high, given that scouts see him as rigid and somewhat inefficient in terms of coverage skills.
Despite the trend to bigger corners, not every team put a high value on Rhodes. The Falcons took Trufant ahead of him. "He doesn't fit every team," said one regional scout who did extensive work on Rhodes. "He can play press, beat him off the line and then fall back into zone. But can he be a guy who can play off and stick with a quick receiver? If we're all going to what Seattle is doing with DBs, he's the ideal. But you don't always have to pay a premium for that player."
Rhodes is perfect for what the Vikings want. "We like the big press
corners," Minnesota general manager Rick Spielman said. "That's why we have Chris Cook and A.J. Jefferson. Even though people say we're a Tampa 2, we don't play a lot of Tampa 2. Having those types of corners, especially with the quarterbacks and receivers we have to face in the NFC North division, helps you match up physically. Getting a guy like that definitely helps."
Going with players like Rhodes could be the best hope to defend the new breed of wide receiver in the NFL. And as a result, the cornerback position is changing.
My Sunday Best: Undrafted Players
Was it just me or were there a lot of solid prospects who went undrafted this year? Here, with a little help from my front office friends, are my Sunday best college free agents.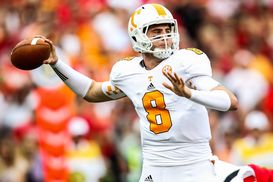 US PRESSWIRETyler Bray might not be a perfect prospect, but he has NFL skills.
QB--Tyler Bray, Chiefs. If he had been a little more disciplined off the field, he would have been drafted, maybe as high as the third round. Some thought he had the best arm in his class. Honorable mention goes to Matt Scott of the Jags.
RB— Miguel Maysonnet, Eagles. This was a highly productive small school player who needs to prove he can make a step up against better competition. Ray Graham signing with the Texans also was a nice pickup, as was Michael Ford with the Bears.
FB—Zach Line, Vikings. He is a player who can carry the ball as well as block. Vikings coaches are going to love his toughness.
WR—Russell Shepard, Eagles. He may not be a special talent, but Shepard knows how to get open and catch. He is capable of carving out a role.
WR—Zach Rogers, Jets. He got lost in the shuffle at Tennessee, but he can run and is competitive. He could blossom in the NFL.
TE—Joseph Fauria, Lions. The Lions like to throw, and he is a tall tight end who can catch. Fauria has the athleticism to stick.
OT—Xavier Nixon, Redskins. He probably would have been a third or fourth round pick, but he failed a lot of physicals, according to one front office man. He has the athleticism to become a left tackle if stays healthy, works hard and adds strength.
OT—Chris Faulk, Browns. There were a surprising number of tackle prospects with talent who went undrafted, including Nick Becton (Chargers), Luke Marquardt (49ers) and Emmett Cleary (Colts). Faulk might have been a pretty high pick if he had not blown out his knee and missed most of the 2012 season.
G—Alvin Bailey, Seahawks. He showed his athleticism in workouts, but some NFL scouts question if it translates to the field. One front office man said he thought he would go in the fourth round.
G—Mike Golic Jr., Steelers. He may be a long shot, but his competiveness and toughness will serve him well in camp. If he gets a break, he will take advantage of it.
C—Graham Pocic, Texans. NFL personnel men I spoke with said they thought he would go in the fourth or fifth round. Pocic might be a man without a position, as teams are unsure if he is a center, guard or tackle. He could become a backup at all five line positions.
DE--Lerentee McCray, Broncos. He is a tweener but has some athleticism and potential to be a situational pass rusher and special teams player.
DE—Wes Horton, Panthers. The defensive ends were picked pretty clean in the draft. Horton has an NFL body but needs to show he knows what to do with it.
DT—Kwame Geathers, Chargers. The scouts I spoke with about Geathers must have been higher on him than many, because I thought he'd be off the board in the fourth round. He isn't going to make plays, but he's tough to move with his size.
DT—T.J. Barnes, Jaguars. This big space eater came on last season, and if he continues to develop he can help the Jags.
OLB—Chase Thomas, Saints. His stock dropped as the draft process went on, but he had some good tape and could develop in Rob Ryan's defense.
OLB—Brandon McGee, Cowboys. His lack of size is why he wasn't drafted, but he has the instincts, energy and suddenness to be a hit on special teams, at the very least.
MLB/ILB&mdas h;Kevin Reddick, Saints. It wouldn't have been a surprise to see him picked as high as the third round. He was a pretty good college player and he has the skills to translate.
S—Rontez Miles, Jets. He probably would have been drafted if not for running a 4.59 40 yard dash at the combine. After that, there were questions about whether or not Miles was a strong safety only.
S—Robert Lester, Panthers. NFL teams liked his instincts but questioned his play speed. Lester is one of those guys who makes plays though.
CB—Daxton Swanson, Colts. Small school corners like him have a history of developing and playing well in the NFL. Swanson doesn't have ideal size, but he could be a nickel defender who plays over the slot.
CB—Aaron Hester, Broncos. With his size and ability to press, Hester should stick in Denver or somewhere else. The key is fitting him in the right scheme.
Things I Didn't Used To Know
*The Browns' draft board was arranged alphabetically, which is very unorthodox and can make it difficult to make decisions on the fly. Front office men around the league were buzzing about the unusual board last week. Also noteworthy is that the Browns did not allow the majority of their scouts in the draft room. But they are not the only team that locks out scouts.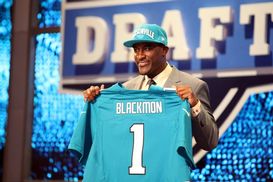 Justin Blackmon has to make some changes in order to live up to his draft pick status.
*Justin Blackmon's four game suspension for violating the league's substance abuse policy points to the big picture problem with Blackmon. The word out of EverBank Field is the Jaguars have found him to be too easily distracted. He loses focus and lacks consistency. And it has affected his performance. The Jags' new regime likes Blackmon's talent. But will the Jaguars ever see him realize it?
One Man Yelp: Total Recall
I love a great American success story. They don't come much greater than Arnold Schwarzenegger's. Poor kid from Austria comes to America as a weightlifter. Becomes the greatest bodybuilder in history. Parlays his muscles into becoming the most renown action movie leading man of a generation. Marries a Kennedy. And then he becomes governor of the country's largest state.
Schwarzenegger tells his story with seemingly total recall in Total Recall: My Unbelievably True Life Story. It's probably too much recall, more than 1,300 pages on my Ipad version and 646 pages in print. And a lot of those pages are filled with Schwarzenegger bravado and chest beating. But there are a lot of good anecdotes, and a lot of honesty in these pages.
He even comes clean on his affair with the housekeeper that resulted in a son and the separation from his wife Maria, taking full responsibility for his actions in a chapter entitled "The Secret." "It was one of those stupid things that I promised myself never to do," he write. "My whole life I never had anything going with anyone who worked for me. This happened in 1996 when Maria and the kids were away on holiday and I was in town finishing Batman and Robin. Mildred [the housekeeper] had been working in our household for five years, and all of a sudden we were alone in the guest house."
The incident casts a different light on Schwarzenegger, no doubt. But he remains a fascinating man.
Here were some of my favorite tidbits from the book:
*His childhood home was a stone and brick building that used coal ovens for heat. There was no plumbing, no shower, and the nearest well was almost a quarter mile away.
*As a boy he would buy dozens of ice cream cones for one schilling, then sell them for three. Then, he started panhandling. A good day would net 100 schillings.
*When Schwarzenegger began bodybuilding as a teenager and had posters of other bodybuilders on his walls, his mother was concerned about why he didn't have posters of girls on his walls.
*When he and Maria were looking for a home in Beverly Hills, a real estate agent took them to a property that once belonged to actress Gloria Swanson. In the basement was a tunnel that led to a nearby house. Maria's grandfather Joseph Kennedy had used that tunnel many times during a long running affair with Swanson in the 1920s.
*At one point, the Schwarzenneger house included a John McCain poster on the front door and a life sized President Obama cutout in the living room. Schwarzenegger, a Republican, and his wife, a Democrat, raised one Democrat, one Republican and two independents.
People have called Schwarzenneger many things. But I don't think he can be called uninteresting.
Hot Reads
*Everything you wanted to know about almost every player in the 2013 draft is here.
*Nice read from the talented Seth Wickersham on where Tom Brady is in his career and his life.
*A poll shows great support for the Redskins name. The majority of poll responders presumably where Whiteskins, Blackskins and Yellowskins.
*Hey Geno Smith, if the draft was your agent's fault, will the interception be your receiver's fault?
*LeSean McCoy can't beat Michael Vick in a foot race. But as long as he can beat London Fletcher in a foot race, it's all good.
*If Matt Cassel taught Tom Brady everything he knows, he is a much better coach than quarterback.
Dan Pompei covers pro football for the Chicago Tribune at chicagotribune.com.