February 05, 2012 -
Dan Pompei
NFP Sunday Blitz
Welcome to Super Bowl Sunday, where the two most discussed quarterbacks in the pregame will be Eli Manning and Peyton Manning.
Some have even made the argument that should Eli slay the Patriots and win his second Super Bowl, he should be considered a superior quarterback to his big bro. That should mostly be classified as overreaction, but Eli certainly has made up significant ground on his rehabilitating brother.
To thoroughly compare the two, I spoke with three NFL personnel directors who have evaluated both players at every stage of their development.
This is how they rated the Manning boys in five critical areas as Eli prepared to play on Peyton's home field.
*Passing. All three agreed there wasn't a significant difference in the arm strength of the brothers. However, all three agreed Peyton is more accurate than Eli. "Peyton is more of a pure passer," is how one of them put it. Statistics back this up. Peyton has completed 64.9 percent of his career passes; Eli has completed 58.4 percent of his. What's significant is Eli has improved in this area. His completion percentage has not been below 60.3 in his last four seasons.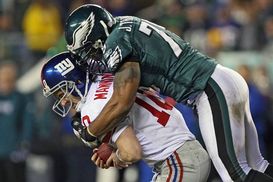 Even though Eli is more athletic than Peyton, Peyton rates a slight edge in handling pressure.
*Handling pressure. The evaluators all said neither is a great athlete, but Eli has better feet and maneuverability in the pocket. Peyton offsets whatever athletic limitations he has by being decisive and having a quicker release than Eli. Both are big enough to see over the rush and take a hit. The end result is they both handle pressure well, but Peyton has been better. He has been sacked once for every 31.2 pass attempts in his career compared to Eli being sacked once every 20.2 pass attempts.
*Taking care of the football. Two of the front office men said Peyton is much more careful with the ball. Again, numbers bear this out. Peyton has thrown more than 3,000 passes more than his little brother, but he has fumbled 10 fewer times (67 to 57) and thrown only four more interceptions (198 to 194). Peyton's career interception percentage is 2.7 compared with 3.3 for Eli.
*Intangibles. Neither player is lacking in this area, but Peyton is an all-timer with intangibles. "Peyton's mind and vision are at the highest level possible," one of the personnel directors said. "He has total command. You can't outwork him. He's a better leader." Said another, "Peyton is ultra competitive. Eli is more laid back, but he has turned that into a positive."
*Clutch play. Eli ranks a slight edge here. "Eli comes up big in big games," one of the personnel directors said. Eli is 7-3 in the postseason, with four victories coming in 2007 and three coming this year. Peyton is 9-10 in the postseason. In other statistical indicators of clutch play, Peyton has a slight edge. His fourth quarter passer rating if 89.6 compared to 87.5 for Eli; his third down passer rating is 85.9 compared to 81 for Eli; and his fourth quarter passer rating is 89.6 compared to 84.6 for Eli.
I'll leave you with three more thoughts from the front office men.
Front office man 1: "Peyton has been surrounded with better for a lot of his career." Given what happened to the Colts this year, some would take issue with that statement, but Peyton has had excellent receivers to throw to every season but one.
Front office man 2: "Peyton has played at a higher level for much longer." That counts when measuring greatness. But who's to say Eli won't do the same?
Front office man 3: "Peyton could do it without the supporting cast. I don't feel that way about Eli. Peyton goes out, the Colts go to the bottom. Losing Eli wouldn't have that same effect."
Eli hasn't caught his big brother yet. And he's got a long way to go before he can. But he has made steady gains, and he could make a big gain Sunday.
Things I Didn't Used To Know
*The Rams want very much to trade the second pick of the draft, and are hoping a market develops for Robert Griffin. If they can't deal, the Rams could stay put and take Justin Blackmon or Matt Kalil, but they would be better served with a trade down. Among the needs the team has identified are a cornerback, outside linebacker, defensive tackle, offensive tackle and two wide receivers.
*Also on the subject of the Rams, it has been new coach Jeff Fisher—not vice president Kevin Demoff—who has been the point man on interviews for the general manager vacancy.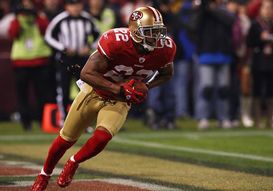 Carlos Rogers could be a popular free agent because of his ball skills.
*Carlos Rogers may be a free agent for the second time in as many seasons, though he is likely to get more attention this time. It's hard to envision the 49ers using a franchise tag, which likely will be close to $11 million, on a soon to be 31-year old cornerback. Whereas Rogers was one of the most productive corners in the NFL and he played the ball exceptionally well, he had a little inconsistency in covering receivers. In fact, the Giants went after him with some success in the playoffs.
*When Wes Welker came out of Texas Tech, he was not invited to the combine and he was only invited to visit one team. The Bears had him in because they liked him as a punt returner, but they didn't even offer him a contract after they drafted cornerback Nathan Vasher, who also had punt return ability.
*The Titans believe they may have found a potential core player in Colin McCarthy. They figured they were going to take it slowly in developing their fourth round pick, but McCarthy, a football junkie, was intent on acclimating quickly. He was at the Titans' facility when the coaches showed up every morning, he practiced hard and tried to absorb as much as he could from veteran Barrett Ruud. When Ruud missed time with injuries, McCarthy stepped in. He started seven games, showed excellent instincts, and made an impact.
My Sunday Best: Super Bowl Halftime Acts
When the Patriots and Giants head off to their locker rooms at halftime Sunday, Madonna will take the stage to perform some of her favorites. Some have criticized the selection of Madonna for the show, saying she is too old. But some of the best Super Bowl halftime acts have been by older performers. Here are my best Super Bowl halftime shows. Who would you add to the list?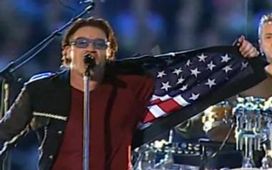 The memorable U2 finale.
1. U2 at Super Bowl XXXVI in New Orleans. Six months after 9/11, U2 gave a stirring, emotional tribute to the victims of the attack that still sends a chill up my spine. They sang Beautiful Day, MLK and Where The Streets Have No Name as the victims' names rolled across a 200-foot screen up to the heavens. Bono ended the performance by opening his jacket, revealing stars and stripes beneath. This easily was the most memorable and best Super Bowl show ever.
2. Michael Jackson at Super Bowl XXVII in Pasadena. This was really the first time the halftime show became a must-see event. Jackson was close to the height of his popularity in 1993, and his dynamic performance had everyone talking. He was joined by thousands of children who gathered around the stage and helped him sing Heal The World for the finale.
3. Motown 40th anniversary salute at Super Bowl XXXII in San D iego. The Temptations and Smokey Robinson highlighted this show, with contributions from Queen Latifah and Boys II Men. They all joined Martha Reeves for a rousing finale of Dancing In The Streets.
4. Diana Ross at Super Bowl XXX in Mesa. The end was the best part of the show—Ross being airlifted via helicopter into the Arizona sky, singing Take Me Away. She covered a number of staples from her Supremes days.
5. Rolling Stones at Super Bowl XL in Detroit. From Start Me Up to Satisfaction, this was an excellent snippet of what the Stones are. Two things stood out—the humongous tongue-shaped stage, and TV censoring some of Mick Jagger's lines, just like it did back when he played the Ed Sullivan show.
6. Paul McCartney at Super Bowl XXXIX in Jacksonville. The fireworks and light show for Live and Let Die was cool, but not as cool as hearing McCartney deliver Beatles classics Drive My Car and Get Back. The best was the Hey Jude finale, complete with a "na, na na na na na na" sing along.
Scout Talk: Julian Edelman
One of the most intriguing players in the Super Bowl from an evaluation standpoint is Julian Edelman. The 2009 seventh round pick is likely to impact the biggest game of the year in any of the three phases of the game. He was a quarterback at Kent State, and most NFL teams weren't quite sure what to make of him, other than that he would not be a pro quarterback.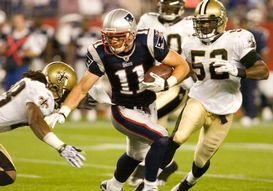 ICONThe Patriots evaluated Edelman correctly, but they also developed him correctly.
I asked three scouts about Edelman this week. Two said they had evaluated him as a gadget weapon on offense, maybe a slot receiver. The other said he thought Edelman would primarily be a special teams player. Two of them said Edelman was a seventh round consideration for their team. The third said their team had him rated as a free agent.
What was evident about Edelman, according to one college director, was his competitiveness, quickness, athleticism and toughness. But nobody was doing backflips about him because of his lack of experience at the position he would be playing, and his lack of size (5-10, 198), and his average speed (4.52 in the 40 yard dash).
The Patriots loved Edelman's short area quicks. But they didn't know anything about him that anyone else didn't. The reason he has succeeded for them was the Patriots had a plan for him, and they developed him methodically. I asked Bill Belichick about how Edelman got to this point at a press conference last week. This was his thoughtful answer.
"We saw Edelman as a good athlete. At Kent State, he played in the Mid-American Conference, and he played against some good level of competition, for example, Ohio State. I think they opened with them that year. You could see Julian was tough and quick. He made a lot of plays. I wouldn't say he had an inordinate amount of blocking in front of him. At times, he was kind of on his own against two or three guys running the dive option and things like that.
"We really didn't think he was a quarterback prospect, but we thought he was tough, quick--good with the ball in his hands and a guy who had a real good desire to learn and improve. We thought he could be a punt returner, kickoff returner, wide receiver and slot receiver. That's where he started off. It was a big transition for Julian, going from being a quarterback to playing a receiver position and also returning kicks, which he hadn't really done before.
"(Special teams coach) Scott O'Brien really worked with him in the return game as well as the coverage game, kickoff coverage, things like that. Chad O'Shea, our receivers coach, spent a lot of time with him as a slot receiver, and he expanded that role to where he plays on the outside some because Wes Welker gets so many plays in the slot. We got into some injury situations, and his skill set as a slot receiver carried over to the same skill set that we look for in our slot corners, so we started to use him some there in one-on-one after practice. He has a knack for it, he picked it up quickly.
"Again, he's a smart hard-working guy. If you ask him to do something, he'll work really hard to get it right and try to do it. He developed a little bit as a defensive player this year, especially when we had some injuries. He had more play time – I think his first game was against the Jets – about a third of the way through the season. He takes a lot of plays in practice on both sides of the ball and the kicking game. He is in good condition, and he's tough, smart and works hard. Those are the things he has going for him. He has good hands."
One of the things the Patriots do better than most is find a talent they believe they can work with, and then commit to developing that talent. That's why Julian Edelman is a story today.
One Man Yelp: The Debrief Imperative
I tried to tap into some of the Giants' magic by reading The Debrief Imperative: The Secret Tool that is Transforming Businesses the World Over. Written by former Air Force fighter pilot James D. Murphy, the book explains the value of a post-op debriefing meeting, and also explains how such meetings should be executed.
Murphy and his Afterburner Inc., company give high level seminars on the subject, and they visited the Giants facility in early November to visit with coach Tom Coughlin, his staff and the players. They spoke about how a group could review a game in the most constructive manner possible.
I asked Giants left tackle Dave Diehl what he thought of the seminar. "We all took something from it," he said. "There is no better person to watch film with than your peers. Football is so much about accountability and selling out for the guy next to you. You don't want to let the guy next to you down. When you can watch film as a group, people can stand up and say, hey, that was my mistake, I was responsible. That leads to a belief in one another."
The book stresses that a debriefing session should be nameless and rankless. That way, the truth comes to the forefront and egos are pushed to the background. For instance, when watching tape, any player or coach can point out anything he or someone else could have done better. Instead of just having a superior pointing out errors, players take ownership in the process, making it more powerful.
"They use the term nameless and rankless, so when we watch the game and critique ourselves, I had to take off the title of defensive coordinator," Perry Fewell told me. "[Justin] Tuck had to take off the title of captain. We had to be critical of each other, go in the room and hammer out what was the right thing to do, versus who was at fault. Once we were able to do that, we were able to communicate and we broke down some barriers that normally would be defense mechanisms."
Fewell said what the Giants learned that day has impacted their season. Maybe even to the point they won't need a debriefing session after Sunday.
Hot Reads
*When the cheerleaders and beer vendors are sweating more than the players, you know there is something seriously wrong with the Pro Bowl. Way to let them have it, Aaron Rodgers.
*Strong hall of fame class. Congratulations to Jack Butler, Dermontti Dawson, Chris Doleman, Cortez Kennedy, Curtis Martin and Willie Roaf. Interesting meeting this year. It lasted close to eight hours but the discussions were thought-provoking. As usual, we left some good candidates for next year.
*By making this statement, either Shahid Kahn must be intent on running for mayor, or intent on giving his general manager heart palpitations.
*The fact that Mrs. Brady's prayer requests became front page news