March 13, 2011 -
Dan Pompei
NFP Sunday Blitz
When Jim Harbaugh came to the Bears as a rookie in 1987, he wasn't good enough to step in at quarterback and improve the team. But he still made the team better by raising the level of competition on the practice field, in the weight room and in the meeting rooms with his hunger, his intensity and his work ethic.
What I remember is that the Bears locker room a little less comfortable place to be in with Harbaugh around.
I fully expect he'll have the same effect as a rookie head coach in 2011 for the 49ers. Harbaugh doesn't have enough talent on his team to compete with the Packers of the world. But if he is the same guy I met 25 years ago, he is going to raise the bar and make every player dig a little deeper.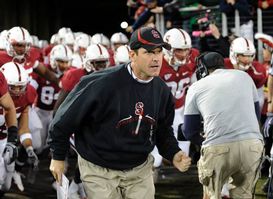 ICONThe 49ers are likely to be a team that leaves it all out on the field under Jim Harbaugh.
Harbaugh's teams at Stanford were a reflection of his passion. Harbaugh told me he learned when he was playing for Mike Ditka that a team can take on the personality of the head coach. It's a good bet that Harbaugh will look to acquire players who care more than most. And if they don't, he might show them how it's done.
In this regard, Harbaugh is very similar to his predecessor in San Francisco. Like Mike Singletary, Harbaugh's one-time teammate in Chicago, Harbaugh won't stand for players not doing everything they can do to further the team's cause.
It's clear Harbaugh has high expectations of individuals. "These guys are playing professional football because they are the best of the best," he said. "Some guys get by on ability—that's a small percentage. They get eliminated if they don't truly love the game. These are the hardest workers, the most dedicated, the strongest and the fastest and they love the game the most."
Harbaugh loved the game so much in his early days as a third string quarterback that he begged his way onto special teams. In his second season, Harbaugh was allowed to play on the punt team and kickoff coverage. At the time, he said, "I miss the hitting. I swear to God, I miss that feeling of waking up in the morning and feeling sore. That feeling like you've left something out there on the field."
He got that feeling good after a loss to the Patriots on a beautiful October day at the old Sullivan Stadium in Foxboro. This is how he explains it 23 years later.
"I was covering a kick and out of the corner of my eye I see this linebacker coming at me at a 90 degree angle from my side. The ball had gone out of the end zone, so there was no return. My plan was to act like I wasn't going to do anything, and let him think he was going to blindside me, then put my foot in the ground and give him a left forearm shiver. I loaded up as he got close, but he got underneath me and sent me flying. I think I was in the air for eight yards, right in front of our bench. When I got up I remember coach Ditka standing there shaking his head in disgust."
That was the last time Harbaugh played on special teams. But he probably would do it in the 49ers' opener in September if he thought it would win his team the game.
Things I Didn't Used To Know
*The acrimony level between the NFL and the NFLPA has skyrocketed in the past week. At this point, the stalled negotiations appear to be more about the lack of trust than anything else. Some of my front office friends wonder if it would have been like this had Gene Upshaw lived.
*Two teams that appear very interested in Cam Newton are the Bills and Vikings. Bills general manager Buddy Nix and coach Chan Gailey both are southerners who love players from the SEC. And Gailey, who made his NFL name by turning Kordell Stewart into a star, surely could figure out how to use Newton. As for the Vikings, they found Newton charismatic in their talks with him at the combine. The plan is for general manager Rick Spielman, head coach Leslie Frazier, offensive coordinator Bill Musgrave and quarterbacks coach Craig Johnson to travel to Alabama and spend a day with Newton, picking his brain on all things football. The Vikings followed used a similar strategy with Percy Harvin two years ago and Tim Tebow last year. It's likely they will interview other quarterback draft prospects in the same manner over the next month.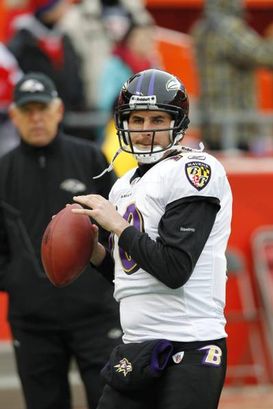 After one season as a backup, Marc Bulger is expected to become a starter in 2011.
*As soon as teams can offer contracts, look for Marc Bulger to sign a deal that will pay him starter money. The two most likely candidates for his services are the Cardinals, who showed an interest one year ago, and the 49ers. It's likely new 49ers coach Jim Harbaugh will receive a glowing recommendation on Bulger from Ravens coach John Harbaugh.
*The combine medical re-check will be big for Clemson defensive end Da'Quan Bowers. Front office men I've talked with have serious concerns about his knee.
*Don't be surprised to see Kevin Kolb in a Seahawks uniform. If the team continues to have a hard time re-signing Matt Hasselbeck, Seattle could try to strike a deal with the Eagles. Kolb would be a good fit in coordinator Darrell Bevell's offense.
*It won't be a good year to be an undrafted free agent, assuming no collective bargaining agreement is in place prior to the draft. Teams won't be able to sign undrafteds after the draft as usual, so those players who weren't drafted could dangle for a couple of months. When a CBA is reached, they will be free to sign before teams have made additions through veteran free agency. So many of those players are likely to hook up with teams that will subsequently sign veterans at their positions. And the absence of an offseason to acclimate likely will hit undrafted free agents harder than most other players come August.
My Sunday Best: Retirement comebacks
Tiki Barber isn't the first player to hang them up and then take them down again. Coming out of retirement is an old NFL tradition that dates back to Bronko Nagurski. Here are my best retirement comeback stories in recent years.
1. Trey Junkin. After 18 NFL seasons with six teams, Junkin retired. But the Giants called him in 2002 after their long snapper when down. Junkin came back for one game—the 2002 wildcard playoff game against the 49ers. His snap on what could have been the game winning field goal was off, and the Giants lost the game.
2. Randall Cunningham. After being benched and booed, Cunningham retired from the Eagles in 1995 at the age of 32. The quarterback came back with the Vikings after one year off, and in 1998 he had a career year while leading the Vikings to a 15-1 record. He played for five years after his retirement, also working for the Ravens and Cowboys.
3. Tommy Maddox. After flaming out in 1997, the former first round pick of the Broncos took to selling insurance, playing in the Arena League and playing in the XFL. The quarterback finally got another NFL shot four years later. In 2002, he won the comeback player of the year with an outstanding performance for the Steelers.
4. Gary Zimmerman. The Hall of Famer called it quits after shoulder surgery in 1996, but was lured back to play one more season for the Broncos in 1997. Result? He won his only Super Bowl.
5. Steve DeBerg. A number of old quarterbacks such as Jeff George, Vinny Testaverde and Greg Landry h ave come out of retirement as backups to help desperate teams. DeBerg's story is interesting because he came back after a four year retirement at the age of 44 and became the oldest quarterback ever to start a game. He even made it to the Super Bowl in 1999 as a 45-year old backup quarterback for the Falcons.
6. Junior Seau. Four days after holding an emotional retirement press conference, Seau signed with the Patriots and played in each of the next three seasons for Bill Belichick.
7. Reggie White. After a one year retirement, White came back to play for the Panthers. Even at the age of 39, White had six sacks.
8. Ricky Williams. Under siege for violating the league's substance abuse policy, Williams walked out on the Dolphins in August of 2004 at the age of 27. In his retirement, he studied Indian holistic medicine. Since his return to Miami in 2005, Williams has rushed for more than 3,000 yards despite missing the better part of two years with more drug policy issues.
9. Deion Sanders. He quit after the 2001 season but came back after two years off at the age of 37. Sanders played two more years as the Ravens' nickel cornerback, even returning an interception for a touchdown.
10. Brett Favre. He never really retired. He just pump faked.
Did I miss one of your favorites?

Scout Talk: Mock Draft
Here, with a little help from my front office friends, is my first stab at a mock draft. I also recommend these versions from our Wes Bunting and Matt Bowen.
1. Panthers—DaQuan Bowers, Clemson DE
2. Broncos—Marcell Dareus, Alabama DT
3. Bills—Cam Newton, Auburn QB
4. Bengals—Blaine Gabbert, Missouri QB
5. Cardinals—Von Miller, Texas A&M LB
6. Browns—A.J. Green, Georgia WR
7. 49ers—Patrick Peterson, LSU CB
8. Titans—Robert Quinn, North Carolina DE
9. Cowboys—Prince Amukamara, Nebraska CB
10. Redskins—Julio Jones, Alabama WR
11. Texans—J.J. Watt, Wisconsin DE
12. Vikings—Nick Fairley, Auburn DT
13. Lions—Brandon Harris, Miami CB
14. Rams—Aldon Smith, Missouri DE
15. Dolphins—Mark Ingram, Alabama RB
16. Jaguars—Cameron Jordan, California DE
17. Patriots—Tyron Smith, Southern Cal OT
18. Chargers—Jon Baldwin, Pittsburgh WR
19. Giants—Nate Solder, Colorado OT
20. Bucs—Adrian Clayborn, Iowa DE
21. Chiefs—Akeem Ayers, UCLA OLB
22. Colts—Anthony Castonzo, Boston College OT
23. Eagles—Gabe Carimi, Wisconsin OT
24. Saints—Ryan Kerrigan, Purdue DE
25. Seahawks—Jimmy Smith, Colorado CB
26. Ravens—Torrey Smith, Maryland WR
27. Falcons—Mike Pouncey, Florida G
28. Patriots—Justin Houston, Georgia OLB
29. Bears—Corey Liuget, Illinois DT
30. Jets—Phil Taylor, Baylor DT
31. Steelers—Danny Watkins, Baylor OT
32. Packers—Cameron Heyward, Ohio State DE
One Man Yelp: American Idol
I've never been an Idol addict. In fact, I'd normally rather be shooting a game of eight ball in the basement. But my better half usually nudges me towards the television whenever the show is on. Marriage is a constant state of negotiation, you know. Win some, lose some.
So let me share some thoughts on this season's version so far. It's hard to take your eyes off new judges Steven Tyler and Jennifer Lopez. They are both very telegenic. Neither hardly ever utters a discouraging word, and the only way they damn is with faint praise. At times I miss the crass honesty and unintentional humor of Simon Cowell, but at other times I appreciate the kinder, gentler nature of the latest version of the show.
I think it's a pretty strong group of performers this year, arguably the best in the show's ten seasons. My two favorites up to this point are Pia Toscano, who can find work as a Disney princess if the Idol thing doesn't work out, and the funky James Durbin. But there is a big group of singers who aren't far behind in my mind.
I think the rest of the season is going to be interesting. Even if I won't admit that to my wife.

Hot Reads
*If a big demand exists for a 37-year old running back who has been out of the league for three years and is reputed to be a locker room lawyer, there is something wrong with the league. Tiki Barber's best chance of playing in the NFL again will probably be around midseason, when injuries pile up and teams' short lists become very, very short.
*Great move by Arthur Blank to re-up general manager Thomas Dimitroff after re-upping coach Mike Smith. Blank had a few missteps early in his tenure, but the Falcons owner looks like he has figured it out now.
*Condolences to the family and friends of longtime agent Gary Wichard, a colorful, likeable character who left his mark on pro football before his death last week.
*Why is everyone acting so surprised about the union decertifying? The only surprise to me would have been a new CBA this early in the process.
Dan Pompei covers pro football for the Chicago Tribune at chicagotribune.com.