May 01, 2011 -
Dan Pompei
NFP Sunday Blitz
So Bill Belichick and Thomas Dimitroff are on the phone a couple hours before the start of the first round Thursday. The general manager of the Falcons asks the head coach of the Patriots, his former boss, what he thinks about the bold move Dimitroff is contemplating making: two first round picks, a second round pick and two fourth round picks to move up 21 spots in the draft to select wide receiver Julio Jones.
"You know Bill," Dimitroff told me. "He would never have done this move. It's just not his makeup. He talked about the value we would be giving up."
Belichick was much better situated than Dimitroff to make a move for Jones. He had the draft picks as ammunition, and he had a bigger need for him. But that kind of trade isn't what Belichick does.
It wouldn't be what most decision makers do. In fact, I spoke with a number of them who questioned the deal. So I decided to ask Dimitroff, the reigning NFL executive of the year, about the criticisms.
Criticism 1: the Falcons gave up too much.
The deal was complicated a bit by the fact that players could not be included. If there had been labor peace, you can bet the Falcons would have replaced a draft pick with a player in their offer. Dimitroff won't say it, but including Michael Jenkins in the compensation package would have made perfect sense.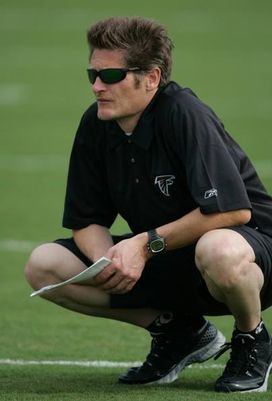 The Falcons general manager studied his options carefully before pulling the trigger on Julio Jones.
That aside, the compensation package wasn't as intimidating to the Falcons as it might appear. The only difficult thing they had to come to grips with was giving up a first round pick in 2012. The two fourth rounders they gave up, one this year and one the next, didn't bother Dimitroff because the Falcons have a number of former draft picks who would be competing with the fourth rounders for roster spots. The Falcons have yet to decide if those players need to be replaced, or could be future starters. Trading away those picks buys them more time with the players they have already invested in.
The other nice part of the deal is for all the Falcons gave up, they still had seven 2011 draft choices after the trade.
Criticism 2: It's not worth doing what they did for a wide receiver.
The road to the unemployment line is littered with wide receiver busts. If the Falcons were going to move up, they could have moved up for a pass rusher. In fact, if they couldn't move up for Jones, they were set to attempt a smaller move up for a defensive end.
But Dimitroff, along with his talented lieutenants Les Snead and Dave Caldwell, did a lot of research about moving up for a defensive end versus a receiver, contemplating a trade for over a month. They noticed of all the first round defensive ends picked over the last five years, very few of them were producing double digit sack numbers.
"There are issues with receivers, no question about it," Dimitroff said. "Our thoughts were there have been just as many busts at quarterback, defensive tackle and defensive end."
Dimitroff is not alone in his reasoning. "I talked with some of my cohorts who are more in line with that kind of thinking," he said. "There are certain groups in this league who philosophically are more steeped in a traditional mindset. You only draft certain positions that high, or only move up high for a player at certain positions. But there seems to be a newer order of thought. If that player is in fact impactful, a potential difference maker not only with skill set but with leadership ability, then I think there is more consideration now than ten or 15 years ago."
Criticism 3: The Falcons did not need Jones.
The Falcons have a run-first offense. They already had a Pro Bowl receiver in Roddy White, and another who is a fine No. 2 in Jenkins. But they set a priority of becoming more explosive offensively. "With this move, we feel we can be that much more creative with our offense," Dimitroff said. "We are driven by the run, but we need to produce on the passing side of the game. It will help us to a certain extent, alleviate some of the tilting of the field to Roddy White, which has been done by defenses time and again."
Even though White's production may decrease, and Jones may not be a league leader in catches and yards, the Falcons believe they will have a more effective offense. They now easily have the most gifted pair of starting wide receivers in the NFL, which will cause serious problems for defensive coordinators.
Jones can make White more effective, and other teammates too.
Dimitroff was speaking with Alabama coach Nick Saban on Friday about Jones. "He was raving about him, and as you know it takes a lot to truly impress Nick Saban," Dimitroff said. "He was saying skill set aside, play making ability aside, what he brings to the franchise can be profound in terms of his competitiveness and his passion for the game. You combine that with Roddy's competitiveness and passion for the game, along with the rest of our receiver group, and I really believe this is going to be a very good boost to our progress."
This move may work out. It may not. But it was not done without careful and reasoned thought.
Things I Didn't Used To Know
*Cornerback Prince Amukamara fell to the Giants at the 19th pick, but he probably should have been a top 10 pick based on talent. What was behind Amukamara's fall? In many draft rooms, the scouts liked Amukamara more than the coaches. The DB coaches and defensive coordinators got together and decided they weren't as high on Amukamara as many of their scouting counterparts. The coaches pointed to Amukamara's short arms (30 1/2 inches, 71