September 16, 2012 -
Dan Pompei
NFP Sunday Blitz
Those five celebrated rookie quarterbacks—Andrew Luck, Robert Griffin III, Ryan Tannehill, Brandon Weeden and Russell Wilson--were a combined 1-4 last week with a cumulative passer rating of 58.7.
Yet, the belief that teams can win with inexperience hardly has been diminished. Ben Roethlisberger proved it could be done. Matt Ryan and Joe Flacco confirmed it. And Andy Dalton cemented it.
So there appears to be no turning back from the trend of throwing the baby quarterbacks into the deep end of the pool.
And these, according to a number of coaches and executives interviewed by NFP, are the reasons why:
*The status quo isn't good enough.
NFL teams are much more urgent about showing improvement than they were years ago, and are more likely to try radical measures and take risks. And really, could anyone have been sure that Matt Moore, Colt McCoy or Matt Flynn could have made significant impacts to their teams this year?
"It says something about the talent pool as a whole that there aren't a lot of veterans out there that people feel real great about, so you might as go with the younger guys," one general manager said.
No regime has three years anymore to develop a young quarterback. If he can't play quickly, he'll be playing for another regime, if at all. "If you have a guy who is the future, or you want to find out if he is the future, there is maybe an urgency to find out those answers in the short term," Dolphins coach Joe Philbin said.
*Quarterbacks come to the NFL more prepared to play quickly than ever before.
The development of players at the grass roots level has changed. Quarterbacks are being identified in sixth grade. They are going to passing clinics and quarterback camps before they have armpit hair. Quarterback gurus have sprung up all over. Some elementary schools and pee wee teams are running the same offensive systems as high schools, which can be sophisticated passing offenses.
"They throw the ball a lot at an early age," said a former NFL quarterback who now is a front office employee. "It's so different now. The high school coaches are doing a lot of the things they do in the NFL—they have hots and they read blitzes. They play seven on seven in the offseason. Back then the high school and colleges were all running teams. The coaching staffs weren't teaching you how to read coverages or pick up blitzes. They were featuring the run and just throwing off the run."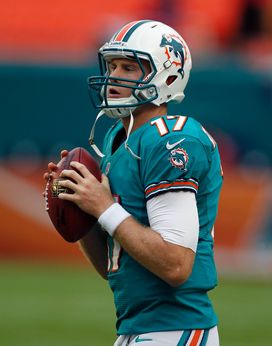 US PRESSWIREJoe Philbin has not seen a confused look on Ryan Tannehill's face very often.
Philbin has been pleased that when Tannehill makes a mistake, he can come to the sidelines and tell him what happened. "That's a sign of a player who has awareness and maturity," he said. "I've been around some players who can't quite tell you what just happened. There is still a lot he hasn't seen, and he'll get challenged by defenses on a game day. But he doesn't have the type of personality where he seems he'll be overwhelmed."
Throwing the ball 531 times in 2011 at Texas A&M might have something to do with it.
Panthers coach Ron Rivera, who saw Cam Newton transition quickly last year, has seen more developed rookie quarterbacks in recent years. "A lot of these guys are coming from the college ranks have thrown 500-600 passes a season," he said. "It's not like where it used to be. A lot of these guys are more game ready because they have thrown so many passes. They are more prepared for the NFL."
That helps evaluators too. "When you are trying to figure out if you feel good about this guy, you are going to see 140 throws in four games," Bengals coach Marvin Lewis said. "When we watched 10 or 11 games with Carson [Palmer in 2003], there may have been 200 throws."
*As college offenses have become more like pro offenses by relying more on sophisticated passing, pro offenses have become more like college offenses, turning to the spread.
"A lot of these guys are coming into situations that are similar to what they have been in," Rivera said. "Even though they are running pro style offenses, they have elements of what they did in college."
Teams have become more willing to tailor their offenses around their quarterbacks' abilities and experiences. The Panthers and Bengals both designed their offenses around their rookie quarterbacks last year. It helped that both teams had new offensive coordinators and were starting over offensively anyway.
"You are more open-minded in handling the situation when you are starting from scratch," Lewis said. "You are going to be willing to build the thing around the quarterback. You have to build it around the quarterback. How much of the offense is built around him? He is the playbook."
This year, Mike Shanahan has installed package plays that give RGIII options at the line—which is similar to what he was doing at Baylor. "You want to do what he likes, what he's good at," Shanahan said.
Tannehill is the ultimate example in Miami. His head coach at A&M is his offensive coordinator with the Dolphins, Mike Sherman. Philbin estimates Tannehill was "70 percent familiar" with the Dolphins playbook the day he walked in the door.
Like a lot of teams with young quarterbacks, the Dolphins are running some of the hard play action, zone-read passing game. That is a way to make things easier for young quarterbacks.
*So many of the young quarterbacks coming into the league are different physically than the young quarterbacks from 20 years ago. The pure dropback passers like Denver's Brock Osweiler are far and few between. Many of them are extraordinary packages of athleticism, speed and size, like Newton, Griffin, Jake Locker and Colin Kaepernick.
That means they can compensate for mistakes, and they can get away with being less than pinpoint passers.
So don't be surprised if, at this point next season, the number of rookie quarterbacks starting is a topic of discussion once again.
Things I Didn't Used To Know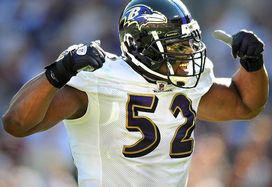 Whether he is 260 or 235, Ray Lewis can play.
*Something has been lost in all the talk about Ray Lewis losing weight, and it's this: Lewis is not in unchartered territory at about 235 pounds. Once upon a time, he came into the league as an "undersized" linebacker at about 235 pounds. Then he changed his body, bulking up to about 250 pounds for a good stretch of time. Last year, he got up 260. He was very stout at that weight, but Lewis struggled a bit in coverage and on nickel downs. Unlike a lot of star veterans, the Ravens linebacker is not delusional about his game. He saw the flaws on tape, and thought losing weight would help. Little known fact: he also got his body fat percentage down to five percent—unheard of for a man his size. The early returns, including his play against the Bengals, have been outstanding.
*Lewis isn't the only veteran middle linebacker who dropped weight coming into the season. James Laurinaitis of the Rams also is down about eight pounds. The reason for the weight loss? He won't be taking on guards as much in Jeff Fisher's defense as he did in Steve Spagnuolo's. Fisher's scheme puts an emphasis on quickness.
My Sunday Best: Packers Pass Rushers
Seeing Clay Matthews&rsq uo; dominant pass rush performance Thursday against the Bears got me thinking about great pass rushers in Green Bay. Here are my Sunday best Packers pass rushers of all-time.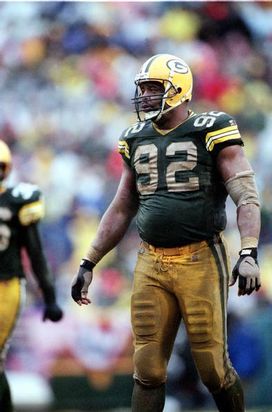 ICONReggie White could go through blockers to get to the quarterback.
1. Reggie White. The Minister of Defense was the missing ingredient on the team that returned the Packers to being rulers of the football world. He was a member of two all decade teams and was the defensive player of the year in 1998. He had 68.5 sacks in six seasons in Green Bay, but his impact went well beyond disrupting quarterbacks.
2. Willie Davis. He was slated to be an offensive tackle for the Browns, but Vince Lombardi traded for him and made him a five time all pro at defensive end. The hall of famer played before sacks were recorded, but he had 21 fumble recoveries.
3. Clay Matthews. He has only played three full seasons, but already it s very apparent Matthews can be one of the great ones. With his hand use and intensity, Matthews can rush the passer as well as anyone. He is on pace to set a new NFL sack record this season.
4. Kabeer Gbaja-Biamila. With a memorable first step, KBG e is the team's all-time leader in sacks with 74.5, and he tied for the NFC lead in sacks in 2004 with 13.5.
5. Tim Harris. He only played in Green Bay for five years, but he left a mark. He had 19.5 sacks during the 1989 season—no Packers player has had more in one year.
6. Ezra Johnson. He unofficially had 20.5 sacks in 1978 (before sacks became official) and 14.5 sacks in 1983. He is a member of the Packers hall of fame.
7. Lionel Aldridge. He played on three championship teams in the 1960s and is a member of Packers hall of fame.
8. Aaron Kampman. He wasn't as flashy a player as some of the others on this list, but Kampman was solid and consistent. In 2006, he had 15.5 sacks.
One Man Yelp: NFL Game Rewind
I was happy to pay the $69.99 for NFL Game Rewind at NFL.com this year, as the subscription included coaches tape. One problem: the coaches tape is not available until Wednesday following the game at 12 EST. It still is helpful for studying the game, as Matt Bowen so deftly illustrates here . But by the time it is available, most of us have moved onto the next week's games. All that is available prior to Wednesday is a TV tape of the games.
That was my biggest disappointment with the service, but it wasn't the only one. The plays are listed on the side of the video, and when I clicked on a specific play, it not only did not show the play, but it took me back to the beginning of the game. The product is advertised as tablet-friendly, but I could not get it to work on my Ipad. The video doesn't even play smoothly on my laptop. Customer service also was not very helpful.
NFL Game Rewind had a lot of potential. It hasn't realized much of it.
Hot Reads
*Hey John Harbaugh, your bosses Steven Bisciotti and Ozzie Newsome will see you now.
*It doesn't really matter which team of replacement officials is presiding over 49ers-Lions, but they should get Mills Lane to oversee the postgame handshake.
*Matt Schaub now has a paycheck that puts him in Eli Manning territory.