May 08, 2011 -
Dan Pompei
NFP Sunday Blitz
The reason to play Mario Williams at outside linebacker is he isn't a defensive end in a 3-4. But he isn't an outside linebacker either.
Williams is a 4-3 defensive end. Or at least he used to be. And still should be.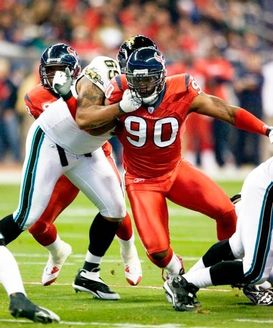 ICONThe Texans hope Mario Williams will be tangling less with big men and tussling more with smaller blockers.
The Texans' switch to a 3-4 defense is puzzling on a number of levels, but it's most puzzling because Williams is a 4-3 player. If the Texans, or any other 3-4 team were looking at Williams in the draft, they'd say he's not a fit for our defense. Yet he unquestionably is one of the best players in the NFL. So why risk diminishing him?
And Williams isn't the only player the Texas could either diminish or make obsolete by changing schemes. Middle linebacker DeMeco Ryans becomes an inside linebacker. Outside linebacker Brian Cushing, who was more effective outside than inside at Southern Cal, moves inside. Those position switches likely will make the Texans' next best defenders less effective.
Then there are these linemen – Amobi Okoye, Antonio Smith, Shaun Cody, Earl Mitchell, Damione Lewis, Jarvis Green. There are some good players here, but not for a 3-4. There are scouts from 4-3 teams who are looking at these players and licking their chops, knowing some of them are going to be cut.
"I never would have screwed with a 3-4," said one front office man who has been part of teams that have run both fronts. "They have a lot invested in 4-3 personnel, and it's not set up to transition to a 3-4."
In any defense, Williams probably still would be productive and problematical for opponents. He's too good not to be. But the questions are can he be as effective at this scheme as he was in the previous one, and can the Texans defense be as effective?
I called Charley Casserly, the man who drafted Williams and Ryans, to ask him what he thought about all of this. "I have a lot of respect for Wade Phillips," said Casserly, who now is an analyst for CBS Sports and NFL Network. "He has a good feel for talent and how to use it. However I think their best players are Mario Williams and DeMeco Ryans. Mario has been to the Pro Bowl as a 4-3 defensive end and DeMeco Ryans has been to the Pro Bowl as a middle linebacker. You're asking both to play new positions. It would have made more sense to me to stay in a 4-3 defense."
Williams told ace Texans reporter John McClain he played at 290 pounds last year. There is no prototype of an outside linebacker who weighed that much. The Texans have pointed to DeMarcus Ware as an outside linebacker Williams can be like. But Ware weighs about 30 pounds less.
"Ware is a rush guy," Casserly said. "He rarely drops. Mario will be the same way. Ware is more athletic as a drop guy. He is a more fluid athlete. I didn't think Mario would be very good in drops."
The Texans' new outside linebacker coach is Reggie Herring, who was Ware's coach in Dallas and also was Williams' defensive coordinator at North Carolina State. If anyone should understand how the players are similar or dissimilar, it is Herring.
The plan is for Williams to rush about 95 percent of the time, and Texans coach Gary Kubiak seems open to moving Williams back to defensive end if he fizzles at linebacker. But if Williams is playing linebacker, he is going to have to drop maybe eight snaps a game. Those eight snaps could easily turn wins into losses.
There is some precedent for players like Williams to be used as ends in 3-4 fronts. Bruce Smith and Richard Seymour would be the prototypes. Phillips' original plan, before the team drafted J.J. Watt and Brooks Reed, was to keep Williams at end. But playing Williams at end in a three man front would be turning a great pass rusher into a run defender. How much sense does that make?
The advantage in making Williams a linebacker is there is a potential to create blocking mismatches. "They will walk him out of the slot," said one offensive line coach who has prepared protection schemes against Williams many times. "They'll try to get him matched up on backs, tight ends. But there are ways to keep a big guy on him. You fan them out."
Offenses will try to force Williams to drop. The Texans will counter by moving him to the other side of the formation. But that will mean another linebacker, likely Reed, will have to drop and cover a tight end or back. That's not an appealing option for the Texans either.
The great coaches adjust their systems to fit their talent. That's what Phillips needs to do with a group of talented defenders who were acquired to fit another system.
Things I Didn't Used To Know
*Len Pasquarelli of Sports Exchange reports former Florida cornerback Janoris Jenkins may be considering returning to a lower division program rather than turning pro. Teams are going to have an interesting decision to make if Jenkins enters the supplemental draft. Scouts I have spoken with say Jenkins likely would have been the third best cornerback in the regular draft had he applied. Physically, he unquestionably is a first rounder. He has the versatility to play zone or man. He has good ball skills. He is tough and competitive. Whether a team would use a high round supplemental pick on Jenkins would depend on how they perceive his off-field character (he was arrested for two drug related offenses in a three month period, which led to his dismissal from Florida), and if they are concerned about his surgically repaired shoulder. It's difficult to imagine a team using anything higher than a second round supplemental pick on Jenkins, and it's difficult to imagine him sneaking through the supplemental without some team using a third round pick on him.
*Trading a 2012 first round pick to select Mark Ingram was a high price for the Saints, but it made sense on a number of levels. One reason Ingram was especially appealing is the 2012 crop of running backs looks very pedestrian. There likely will not be many Mark Ingrams to be had next year, so if the Saints wanted an elite back, now was the time to get one.
Jeff Fisher has faced some challenges before, but none quite like the one he's facing this week.
*Jeff Fisher is going to be a head coach in the National Football League next year. But this spring, the former Titans coach is far removed from football. He didn't even study tape of draft prospects, and couldn't tell you the first thing about new Titans quarterback Jake Locker. Instead, Fisher has been training to climb Mount Kilimanjaro this week. Fisher, along with ESPN's Tedy Bruschi and Eagles tight end Chad Lewis, as well as four wounded former vets, plan on hiking up Africa's tallest mountain to raise awareness for the Wounded Warrior Project. Fisher, who previously took a USO tour to Iraq and whose nephew is serving in Afghanistan, likes to do what he can for the armed forces. Fisher has been hiking and biking, and during the draft was training on Pike's Peak in Colorado to get accustomed to high elevation. Getting to the top of Kilimanjaro isn't a climb as much as it is a hike, but that doesn't mean it won't be challenging. The summit of Kilimanjaro is more than 19,000 feet, and about 40 percent of the people who attempt to get to the top fail because they can't adjust to the elevation. Fisher said the plan is to get to the top in five and a half days, and then take another day and a half to get back down. Fisher has paid attention to one aspect of the NFL this spring—the Detroit Lions. "I'm a Jim Schwartz fan," he said of his former defensive coordinator. And he is excited about the Lions' draft. "They did a great job," he told me. "They have Nick [Fairley] to put in a rotation with the other two. They are going to be very hard to attack inside. The receiver from Boise State [Titus Young] can really fly. They took a guy who most people regarded as one of the top backs in the draft [Mikel Leshoure]. Now you have an offense that can stay on the field and score a lot of points. I'm sure the hope is they still can bring a lot of people in through free agency whenever that starts, and play good enough to win a lot of games. If they can keep the quarterback healthy they are going to be a very good football team."
*One of the reasons the Falcons weren't disappointed to get Julio Jones instead of A.J. Green is Hines Ward. Explanation: Falcons offensive coordinator Mike Mularkey coached Ward in Pittsburgh, and was high on Jones in part because he saw what an ultra-tough, ultra-physical, ultra competitive receiver can do for an offense. And whereas Jones will play at more than 220 pounds, Green was down to 204 for his pro day.
*The three colleges that tied for most players drafted were North Carolina, Miami and Southern Cal, each with nine. Their combined winning percentage last season was .589. Shouldn't it have been like, .800 or something?
My Sunday Best: Undrafted Players
I made up a team of players who didn't get the call on draft day. Here are my best undrafteds, based on my pre-draft rankings.
QB--Pat Devlin, Delaware. I thought he was a solid developmental prospect whose stock was on the rise late. I would not have been surprised if he had been picked as high as the fourth round.
RB--Mario Fannin, Auburn. He didn't play up to his potential, but Fannin still could develop. One scout wondered if Fannin won't be the next Arian Foster.
RB—John Clay, Wisconsin. A productive college player, Clay killed his draft stock by running a 4.83 40 yard dash.
WR--Ricardo Lockette, Fort Valley State. Granted, he's a small school player, but receivers who work out as well as he did at the combine almost always get drafted.
WR—Armon Binns, Cincinnati. He had the talent to be chosen as high as the third round, but he got caught up in a glut of receivers. A number of good prospects at this position went undrafted, as is usually the case.
TE—Mike McNeill, Nebraska. He is a one dimensional pass catcher, but that doesn't make him much different from a lot of tight ends who were drafted.
OT—Josh Davis, Georgia. Most of the decent offensive tackles were taken, but Davis has some size and versatility.
OT—Willie Smith, East Carolina. He is strictly a developmental guy, but he has enough ability to turn into a player with some time on a practice squad.
G--Ray Dominguez, Arkansas. He had enough size and strength to be chosen in the fifth round.
G—Justin Boren, Ohio State. He wasn't on a many preseason watch lists, but Boren played as well as many of the guards who were drafted.
C--Kris O'Dowd, Southern Cal. I had him ranked as the third best center in the class, but seven were taken ahead of him.
DE--Ryan Winterswyk, Boise State. He got caught in between two positions, as some teams were considering Winterswyk as a tight end. But he had enough ability for a couple of scouts to tell me before the draft that they thought he could be a fourth round pick as a defensive end.
DE—Pierre Allen, Nebraska. The defensive ends were picked clean with the exception of Winterswyk, but Allen has enough pass rush ability that he could have been a late pick.
DT--Ian Williams, Notre Dame. I had him as a solid fourth round pick based on what scouts were telling me.
DT--Cedric Thornton, Southern Arkansas. He had enough ability to be a fourth or fifth rounder.
OLB--Mark Herzlich, Boston College. At one point he was considered a high first round pick. Herzlich's play dropped off considerably last season, but still could have been chosen in the fourth round without raising eyebrows.
OLB—Adrian Moten, Maryland. His lack of size hurt him, but he still could emerge in the right scheme.
MLB--Nick Bellore, Central Michigan. The tape, the interviews and the effort should have been enough to get him drafted, but teams thought his lack of size and speed could be exposed.
CB--Kendric Burney, North Carolina. He is small and slow, but he's a player.
CB—Vance Cuff, Georgia. He had enough cover skills and speed to be worth a late round flyer.
S--D'Andre McDaniel, Clemson. Poor 40 times hurt McDaniel, but he was a productive college player who could have been chosen as high as the fourth round.
S—Deunta Williams, North Carolina. The medical was an issue with him, but Williams had fifth round talent.
Scout Talk: Immediate Impacts
Some of the teams that had impressive drafts might not realize the benefits of the players they took in 2011, especially considering these rookies probably will have a very limited amount of preparation time because of the labor issues. For instance, it might take the Giants some time to get players like Marvin Austin, Jerrell Jernigan and James Brewer up to NFL speed. Other teams should get some quick relief. Here, in alphabetical order, are the teams that could get the biggest immediate impacts, according to front office men.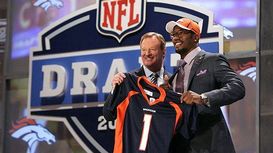 IconMiller and company should help improve the revamped Broncos in 2011.
Broncos—Seeing the Broncos were a bad team and have a new coach, opportunities should be plentiful for young guys. Out of nine draftees, it's likely four or five can have some sort of impact at some point of the season. Von Miller should be a starter and a solid nickel pass rusher from the first game. Others who could contribute include safety Rahim Moore, offensive tackle Orlando Franklin, safety Quinton Carter and defensive end Jeremy Beal.
Bucs—Their pass rush has to be better with Adrian Clayborn and/or Da'Quan Bowers coming off the edges. It wouldn't be surprising to see Ahmad Black become the nickel corner, and Mason Foster might be forced to step in as the starting MLB.
Cardinals—Patrick Peterson should be a day one starter and a good one, and he also might be one of the better kick returners in the league immediately. Beyond Peterson, Ryan Williams should be able to contribute as a situational runner, and Sam Acho could give the Birds some third down pass rush.
Dolphins—If Maurkice Pouncey was a gauge, then his twin Mike should be a standout as a rookie. The Dolphins also should get quick help from bruising runner Danieal Thomas. And fourth round pick Edmond Gates might surprise early, like another Abilene Christian receiver, Johnny Knox, did a couple of years ago.
Texans—We could see all four of the Texans' top choices on the field on passing downs—J.J. Watt at end, Brooks Reed at linebacker and Brandon Harris and Rashad Carmichael in the defensive backfield.
Patriots—Nate Solder should be a slam dunk quick contributor. And there are many others who have a chance to help as rookies. Either Shane Vereen or Stevan Ridley seems sure to carve out a role in the backfield. It's difficult to imagine Ras-I Dow ling not getting on the field. Lee Smith could be a short yardage blocker pretty quickly. And fifth round pick Marcus Cannon is a wildcard. If he's healthy, he can help because was gifted enough to be chosen high in the draft.
Saints—They might have helped themselves more than anyone for 2011. Cameron Jordan and Mark Ingram are preseason candidates for defensive and offensive rookies of the year. Not sure if Martez Wilson will be a quick impact guy, but Johnny Patrick could be. Greg Romeus, who at one point was considered first round timber, could even be a surprise.
One Man Yelp: Authentic Happiness
Upon the recommendation of Rev. Britto Berchmans, I read Authentic Happiness: Using the New Positive Psychology to Realize Your Potential for Lasting Fulfillment by Martin E.P. Seligman. It's a good book for reflection, the type we all could benefit from reading.
One of the interesting findings Seligman shares is very happy people differ markedly from unhappy people and moderately happy people in that they all lead a rich and fulfilling social life. A lot of happiness is about relationships. Married people have a much higher incidence of happiness. A strong faith also usually is a strong predictor of happiness. Government also matters—living in a wealthy democracy, as opposed to an impoverished dictatorship, can make you happier.
Neither youth nor good health are reliable indicators of happiness. There are as many old people and sick people who are happy as there are young and healthy ones. More? Neither education, race, gender or climate are factors that make people more or less happy. And the big one? No, money cannot buy you happiness.
Here's another one that made me stop: people who experience a lot of negative emotion do not necessarily experience less positive emotion, according to studies. In fact, the highest joys we experience sometimes follow relief from our worst fears.
Sometimes we fail to ever think about what makes us happy. This book will make you think. And maybe even reevaluate some things.
Hot Reads
*On the subject of happiness, when I read this tweet by Rashard Mendenhall, I thought, I'm not as happy as I am about Bin Laden being dead as I am regretful he was born.
*This interesting piece by Jason Cole offers an a solution if the NFL wants to avoid another failed trade scenario like what happened between the Ravens and Bears on draft day. This is how I would do it. The league can institute a "trade buzzer." The team on the clock has to call in a trade by the time the buzzer goes off, which will be, say, one minute before it must select (Jason suggests 30 seconds). Then the NFL calls the other team to confirm. If the deal is not done by the time 10 seconds are left on the clock, the original team is notified and has time to select.
*Based on what I've seen north of the border, the NFL can't be sure that Toronto would support an NFL franchise. Moving a team there would be a risky long term proposition.
*Sorry to see Tom Modrak ousted in Buffalo. Classy man, strong evaluator. Despite some misses by the Bills in recent years, there is good reason Modrak has been highly respected for a long time.
*Some congratulations to Pro Football Writers of America award winners are in order: To Aaron Rodgers, for winning the Good Guy Award because of his willingness to do whatever it takes and his congeniality. He is as good in interviews as he is under center. To Rex Ryan, for winning the Horrigan Award because he's the best quote in the NFL. To Mike Heimerdinger, for winning the Halas Award after persevering with his battle against cancer while running the Titans offense last year (by the way Heimerdinger, who currently is unemployed, recently completed his treatments and is doing great). To Kevin Byrne, who should teach a clinic on how to do public relations for an NFL team, and his Ravens staff for winning the Rozelle Award. And finally to Bob McGinn of the Milwaukee Journal Sentinel for winning the McCann Award. His columns on the Packers have been must-reads for years.
*Did anyone think NFL players would be blowing kisses at Roger Goodell more than two months into a lockout? This is about what should have been expected.
Dan Pompei covers pro football for the Chicago Tribune at chicagotribune.com. Follow him on twitter@danpompei