October 16, 2011 -
Barry Dorey
NFP Sunday Blitz
If the Panthers can cause so many problems for defenses with Cam Newton at quarterback, surely the Broncos should be able to get some mileage out of Tim Tebow, right?
I asked that question of four front office men who studied both players extensively over the last couple of years. None of them was quite ready to make that leap.
Even though Tebow and Newton both are unusually big, athletic quarterbacks who had wild success from the spread offense in college, they are very different quarterbacks, according to these talent evaluators.
The first thing to understand is Newton, who was Tebow's teammate at Florida, was almost universally rated much higher by NFL teams based strictly on his physical talent. The reasons some teams were cautious about Newton is he had only one year of success, he came with hangers on, and his maturity had been questioned. There was no questioning the quarterback skills of a player who threw 51 touchdown passes in a single season, however.
"Cam makes some uncanny throws," one AFC evaluator said. "He is a really good passer."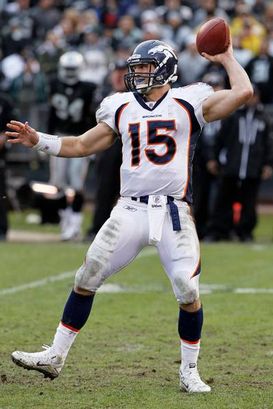 Tim Tebow isn't as fluid athletically as Cam Newton.
One NFC team did a study on how accurate each of the passers in the 2011 draft was on medium to deep throws. It discovered Newton was the most accurate, with Andy Dalton second and Christian Ponder third.
"Cam's skills are way better," said an NFC general manager. "He has ridiculous skill. He can drop it in. Tebow is not accurate. He's not a pro quarterback. He struggles with throwing catchable balls, and with where he puts the ball."
The general manager noted that Tebow throws a "wobbly" ball. He also questions Tebow's ability to process quickly.
"When you compare Cam and Tebow, Cam has a more fluid stroke," said an NFC personnel director. "In comes easier to Cam. Cam's release, accuracy and touch are better. Tebow is not accurate. He has a strong arm, but I don't know if he can he do it from the pocket. He is stiff and he has a long release."
The spread offense that Newton plays in, and Tebow likely will play in, requires less from a passer. It puts more emphasis on movement skills and less emphasis on decision making and accuracy. Part of whether or not Tebow will succeed will depend on just what Broncos offensive coordinator Mike McCoy asks of him.
"I just don't think he can be a pure passer, but he might be able to have success in a spread like Carolina is using," the NFC personnel director said. "They'll have to be creative with how they use him. He's good on the move. He can challenge defensive coordinators like Cam does, but he is not as talented."
Whereas Newton is capable of running or passing with the best of them, one AFC personnel director said he believes Tebow is on a par with Newton only as a runner. As a passer, Tebow is stiff and tightly muscled, he said. "What will happen is teams will come up with a scheme to defend him specifically," he said. "They will keep him in the pocket, maybe spy him, refuse to let him run and make him try to beat them with his arm. That's when we'll find out."
Said the NFC personnel director, "I'm not convinced Tebow can do it. But I won't say he can't do it until I see it. He probably looks terrible in practice because he's a gamer. But we all know he is a winner."
We also all know Tim Tebow is not Cam Newton.
Things I Didn't Used To Know
*The Jets shipped Derrick Mason to the Texans because they found him to be more trouble than he was worth. It was taking Mason awhile to learn Brian Schottenheimer's offense, but that didn't stop him from complaining about his lack of involvement in the passing game. Meanwhile, he was leaving after games to go to his Nashville home and returning Tuesday night, as he was allowed to do per his contract. He could have been using that time to get up to speed.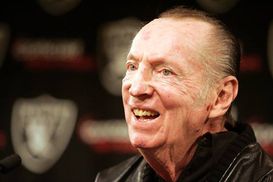 The Raiders may have Al Davis to thank for Aaron Curry.
*The acquisition of Aaron Curry may have been Al Davis' final move of significance. The Raiders contacted the Seahawks about trading for Curry when Davis still was alive. The trade was not consummated until after Davis' passing, however. The Raiders will give the Seahawks a seventh round pick in the coming draft, and another conditional pick in the 2013 draft. The 2013 pick likely will be a fourth rounder if Curry gets much playing time. Otherwise, it will be a fifth round pick.
*The Raiders are sending out feelers to potential general manager candidates. Look for whoever they hire to have a Hue Jackson connection, or at least be someone Jackson is comfortable with. Jackson is expected to have a significant share of personnel power. But the problem for now is teams will be reluctant to let general manager candidates out of their contracts before the draft because they have been privy to so much sensitive information. The Raiders might have to wait until May to make a move.
*With left tackle Chad Clifton expected to miss significant time, it looks like the Packers will be reliant on 2010 fifth round pick Marshall Newhouse to protect Aaron Rodgers' blindside. Some analysts thought the Packers reached for Newhouse in the fifth round last year. Many teams thought Newhouse was a guard only coming out of Texas Christian even though he played left tackle there. In fact, even Packers coaches thought he was a guard initially. But this year in camp, they put him at tackle and liked what they saw. Now they believe Newhouse's best position is left tackle. Newhouse has enough quick feet and athleticism to play tackle. He could be Clifton's eventual replacement. If it plays out that way, 2011 first round pick Derrick Sherrod will likely play right tackle, and 2010 first round pick Bryan Bulaga probably will move inside to guard.
*Even though the Vikings made Bernard Berrian inactive last Sunday and he has caught only two passes this year, the team still believes he can be a vital part of their offense. Berrian has been frustrated over his role with the team, but he has not been a distraction. The reason he was not active a week ago is he overslept for Saturday meetings.
*The most common offensive personnel package in the NFL might not be what you think. It's one back, one tight end and three receivers (or in a few cases, two receivers and a sixth offensive lineman), which has been used on 41.9 percent of total plays this year, as per data from Stats Inc.'s Ice program. The next most frequently used package—one back, two tight ends, two receivers—has been used much less—22.2 percent. The traditional two back, one tight end two receiver package? It's been used only 16.9 percent of the time.
My Sunday Best: Coach-QB Combos
If the Patriots beat the Cowboys Sunday, Bill Belichick and Tom Brady will have combined for as many wins as any coach-quarterback combination in the Super Bowl era. They will tie Don Shula and Dan Marino for 116 victories. With that in mind, here are the best coach-quarterback combos since 1966.
1. Bill Belichick-Tom Brady. Three championships and another Super Bowl appearance in this era puts them on top. These two have brought out the best in one another and stood the test of time.
2. Vince Lombardi-Bart Starr. If you include the pre-Super Bowl era, they might have bee n No. 1. Two of their five championships were in the Super Bowl era.
3. Bill Walsh-Joe Montana. They were the ideal combination because the quarterback fit the system so well, and they won three Super Bowls together as a result.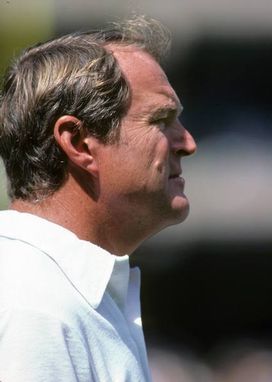 Steelers coach Chuck Noll had a good thing going with Terry Bradshaw.
4. Chuck Noll-Terry Bradshaw. There was a lot of help from the eight other hall of famers from the 70s era Steelers, but without these two there wouldn't be four Super Bowl rings.
5. Tom Landry-Roger Staubach. With Landry as his coach, Staubach led the NFL in passing four times and won two Super Bowls.
6. Jimmy Johnson-Troy Aikman. They won two Super Bowls together and could have easily won a third if Johnson stuck around. Aikman won a third with Barry Switzer.
7. Mike Shanahan-John Elway. Elway played 14 years before he won a Super Bowl, and it took Shanahan to get it done.
8. Don Shula-Dan Marino. They didn't win it all, but they authored the most productive passing game in history up to that point.
9. Don Shula-Bob Griese. Shula and Griese put together the perfect season, but a lot of their success was more about the running game than the passing game.
10. Marv Levy-Jim Kelly. They won 99 games together over 11 years and made it to four Super Bowls.
Scout Talk: 2012 Wide Receiver Class
Wide receivers, as usual, will be taken early and often in the draft this year. And also as usual, some of those who are chosen later or not at all will likely be as productive as those who are chosen high. That's because the depth of the position is pretty good, according to front office men.
At the top of the draft, one player stands out, according to scouts I've spoken with. That's Oklahoma State underclassman Justin Blackmon, who likely will come out. He has the kind of size, speed and athleticism package that NFL teams look for. He is a play maker and a coach's dream.
The three seniors who have been talked up as late first round possibilities are Notre Dame's Michael Floyd, Texas A&M's Jeff Fuller and Wisconsin's Nick Toon. Floyd, who is 6-3, 229, gets the job done with size and strength. He isn't as explosive as Fuller, who also has excellent size at 6-3, 227 but doesn't always play up to his ability. Toon is a solid prospect with good all around skills, but he might lack a second gear.
A couple of players who have been creating recent buzz are Baylor's Kendall Wright and Appalachian State's Brian Quick. Wright is only 5-10, but he's very explosive and has excellent ball skills. He is a riser who could join the top group of wide receivers if he continues on his current course. A lot of scouts have yet to see Quick in person, but he has unusual size and ability. Quite a few NFL men are adding a stop in Boone, North Carolina, to their fall itinerary.
Three receivers who can help themselves the rest of the season are Ohio State's DeVier Posey, Arizona's Juron Criner and Oklahoma's Ryan Broyles. As of now, all three look to be in the third round range.
Three others to keep an eye on are Alabama's Marquis Maze, Michigan State's Keshawn Martin and Cincinnati's D.J. Woods.
One Man Yelp: Sweetness
I sat in the stands at Soldier Field and watched Walter Payton play. Later, I got to know him as a reporter covering the Bears. When I first heard about the excerpts from Sweetness: The Enigmatic Life of Walter Payton, I thought, "Does the world really need more ugly in it?"
After getting through the 480 pages, I have a different take. The excerpts were a little misleading. This is a very complete look at a very complex man by Jeff Pearlman. His reporting work is really impressive.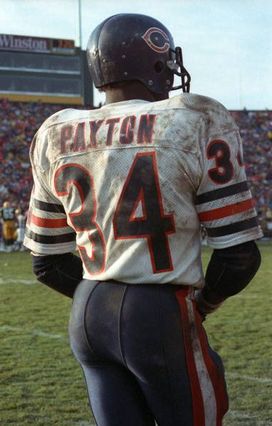 There remains much to admire this man for.
Funny thing about Payton. He was always deified by the public, maybe more so than any athlete I can think of in my lifetime. The only Walter anyone wanted to know was smiling Walter scoring touchdowns, living up to his nickname. If he had a dark side—and those of us who were around him knew he did—no one wanted to know about that. And that still holds true today, 12 years after his death. For whatever reason, people don't want to know about what made him human.
The bottom line is Payton doesn't deserve to be protected from the truth. Ultimately, he is accountable for all of his actions, as we all are. Being able to run with a football should not enable you to get away with whatever you please.
There is a lesson in here somewhere. Great athletes like Payton should be admired for their on-field accomplishments and applauded for the joy they bring us. But when we, in complete ignorance, start making them out to be more than great athletes, we have lost perspective.
After reading this book, I still have many fond remembrances of Payton. In fact, hearing stories from others have brought some of them back. And I don't think of Payton as a scoundrel. You won't find it in the excerpts, but the book provides countless examples of Payton's unusual kindness, some of which I had witnessed.
Pearlman's book reminded me that in addition to being one of the greatest football players ever, Payton was just a man. Like me.
Hot Reads
*It is better than the Chiefs are playing bags than wearing them.
*Brandon Lloyd is 30 years old. He's had one productive season in nine NFL years. His contract expires after the season. Buyer beware.
*If LeBron James is serious about the NFL, I'd sign him tomorrow and line him up as a red zone tight end/wide receiver. Who could stop a high throw to LeBron? Not counting Dallas Mavericks, of course.
*Is there any way the NFL could move the recently awarded Arizona Super Bowl ahead of the Indianapolis and New Jersey Super Bowls?
*The Jets and Bill Belichick aren't always at odds. For instance, they apparently both have the same message for Derrick Mason.
Dan Pompei covers pro football for the Chicago Tribune. Follow him at Twitter@danpompei