July 03, 2011 -
Barry Dorey
NFP Sunday Blitz
The media talks a lot about how NFL teams evaluate 40 times, wingspans and weights. The media doesn't talk much about how the NFL evaluates the mental and emotional constitutions of players.
But teams discreetly and routinely spend a lot of time, money and resources trying to get inside the helmets of players and making sure an athlete can fit in with a team on every level. Just because a player has a learning disability or emotional issue does not necessarily mean he can't play and thrive in the NFL.
The primary issues teams have become familiar with are ADD, Attention Deficit Hyperactivity Disorder (ADHD), dyslexia, bi-polar and anxiety/depression. The most common are ADD, ADHD and dyslexia.
One general manager estimates there were 12 players who were drafted that had some sort of learning issue. One of the top picks in the last first round has Attention Deficit Disorder (ADD). Raiders fourth round pick Taiwan Jones has acknowledged he has dyslexia. An NFL veteran who has been voted to multiple Pro Bowls is bi-polar. Even Rex Ryan, the coach of the Jets, has acknowledged he is dyslexic.
Two teams, the Colts and Seahawks, work with performance psychologist Dana Sinclair. She evaluates prospects in the pre-draft screening process. If one of her clients acquires a player with a learning disability, she draws up a plan to help the player.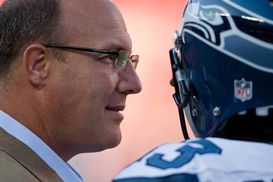 Top general managers like Scott Pioli have plans in place on how to identify and help players with learning disabilities.
The first step is recognition. Often, players will acknowledge their issue in questionnaires. "The kids generally will tell you if they have a learning disability," Chiefs general manager Scott Pioli says. "That's generally a good sign, because if they acknowledge it, it shows a willingness to deal with it. Then we can all work towards the same goal and enhance the chances for long term success. You have an open mind about it and put a structure in place."
For instance, a team that has a player or player with attention issues might make a special effort to keep meetings short, and use more electronic learning. Or a special, color-coded playbook might be put together for a player who has reading difficulties.
Pioli didn't hesitate to select defensive tackle Jerrell Powe, who reportedly has ADD and dyslexia, in the sixth round of the draft. The Chiefs feel comfortable they know what they have in Powe.
Most teams give players a psychological test at the combine, or perhaps at an all-star game or even during a visit to the team facility.
Not every player passes. "We have standards and metrics we've used over the years to tell us what constitutes a level acceptable for success in the league," Colts president Bill Polian says. "Virtually every team has norms on which they rely to tell them on whether or not a player may have success. It really is no different from a 40 time or a height weight, a wingspan, or hand size. It's a matter of what the measurable tell you. If the psychological measurable tell you there is a low chance of success, we simply move on."
The Colts knew Quinn Pitcock had some anxiety issues when they made him a third round pick in 2007. But the problems weren't enough to scare them away. Over time, Pitcock developed depression that proved problematic.
If a prospect is taking a prescription medication that shows up in a drug test, he has to tell the league about it and get clearance to take the medication. Adderall, for instance, which is commonly used in the treatment of ADHD, is banned by the NFL because it frequently is used as a black market stimulant. But players who prove they need it can take it.
If a player has overcome a learning disability or emotional problem and been a successful college player, it's usually a pretty good sign that he has figured out how to cope. But the NFL environment can be more challenging.
"If guy has done it in college, at least we know he can do something," Browns general manager Tom Heckert said. "But you have to be careful with certain positions like quarterback. We weigh all the factors, including the demands of the position they are playing."
One of the concerns teams have is acquiring players with special needs can be disruptive to the other players. For instance, bi-polar players can have mood swings that wreak havoc in a locker room. Or if a key player can't keep up with the weekly game plans, coaches might have to simplify their attacks.
In almost all cases, a team with a smart plan can make it work with any talented player. It's all about the plan.
Things I Didn't Used To Know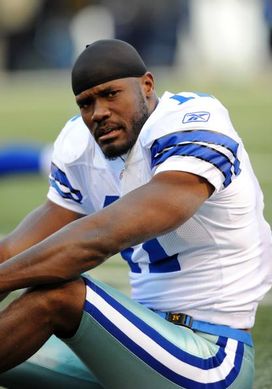 The Cowboys may be moving on from Roy Williams.
*A front office man points out that one of the reasons Terrell Owens will be moving on to his fourth team in four years this year is he doesn't always run his route the way he is supposed to and he leaves a lot of gray area for the quarterback. Last year, he led the NFL in most interceptions as a targeted receiver with 12, according to Stats, Inc. What's more, he has led the league in the category with 43 interceptions over the last five years. And another issue with T.O? He was third in the league in drops last year with 11.
*The Browns want to lighten the load for halfback Peyton Hillis, but not with fourth round pick Owen Marecic. The plan is for Marecic to be a complementary player to Hillis as a true fullback playing in the same backfield. Marecic probably won't get many carries, but he could get some catches. The hope is that second year man Monterio Hardesty is healthy and able to take some of the workload off Hills.
*The loaded veteran market of available wide receivers could become more loaded if the Cowboys send Roy Williams packing, and it's looking more and more like that will happen. There are two reasons why Williams is likely going to be a former Cowboy in the near future. The first is he's making more money than he's worth. The second is the team wants to clear the way for Dez Bryan to play more. There will be a healthy market for Williams though. His effort and attitude has remained good in Dallas despite the fact that he hasn't found his niche in the offense, and that will help him find future employment.
*Middle linebacker Kirk Morrison was a mild disappointment in his first year in Jacksonville, and now he is a free agent. But that doesn't mean he won't be back with the Jags. The coaching staff loves Morrison because he is a great locker room guy and a hard worker. And they believe that with another year in the system, he should improve and make more plays. But Jacksonville probably won't break the bank for him. Regardless of Morrison's situation, the team plans on signing a free agent outside linebacker and a safety in free agency. If Morrison leaves, they'll need a middle linebacker too.
Hot Reads
*Since the beginning of competition, players have gotten fat after winning it all. Aaron Rodgers has gotten skinnier. This might not be a good thing for the rest of the NFL.
*If the Bengals are serious about letting Carson Palmer sit, they better be as serious about retaining Cedric Benson.
*Can someone explain to me how Brian Billick, who has won a Super Bowl, won 62 percent of his postseason games and won 55 percent of his regular season games, has not been highly pursued as a head coaching candidate?
*If P ercy Harvin's migraines are history, as he says they are, the headaches may be just beginning for the NFC North.
Dan Pompei covers pro football for the Chicago Tribune at chicagotribune.com. Follow him at twitter@danpompei