September 02, 2012 -
Dan Pompei
NFP Sunday Blitz
As I went through my tour of training camps, it struck me how one theme was constant wherever I went: offensive line play is a concern. Every team had some sort of issue up front on offense. I don't believe there is a coaching staff in the league that is completely comfortable with its offensive line.
There is no question line play has deteriorated in recent years. Neither individual linemen nor offensive line units are what they used to be. So I started to ask people what they thought the reasons were. Here are some of the theories I heard.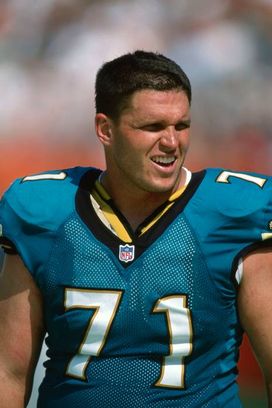 Where have you gone Tony Boselli?
*As athletes, offensive linemen have not kept pace with pass rushers.
"Offensive line play probably is not as good as it used to be because, more than ever, all the best athletes play defense," Giants general manager Jerry Reese told me. "You see it at the combine. The height, weight, speed difference between the lines is pretty dramatic."
The Giants have a pass rusher in Jason Pierre-Paul who can do 23 consecutive backflips. I can name some guards who look like they would struggle to do a single forward somersault. The Bears have an interior pass rusher in Henry Melton who was athletic enough to play running back at Texas, and an outside pass rusher in Julius Peppers who was athletic enough to play forward on the North Carolina basketball team.
Meanwhile, the offensive linemen are the least talented players on the field, and among the lowest paid on average. The best offensive linemen in the league today (Joe Thomas, Jake Long) don't compare athletically with the best offensive linemen in the league a dozen years ago (Boselli, Jonathan Ogden, Orlando Pace, Willie Roaf). The Pro Bowl alternate tackles last year in the NFC were Tyson Clabo and Donald Penn.
The dominating left tackle does not exist anymore. "Where are those guys?" Reese said. "You don't see them. People talk about how you have to have a great offensive tackle. If you have one, great. But who has one? David Diehl is a terrific one, and I'll take him any day but he's not at the Tony Boselli level."
And it doesn't look like it will be getting better anytime soon. Among the offensive linemen who played in the 2011 Pro Bowl but won't be playing this year are Kris Dielman, Brian Waters, Matt Light, Jason Peters and Chad Clifton.
Said Redskins coach Mike Shanahan, "Everybody says we don't have a good right tackle. I say show me who does?"
*There is nowhere near the continuity on offensive lines that there used to be.
Free agency—and the fact that teams have devalued linemen, especially guards--makes almost every team do an annual offensive line shuffle.
This year, only two teams—the Falcons and Lions--are expected to open the season with the same five starters in the same five spots that they played with last year. And in Detroit many believe it's just a matter of time before first round pick Riley Reiff replaces incumbent Gosder Cherilus at right tackle.
What's more, nine teams have new offensive line coaches. They are the Bears, Bucs, Chiefs, Colts, Cowboys, Dolphins, Falcons, Jets and Rams.
Diehl knows about a lack of continuity on a line. When the Giants moved him to right tackle this year, it was the fifth time in his career he moved. He has played every position on the line except center.
"People forget playing together for a long period of time is what makes you the best as possible," Diehl said. "Now with someone getting hurt, or free agency, you don't see a group together very long. When we had our best years here, it was when the five of us played together during that one long stretch. That's what you have to have to have an effective offensive line. You have to have a lot of game experience together because there is so much continuity, fitting next to each other, being on the same page, being able to communicate when you can't hear because of the noise."
*The new collective bargaining agreement that limits offseason and training camp practice time may hurt the play of offensive lines more than any other group.
"It's harder for offensive linemen to play well together with fewer reps," Bears general manager Phil Emery said. "They need live pass situations. It hurts their pad level, their feel for leverage, their development and their ability to work together."
*Many of the offensive linemen who are coming into the league have not played in pro style offenses and have a lot to learn.
Offensive line play has been a victim of the spread revolution. "They come to the NFL without knowing how to run block," one NFC head coach said. "The way they are running offenses in college, some position has to suffer, and it is the offensive line."
In fact, one of the reasons so many teams are turning to the spread is to hide line limitations of offensive linemen. Get rid of the ball quickly, and you don't have to worry about blockers who can't handle superior pass rushers.
*NFL coaches haven't all caught up with the fact that they can't neutralize pass rushes the way they used to. Some of them still expect their left tackles to take on great pass rushes as if this were 1998, and they don't give them enough help.
There are more opportunities for sacks, holdings and false starts than ever before. NFL teams threw 17,410 times last year—more than ever.
"You can't run a certain offense if you don't have the players," Shanahan said. "Some coaches want to run their offense no matter what. Sometimes you have to figure out how to win 17-14."
My Sunday Best: NFL Players Turned Politicians
Since this is the season for politics and football, let's take a look at the men who impacted both arenas. Here are my Sunday best NFL players turned politicians, ranked in order of football accomplishments. Former players who ran for office but lost were not considered.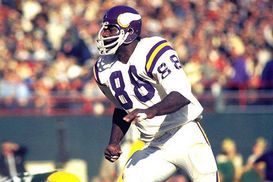 Alan Page was a ferocious pass rusher before he became a sage justice.
1. Alan Page. He has sat on the Minnesota supreme court since 1992. Page was a wonderful pass rusher on the Vikings' Purple People Eaters, and he later played for the Bears. A nine time Pro Bowler, he is a member of the Pro Football Hall of Fame.
2. Steve Largent. After a rough start, Largent played 13 years in the NFL for the Seahawks in part because he had some of the best hands in history. The Pro Football Hall of Fame inductee held every major NFL record at the time of his retirement. He was a Republican congressman from Oklahoma from 1994 until 2002. He then ran for governor of Oklahoma but lost.
3. Jack Kemp. After failing to break through with the Lions, Steelers, 49ers and Giants, this QB went to Canada. When he returned, he became a seven-time all-star and he led his team to the AFL championship game five times. He was AFL MVP in 1965, and he played some fine football for the Bills and Chargers. He became a congressman and a member of George Bush's cabinet, and even was a contender for the presidential nomination in 1988.
4. Whizzer White. He led the league in rushing for the Lions in 1938 and 1940, but his pro career was cut short by World War II. After the war, he elected to go to law school at Yale rather than return to football. He was part of President John F. Kennedy's cabinet, and later was appointed to the Supreme Court, where he served from 1962 through 1993.
5. Jon Runyan. He lasted 14 seasons in the NFL and made two Pro Bowls with the Eagles. He once was the highest paid offensive lineman in history. These days, he is a well-regarded Republican congressman from New Jersey.
6. Sam Wyche. This Bill Walsh disciple is most well known for his stints as head coach of the Bengals and Bucs that lasted 12 years. With his no huddle offense, he was nicknamed "Wicky Wacky Wyche." But he also was a backup quarterback for the Bengals, Redskins, Lions, Cardinals and Bills. And he won a seat on the Pickens County Council in South Carolina in 2008.
7. Health Shuler. The third pick in the 1994 draft became a punch line in Washington as a quarterback, lasting only three years before finishing up with one-year stints in New Orleans and Oakland. He finished with a 54.3 career passer rating. Shuler has become a respected Democractic congressman from North Carolina.
8. Maurice Britt. He only caught one pass for the Lions, in 1941, but he accomplished much more after his football career. Britt won the Medal of Honor, Silver Star, Bronze Star and Purple Heart in World War II, and then became the Lieutenant Governor of Arkansas.
One Man Yelp: Hall of Fame Anniversary Book, America's Game
They don't make those big, heavy, old fashioned coffee table books much anymore. But they made a good one recently. It's called The Pro Football Hall of Fame 50th Anniversary Book: Where Greatness Lives. Edited by Joe Horrigan and John Thorn, it is printed on thick stock and has colorful pictures that fill up the pages. There are many interesting quotes from important people in NFL history, and documents, posters and letters.
Reading this book is the next best thing to visiting Canton. But it's also a comprehensive history of the National Football League. It could be a textbook for a class on the league, but it would give you a backache if you carried it in a backpack.
The book is broken down by chapters on decades, and includes essays by some of the premier pro football writers of our time. Also included are the 11 greatest moments in NFL history. Number one? The 1958 championship game in which Johnny U led the Colts back to beat the Giants.
The amount of information and visuals in this book makes the $34.99 price seem like a bargain.
*On Tuesday NFL Network will debut the latest installment of America's Game covering the 2011 Giants. I watched the preview DVD and enjoyed reliving the story of this unusual Super Bowl champion.
Victor Cruz steals the show, as he did last season. When Jets cornerback Darrelle Revis said he really didn't know who Cruz was, Cruz took it personally. Cruz scored a 99-yard touchdown against the Jets, and then said, "They know my name now, right?"
Tom Coughlin, by the way, thought that touchdown was the defining moment of the Giants' season. He said "things really came together and took off" when Cruz went deep. "From that point on, we started to combine confidence with cohesiveness with intelligence with masterful play."
Coughlin allows us some glimpses of how he coaches and motivates. At one point, he implores his team to "surrender the me for the we." And like most coaches, he loves being doubted. "The idea of everybody telling you [that] you can't do something, I like that. That's a good thing."
Hot Reads
*Russell Wilson was not handed the Seahawks starting job. I'm told in July he often was the only football person at the Seahawks facility, as he showed up every day at 6:30 a.m. to watch tape. Wilson has a little Peyton Manning in him. In fact, he consulted with Manning before the draft, as well as Eli Manning, Drew Brees and Philip Rivers. Wilson also visited with Colts quarterback coach Clyde Christensen, who previously coached Peyton Manning. Christensen shared Peyton's notes with Wilson, and they were similar to the kind of notes Wilson takes. Wilson keeps a diary of every practice on an Excel worksheet.
*Donald Driver had an excellent training camp, and the 37-year old believes Dancing With the Stars was a factor. Driver, who won the competition, said he would do football work from 8-10 in the morning in the offseason, and then dance from 11 to 8 p.m. "I was able to come back in great shape," the Packers receiver told me. "My conditioning was way better this year than in previous years. You know if you run a route, it lasts ten seconds tops. But dance, that's a minute, 30 seconds. People don't think that's a long time, but when you are moving across the floor like that, it is."
*I'm looking forward to the discussion and debate about whether or not Terrell Owens should be a hall of famer, and I am reserving judgment for now. But I will say this: in order to be a hall of famer, a player has to make his football team considerably better, in my opinion. Nice take on the matter by Clark Judge.
*I'm still not buying the fact that replacement officials will be working on opening day. I can't see the NFL letting it get to that point. The real negotiations begin now.
*Enjoyed this