May 15, 2011 -
Dan Pompei
NFP Sunday Blitz
New Browns coach Pat Shurmur, perhaps trying to get a group of Browns backers a little jacked up, called it "probably one of the greatest trades in draft history."
The respected Tony Grossi of the Cleveland Plain Dealer questioned whether the Browns passed on a star to take a handful of ordinary Joes. Many Browns fans appeared to share his sentiment.
Both perspectives are interesting.
When you make a deal like the Browns did, moving down 21 spots and passing up a potential start like Julio Jones, you unquestionably leave yourself open to criticism. A couple of weeks ago, I examined why the Falcons felt compelled to make the deal. Now, I'd like to take you through the thought process on the other end of the telephone line.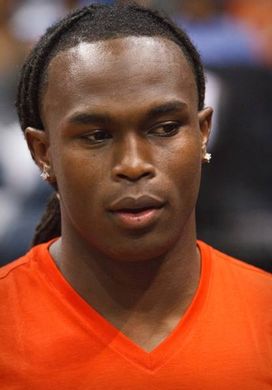 Julio Jones wouldn't look bad in Browns colors, but the Browns like the players and picks they received in return for the sixth pick of the draft.
First, understand the trade down was not about the Browns not liking Jones. If no deal had been offered, it's very likely Jones would be house-hunting in the Cleveland area now. Browns general manager Tom Heckert told me he probably would have done the deal no matter who was left at 6, though my guess is if Marcel Dareus had been on the board, it would have given the Browns pause.
"I do think Julio Jones, or whoever we would have taken at 6, is going to be a really, really good player," Heckert said. "We were more focused on getting more players. We knew we were more than just a couple guys away. The more picks we could get, the better off we could be."
The Falcons thought one player could make a difference on their team. The Browns don't have that feeling. They need numbers, and this gave them a chance to add numbers with the five draft picks (Phil Taylor after moving up, Greg Little, Owen Marecic and 2012 picks in the first and fourth rounds) they received for one.
Heckert was where the Falcons are now when he worked for the Eagles. Twice, he made draft trades from the other perspective in Philadelphia, moving up 12 spots for Shawn Andrews in 2004 and two spots for Jeremy Maclin in 2009. But this is different.
The chances of getting a star, as Grossi points out, are better the higher you pick. But there are a lot of disappointments at the top of the draft too. "You hope you get on a difference maker no matter where you are picking, but realistically, that's probably not the way it's going to be," Heckert said. "We said let's try to get to the point where Atlanta is so we could go out and get the one big time difference maker. We're not there yet, and we thought that outweighed everything else. With more picks, you have more chances to get a difference maker, and if you get a bunch of good players, then you're good."
The Browns had numerous holes. Defensively, they were getting old. And they also are changing schemes, going from Eric Mangini's 3-4 to Dick Jauron's 4-3. They thought about sticking with a three man front just because of the personnel difficulties changing schemes can cause. This trade empowered them to make the switch because it resulted in the Browns getting two players who should be starters quickly in defensive tackle Taylor and defensive end in Jabaal Sheard.
"Defensive line was a big issue for us," Heckert said. "We knew we were going to have to get them either through the draft or free agency or a combination, and that still could be the case. We still need a couple more guys."
Part of the problem with making a deal like this is it doesn't always go over well. Within an organization, there often are factions that are hoping for a star addition. And outside the organization, a move like this can be perceived as disheartening. Heckert said inside the building, everyone was on board. He knows the only way to win over Browns fans is to make sure the extra players they acquired develop into above average starters.
If the trade is all the Browns hope it could be, it will build the foundation of a contending team. Say this for the deal—given where the Browns are, the risk was worth the potential reward, and it followed sound logic.
"We're in a rebuilding deal—the Falcons are not," Heckert said. "I think it was a good move for both teams, I really do."
Things I Didn't Used To Know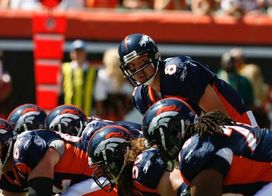 ICONKyle Orton might be wearing a different uniform in 2011.
*Kyle Orton still could be playing for a team other than the Broncos next season. Some people around the league think the reason the Broncos are talking up Brady Quinn is they have hopes of dealing Orton. But the longer the lockout goes, the less likely a deal becomes because the veteran Orton is the quarterback who is most prepared to play this season. Orton should be a fairly hot commodity on the trade market, and the Broncos could get as much as a second round draft pick in return. After Kevin Kolb, Orton likely will be the most sought after quarterback.
*It is believed a number of teams already have handshake agreements in place with undrafted free agents, and the big whigs on Park Avenue are not happy about it. In fact, the league is investigating the situation by questioning undrafted players. Fines could be forthcoming. The NFL expressly told teams they were not even allowed to contact players during the draft and tell them they would like to sign them as free agents.
*Colts first round pick Anthony Castonzo wears size 18 dress shoes. But he wears size 17 cleats. His left foot measures a size 18, and his right measures a 17. He likes the tighter fit for football. "Sometimes I stub my big toe and it gets black and blue," he told me. "But it's not that big a deal."
*Mike Martz usually evaluates quarterbacks a little differently than a lot of other people. And his track record suggests he knows what he's doing. The player he really liked in the first tier of QBs this year was Andy Dalton. Martz measures quarterbacks mostly based on accuracy, intelligence and toughness, and he tells me he thought the new Bengals signal caller had all three in spades. He was very impressed with the new Bengal's grasp of the game. In the second tier of quarterbacks, Martz liked the player he's going to be coaching, Nathan Enderle.
*Some people around the league are anticipating some interesting game planning and scheming early in the season, more so than normally is the case. Why? Coaches have more time on their hands this offseason than usual without players to coach. Bill Belichick, for instance, tells me he has been spending some of his extra time studying opponents.
*The Cardinals might have gotten a sixth round steal in linebacker Quan Sturdivant. A number of teams thought the North Carolina product had second or third round talent, but a poor workout saw Sturdivant's stock plummet. It also did not help him that many 4-3 teams thought he was not a scheme fit for them.
My Sunday Best: Impact Assistants
Here, in alphabetical order, are the new assistant coaches who could have the best impacts on the 2011 season.
Tom Cable, Seahawks offensive line. You can't underestimate the value of a solid offensive line coach who gets his players to use proper technique, brings the best out of individuals and then gets them to work in unison. Cable could have the same kind of effect on the Seahawks that Mike Tice had on the Bears last year.
Juan Castillo, Eagles defensive coordinator. The former offensive line coach will be the most scrutinized assistant in the NFL. The possibility of him failing spectacularly is there, but those who know Castillo think there is a much greater possibility of Castillo succeeding spectacularly. Worth noting: Andy Reid has an excellent track record with assistant coaches.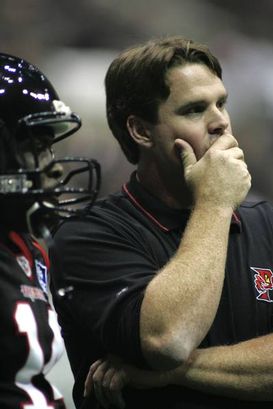 Jay Gruden will try to bring some of the family magic to Cincy.
Jay Gruden, Bengals offensive coordinator. If he's Jon Gruden light, little bro Jay might have a lot of defensive coordinators staying up all night. Gruden's ability to confuse opponents might be limited by inexperienced players, however, especially if Carson Palmer doesn't come back.
Ray Horton, Cardinals defensive coordinator. He isn't making wholesale changes in the Cardinals' scheme, but he is bringing the Steelers' aggressive mentality. Look for more blitzing and risk taking.
Dick Jauron, Browns defensive coordinator. This proven defensive signal caller is converting the Browns to a four man front. The players will like playing for him, and Jauron could have quick success.
Sean McDermott, Panthers defensive coordinator. Free from the shadow of Jim Johnson, McDermott may cut loose in Carolina. Too bad he doesn't have more to work with.
Chuck Pagano, Ravens defensive coordinator. The former secondary coach of the Ravens is well liked in the locker room and in the front office. He can take a very good defense and make it better.
Wade Phillips, Texans defensive coordinator. As I wrote about last week, he's making some radical changes that could backfire, going from a 4-3 to a 3-4. But if Phillips is flexible enough, he could have some success because he has quite a bit of talent to work with.
Rob Ryan, Cowboys defensive coordinator. A little of the Ryan temperament is likely to go over well in Big D. He's got some horses to ride and he'll ride them.
Dave Wannstedt, Bills assistant head coach. His experience as a head coach at the NFL and college levels should make Wannstedt a valuable resource for head coach Chan Gailey.
Scout Talk: Draft before free agency
I took a survey of front office men last week to ask if they liked having the draft before free agency, and the overwhelming response was they did. Only one man said it didn't matter to him because it didn't change his team's philosophy of drafting the best available player.
But six others said they like it this way, even though there is little hope of it remaining like this. A sampling of comments:
"Since we were able to address some needs in the draft, it will help us not to have to overpay for a guy who may not be all we want. Free agency always is a little scary."
"Having the draft first allows you to focus more on the best available player. You know you don't have to reach as much because you can always fill needs in free agency."
"Draft first allows teams to spend money more wisely. You can manage your budget better. With free agency first, you don't know what will be available to you in the draft so you take what you can get."
"I liked it, but it's nice to get the free agency stuff done and get those guys here for the offseason program. This way, we won't have those guys for conditioning and OTAs."
One Man Yelp: 1964 The Tribute
When I purchased tickets to see a Beatles tribute band, I did it with the understanding the show could have been a cheesy one. But 1964 The Tribute exceeded my expectations.
I was intrigued by the show because Rolling Stone Magazine called it "the best Beatles tribute on earth." This was no garage band playing the county pumpkin festival. That was pretty evident when they came onstage with eight guitars to choose from. I later learned this band has been together 27 years (the members must be nearly as old as the real Beatles), plays more than 100 shows a year and has appeared at Carnegie Hall 11 times.
They captured the sound of the early Beatles quite remarkably. If you closed your eyes and let yourself get caught up in the moment, you could forget you were listening to impersonators. The star of the show was John, who's husky, throaty voice was perfect. He even held his guitar high, with his arm wrapped around instrument the way John Lennon did it.
The band appeared with Satisfaction, a Rolling Stones tribute band that nearly stole the show. From his vocals to his spastic dancing, Mick was a bullseye.
The best part about the experience? My 16-year-old son, my 14-year-old daughter and her friend enjoyed it as much as my wife and I.
Hot Reads
*Bernard Hopkins should wear a mouthguard at all times, even when he gives interviews.
*The Cardinals will benefit from the late start to free agency because they just found out last week that they have a hole in their starting lineup. Alan Faneca's late announcement normally would have left his team in a bad spot. Now they have a chance to buy a replacement part.
*Dolphins owner Stephen Ross won't be making this list with moves like this. He might be making some other lists, though.
*The Packers should not only retire Brett Favre's number, but they also should erect a statue of him outside Lambeau Field. They just have to wait until the memory of him wearing a purple jersey wears off.
*Unless Favre plans on telling Cam Newton, "don't do anything the way I did it," I'm not sure this is such a great idea.
*Regardless of what you think of the Seahawks' picks, believe me when I tell you those Seahawks execs were only listening to reggae music during the draft--not doing some of the other things that are most closely associated with the Rasta culture.
Dan Pompei covers pro football for the Chicago Tribune at chicagotribune.com. Follow him at twitter@danpompei