June 05, 2011 -
Dan Pompei
NFP Sunday Blitz
Do you suppose there will be a line of teams waiting outside of Oneida Correctional Facility with pen and contracts in hand when Plaxico Burress walks out on Monday?
I don't. Not after talking with people on five NFL teams that are in the market for wide receivers. None of them expressed an interest in signing Burress.
Said one personnel director: "I'm very leery. Too many things could go wrong as opposed to going right."
Said another: "Not by any stretch can he be counted on as a go-to receiver anymore."
Burress will play in the NFL this fall. But it's doubtful any team will bring him expecting him to be a big-time producer, or pay him starter's money.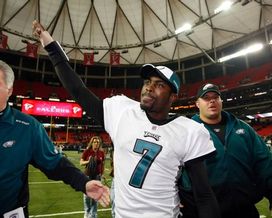 ICONIf Michael Vick could do it, can Plaxico?
Burress' life preserver in his attempt to get back on the NFL boat is Michael Vick. Because Vick was able to successfully return after two years in the big house, a case can be made that Burress can make the same kind of transition.
But there is one notable difference between Vick's circumstances and Burress'. Vick was 29 years old when he made his return. Burress will be 34.
Two years away from the game, and the conditioning the game demands, is a big deal. It took Vick one full year to hit his stride. If it takes Burress a year to get rolling, he'll be 35 by the time he's ready to contribute in a big way.
So Burress is fighting time in a way Vick was not. The good news, according to a coach who knew him well and a front office man who scouted Burress in 2008, is that he had not started to decline the last time he played. "He was at the prime of his career, playing very well," the coach said. "But the problem with skill guys is when they hit the wall, it's like they fall off a cliff."
Whether or not Burress has hit that point is unknown, but if he's like most players he can't be far from that point. He might be able to help market himself, one team exec suggested, if he is willing to work out for teams and run a 40-yard dash. Established veterans usually want nothing to do with having to prove themselves, but Burress is in an unusual situation.
Burress might age better than some receivers because he never has been a speed-reliant player. With him, it's all about height, reach and muscle.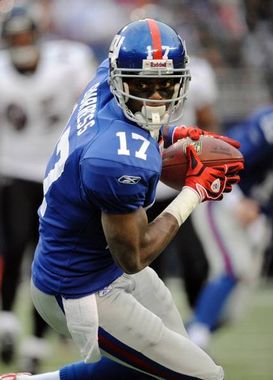 ICONPlaxico Burress may not be the same player he was two years ago.
One role he probably could fulfill is as a specialty receiver who is used mostly as a red zone target and on special routes. But Burress likely will have to do more than that to keep a spot on a roster. Most teams believe they can't afford to carry a role player who doesn't contribute on special teams.
Burress also will need the perfect situation, which is what Vick found. For Burress, that likely will mean a strong head coach or offensive coordinator, a veteran team with solid leadership and an offense that suits his abilities.
Learning a new system without the benefit of an offseason also could be a challenge for Burress. Of course, he also will have to get a team to trust him despite a history that includes irresponsible behavior both in and out of the team facility, domestic disturbances, driving problems and gun incidents.
It would be nice to see Burress get his life together as Vick did, and I wish him good luck. He's going to need some.
Things I Didn't Used To Know
*The NFL is finding more and more uses for Ipads. The Ravens are giving players their playbooks on Ipads this year. No more paper. One big benefit is if the Ipad playbook is lost or stolen, or if the player gets cut and disappears with it, the team can remotely erase all the information from the tablet. The Falcons used Ipads during pre-draft interviews. In fact, head coach Mike Smith was carrying one around. The team has a program that has a checklist of questions for each player. After all the questions are answered, the program compiles everything in a profile in paragraph form. And now a product is coming out that allows Ipads to download video. Every scout in the league is going to want one.
*We knew it there were a lot of gifted defensive linemen in the draft. But the fact that 11 of them (if you consider Ryan Kerrigan a defensive lineman) went in the first round might be attributable to another reason as well. One coach tells me his team was focused on down linemen in the first because they were anticipating no offseason practices, and defensive linemen have the least amount of learning of any position. In this crazy year, defensive linemen have the best chance of making impacts as rookies.
*At first glance, Greg Little might seem like a similar player to the receivers the Browns already have. But the Browns don't see the second round pick as more of the same. They see him as bigger, stronger and more capable of taking a hit and getting yards after the catch than any receiver on their roster. Little isn't a blazer, but he does have an element of suddenness in his play that appeals to Browns coaches.
*NFL staffs have chosen a variety of ways to use their extra time this offseason. Many teams have gone over potential free agents and undrafteds repeatedly. An official from one team told me he has reviewed free agents four times. Some teams are trying to improve the way they store, compile and view information digitally. Most coaching staffs are doing a little extra prep work on their early season opponents. The only problem with that? The teams they are game planning for are not yet fully assembled. Bears coaches are running daily clinics, where one coach teaches his position to the others. One team sent a front office man to an Ivy League school to consult with a math professor about conducting more efficient studies.
*Bill Parcells isn't only former NFL coach with strong feelings about the labor war. "It's a power struggle right now," Mike Ditka told me. "There are a lot of egos involved. I'm not necessarily sure it's all about money. It's about power and egos. I think the game of football is better than that. It's been a good living for a lot of people for a lot of years, and it will continue to be that if they handle it properly."
My Sunday Best: Old Wide Receivers
A number of old wide receivers have generated headlines this offseason, and could continue to generate them in the coming months. With that in mind, here, with some help from some pro scouts, are my best wide receivers who will be 32 or older when the season is scheduled to begin.
1. Reggie Wayne. It's hard to believe he is 32. Wayne caught a career high 111 passes in 2010. His big play production was down a bit, but that probably was due more to the fact that he was the only consistent receiving weapon the Colts had. He remains a premier performer and a rarity.
2. Steve Smith. He is destined to be a former Panther soon, but it's not because Smith as lost a lot. He might not be quite as fast as he was, but he still has explosive play making ability, and he plays physically. Smith needs to be paired with a veteran quarterback because he is an undisciplined route runner who sometimes will freelance.
Where will Chad Ochocinco land?
3. Chad Ochocinco. He remains a special athlete with top separation skills. His quickness off the line is exceptional. That's why there may be a trade market for this guy. Ocho has lost a step in straight line speed, however, and doesn't outrun cornerbacks anymore. He also doesn't compete the way he used to. Old Ochocinco does his best to avoid the middle of the field. Don't ask him to block anyone, either.
4. Terrell Owens. He isn't the same kind of all-around receiver he once was. T.O. is now inconsistent in his route running. He doesn't separate well versus man to man, and is best on vertical routes, underneath routes and crossing routes. But at 37, he has been less affected by age than most because he is more reliant on muscle and size than speed. T.O. still can get yards after the catch and make big plays. Some team will sign him as a bargain free agent.
5. Santana Moss. Last year, at the age of 31, Moss had a career high for catches but a career low for yards per catch. He still has some of his excellent short area quicks, but his long speed is not what it was. Because Moss is a smaller receiver at 5-10, the party could end pretty quickly for him.
6. Donald Driver. At 36 he isn't what he was, but he's still a player who most teams would love to have. Driver has too many drops these days and is best as a role player. He can work the slot as well as almost anyone, as he has the quick feet, technique and physicalness to separate and make plays in a crowd.
7. Derrick Mason. He never has been fast, so Mason hides his 37 years well. He knows how to get open with double moves, change of speed, toughness and all the tricks. His craftiness has served him well on the back end of his career. As an underneath route runner/possession player, Mason remains very effective.
8. Hines Ward. Ward may not be as flashy a receiver as he is a dancer these days, but he remains a solid starter going into his 14th season in Pittsburgh. He does not run as well as he used to, and he has a hard time separating. But he is physical and effective in traffic. He also has excellent chemistry with quarterback Ben Roethlisberger. He fits perfectly where he is, but might not look so good on a lot of other teams.
9. Randy Moss. The 34-year old free agent still can blow by soft coverage, but it takes him longer to reach full speed than it used to. He is mostly a vertical player at this stage of his career who isn't very effective on short and medium routes. He no longer gives you much after the catch. He is easily taken out of his game by press coverage.
10. T.J. Houshmandzadeh. The fact that he will be on his third team in as many years tells you something. He has lost a little speed, but never was a speed dependent player. Houshmandzadeh can find open windows in zones and use his strength to make plays. He can be effective as a third receiver who plays the slot. The fact that he has a reputation for being difficult to manage makes him less attractive to potential suitors.
Others include Deion Branch, Brandon Stokley, Brian Finneran and Joey Galloway. Plaxico Burress was not included because he did not play in the NFL last year.
Scout Talk: Buckeye Supplemental Draft Possibilities
The fallout at Ohio State could result in as many as five Buckeyes entering the supplemental draft (assuming there is one). NFL teams still are in the process of evaluating these players, but here is an early look at how each projects as a pro prospect.
Mike Adams – This is a potential starting left tackle in the NFL. Adams has the size, athleticism and quick feet to play the position. He can mirror and he uses his hands well. He isn't a finished product though. Adams needs strength development. Teams also have to check out character concerns. He could go as high as the second round.
Dan Herron – The weigh-in will be big for this running back. National estimates he weighs 213; Blesto estimates he is 195. And Herron is thought to be 5-9. Teams suspect he's too small to be a lead back, but at worst he should be a very good complementary back with the versatility to catch passes out of the backfield. He is a tough, instinctive runner who could go in round four.
DeVier Posey – Where he is drafted depends on what he runs in the 40 yard dash. He does not appear to have "wow" speed on tape, but Posey has enough size and speed and quickness to be intriguing. He can make the difficult catch. He is a little raw as a route runner and technician. He could be chosen as high as the third round.
Terrelle Pryor – He's interesting because a lot of teams, probably the majority, wouldn't touch him, but a small handful of teams might like him a great deal. He has rare size and straight line speed, and a good arm. He is dangerous with the ball in his hands, and makes a lot of plays with his feet. But his accuracy, delivery and decision making all are problems. He has a long way to go as a quarterback. Some think he could be a change of pace quarterback like Kordell Stewart once was. Others are hoping he will work out as a wide receiver. He's a draft wildcard, but a good guess is he goes in the fourth round.
Solomon Thomas -- The defensive end may not be up to NFL standards on and off the field. Looks like he won't be drafted.
One Man Yelp: Play Like You Mean It
No NFL coach is more comfortable in his own skin than Rex Ryan. He is who he is, and he doesn't really care what anybody thinks about it. He'll tell you just about anything you want to know, and that's what he does in the book he wrote with Don Yaeger entitled Play Like You Mean It.
Ryan offers some insight into his current Jets team, but it's the insight into the coach that is most interesting. We learn he is dyslexic and has trouble reading a playbook. Imagine that. And on the other end of the spectrum, we learn he is so confident that when he was in high school he dated a 20-year old Playboy bunny named Roz. In fact, he devotes two full paragraphs to the memory on page 248, complete with his come-on line: "Where are you from, heaven? You look like an angel to me."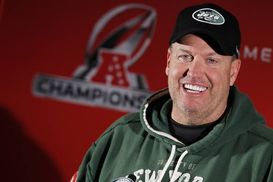 Rex Ryan is almost always entertaining.
He points out his defensive mentality was inherited from his father Buddy. About what his dad did with the Bears of the mid-80s, Ryan writes, "Besides all the brilliant concepts that were developed for the 46, the philosophy of the scheme was basically pure aggression. That was what defensive players want. My dad knew it then. I know it now. My brother Jim put it this way: 'Dad was always tapped into the mind of the defensive player. Defensive players understand the concept of bend-but-don't-break and read-and-react, but it's not what they're about. The whole basis of a defensive football player is to be aggressive and destroy. My dad epitomized that philosophy when he designed the 46 in Chicago."
The NFL would be even more popular if every head coach was as open as Ryan. He writes about how one of the first things he changed when he got to the Jets was the media policy. "When Woody Johnson and Mike Tannenbaum were interviewing me, they asked, 'What's the policy going to be with the media?' I thought, 'What do you mean, 'what is the policy? There is no policy.' Everybody can talk, the players, the coaches, everybody. I don't want people to be scared to say something."
< p> Ryan says he has one media rule. When someone is interviewed, he is required to mention at least two teammates and one coach. Media time is a team-building exercise for the Jets. Outstanding.
He even saw the Jets' participation in the television show Hard Knocks as an opportunity to sell the brand. "I mean, after seeing that on TV, who wouldn't want to be a Jet?" he writes.
Here was in interesting nugget: Ryan won't put up with overly negative players. One of the reasons he cites for cutting linebacker Eric Barton is Barton was always haranguing underachieving Vernon Gholston.
When Rex opens his mouth he rarely is boring. This book is far from boring.
Hot Reads
*I've never had a problem with some seats being exposed. But others should definitely be covered up.
*Brad Biggs unequiovocably states there is no truth to the rumor that NFL owners and NFLPA officials were wearing these during their "top secret" meetings outside of Chicago last week.
*If Seahawks receiver Mike Williams is telling the truth about doing six hours of cardio a day, he will show up at training camp as skinny at this guy.
*Players from the Panthers have a funny way of winning friends and influencing people. I would think they would like to get their message out to the public.
*Thank you, Georgia coach Mark Richt, for making the world a better place.
Dan Pompei covers pro football for the Chicago Tribune. Follow him at twitter@danpompei