January 30, 2011 -
Dan Pompei
NFP Sunday Blitz
If you are Kevin Colbert or Ted Thompson, you have a problem that a lot of other team architects don't. You have to worry about building a team that can play in the elements.
Colbert's Steelers do their business in the blustery AFC North, and their home stadium has probably the worst playing surface in the league. Green Bay, where Thompson sets up shop, might experience the harshest winters of any NFL city.
So their rosters, as well as their philosophies, have to reflect their environments. The Super Bowl participants need big, sturdy, physical players. They need to be able to play smash mouth football.
It was a lesson Ron Wolf learned shortly after becoming general manager of the Packers in 1991. "In that division, you have to build a team that can play in the elements and play outside," Wolf told me. "I didn't realize that right away. My first year there, we took Terrell Buckley in the first round. After seeing what it's like in November and December in Green Bay, I figured out you need to get a bigger person. So we eliminated the smaller stature guys. It helps to get people from the Big Ten and that area that it doesn't affect. You need bigger people."
But being built for a blizzard is not going to help the Packers or Steelers one week from now. They will be playing in Dallas, where the roof will be closed over Cowboys Stadium, the playing surface will be artificial and the temperature will be controlled.
And that's fine with both teams. Because one reason the Packers and Steelers made it to this point is they aren't just built to win one way. The Packers are 9-3 in domes since Mike McCarthy has been their coach and are probably a better indoor team than the Steelers.
Some teams can risk becoming too specialized in how they are put together, and they don't have the versatility to adapt to different conditions. The Saints are an example of a team that was deadly in a dome, but probably would have struggled to win in Green Bay or Pittsburgh late in the year. The Patriots have always been one of the best teams about being able to take advantage of whatever playing conditions they have been faced with.
A great quarterback cuts through any kind of playing condition, and both of the Super Bowl participants have one of those. The Packers were doubted all year because they were somewhat one dimensional on offense with the fifth-ranked passing game and the 24th ranked rushing game. But your chances of succeeding in any kind of condition are enhanced if you can pass it like Aaron Rodgers can.
"People say in order to be successful, you have to be able to run the ball," Wolf said. "When I was in Green Bay, the Lions had Barry Sanders. You can't have a better runner, particularly in the venue he played. But they didn't win diddly squat. I'm not so sure that's the case that you have to run the ball. It's about throwing the ball. That certainly wasn't the case this year with the Packers. They didn't have a runner. They were a one dimensional throwing team, and they were very successful throwing it."
Whether the Packers and Steelers have run it or thrown it, they have found ways to win. That versatility is the mark of a champion.
Things I Didn't Used To Know
*Offensive line coach Mike Munchak is held in high regard by Titans management, and appears to be the early front runner to replace Jeff Fisher. Promoting Munchak at a bargain price would help the wallet of Titans owner Bud Adams, who owes Fisher for the 2011 season and doesn't want to pay two head coaches premium salaries. Munchak's lack of head coaching experience could be offset by retaining former Cardinals head coach David McGinnis as assistant head coach.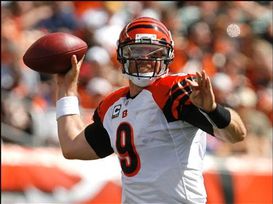 The Bengals' first choice is to keep Carson Palmer right where he is.
*Carson Palmer's dissatisfaction with the Bengals is a one way street. In fact, the team is taking Palmer off the hook for performing below expectations in 2010. People at Paul Brown Stadium tell me they believe the team didn't give Palmer the best chance to succeed last year because of what they surrounded Palmer with. If they keep Palmer—and they want to pacify him and make it work—they will try to rectify the situation by making sure the locker room understands that Palmer is the only leader. They also plan to give him a chance to hit more downfield throws.
*One of the reasons four teams have yet to name their defensive coordinator is the Packers still are playing. After the Super Bowl, expect for Packers assistant head coach Winston Moss to become a hot commodity. He has experience working in both a 3-4 and a 4-3 and could run either scheme. He also did an outstanding job with the Packers' linebackers this year. Moss has been a candidate for head coaching positions before, having interviewed with the Rams and Raiders. He could be pursued by the Eagles, Raiders and Cardinals.
*Former Rams first round pick Chris Long had his best season in 2010, and my peeps with the Rams attribute Long's improvement to his work with strength coach Rock Gullickson. Long improved both his foot quickness and his hand quickness, and it showed in his first step off the snap and his ability to keep blockers' hands off him.
*This is what it is like being an NFL head coach in your first days on the job: 207 texts and messages are left on your cell phone while you are in a four hour meeting with your general manager. You don't have time to eat dinner. You stay up late into the night responding to messages. And you still can't respond to many of the people you want to. True story. It happened to Ron Rivera of the Panthers.
*The Bucs are saying publicly they want middle linebacker Barrett Ruud back. People inside the building at One Buc Place are telling me Ruud played pretty well last year and he brings a lot to the table from a mental standpoint. But none of that means Ruud will be back. The issue is whether or not the Bucs want to pay Ruud like he will want to be paid.
*Don't be surprised if the Bears move right tackle J'Marcus Webb to the left side next season. The rookie has a lot of potential and could develop into a fine player. At this point, he remains a bit raw, however, and needs to improve his technique.
My Sunday Best: Quarterbacks Under 30
Forget Brady, Peyton and Brees. Let's talk about the young guys, like the ones who will be playing in the Super Bowl next week. Here are my best quarterbacks under 30. I only considered quarterbacks who will be younger than 30 when the 2011 season will begin.
1. Aaron Rodgers, Packers. He is the complete package physically, and his intangibles are off the charts. Rodgers already has the highest passer rating in NFL history. In fact, there is nothing he doesn't have--except a Super Bowl ring.
2. Philip Rivers, Chargers. He can sit in the pocket and pick apart a defense as well as any quarterback under 30. Rivers plays with the poise of an older quarterback.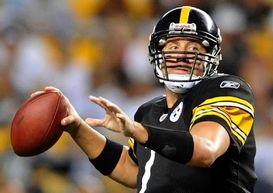 Playing in the Super Bowl is old hat for Big Ben.
3. Ben Roethlisberger, Steelers. It's hard to believe that he is only 28 because Roethlisberger has been a starting quarterback for seven years and he's playing in his third Super Bowl. If winning is the main criteria, then Roethlisberger already is in Tom Brady's class. He is as dangerous outside the pocket as any player in the game. The only drawback with Roethlisber ger is you have to worry about what he'll do off the field.
4. Matt Ryan, Falcons. A lot of people are down on him after his performance in the divisional playoff game against the Packers. But he's only 25 years old. He was awfully good for the previous 16 games, and he's only going to get better.
5. Joe Flacco, Ravens. If his receivers hung onto his passes, his team wouldn't have been knocked out of the playoffs so quickly. Flacco is a work in progress, but he does a lot of things well.
6. Josh Freeman, Bucs. If Freeman could have the kind of year he had throwing to rookie receivers and having inexperience all around him, imagine how good this kid might be once his offense gets rooted.
7. Sam Bradford, Rams. He has a lot to prove still, but his first year was encouraging. Given his abilities and his intangibles, there is no reason to believe Bradford won't become a star.
8. Jay Cutler, Bears. None of these players are more talented. Cutler could really benefit from continuity in the Bears' offense and from better chemistry with his teammates. He is a streaky player who needs more consistency.
9. Mark Sanchez, Jets. Two years, two AFC championship games. That's a winner.
10. Matthew Stafford, Lions. The "china doll" has played in only 13 games in two seasons. But if he ever can stay on the field, Stafford is going to show the world he can spin it.
Scout Talk: Senior Bowl
Here are a few things you might not have heard coming out of Mobile, courtesy of some of the scouting grapevine.
*The reason for so many different opinions on Jake Locker's performance is the quarterback was very inconsistent. You could make a highlight reel of Locker's best plays that would have been very impressive. And you could have made a lowlight reel of Locker's worst plays that probably would result in him being undrafted. If a team is looking for a player with great athleticism and ability and the potential to wow you, they will be able to overlook some of Locker's deficiencies. If a team is looking for a polished performer who gets the job done, it probably won't be interested in the Washington QB.
*A lot of agents would have advised against Texas A&M linebacker Von Miller participating in the Senior Bowl. But they would have missed an opportunity. Miller's dominant performance cemented his status as one of the very best players in the draft at any position.
*Baylor defensive tackle Phil Taylor, who was a transfer from Penn State, answered some questions both on and off the field. Taylor stood out in practices, and he also interviewed well and helped quell concerns about whether or not he was a good kid. Taylor might have moved up a round to the second during his Senior Bowl week.
*Teams are conflicted on Boise State wide receiver Titus Young. He was an absolute star in practices, inspiring one front office man to compare him with DeSean Jackson. But his interviews were a little concerning. He also might have a little DeSean in him as far as his personality goes.
*Arizona linebacker Brooks Reed did a nice job as a defensive end all week, and could be opening up his market to teams that play a four man front. Reed still appeals to 3-4 teams as an outside linebacker, and the plan is for him to do some outside linebacker drills at the combine.
*The Senior Bowl was a great way for North Carolina cornerback Kendric Burney to show scouts what they were missing during his suspension. Burney didn't dominate or anything, but he performed well enough to get back in the mix at the cornerback position.
One Man Yelp
*Whether the meatball in us likes it or not, the game we love is changing, as this story eloquently points out.