December 23, 2012 -
Dan Pompei
NFP Sunday Blitz
So your team has clinched its playoff position but still must play a meaningless regular season game. How should the head coach approach it?
It's a question for which there is no definitive answer. Different teams have had different results with different approaches. Sometimes, approaches might even change from year to year.
Mike Smith of the Falcons will be wrestling with this issue next week, as his team clinched home field throughout the playoff Saturday night. Indications are he plans on resting his key players in the team's regular season finale against the Bucs. Gary Kubiak of the Texans also could be in the same position based on what happens Sunday.
Old school NFL wisdom says rest your starters when possible. Hall of fame coach Marv Levy was a front man for this philosophy when the Bills were on their great run in the late '80s and early '90s. And it worked well for him.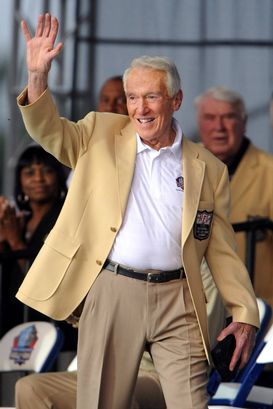 Marv Levy didn't make it to the Hall of Fame by making dumb decisions.
His philosophy was to treat that meaningless regular season game almost like a bye week. "It helps them revitalize, and there is a thought of protecting them from injuries," Levy said. "I like to give them some work, but it varies for each player. It also gives you a chance to look at other players and get them some chances."
Dick Vermeil, who could join Levy in the hall of fame one day, played it similarly during his career with the Eagles, Rams and Chiefs. When his teams had home field clinched, he viewed the last game of the regular season—and the practice week that preceded it--as a time to start preparing for the playoffs.
He thought that gave his teams an edge, but his primary motivator was avoiding a potentially catastrophic injury. "I feel the healthy players you have are the reason you have the opportunity to proceed," he said. "If you get one of them hurt in a game that is not important to win in regard to status in the playoffs, you are hurting the team."
Packers coach Mike McCarthy was of similar mind. At least until last year, that is.
His Packers had wrapped up home field advantage early in 2011, and in the meaningless regular season finale against the Lions he decided to rest Aaron Rodgers, Clay Matthews, Charles Woodson, Greg Jennings, Randall Cobb and others. The Packers surrendered 502 passing yards but won a wild game, 45-41. Then two weeks later they were upset by the Giants 37-20 in their first playoff game.
"I don't think the last game particularly helped the confidence of the defense," McCarthy told me. "That was something we probably didn't want to admit to. We sat some guys and it was a damn seven on seven drill. I've never seen so much offense in my life, both sides of the ball."
McCarthy won't say resting his stars was a mistake. But he also won't say he would do it the same way again. It would depend on the situation.
"To me the best team is a healthy team for the playoffs," he said. "The decision would be based on what you do the last two weeks. That's one of the times I talk with [general manager] Ted [Thompson]. It's good to hear his perspective. He's more cautious by nature than I am. We were a little on the fence—do you play them or not? At the time, I felt us being fresh would have been more important."
Football teams get better by playing games. So the risk of stagnating, or losing momentum, is what drives coaches like Bill Belichick to keep fighting even through meaningless games. Levy said he never felt any of his Bills teams lost momentum by taking their foot off the gas late in the year.
"We happened to have a great group of people and leaders who understood what we were doing and why, and we explained it very well to them," he said.
Resting starters in these situations is always the right decision—until your team gets knocked off in the playoffs.
Things I Didn't Used To Know
*Reggie Wayne has been a huge part of the Colts' offense, but he's also been a huge part of the fabric of the team. Bringing Wayne back last offseason was not a foregone conclusion for the new Colts' regime, but clearly it was one of the team's best moves. Wayne has been a leader for the young Colts, not so much with his words but in terms of how he's stepped up and made plays (especially in the team's upset of the Packers) and in terms of how he has showed others how to prepare and maintain consistency. The Colts' young wide receivers follow him and watch him. In OTAs and training camp, no one outworked Wayne. The Colts felt they could not bring back Peyton Manning, but keeping Wayne was like keeping a piece of Manning.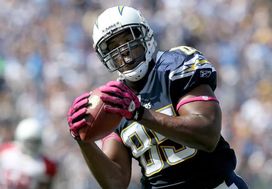 Antonio Gates still can move despite his production dip.
*Antonio Gates is having the most disappointing season of his career from a production standpoint, but the Chargers don't believe it's because the 32-year old is in decline. Gates is averaging a career-low 10.6 yards per catch, and he is on track for 579 receiving yards, which would be his lowest total since his rookie season. His team believes Gates' production dip is more about a dysfunctional offense and the way defenses have concentrated on taking him away. Passes that might have gone to him in the past have gone to wide receiver Danario Alexander and others. They say Gates looks as good physically as he has in a few years.
*The Lions' secondary has been a sore spot ever since Jim Schwarz has been the team's coach, but the reason goes beyond talent. The Lions have had 31 different starting combinations in the defensive backfield in 62 games. Health, or the lack of it, has been a major factor in the Lions' problems. They will be without Jacob Lacey next week. It seems Louis Delmas, the leader of the secondary, has been a question mark every week. He has played is seven games this season and the Lions have a big decision to make about him in the offseason, as his contract is expiring.
My Sunday Best: Executive of the Year Candidates
A number of front office men have done outstanding work this year, but the executive of the year award could come down to the two men who were in on Peyton Manning heading west. Here are my Sunday best candidates for NFL executive of the year.
1. Ryan Grigson, Colts. Drafting Andrew Luck was the easy part. But Grigson completely rebuilt the roster of one of the NFL's worst teams with a shoestring budget. He made additions who stuck that were unrestricted free agents, street free agents, CFL players, Arena League players, United Football League players and Indoor Football League players. He made tough decisions on letting go of long time contributors such as Jeff Saturday, Dallas Clark, Pierre Garcon, Gary Brackett and others. And he brought back the right guys for this team, like Reggie Wayne, Dwight Freeney and Robert Mathis. What's more, he made a fine coaching hire in Chuck Pagano, who made another fine coaching hire in Bruce Arians.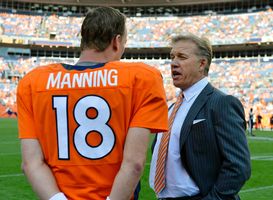 John Elway knew a great quarterback when he saw one.
2. John Elway, Broncos. If drafting Luck was the easy part for Grigson, signing Manning was the easy part for Elway. There was a risk because of Manning's health. But almost every team that needed a quarterback wanted him, which tells you all you need to know. Elway brought in players Manning was familiar with to make him feel comfortable. He bulked up the defense in the draft. He even found a way to get out of the Tim Tebow dilemma with no egg on his face. Elway also consolidated his power, parting ways with former general manager Brian Xanders.
3. John Schneider, Seahawks. He was not responsible for assigning the officials in the Fail Mary game, but he was responsible for drafting Russell Wilson in the third round and pushing him into the starting lineup. That may have been the move of the year. Among his other draftees were middle linebacker Bobby Wagner and defensive end Bruce Irvin, both of whom should make the all rookie team. Schneider gets help from a strong front office that includes Scot McCloughan, Tag Ribary and John Idzik, each of whom could be a candidate for a general manager's position in the offseason.
4. Rick Smith, Texans. He let six starters walk last season, including Mario Williams, because he knew he was prepared for it. Smith's draft and develop plan worked perfectly and has had the Texans looking like the best team in football for much of the season. Smith has drafted so well that he has helped stock a number of teams' rosters in addition to his own.
5. Rick Spielman, Vikings. Getting Matt Kalil and Harrison Smith in one round was outstanding. Both players look like they should be all pros for years. Blair Walsh was another fine pick.
6. Bruce Allen, Redskins. Allen might not get much consideration for this award because Mike Shanahan has more juice in the organization, but the Redskins should get credit. Trading up to acquire RGIII looks like a brilliant move. How about finding Albert Morris in the sixth round? And Kirk Cousins wasn't a bad pick either. Allen also won the George Young NFL executive of the year award in 2002 when he was with the Raiders.
Hot Reads
*The Packers are willing to pay snow shovelers. Bonuses are in play for anyone who can pass block.
*I thought my wife paid a lot for what she wears until I heard about Dashon Goldson.
*Tell me again why the Jets traded for Tim Tebow, because I'll be damned if either I or Rex Ryan or Tony Sparano can figure it out.
*Cheer up, Eric Dickerson and Jerry Rice. At least your names are being mentioned.
Dan Pompei covers pro football for the Chicago Tribune at chicagotribune.com