May 13, 2012 -
Dan Pompei
NFP Sunday Blitz
After the season ended, the Cleveland Browns knew that in order to get where they wanted to go, they needed better quarterback play. So they looked at every option available to achieve that goal.
Their first conclusion was they needed to help their quarterback better, no matter who it was. They tried to do that by using their most valuable commodity, the third pick in the draft, to select running back Trent Richardson. But they also wanted to make sure they had the best player possible under center.
So this is what the process led them to do.
Step 1: Dream about Peyton Manning. This would have been like Quasimodo dreaming of Esmeralda, however. Manning was looking for a better looking suitor. "We think we are going to be a lot better, but I don't think we were going to be in Peyton's mindset in terms of where he wanted to go," Browns general manager Tom Heckert told me. "He wanted at team that at least was in the playoffs."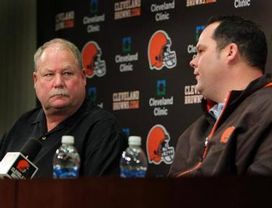 Mike Holmgren and Tom Heckert agreed that Brandon Weeden was their kind of QB.
Step 2: Take a wild swing at Andrew Luck. The Browns actually had the ammunition to trade for the first pick in the draft. Team president Mike Holmgren had a talk with Jim Irsay about it, and Heckert worked the possibility with Colts general manager Ryan Grigson, a former co-worker in Philadelphia. "Grigson is one of my best friends," Heckert said. "I talked to him numerous times about trading up. He told me from day one they weren't going to do anything with the pick. They knew they were taking Luck from the get-go."
Step 3: Try to move up two spots to take Robert Griffin. With the Rams looking to deal down, this was a legitimate possibility. The Rams asked for the Browns' best offer and the Redskins' best offer. Of the initial offers, the Redskins' was superior. When the Browns tried to sweeten their offer, the Rams told them it was too late. The pick, and RGIII, went to the Skins.
Step 4: Study Matt Flynn and other available veterans. There was some appreciation of Flynn in the Browns' front office. But there wasn't more appreciation for Flynn than there was for incumbent Colt McCoy. "To make a move with a veteran guy we didn't think was better than Colt, we weren't going to do that," Heckert said. "Colt is a good player. If we went into the season with Colt, we would have been fine."
Step 5: Consider taking Ryan Tannehill with the fourth pick, or moving down a few spots to do so. The biggest problem the Browns had with taking Tannehill is they liked Richardson more. And they couldn't have them both. "We didn't want to use that early pick on a quarterback," Heckert said. "Trent was the guy we wanted. That made it tough to even think about the Tannehill thing. We didn't spend a whole lot of time talking about him. We liked him as a player but didn't see a way we were going to get him."
Step 6: Compare McCoy to the best quarterback who was available to the Browns in the draft. Heckert didn't say it, but the truth is there was another quarterback the Browns liked better than Tannehill who was available later in the first round—Brandon Weeden. And they liked him better than McCoy, too.
"We spent a lot of time with Weeden at the school and here," Heckert said. "The more we watched him and talked to him, the more we thought he could come in here and be our guy. He tells you about the age being a positive and being mature, and it's the truth. You sit down and talk with him, he's been through a lot of stuff. He knows the deal. He's very confident."
So the Browns decided they could live with McCoy, but they liked Moore better. "They are complete opposites as quarterbacks," Heckert said. "Colt is a smaller guy but a really good athlete. He doesn't have a huge arm. Brandon is a bigger guy with a strong arm who is not near the athlete Colt is. They both are super intelligent. The intangible stuff they are very similar. They both are super workers, they both won a ton of games. The size, athletic ability, arm strength are drastically different."
So the Browns had to figure out when to take Weeden. At 22, their first inclination was to draft wide receiver Kendall Wright. Then they could have traded up from 37 to get Weeden. Worst case scenario they could have gone with McCoy and given him a new running back and wide receiver. But when Wright went off the board at 20 to the Titans, the Browns were left with an easy decision.
Now, the plan is for Weeden to come to camp as the first string quarterback, with McCoy as the No. 2. They will not rule out the possibility of McCoy beating him out. Heckert said the team has not tried to actively trade McCoy, but they would listen if someone came knocking.
If there is one thing the Browns have learned in the quarterback evaluation process, it's that it helps to be open minded.
Things I Didn't Used To Know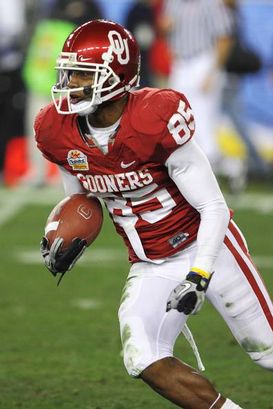 ICONRyan Broyles was more of a necessity than a luxury to the Lions' way of thinking.
*It might have made more sense for the Lions to take Ryan Broyles in the second round than a lot of people realized. Given the Lions needs in the back end of their defense, some were shocked when they chose a wide receiver in round two. But my Lions sources tell me the team saw wide receiver as a significant need for the team. Why? They had only three receivers they could count on in Calvin Johnson, Nate Burleson and Titus Young. If the Lions wanted to be like the Packers and other teams with high powered offenses, they needed a fourth to go four wides. What's more, the Lions top three receivers stayed healthy last year. If one of them went down, the offense would be in trouble without a fourth like Broyles. The Lions also believe Broyles is a perfect fit for their system, and they don't need to rush him back from his ACL injury if he is not completely healed in camp.
*A decent chance exists that Seahawks' 2011 first round pick James Carpenter will not play in 2012 because his knee was torn up so severely last season. The Seahawks have protected themselves at the right tackle position by re-signing Breno Giacomini and Paul McQuistan and adding free agent Frank Omiyale. Carpenter has had a hard time mentally with the recovery process, but had a recent spurt in which he made some good progress.
*One of the reasons the Bills were sold on Vince Young is they took the unusual step of putting him on the board for a couple of hours when he visited their facility. It is common for teams to talk schemes with rookies, but less common for them to do it with veterans. Given Young's history, it was a smart move by Chan Gailey. And Young's knowledge was sufficient enough for the Bills to take a chance on him.
*Chris Polian is getting back in the NFL at a grass roots level. After becoming more of an administrator with the Colts in recent years, Polian will be hitting the road in his new role as western regional scout for the Falcons. He'll also be handling some special projects. Good thing for Polian and the Falcons—he still is being paid by Indy for the next two years.
*The Vikings are serious about rookie Robert Blanton playing strong safety—so serious that he could be the favorite to start opposite former Notre Dame teammate Harrison Smith. Blanton played cornerback in college, but the coaches liked what they saw of Blanton at safety in their recent rookie camp. In fact, he looked as good at the position as his veteran competitors, Jamarca Sanford and Mistral Raymond. Coaches like that Blanton is smart and has a good feel, and can cover tight ends. They want to see him improve his strength.
My Sunday Best: Candidates for Turnaround Seasons
Last season six teams made the playoffs that had not made the playoffs the previous year. That's pretty typical. Some of those teams will fade in 2012, and here will be Cinderella stories again. These are my best candidates to have turnaround seasons.
Bills—They finished 6-10 one season ago but should be considerably improved in Chan Gailey's third season in charge. The Bills signed the best player in free agency at any position in defensive end Mario Williams, and also drafted an outstanding cornerback in Stephon Gilmore. The Bills last year fell apart after a 5-2 start, losing eight of their last nine games in part because they lost five starters to injured reserve.
Bears. This team was positioned to be a Super Bowl contender in November. The Bears were 7-3 with an arrow pointing up when they were wiped out by injuries to Jay Cutler, Matt Forte and Johnny Knox. The addition of Brandon Marshall should give the offense a little more juice and make the Bears one of the NFL's better teams in 2012.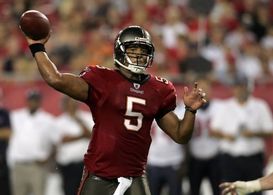 IconJosh Freeman shouldn't throw 22 picks again.
Bucs. Forget for a minute that the Bucs won the free agency Super Bowl, which always is overrated. Even if the Bucs had not added Vincent Jackson, Carl Nicks, Eric Wright and other free agents, they still would be better. They arguably were the most disappointing team of 2011, going from 10-6 to 4-12 and experiencing a complete defensive collapse. The Bucs started out 4-2 but didn't win again. Josh Freeman threw 22 picks after throwing six the year before. This team is not as bad as it played. The Bucs also loaded up in the draft with Mark Barron, Doug Martin and Lavonte David, who all could start. The X-factor will be new head coach Greg Schiano.
Chiefs. This team won three fewer games than it did in 2010 mostly because of some devastating injuries (Matt Cassel, Jamaal Charles, Tony Moeaki and Eric Berry). The Chiefs had a quiet but effective offseason, adding Stanford Routt, Eric Winston, Peyton Hillis and Dontari Poe, among others. New coach Romeo Crennel will enjoy the benefits of playing an easier schedule than the Chiefs played one year ago.
Panthers. They won six games in Ron Rivera's first year and could win quite a few more in his second. Cam Newton should take his game up a notch in his sophomore year. And the Panthers defense should be significantly improved after giving up more yards than any defense in the NFL. Losing Jon Beason, Thomas Davis and Ron Edwards were blows the Panthers defense could not recover from.
Rams. Jeff Fisher teams almost always are competitive. It will help if the first year head coach does not lose Sam Bradford for six games, as the Rams did last year. The Rams also have added a ton of talent, including Scott Wells, Cortland Finnegan, Michael Brockers, Brian Quick, Janoris Jenkins, Trumaine Johnson and Isaiah Pead. The Rams have a long way to go, and It may take some time for everything to come together. But Fisher knows how to put his teams in position to win games.
Seahawks. Pete Carroll is entering must win territory in his third season, and he might be able to get a couple more wins out of his team with Matt Flynn at quarterback. The Seahawks never could get any sustained rhythm on offense in 2011. Perhaps they can with Flynn and a healthy Sidney Rice.
One Man Yelp: Marvel's The Avengers
While a concussion controversy envelops the NFL, a movie dominates the box office in which blows to the head bring good men back to their senses. There may be something wrong about that, but there was a lot that was right about Marvel's The Avengers.
The movie borrows heavily from previous movies involving the heroes, as well as the comic books. It's a good foundation to build on, and the characters are developed further.
Tony Blake/Ironman steals most of the thunder as the rogue who walks an impossible line between self centered egotist and savior of humanity. Captain America is the virtuous, old fashioned, square-jawed hero who reminds the others what they are supposed to act like. Mighty Thor is drawn into the mix because of his rivalry with his evil brother Loki.
The Hulk character was confusing. When Bruce Banner initially transforms, he has no control of his rage, and he turns it against his own co-heroes. But when the Avengers are at war, he is able to focus his anger in the right places. Convenient, but ridiculous.
The movie lasts nearly 2