June 10, 2012 -
Dan Pompei
NFP Sunday Blitz
One year ago, 19 out of 20 coaches might have told you the preferred way to develop a rookie quarterback would be to let him sit and learn and acclimate slowly. Then along came Cam Newton and Andy Dalton, throwing conventional wisdom a wicked curveball.
The success the quarterbacks experienced as rookies has caused many to reevaluate the traditional way of thinking. You know Andrew Luck will be taking every snap from the start of camp. Robert Griffin III was named the starter in Washington before he had his first practice with Redskins veterans. And the Dolphins and Browns will be pushing Ryan Tannehill and Brandon Weeden on the field as soon as possible.
"Carolina and [the Bengals] proved last year a guy can come right in and play, especially if you draft a guy like Andrew Luck who is a very bright guy and can handle a lot of the mental things a defense will throw at him, and he is a very accurate quarterback," said Cincinnati offensive coordinator Jay Gruden, who gets the credit for Dalton's development. "Luck will be able to handle it. He'll be fine. He ran Jim Harbaugh's offense for three years at Stanford and they are very sophisticated. He's already mentally ahead of the game when he gets to camp."
The Colts have confidence in Luck to be able to play quickly. "We think he's a great talent, he's extremely smart and he has all the intangibles you are looking for," Indy general manager Ryan Grigson gtold me. "But you don't know until the bullets start flying and you are playing against a team with a different color jersey. Our expectations are that Andrew is going to do great for us. We're going to try our best to protect him, help him reach his ceiling at the position."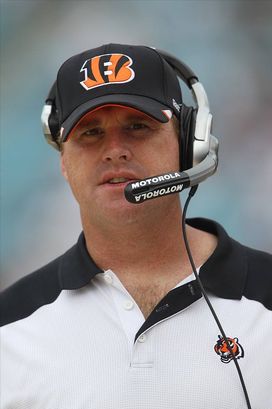 Jay Gruden knows how to develop a young quarterback.
It still takes the right set of circumstances for a quarterback to play and produce as a rookie, however. "It depends on the quarterback, how much he can handle, what kind of offense he came from in college, what type of player he is," Gruden said. "You can't just take the physical tools. You have to look at what kind of mental stamina he has, his mental toughness, how much volume he can handle, and what you are going to do with him. Some guys are better off sitting a year or two, maybe three. Others are okay to play right away.
"Ideally if you had an older veteran in place who is a good quarterback and you could let your guy develop and watch him, fine. But if your best player is a rookie, you better get him ready. I'd rather play with a rookie quarterback and let him take a few bumps than play with a veteran guy and lose. You don't learn a lot from sitting to be honest with you in my opinion"
Grigson believes the most important factor is the young quarterback's knowledge of the offense. Luck will be more compromised than most because he missed OTAs as a result of Stanford still being in class. But he still has plenty of time to learn in training camp and preseason, and it's likely he will be given every opportunity.
"You aren't going to get better unless you play," Grigson said. "You can take all the mental reps you want, it's hard to progress or even gauge your growth as a quarterback without play time."
It's about more than the quarterback. It's also about the circumstances around him.
"The question is, is the team ready for a young quarterback?" Packers coach Mike McCarthy told me. "Can a team handle it or not? That's the question you have to ask. At the end of the day it's about giving the team a chance to win, and not at the expense of fully developing a quarterback. He's got to have some level of success. How can he grow with no success?
McCarthy had Aaron Rodgers wait three years before becoming a starter, and most people think Rodgers is a better player because of it. But McCarthy points out the Packers were set up for a young quarterback to succeed when Rodgers was drafted in 2005. "I could have seen him playing early and being successful," he said.
McCarthy, who was in San Francisco when the 49ers drafted Alex Smith out of a spread system in Utah, also said, "I'm not saying I'm the greatest quarterback coach ever, but I don't know if we could have coached Alex Smith from a preparation standpoint just to get a guy ready for first minicamp, training camp. A lot goes into that. I take my hat off to what coaches did with Dalton and Newton."
It is critical to the rookie quarterback that the offensive coordinator cater to him. You can't just take an inexperienced quarterback and plug and play him. It doesn't work that way. At least it doesn't work well.
The Colts are fortunate to have Bruce Arians as their offensive coordinator. He was the quarterbacks coach for them when Peyton Manning was a rookie, and he also was on the Steelers staff as a receivers coach when Ben Roethlisberger had his outstanding rookie season.
McCarthy points out the Panthers last year were aggressive with shifts, motions and formations. That helped take some of the pressure off Newton. They also had a solid running game with an effective offensive line, a fine two-tight end package and a Pro Bowl receiver.
Reducing the volume, or at least keeping it at a level the quarterback can handle, also is important according to Gruden. "Carolina did an unbelievable job," he said. "They implemented a lot of standard passes down the field which Cam could handle. They also did some things Cam could excel at, getting him outside, doing a little bit of the zone read stuff, letting him run the ball. They did a great job of catering to his strengths. We tried to do the same thing with Andy. It worked out great for both of us."
The beauty of the Bengals' situation is they have an experienced quarterback heading into this season. Dalton is experienced at this stage in part because the Bengals forced the issue.
"I think where guys get in trouble is if you have a guy that you drafted and you are giving another guy all the reps," Gruden said. "Now you are in week five and he hasn't gotten the reps but the other guy isn't doing well. Last year Andy took every rep from day one in training camp, so he was ready preseason. He took all the practice reps, not just throwing pat and go, not just routes versus air, but all the team reps, all the blitz reps, all the seven on seven reps. We were able to get him ready."
And provide a model for the Colts, Redskins, Dolphins and Browns.
Things I Didn't Used To Know
*Former Eagles and Bills front office boss Tom Modrak is back in the game as director of Blesto. Modrak, long known for his keen eye and sharp opinions, will help take the scouting service to another level. Also considered for the job were Charles Bailey, Mike Butler and Bill Kuharich, each of whom would have been a fine hire.
*This is the first time Michael Vick has had an offseason as the Eagles starting quarterback, and he is determined to take advantage of it. Vick, according to those who know, has been first in, last out at the NovaCare Complex. After accounting for 18 turnovers in 13 games and enduring a disappointing season, Vick wants to make sure he is in prime physical shape and in prime mental shape and is working hard on both fronts.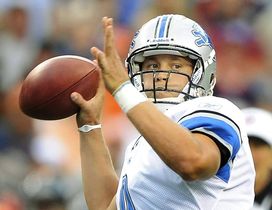 The more Matthew Stafford knows his receivers, the better he wi ll be.
*The Lions believe Matthew Stafford will improve as he becomes more familiar with the offensive weapons they have provided for him. Stafford and Calvin Johnson already have an outstanding feel for one another. But Stafford's coaches believe he is capable of improving his chemistry with other people he throws to, most notably Nate Burleson, Titus Young, Brandon Pettigrewand Tony Scheffler. The goal is to put Stafford in a position like Peyton Manning was in Indianapolis when he benefitted from long on-field relationships with Marvin Harrison, Reggie Wayne and Dallas Clark.
*Browns coaches really like what they see from Greg Little and think the second year wide receiver is going to step up. In fact, their enthusiasm for Little has something to do with why they did not make a big move at the position in the offseason. The Browns believe Little can clean up his drops because he dropped a lot of easy passes last year. His hands did not appear to be the problem; rather, concentration was.
*People who know Chris Johnson are expecting him to have a big bounce-back season because he has rededicated himself. Johnson has worked out hard this offseason and spent a lot of time around the Titans facility. Last offseason, between his contract situation and the lockout, Johnson took it easy. He wasn't in top shape when he reported, and it showed in how he played.
My Sunday Best: Rookie Quarterbacks
Here is an interesting trend. Five of my top ten best rookie quarterbacks of the Super Bowl era—a span of 46 years--have come from the last four years. Lesson: rookies can pick it up now more quickly than ever. Here are my best rookie QBs of the Super Bowl era. Any arguments?
1. Dan Marino, 1983 Dolphins. With only nine starts (he won seven of them), he led AFC in passing yards and had a 96 passer rating. Marino made the first of his nine Pro Bowls as a rookie.
2. Ben Roethlisberger 2004 Steelers. He doesn't get a lot of credit for this season because the Steelers were built around their running game and their defense. But Roethlisberger did what he had to do very well, completing 66.4 percent of his passes. His 98.1 passer rating was a rookie record at the time. The Steelers were 13-0 with Roethlisberger as a starter.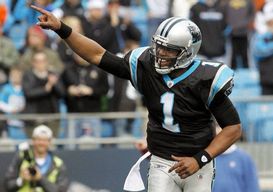 Cam had it going in his rookie year.
3. Cam Newton, 2011 Panthers. He played like the No. 1 pick in the draft is supposed to—and then some. No rookie quarterback ever has accounted for more yards. Newton set one record with 4,051 passing yards, and another with 706 rushing yards. He also had a rookie record 35 touchdowns—21 passing, 14 rushing.
4. Matt Ryan, 2008 Falcons. His first pass was a 62-yard touchdown strike to Michael Jenkins, and it served notice Ryan was ready and able. He finished the season with an 87.7 passer rating and was voted offensive rookie of the year. The Falcons were 4-12 before him and finished 11-5 with him.
5. Andy Dalton, 2011 Bengals. It was supposed to be a rebuilding year in Cincinnati but somebody forgot to tell Dalton. He went 9-7 after the Bengals had gone 4-12 the year before. He came in after the lockout and played like he had been in Jay Gruden's offense for years. Dalton threw 20 touchdowns to 13 interceptions and went to the Pro Bowl.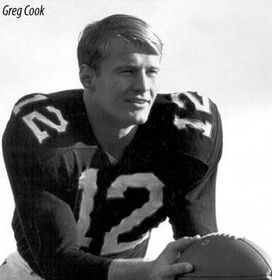 It's easy to overlook Greg Cook, but he had a great NFL debut.
6. Greg Cook, 1969 Bengals. It's easy to forget him because he only threw three passes after his rookie season. But Bill Walsh thought Cook could have been one of the all-time great had he not torn up his shoulder in his rookie year. Cook had a passer rating of 88.3 that year, and averaged 9.41 yards per attempt.
7. Jim Kelly, 1986 Bills. He had the advantage of playing two seasons in the UFL before starting his rookie NFL season. And Kelly clearly was ready. He didn't win much as a rookie, but Kelly did his part. He had a passer rating of 83.3 and completed nearly 60 percent of his passes.
8. Joe Flacco, 2008 Ravens. His rookie season was a little like Roethlisberger's. On a team that wasn't overly dependent on the quarterback, Flacco performed well. The Ravens went 11-5 and made it to the AFC Championship game.
9. Sam Bradford, 2010 Rams. He helped get the Rams from last place to first. Bradford threw for 3512 yards and completed 60 percent of passes.
10. Marc Bulger, 2002 Rams. He only started seven games, but he won six of them and had a passer rating of 101.5. Plus he completed 64.5 percent of his passes and averaged 8.5 yards per attempt. He was the perfect plug-in quarterback to replaced injured Kurt Warner in the Greatest Show on Turf offense.
One Man Yelp: That's Why I'm Here
Chris Spielman was one of my favorite players because of the way he always seemed to approach the game with exactly the right attitude. He approached his wife Stefanie's battle with breast cancer with just the right attitude too, and he writes about the experience in That's Why I'm Here: The Chris and Stefanie Spielman Story.
"I've had two great loves in my life," he writes. "One was my love for my wife, Stefanie. The other was my passion for my football career," he writes in his introduction. "But, my love for Stef vastly trumped the other."
Spielman tells some good stories about his playing days, but this is not your typical football book. It's heavy stuff. Some of it is difficult to read. He takes the reader through an 11-year fight with a disease that ultimately claims his wife's life. He holds little back, even telling of how he lifted Stefanie's body onto the crematorium machine and pushed the button.
But ultimately this a powerful, uplifting story about how a family's faith and love sees them through illness and death. Throughout the book Spielman quotes scripture and shows how the verses had real life applications.
Spielman's motivation to go public with his intimate story was to help others in similar situations. It wasn't the type of information he normally would have been comfortable sharing.
In the epilogue, he writes that he promised Stefanie shortly before she died that he will carry on the fight against breast cancer "with every fiber of my being." He told her, "As long as I have a breath, I will never stop. I promise you that." As of October 2011, the family had helped raise $9.1 million for breast cancer research, and Ohio State renamed its breast cancer center in Stefanie's honor.
Hot Reads
*I can't believe Roger Goodell would risk having scab officials ruin games.