October 20, 2013 -
Dan Pompei
NFP Sunday Blitz
In preparation for Sunday afternoon's game at Tennessee, the San Francisco 49ers got four players – wide receiver Mario Manningham, cornerback Eric Wright, and rookie defensive linemen Tank Carradine and Quinton Dial – back on the practice field last week. Standout wide receiver Michael Crabtree, who caught 85 passes a year ago, might return to practice in a few more weeks.
There have been reports that Seattle wide receiver Percy Harvin, arguably the club's most notable offseason addition, could start workouts next week. Ditto New Orleans inside linebacker Jonathan Vilma, who probably will be cleared for work after this week's bye. Kansas City rookie defensive back Sanders Commings, expected to give the Chiefs another solid secondary piece, returned to practice last week. Denver starting center J.D. Walton, who hasn't appeared in a game yet for the undefeated and high-scoring Broncos after follow-up ankle surgery, is said to be getting closer to coming back to the team. There is a good chance that New England tailback Shane Vereen might be ready to strap on the pads in a couple weeks.
So, the NFL's equivalent of an in-house/in-season "care package" for the not-so-needy, right? Well, sort of. But there are also some franchises with poorer records, too, ready to bring back injured players from some of the league's various reserve lists, now that the sixth week of the 2013 season has passed.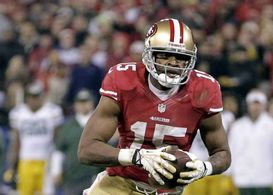 The eventual return of Michael Crabtree should provide a big boost to the San Francisco offense.
With the sixth week of play in the history books, players from several of those lists – those on the physically unable to perform (PUP) and non-football injury (NFI) lists, and some of those who were placed on short-term injured reserve (designated for return later in the season) – are eligible to start practicing, and some have. They will be joined by others in the next few weeks and months. For some teams, it will mean a timely infusion of players with presumably fresh legs at a juncture of the season when there are historically fewer ambulatory bodies. So the passing of the sixth week of play last weekend held some real significance.
"They've still got to demonstrate that they're ready to be back among the 53 (active players) . . . but it certainly could be a bonus," acknowledged San Francisco coach Jim Harbaugh of the potential returnees.
It hasn't been that often in recent seasons that players who began the year on the PUP or NFI rolls have returned to dramatically enhance a team's fortunes. The 2012 campaign was the first for the short-term I.R. list, a new rule that allowed a team to designate one seriously injured player for return to practice following a six-week hiatus, and to play in games after eight weeks of being idle. In its initial season, the short-term injured reserve rule didn't really generate a lot of big-time late-season contributors. But there are 21 clubs (the latest Minnesota, which on Friday moved safety Harrison Smith to the designated-for-return list) that utilized the short-term designation in 2013 and some of them could gain significant relief and a late-season boost from players coming back from time off to heal.
The eligibility for return depends, of course, on when a player was originally placed on the short-term I.R. list. But half of the short-term designees, who were on the designated-for-return list in the first week of 2013, were eligible to get back to the practice field last week. And a few of them – like the Chiefs' Commings, Cleveland guard Jason Pinkston, tailback Andre Brown of the New York Giants, Tampa Bay cornerback Danny Gorrer and running back Montell Owens of Detroit – began to practice at the earliest possible date.
"I definitely think I can step in and help this team," said Commings, a fifth-round choice from the University of Georgia who has been recovering from a broken collarbone, and for whom Kansas City coaches seem to have plans in defensive "sub" situations. "I'm anxious to get going."
In addition to the 20 players on short-term injured reserve, there are 22 players on the PUP list and about another 15 on NFI. Those players, who had to be placed on the lists by the start of the season, were eligible to begin practicing after the sixth week of the year was completed. Once they begin practicing again, the clock starts running on a three-week window to add them to the active roster, sit them for the remainder of the season, or release them. The PUP list includes some significant players such as Manningham, Harvin and Crabtree; fellow wide receiver Kevin Walter (Tennessee); Walton; Carolina running back Jonathan Stewart; Washington defensive lineman Adam Carriker; and linebackers Jameel McClain of Baltimore, San Diego's Melvin Ingram and Victor Butler of the Saints.
Some of the players, including a few listed above, won't make it back at any point in 2013. But the possibility of being able to practice and potentially play again is a tempting carrot to dangle. One player for whom the opportunity is particularly appealing is Pittsburgh linebacker Sean Spence, a third-round choice in 2012 whose entire rookie season was wiped out by a gruesome left knee injury, and who some suggested would never play in the league as a result. The former University of Miami standout still might not make it back on the field for a game this season, but the Steelers now have three weeks to evaluate him with an eye toward his future.
Another is Green Bay tackle Derek Sherrod, who hasn't played since 2011 because of a grotesque broken leg suffered his rookie season. The former first-rounder began practicing last week and, while there is no guarantee he will return from the PUP list, he allowed there is "no gimpiness" left in his repaired leg. A Sherrod return would be a huge bonus for the Packers, who are starting a pair of young tackles.
The trade deadline arrives in just over a week, on Oct. 29, and so there remains time to make a swap. But the NFL isn't exactly a "deadline deal" league, to say the least, averaging fewer than two trades per year at the cutoff date over the past 20 seasons. The majority of the trades haven't been meaningful. So relief generally has to be internal, and this year teams could find some quality reinforcements in their own locker rooms and from the reserve lists.
Maybe more so than in recent seasons there might be some mid- or late-season help for a few teams, courtesy of the reserve lists.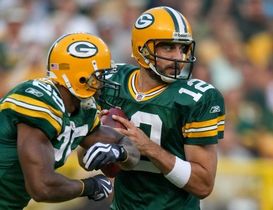 ICONQuarterback Aaron Rodgers looks forward to the possible return of Derek Sherrod.
"Just looking at the (reserve) lists," one AFC general manager told NFP last week, "the rich clearly could get even richer in some cases."
That's for sure.
Imagine if the 49ers, an already strong team but one struggling at wide receiver, get Manningham and Crabtree (both PUP) back on the field in the next month or so. And perhaps the sometimes-troubled Wright (NFI) to possibly supplant a declining Nnamdi Asomugha? Or how about the specter of Harvin (PUP) teaming up with Sidney Rice, as was originally planned before the former's hip problems, for the powerful Seahawks. Coach Pete Carroll allowed that Harvin "looks fast and (is) moving at a good clip," and that the former Minnesota star is "really close." With a receiving corps that might add Harvin to Rice, Golden Tate and Doug Baldwin, the Seattle passing game could really be flying. The Seahawks might also get back Pro Bowl left tackle Russell Okung (I.R.) at some point at about the three-quarter pole of the season, although his return is likely more problematic.
Although hardly the same player he once was, Vilma (short-term I.R.) could bolster a New Orleans defense that has improved significantly under coordinator Rob Ryan. The slumping Atlanta Falcons could use linebacker Sean Weatherspoon (I.R.), the unit's top player and the defensive captain and signal-caller, back for the final two months. And the Green Bay stretch run in the final three games of the year could conceivably include electrifying wide receiver Randall Cobb, who last week was placed on short-term I.R. after sustaining a fibula injury against the Baltimore Ravens. Vereen, who practiced some at wide receiver in training camp, would add another much-needed playmaker to the rollercoaster Patriots' offense.
It's not like the potential returnees are akin to the cavalry riding over the hill, but the prospective charge provided by the players coming off the reserve lists could make a real difference for several franchises this season. Now that the sixth week of the season has passed, it's definitely an element that can't be overlooked.
+AROUND THE LEAGUE
*With the aforementioned Cobb on short-term I.R. and James Jones dinged as well, and Green Bay perilously thin at wide receiver, it seems like an opportune time for the Packers to crank up a running game that has sometimes seemed an afterthought for the high octane Aaron Rodgers-led offense. But the ground game in general, and rookie Eddie Lacy more specifically, has really emerged for the Packers and given the club a timely dimension. The good part for the Pack: It's not as if the awakening of the running game came as a result of the diminishing body count at receiver, but more simultaneously. "It isn't as if we forced it," Rodgers said.
Lacy, it seemed, finally became comfortable with the run-game model and his role and, after going for just 51 yards on 15 attempts his first two games, has carried 23 times in each of his last two, for 219 yards, a healthy 4.8-yard average. The result is that Green Bay, one of just three teams in the league in the top 10 in both rushing and passing yards (and the lone offense in the top five in both categories), has become much better balanced. Rodgers, who had averaged 40.7 pass attempts the first three games of the season, has averaged 31.0 the last two. And young tackles David Bakhtiari (rookie) and Don Barclay (second season), who some suggested might be solid run-block linemen, haven't had as much pressure on them. Lacy has looked like a load and there have been times the past two outings when the former Alabama star has virtually exploded through holes. Several Baltimore defenders remarked after last week's loss to the Packers that Lacy possesses both the power and the surprising short-area quickness to be a very productive back.
*On the subject of another former Crimson Tide tailback: Make no mistake, the Cleveland Browns dealt Trent Richardson to Indianapolis last month for strictly football reasons. The new Browns' football regime simply didn't feel Richardson, the third overall choice in the 2012 draft, fit their model anymore and jumped at the opportunity to grab another first-round pick in a 2014 lottery in which they figure to nab the franchise's quarterback of the future. There were, of course, also some injury concerns for a player at a position whose significance has diminished in the league in recent seasons. But Cleveland and NFL sources told NFP this week that a secondary factor in the decision to trade Richardson to the Colts was a concern that the second-year veteran, they felt, had some outside distractions that the Browns suggested needed addressed.
Nothing sinister, mind you, just a need to perhaps rid himself of some hangers-on and family members who were perhaps a bit too close to him. It's not known if those alleged components have contributed to Richardson's slow start in Indy, but the tailback has been a disappointment so far in his new uniform. Richardson has carried 61 times for only 191 yards in four appearances, an anemic 3.1-yard average. Of his 61 rushes, more than half (32) have been for two yards or less and 23 have netted one yard or less. Even subtracting Richardson's pair of one-yard touchdown runs – on which he couldn't have gained any more than a yard – the numbers are bad. He's got only three rushes for more than 10 yards and his long run is for 16 yards. Not exactly what the Colts thought they were getting in Richardson and, with Ahmad Bradshaw now sidelined for the year by a neck injury, not nearly what they need from him. When the Colts acquired Richardson, we lauded the deal in the "Sunday Blitz." It's not important that we may have been wrong. It's a ton more significant if the Colts were.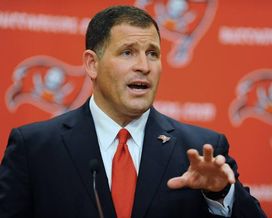 Schiano and the Bucs need a win in the worst possible way.
*It's always a little dicey to begin identifying coaches "on the hot seat" before a season even reaches its halfway point. But one guy whose name keeps popping up as a potential victim at the end of the season is Tampa Bay's Greg Schiano. The history of the NFL isn't exactly replete with head coaches who didn't make it into their third season with a franchise. But in his second year with the Bucs, there continue to be rumblings that Schiano hasn't connected well with his players. He dumped the guy who was supposed to have been the team's franchise quarterback, Josh Freeman (who will start for his new team, Minnesota, on Sunday), although the former first-round pick's regression was startling, and the change may have been justified.
There have been unsubstantiated rumors that Schiano leaked reports of Freeman's attention deficit problems, which has prompted an NFLPA investigation. And recently, Schiano told suffering Tampa Bay fans that the team eventually will be good. No one in the ticket-buying public seems to be buying that, and the players may not have bought into their coach, either. It's hard now to see how Schiano got the job in the first place. In 11 seasons at Rutgers, he was just one game over .500, at 68-67. Granted, the Rutgers job was a difficult one, but he was still 20 games under .500 (at 28-48) in the Big East. And he never won a championship in what might have been the BCS' weakest conference. Tampa Bay officials, including good-guy general manager Mark Dominik (who could also be in some trouble), apparently had opted to go the college route in replacing Raheem Morris. But the Schiano choice never quite rung true with a lot of people and, in hindsight, might not have been a prude nt one. The Bucs wanted to change the culture, but not much has changed at all. Since a surprising 10-6 record in 2010 – clearly a mirage that belied a lack of locker room leadership – Tampa Bay is just 11-26. Only Jacksonville has a worse record in that stretch. Schiano, who is 7-14 in his second season, might end up walking the plank of that crazy pirate ship in the Raymond James Stadium end zone.
*One of the best under-the-radar stories in the league to this point in the season has been the San Diego Chargers, who are only 3-3, but playing with considerable verve, as demonstrated with last Monday night's victory over Indianapolis, and who seem to be much improved under rookie coach Mike McCoy. And one of the best stories surrounding the Bolts is the resurrection of the career of quarterback Philip Rivers, who ought to gain some early consideration for Comeback Player of the Year honors. Odd, but when he had only one guy inside his head, former coach Norv Turner, the 10-year veteran wasn't particularly good the past couple seasons, throwing 35 interceptions and turning the ball over 47 times. Now with McCoy, coordinator (and former head coach) Ken Whisenhunt and onetime NFL quarterback Frank Reich combining to counsel him, Rivers actually seems far less confused.
The message, despite coming in three-pronged fashion, actually seems more resonant with Rivers. The trio has simplified things and, while maintaining Rivers' status as one of the best yards-per-attempt passers in the league – he averaged 7.5 yards or better in five of his previous seven seasons as a starter and is up around the eight-yard mark again – has him making much safer throws. Throwing the ball shorter at times has, in turn, increasingly opened up things downfield for Rivers. Despite the funky delivery with which he entered the NFL, Rivers was always considered a pretty accurate passer; despite vertical emphasis, his completion rate as a starter was 63.7 percent. But it's 72.6 percent this season, and Rivers has the NFL's second best rating, at 108.7. Assessed one AFC personnel man: "He was a guy who everyone thought was sliding, but now he looks completely different, really confident in what he's doing. A lot of people who had written him off would love to have him now."
*Ask most quarterbacks and, if they're candid, they'll concede they'd love to spread the field and throw 40 passes a game. For St. Louis' Sam Bradford, though, less has been more. At least in terms of formations with three and four wide receivers. Bradford has now thrown three touchdown passes in three straight contests – he did so while putting the ball in the air only 16 times last week – and a big part of his recent success has been that Rams' coordinator Brian Schottenheimer has gotten a lot more basic with alignments. Yeah, Bradford still has a sub-par completion rate and St. Louis is still a bit too much dink-and-dunk, as evidenced by Bradford's pedestrian yards per attempt. But the four-year veteran appears to be a lot more relaxed now and the results have been encouraging.
*We'd never suggest in this space – and nobody probably would in any other space, either – that perhaps it's time for Pittsburgh defensive coordinator Dick LeBeau to retire. At age 76, when most guys are in rocking chairs, the Hall of Famer and father of the zone-blitz concept is still going strong, conjuring up 3-4 schemes and looking more vital than a lot of us 15-20 years his junior. It would be heresy to suggest that LeBeau is in his football dotage. It is fair, though, to wonder if the rest of the league has finally caught up to a man whom many consider the best defensive coordinator of this era. And fair to wonder if the defense has become predictable. Of course, it's probably also fair to note that the Steelers' defense has gotten old and slow, too. But the truth is that Pittsburgh, which used to pressure teams mercilessly, and take the ball away, isn't sacking quarterbacks with any kind of regularity these days, and certainly isn't generating takeaways. Last week, in the fifth game of the season, the Steelers finally managed their first takeaways of the year.
It's always difficult to extrapolate takeaways because, as Steelers' free safety Ryan Clark reiterated, they tend to come in bunches. But at its current pace, the Pittsburgh defense would produce just 6.4 takeaways in 2013. The record for a full season is 12, established by Washington in 2006. The Steelers had just 35 takeaways total the past two seasons, well below the league averages, 24.9 last year and 25.3 in '11, and the ramifications for the offense have been disastrous. The Steelers have had 59 possessions in 2013 and, amazingly, only one started in opposition territory. And that was actually after a punt, not a turnover. The average starting point for the Pittsburgh offense has been its own 22.5-yard line, with 34 series starting at the 20-yard line or inside of it.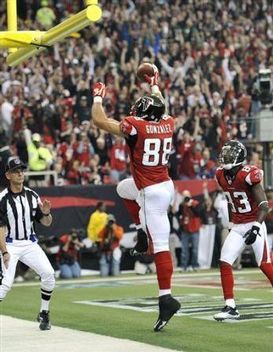 With Jones and White injured, it's up to Tony G to carry the Atlanta passing attack.
*Even before the season-ending foot injury to Julio Jones and a hamstring tweak that exacerbated the situation for Roddy White (who was already playing through a high ankle sprain), the Atlanta Falcons had increasingly turned toward future Hall of Fame tight end Tony Gonzalez as the focus of their passing game. Now with Jones gone and White unlikely to play Sunday, the role for the 17-year veteran figures to be further increased. But how much more can Gonzalez, who at age 37 has beaten back Father Time, really do? In the past two games, Gonzalez has been targeted 28 times and has 22 catches for 246 yards. Not since the final two outings in 2004, when he was in Kansas City, has Gonzalez had more catches in consecutive games. Only twice has he posted more yards in a two-game stretch. The disappointing Falcons are going to have to get some outside help from young and inexperienced wide receivers such as Drew Davis, Kevin Cone and Brian Robiskie (signed off the street last week), and from a running game still missing Steven Jackson. Look for the Falcons to employ a lot more two-tight end formations, with rookie Levine Toilolo (who, at 6-feet-8 has started to become a "red zone" presence) joining Gonzalez. And look for more screen passes to Jacquizz Rodgers and Jason Snelling in an effort to maintain a cleaner pocket for Matt Ryan.
*Latest example of the squeaky wheel being oiled: Atlanta coach Mike Smith complained to the league after his team's loss to New England about the manner in which the Patriots and other teams were defending Gonzalez – not only double-teaming him but holding him up at the line and double-checking him within the five-yard zone, much in the manner teams do with special teams "gunners" – and has gotten favorable results. The Jets were flagged for holding Gonzalez two weeks ago. And the NFL has essentially instructed officials to make it a point of emphasis, not just in cases involving Gonzalez, but all receivers, to penalize the defenders for employing similar tactics.
*Not that it is any consolation to the sputtering Steelers, but the organization's decision to release linebacker James Harrison in the spring, after he rejected a reduction that would have cut his base salary by about 30 percent (to roughly $4.7 million), looks like a good call. Harrison, 35, has basically been a non-factor for Cincinnati, wh ich signed him to a two-year contract that could pay him $3 million for 2013, and one has to wonder if he'll be back next season. A 3-4 linebacker and "edge" rusher for his entire career with the Steelers, there was always a question of whether Harrison could transition to the strongside spot in Mike Zimmer's 4-3 front. The indication so far is that he can't. That's why Harrison languished so long in the free agent market before the Bengals bailed him out with a deal. In six games (four starts), Harrison has only nine tackles and one sack, and definitely has struggled with the scheme. Even in a supposed "down" season with the Steelers in 2012, Harrison still registered 70 tackles and six sacks. It's doubtful he can reach those kinds of numbers for the Bengals. Then again, his replacements in Pittsburgh, Jason Worilds and rookie Jarvis Jones, have one sack between them.
+SHORT YARDAGE
*The opinions run hot and cold on A.J. McCarron, but there are still a lot of scouts who feel the Alabama star is the best senior quarterback in the country. Better even than Clemson's Tajh Boyd in terms of decision-making, some insist. . . . Michael Vick has a real chance of losing his starting job long-term to Nick Foles if the second-year veteran has another good outing against Dallas on Sunday. Vick is fighting through a hamstring injury, but there are some "I told you so's" emanating from the folks in Philly who insisted in the preseason that, despite not being nearly as elusive, Foles could operate coach Chip Kelly's offense. . . . The Atlanta defense has been the league's worst in terms of getting off the field on third down, allowing opponents a 50-percent (33 of 66) conversion rate. But where the unit had really been dismal is in situations of third-and-eight or longer. The Falcons have allowed 10 of 22 conversions in such situations. . . . Cleveland's Joe Haden is gaining some "cred" as one of the top cornerbacks in the league, according to scouts. The Browns still have some offensive limitations, but the defense has made terrific progress and Haden is one of the catalysts. . . . A few weeks ago in this space, we noted that, under new defensive coordinator Rob Ryan, the Saints were blitzing their safeties as much as in the past. But Ryan recently has turned loose free safety Malcolm Jenkins, who has developed into a superb rusher out of the slot, and the veteran has rung up 2.5 sacks now. It's not quite the same as when strong safety Roman Harper had 7.5 sacks a few years ago under Gregg Williams' tutelage, but it's something now for which opponents must increasingly prepare.
+BY THE NUMBERS
*The Cincinnati front four gets plenty of credit for the team's defensive performance of the past few years, and the plaudits are clearly deserved for the stout unit. But the club's secondary has been pretty good, too – perhaps, in part, because of a terrific pass rush -- as evidenced by the fact the Bengals haven't surrendered a 300-yard passing performance in 20 straight games now. Despite facing prolific passers such as Peyton Manning, Eli Manning, Aaron Rodgers, Philip Rivers, Tom Brady, Ben Roethlisberger (three times), Tom Brady, Tony Romo and Jay Cutler, the Bengals have permitted an average of only 212.9 yards to starters in that 20-game stretch. Opponents have passed for fewer than 250 yards nine times and less than 200 yards on six occasions, during the streak, and their cumulative passer rating is just 75.2. The last starter to throw for more than 300 yards versus the Bengals was Cleveland's Brandon Weeden, who totaled 322 yards, on September 16, 2012. Not quite as impressive, but still pretty good, the Bengals have gone 15 straight road games without surrendering a 300-yard outing. On Sunday, they travel to Ford Field in Detroit to face the Lions' Matthew Stafford, who has nine 300-yard games in his past 20 starts.