September 01, 2013 -
Dan Pompei
NFP Sunday Blitz
One game certainly does not a definitive opinion, or a first-rounder for that matter, make. And so, while the initial reviews for South Carolina defensive end and Heisman Trophy candidate Jadeveon Clowney were decidedly mixed following the Gamecocks' opening victory over North Carolina on Thursday night, NFL scouts figure to keep avidly scrambling to games to assess first-hand the player that many feel will be the first guy off the board in the '14 draft.
If there were two disappointing elements to Thursday evening's game, suggested one general manager who watched the college opener on television, it was that North Carolina directed so few plays at the South Carolina star, and that Clowney was obviously in less than optimum condition. The GM noted early Friday morning to NFP that he wants to check on how serious was the stomach virus that Clowney allegedly battled during the week, as late as Wednesday. In fact, the GM, who reminded that he can't discuss underclass players for attribution, planned to phone South Carolina head coach Steve Spurrier, whose postgame remarks indicated that he wasn't overly pleased with Clowney's shape.
"Was it that (illness) or was he just out of shape?" the general manager queried rhetorically. "I mean, he chased some plays at times, but even on TV, you could see he was (winded) too much. Maybe it was the North Carolina (fast-paced) offense at times. It's early, and we'll see (Clowney) a lot of times before it's all said and done, but it's never too early to start asking questions about a guy. I want to know what was going on."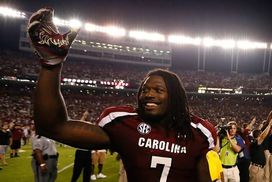 Clowney's performance last Thursday night raised a couple of questions for some NFL scouts.
Perhaps the biggest positive: That Clowney, who could become only the third defensive player in 20 years to be the top pick (joining Mario Williams in 2006 and Courtney Brown in 2000) demonstrated the ability to move around on the line, to align at both end spots and even at nose tackle for a couple snaps, and to totally impact a game plan. "I don't care what people say about the game, he's still so strong and so quick," said UNC left tackle James Hurst, who along with right tackle Jon Heck, had to block Clowney most of the night, and who might be a first-round pick himself. "He's a handful. Maybe two handfuls."
An area scout who attended the game and who was driving back to his home when reached by NFP on Friday, acknowledged that Clowney wasn't as dominating as he had hoped. "But he showed flashes and, when he wasn't 'gassed,' although that was a little disturbing, he ran around the place," the scout said. "It wasn't a great game, no. But what's that saying about how you never get a second chance to make a first impression? That's (manure). There's going to be a lot of eyes on him every week and we'll see how it shakes out. He's still a great player."
With 13 sacks in 2012, and 21 in his two years in college, Clowney probably projects as a right end in the NFL. But he is even stronger than his 275 pounds – stouter against the run that he's often credited with being, and not just an up-field, edge defender – and could flip to the strong side at times or even to tackle in third-down situations, to create more advantageous matchups. Scouts are eager to see those diverse skills.
+AROUND THE LEAGUE
*Not exactly a ringing endorsement, right, from Washington State coach Mike Leach, who was brutally realistic during a national radio interview last week about how former Cougars' starter and undrafted rookie free agent Jeff Tuel might fare if he starts for the injury-ravaged Buffalo Bills in next Sunday's opener against New England? But the ever-candid Leach was fair in citing Tuel's 4-22 record as a starter and certainly in reminding folks about the lack of stability with which he played his college and high school careers.
"He knows the passing game, has played in a system where he had to make good decisions, so I don't think those things will affect him," Leach said later. "But even if he was a (first-round pick), it would be hard going out there in your first game."
Tuel could become the first undrafted rookie to start in a season opener since the common draft was implemented in 1967. By comparison, Russell Wilson, a third-round pick in 2012, was the first rookie quarterback outside of the first two rounds to start an opener since Kyle Orton, a fourth-rounder, opened for the Bears in 2005.
*Suffice it to say that the biggest news of the NFL's past few days, the $765 million settlement of the 4,000-plus concussion-related lawsuits brought against the NFL, is still being viewed with a jaundiced eye by past players in general and the plaintiffs in particular. Most of the players, of course, aren't attorneys and will have to have the details of the settlement explained to them. Several of the affected players were, on Friday, in fact, working to set up conference calls, either with their attorneys or NFLPA officials, to explain to them the legalese of the settlement.
"It will probably take a few days for the dust to settle and everyone to digest what's in there," said former tailback Dorsey Levens. "People can talk about so-called 'winners' and 'losers' in this thing. But there probably aren't any real big winners." According to the settlement, awards to plaintiffs will be capped at about $5 million, but it is very likely that only the most severely affected players, and those able to substantiate football-related head trauma, will get anything even close to that.
As for the NFL, whose tab probably will approximate $1 billion by the time all the legal fees and other ancillaries are included, will pay out the settlement over 20 years – half in the first three years and the other half in the subsequent 17 years. The payments, which will be divided equally among the franchises, essentially amount to about 10 percent of revenues.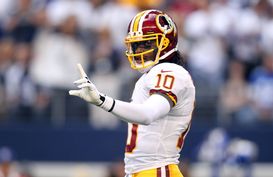 RG3 looks to be all systems go for Washington's Week 1 opener against Philadelphia.
*The cautionary suggestion by renowned orthopedist Dr. James Andrews – the man who repaired the injured knee of Robert Griffin III and who opined late in the week that the Washington Redskins might be prudent to use their star quarterback a bit differently in his second season – likely won't prompt head coach Mike Shanahan or offensive coordinator Kyle Shanahan to start tearing pages from the playbook. But it's notable that, after a few early games in 2012 in which Griffin was subjected to a lot of hits (like in the Sept. 23 matchup with Cincinnati), the Washington coaches did cut back substantially on the number of zone-option plays in the game plan. Within a week or two, in part because of Griffin's prodding, they were added again. But the Redskins were leery, even before RG3's knee injury, that they perhaps need to protect him a bit better.
*Chicago first-year offensive line coach Aaron Kromer might not have the most difficult job in the league, but the 13th year NFL veteran (who also served as the offensive coordinator and was the interim head coach in New Orleans for the first six games last season) has got to rank near the top in terms of assistant coaches who will be confronted by daunting tasks in '13. Of the four offensive line starters from the team's opener last season, all but center Roberto Garza are no longer with the club. With the departures of J'Marcus Webb and Gabe Carimi, the Bears' two tackle starters, Jermon Bushrod and rookie Jordan Mills, are newcomers. The top three tackles weren't even in camp for the full time with the Bears a year ago.
One of the first things new coach Marc Trestman identified as an area that needed to be dramatically addressed was the offensive line. How quickly the remaking takes shape for an offense that a year ago statistically ranked 28th in the league remains to be seen. Bushrod, signed as a free agent and at the recommendation of Kromer, will help. But in Mills and right guard Kyle Long, the club's first-round pick, the Bears will start an all-rookie right side of the unit. Kromer is regarded as one of the top line coaches in the game, but he's got his work cut out for him.
*When four-year veteran Aaron Curry announced his retirement last Wednesday at the age of just 27, only three days after a third team in 22 months (the New York Giants) had given up on him, it reminded for about the zillionth time that the draft is hardly an exact science. After all, as the fourth overall selection in the 2009 draft, the former Wake Forest standout was supposed to have been one of the surest things in that year's lottery, a smart, instinctive, playmaker, and future Pro Bowl defender. It also refueled some discussion about the difficulty some linebackers have making the jump to the NFL.
For every player like Von Miller, Aldon Smith, Patrick Willis, Luke Kuechly, Ryan Kerrigan or Brian Cushing, there are first-rounders such as Rolando McClain or Vernon Gholston or Ernie Sims, guys who wash out despite several attempts with multiple teams. Or others such as Larry English or Jerry Hughes, who