November 17, 2013 -
Dan Pompei
NFP Sunday Blitz
His underwhelming 2013 season aside, South Carolina defensive end Jadeveon Clowney remains the favorite, at least at this point, to be the top overall pick in the 2014 draft, it seems.
"Obviously, a lot's going to depend on who's (the team at) the top of the draft, if they need a quarterback or maybe even a (left) tackle . . . but I think the consensus is that (Clowney) is still the top guy," one AFC general manager, who's team is not in the chase for the No. 1 pick, told NFP. "He might not necessarily be the first one picked, because of circumstances, but he's still the best prospect. Clearly, he hasn't had the season everyone projected, but the feeling about him hasn't really changed."
After that, the general manager said, the "safest guy is probably (Texas A&M tackle Jake) Matthews. He's a 'plug and play guy, not doubt."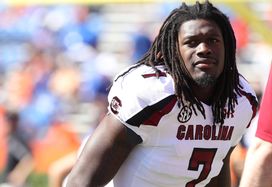 US PRESSWIREWith the world watching, Clowney has recorded just two sacks in 2013.
NFP spoke to seven general managers or personnel directors last week, and five cited Clowney as the top prospect, despite pedestrian statistics (18 tackles, seven tackles for loss, only two sacks) this season. A poll by NFL.com produced similar results on the top prospect.
"He's maybe not as clean a prospect as he was before the season," one executive told NFL.com, "but I still think he's going to be a stud in the NFL."
Personnel officials, of course, are precluded by rule from discussing underclass prospects for attribution. One of the several elements that intrigue scouts about Clowney is that, while he's regarded as a pure 4-3 end, there are teams that feel he can possibly play a "five technique" position at end in a 3-4 front as well.
Unlike a few years ago, when the draft featured an unusually healthy number of "five technique" ends, there seems to be a dearth at the position for 2014. Some of the 3-4 teams are studying college defensive tackles to see if they might be able to project to end in the pros.
+AROUND THE LEAGUE
*The resurgence of the Carolina Panthers, who have won five straight games and garnered newfound respect after last Sunday's victory at San Francisco, points out just how dangerous it is to project coaches on the proverbial "hot seat" at early junctures of the season. When the Panthers opened 1-3, and looked sloppy at the outset of the year, there were quick prognostications that coach Ron Rivera would be in trouble. Some pundits even predicted he might not last through the season. But with the Panthers suddenly in the thick of the playoff chase – the team's schedule, starting with the San Francisco game, is markedly more difficult over the second half of the slate – Rivera is being lauded. He faces a difficult matchup on Monday, of course, facing New England and Bill Belichick, but Rivera has strong support in his own locker room.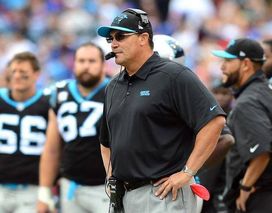 Rivera's Panthers are red hot, having won five straight.
"I think even when things started slow," outspoken wide receiver Steve Smith said, "people in here believed he was the guy to get it turned around. He's a good football man, very steady, really (candid) with us."
Over the past few weeks, the Charlotte media has taken to referring to Rivera as "Riverboat Ron," for the perception he is gambling much more now, but several players to whom NFP spoke last week insist the coach hasn't changed dramatically. Said one veteran lineman: "I keep hearing (stuff) about how he started taking more chances because maybe his job was on the line, but that's not true at all."
*San Francisco coach Jim Harbaugh isn't quite counting the days until wide receiver Michael Crabtree returns from an Achilles injury that has sidelined him for the entire season so far – there's a chance the fifth-year veteran will play at some point this month – but the 49ers believe their disappointing passing game will get a "huge boost," as one coach termed it, from his comeback. Said the coach: "(Crabtree) isn't the burner a lot of guys are, but he's so precise (with his routes) and so smart as a receiver. He gives (Colin Kaepernick) a comfort zone."
Obviously, Kaepernick's struggles have been big news, not just in the Bay Area, but nationally as well after his 2012 performance. But much of the inconsistency has come from the lack of quality at wide receiver, with the injuries to Crabtree and Mario Manningham, the latter of whom only returned last week. Offseason pickup Anquan Boldin, who hasn't been the same receiver since his strong opening-game performance, when he caught 13 passes, simply can't get off coverage anymore, as NFP noted just a few weeks into the season. Outside of Boldin, who has 41 catches, no wide receiver on the current 49ers' roster has more than three receptions (since the team released Kyle Williams, who had a dozen receptions), and Kaepernick doesn't really have a vertical threat beyond tight end Vernon Davis.
Manningham was on the field for 42 of the team's 52 offensive snaps against Carolina last week, and looked rusty at times. Plus, as we've pointed out in the past here, Manningham isn't a speed guy. "They've got to be one of the slowest (wide receiver) groups in the league," one NFC pro scout, who has seen the 49ers in person twice this season, told NFP. The 49ers have caught some private criticism around the league for not addressing the wideout situation when it was obvious neither Crabtree nor Manningham would be available at the start of the regular season.
*Much has been postulated about how teams are better defending against the zone-option quarterbacks that have become prevalent in the league the past few years, and the fact so many defensive coordinators spent time with college staffs in the offseason – gleaning ideas about how to stop the dual-threat quarterbacks – is certainly one reason for the improvement. But one thing that hasn't had to change much is that running quarterbacks tend to get sacked more than pure pocket passers. In fact, of the 10 quarterbacks who have absorbed the most sacks so far in 2013, four are signal-callers who would be considered among the league's most mobile players at the position – Geno Smith, Russell Wilson, Terrelle Pryor and Cam Newton.
The propensity for mobile quarterbacks to take sacks isn't exactly a new one. For most of his career, Michael Vick has taken way too many sacks, and has traditionally ranked among the NFL's worst performers in terms of ratio of sacks per "dropbacks." Last week, after taking a terrible sack in which he was run out of bounds behind the line of scrimmage on a play where he held the ball interminably and should have simply thrown it away, Wilson told NFP: "I think there's probably a little downside (to the mobility) as well. You see it around the league. The guys who can run have a (subconscious) mentality they can get away from anything. You're always thinking, 'I can make a play out of this.' Sometimes you can't."
In the years he had Vick, coach Jim Mora The Younger regularly referred to his quarterback having what he characterized as "athletic arrogance." That's probably a good term for it.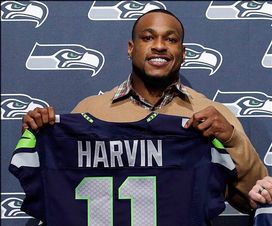 Harvin returns to action Sunday to face his former team in Minnesota.
*San Francisco's division rival, NFC West leader Seattle, figures to get a bump in the passing game when the Seahawks face Minnesota on Sunday, because of the return of Percy Harvin, whose hip surgery has kept him off the field to this point. Harvin has said he is "anxious" to return, but it will be interesting to see how Seattle coaches utilize him in his comeback. A couple Seattle assistants, looking ahead to Harvin's return, told NFP after last week's game in Atlanta that the versatile player may be on a "pitch count" for his comeback until he knocks off some rust. The package of plays designed by offensive coordinator Darrell Bevell might not be quite as extensive as it will be later in the season, or as ambitious as it was when the two were together in Minnesota for two seasons.
"Some of it will be feel," Bevell said. In the absence of Harvin from the lineup, Golden Tate has been the big-play outside threat for the Seahawks, but the fourth-year wide receiver insisted to NFP last week that he'll have "no trouble" abdicating that role. "It's only going to make me better," Tate said. "Defenses can't concentrate on everybody, right?"
*Tennessee third-year defensive tackle Jurrell Casey registered only one tackle in Thursday night's loss to Indianapolis, but the former Southern Cal standout is being noted as one of the NFL's most improved players for 2013. A third-round pick in '11, Casey had 5.5 sacks his first two seasons, but is tied with Dallas' Jason Hatcher for most sacks by an interior lineman (seven). Casey is the rare inside defender who can stay on the field for three downs, and combines strength and explosiveness. "He might not be unique, because (Geno) Atkins (the injured Bengals' star) can do a lot of the same things, but there aren't many like him," Tennessee defensive line coach Tracy Rocker said.
*With some extra work-time because of the Thursday night game, Indianapolis coaches will dig in over the next few days to pore over the club's running attack and particularly the calls for tailback Trent Richardson. Acquired from Cleveland for a first-round pick in the 2014 draft, Richardson has been a disappointment for the Colts, averaging an anemic 2.8 yards per carry, and with a long run of only 16 yards. Donald Brown, who was no great shakes for the Colts in four previous seasons, and had never rushed for more than 645 yards and averaged just 460.0 yards after being a surprise first-round pick in 2009, has been a much better option.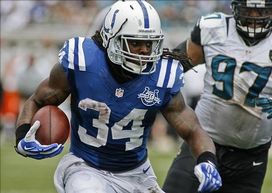 Richardson has been a total bust since landing in Indianapolis.
"We'll break everything down – schemes, calls, situations, you name it – to try to get (Richardson) going," one assistant coach said of the running game. "We have to get (Richardson) untracked." The coach reiterated that the staff was resoundingly in favor of acquiring Richardson and that the genesis for the trade wasn't from owner Jim Irsay, who has been known in the past to take a role in personnel decisions. The one component of Richardson's game that has pleased the Colts has been in his pass protection, which is better than the club anticipated.
*The Kansas City-Denver matchup on Sunday has been dissected from just about every way possible, but here's one unusual angle that hasn't been much discussed. The AFC West matchup will include the punting Colquitt brothers, nine-year veteran Dustin from the Chiefs and Britton of Denver, a five-year veteran. It will mark the seventh head-to-head (foot-to-foot?) meeting of the two and, while the outcome doesn't figure to be decided by the pair, both teams have strong special teams and good punt-return games.
"It's not something you want to overlook in a big game like this," said Dustin Colquitt, one of Kansas City's best unheralded weapons in 2013. "You always want to do your part." Britton Colquitt holds a 4-2 edge in the win-loss column, but his older brother has a statistical advantage in the matchups. In the six previous games, Dustin Colquitt punted 39 times for a gross average of 45.7 yards and a 40.3-yard net average. He's had 19 punts inside the 20-yard line and only five touchbacks. Younger brother Britton has kicked 32 times, with a 43.4 gross average and 37.8-yard net average. A dozen of his punts have been inside the 20, and he's had two touchbacks. The brothers, both of whom played at the University of Tennessee, are the sons of former Pittsburgh punter Craig Colquitt, who won a pair of Super Bowl rings with the Steelers and the nephews of onetime NFL punter Jimmy Colquitt.
*Last week in the "Sunday Blitz," we noted that the league has had a "different" starting quarterback every week since the second weekend of the season, and that quirkiness will continue Sunday, with former undrafted free agent Scott Tolzien slated to start for Green Bay. The Tolzien start will bring to 47 the number of individual starters this season (Josh Freeman has started for two teams, Tampa Bay and Minnesota, but only counts once), which will equal the number for the entire 2012 campaign. The number will rise to 48 when Oakland is forced to go with rookie Matt McGloin in place of the injured Terrelle Pryor. And there are still six weeks left in the 2013 season. Actually, despite the perception, and rumors that the competition committee will consider measures to further protect quarterbacks (bubble wrap, anyone?) in the future, the body count at the position has been reduced a bit. For the 12-season stretch 2000-2011, the average number of "unique" starters was 56.5. There were 62 as recently as 2010, and 56 in 2011. The 47 starters last year was the lowest number since the millennium and, while this season could top that, it's not expected to reach the 56 level of '11.
+SHORT YARDAGE
*If Atlanta tight end Tony Gonzalez is unable to play Sunday at Tampa Bay because of a toe injury, he'll be replaced by youngsters Levine Toilolo and Chase Coffman. The two have 12 career receptions between them. During his 17-year career, Gonzalez has three individual games of 12 or more catches. . . . There was no immediate word Saturday about the status of Atlanta reserve tailback Jason Snelling for Sunday's game. Snelling was arrested early Friday for alleged marijuana possession. The versatile back, who plays fullback at times, is a key part of an Atlanta offense that has mostly sputtered on the ground this season. . . . Talk about the third tine being a charm: The leading rookie sacker in the NFL going into this weekend's game isn't any of the "edge" performers chosen in the draft to provide an outside pass rush for teams. Instead, it's New England tackle Chris Jones, who is with his third team. The former Bowling Green standout was a sixth-round pick of Houston in April, but was rele ased by the Texans. He was claimed by the Bucs and then waived again within 10 days. Jones has been a godsend inside for the Pats, with injuries to Vince Wilfork and Tommy Kelly. . . . Another terrific pickup of a rookie who was cut in the summer was Kansas City's addition of cornerback Marcus Cooper, who was jettisoned by San Francisco after having been a seventh-round choice. The former Rutgers star has been outstanding as the Chiefs' No. 3 corner, with 14 passes defensed and two interceptions. Given the problems the Niners have had with "sub" corners, releasing Cooper sure looks like a big mistake now. . . . The performance by Clemson wide receiver Sammy Watkins on Thursday night against Georgia Tech (five catches, 104 yards, two touchdowns) reminded again that most of the top wideout prospects in the 2014 lottery are underclassmen. At this point in the evaluation process, the top five or six receiver prospects are all underclass guys. Then again, that's been the case of late. In the past five drafts, all but four of the 18 wide receivers chosen in the first round were underclass prospects. . . . Seattle wide receiver Doug Baldwin, a former Stanford teammate of Jonathan Martin, and a guy who has exchanged text messages with the Miami offensive tackle, to NFP on the ugly situation: "What hurts me is that there are people who are degrading Jonathan, as if he did something wrong. The whole 'breaking the code' stuff, or stuff about him being soft, is bull. He's no crybaby, so it must have been (a) bad (situation)." . . . Chiefs' quarterback Alex Smith has lost only eight of his past 30 starts, and hasn't dropped a start in over 13 months now. . . . In terms of fumbles lost this season, the top 21 offenders are all quarterbacks. All but one of the top 25 players in fumbles lost are quarterbacks, and St. Louis rookie first-round wide receiver Tavon Austin (with four) is the only non-quarterback to lose more than three fumbles. . . . With Thursday night's start by Ryan Fitzpatrick of Tennessee, the Colts had faced three straight backup quarterbacks and were 2-1 in those contests. Indianapolis had earlier matchups against Case Keenum (Houston) and Kellen Clemens (St. Louis). Barring injury to Arizona's Carson Palmer, the streak will end next Sunday, although the Colts will see Fitzpatrick again on Dec. 1. . . . People who have watched video of Andy Dalton over the past few weeks agree the Cincinnati quarterback has regressed in his decision making. There has not been a breakdown in mechanics, they say, but Dalton seems more hesitant in the pocket. The numbers – six interceptions and two sacks the past two weeks – seem to back that up. . . . One big reason for the record scoring pace in 2013 is that teams are averaging 130.5 offensive snaps per game, also on pace for an NFL record. The pace can't all be blamed, either, on Philadelphia rookie coach Chip Kelly. There are 13 clubs that are averaging more snaps than the Eagles (65.7 per game), and five have averaged 70-plus offensive plays. The best, not surprising, is Denver, at 71.2 snaps. . . . Texans coach Gary Kubiak, who returns to the sideline Sunday after his mini-stroke, will work from the box rather than the sideline. The Texans have allowed that the setup will be "really unusual" for Kubiak, who prefers to be close to the action and calls most of the team's plays, but is a necessary precaution. The belief is that Kubiak will go back to the sideline shortly. . . . The aforementioned Boldin, traded by Baltimore during the offseason, was used as an example by one AFC personnel executive in discussing how Ravens general manager Ozzie Newsome doesn't often miss in evaluating players and what they've got left in the tank. So was safety Ed Reed, who had zero meaningful plays for Houston before being released by the Texans last week. A few coaches and scouts were surprised that there were actually a few teams, notably New England and the New York Jets, who quickly courted Reed after he cleared waivers. . . . A rookie that NFP touted earlier this year as perhaps the best raw pass-rusher from the 2013 draft, Green Bay first-round end Datone Jones, is starting to come on. Jones has three sacks now, and is beginning to get pretty consistent penetration. The onetime UCLA star isn't in the mold of the Packers' usual 300-pound run-stuffing line monsters, but offers a different dimension for offensive lines to worry about.
+BY THE NUMBERS
*More than one-third of Kansas City's points this season (78 of 215) have come as a result of takeaways. Not too surprising, since the opportunistic Chiefs lead the league in takeaways (23), fewest turnovers (eight) and, obviously, turnover differential (plus-15), while scoring six defensive touchdowns. On the flipside, Denver is minus-2 in turnover differential and minus-31 in points that result from turnovers. Only three teams have more turnovers than the Broncos, who have lost a league-high 12 fumbles, and only three teams are worse in point differential from turnovers.