March 06, 2011 -
Dan Pompei
NFP Sunday Blitz
Regardless of what happens on the labor front, a likelihood exists that NFL offseasons are about to change.
If there is a lockout, teams probably won't be able to hold minicamps, OTAs or offseason workout programs this year. And even if there isn't a lockout, it seems likely that there will be some sort of language in the new CBA that further restricts the amount of offseason activity teams are allowed—especially if an 18 game season is in play.
Which brings us to this question: how much organized offseason work is necessary, anyway? It wasn't that long ago—a little more than 20 years—when players were basically left to their own devices between February and late July with the exception of one minicamp. The offseason truly was an "off" season.
There is no question, however, that offseason programs have given the NFL a better product. "When Jimmy Johnson started us on an offseason program, I know it made us a better team," said Jaguars coach Jack Del Rio, who played for Johnson on the Cowboys. "There is no way the things we do to polish our product don't benefit what happens in the fall."
Subsequently, if there is no offseason in 2011, it will adversely affect what happens on Sundays in the fall.
Offseason programs enable players to better integrate playbooks and coaching concepts. Offseason programs enable young players to feel comfortable in systems, and expose their talents to their coaches. They help develop chemistry between teammates. They keep players in the kind of condition their teams want them to be in.
But a little offseason goes a long way. NFL offseason programs, like some player's muscles, have gotten unnaturally big.
Many teams do not use the full allotment of workout days. The Falcons, for instance, have used 14 of the allotted 19 on-field sessions in recent years, and they also don't ask players to show up for all of the allotted 14 weeks of weight training/conditioning. Using 14 on field sessions has been sufficient, in the estimation of coach Mike Smith.
"It's a long season for the players and you want to try to make the offseason as long as possible to let the guys recover both physically and mentally," Smith told me.
This year, the Jaguars intended on using no more than eight of the 19 allowable on-field sessions. And Del Rio wanted to give his players five weeks of rest between the end of the workout program and the start of camp. "I think I pushed the hell out of the team the last two years, and I said I wanted to pull them back because it will be best for us as a team," Del Rio said. "I want to allow them to rejuvenate so that we are fresher. I figure we could shrink it down, be more efficient, have fewer reps and still hit the things we need to hit."
Offseason programs are particularly advantageous to first year coaches, to young teams or to teams that are enduring significant change. If a lockout wipes out all offseason programs this year, it can be a crippler to complete start-up programs like the 49ers, Broncos and Panthers.
Established teams also will miss offseason work.
These programs benefit every team—in the right doses.
Things I Didn't Used To Know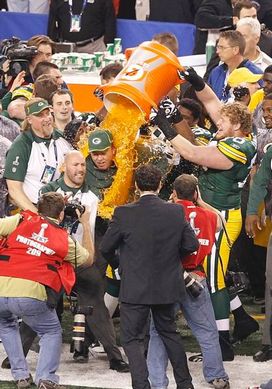 ICONPackers coach Mike McCarthy got more than a Gatorade shower for winning the Super Bowl.
*A lot of head coaches in the NFL are happy to see the kind of coin Packers coach Mike McCarthy is getting. Initial reports on McCarthy's new extension said McCarthy will be paid about $5 million a year. The reality, according to those with knowledge of the deal, is he now will be paid $32.25 million over five years—an average of $6.45 million per season. What's more, McCarthy is scheduled to receive more than half of his money—more than $8 million per year--in the first two years of the deal. The contract was agreed upon the week after the Super Bowl, when McCarthy's leverage couldn't have been higher. He and the Packers had been negotiating throughout the playoffs—including the week preceding the Super Bowl.
*Cam Newton is having a very polarizing effect on teams. Some teams came away from the combine saying they were very impressed with the Auburn quarterback. Others said he performed poorly both in quarterback drills and interviews. About the only conclusions we can draw on Newton at this point is his draft stock—as well as perhaps his personality—remains a volatile.
*Even though Bob Sanders is San Diego bound, the Chargers shouldn't close the door on re-signing Eric Weddle. The team knows Sanders likely won't make it through a full season, and they are going to need another leader in the secondary. Whereas Sanders can be spectacular, Weddle is consistent. Weddle could be the ideal complement for Sanders. He is a reliable tackler who plays with good instincts, but doesn't make a lot of big plays. Weddle frustrated his team by dropping a number of potential interceptions this year, but team management still values him.
*The Dolphins raised a lot of eyebrows when they put the franchise tag on nose tackle Paul Soliai, guaranteeing him about $12.5 million in 2011. Why did the team step out like that on a player who most fans aren't even aware of? My sources tell me the Dolphins surveyed the free agent field and believed there were no other nose tackles close to Soliai in ability. Given the number of teams playing a 3-4 defense, the Dolphins feared Soliai would be the subject of a bidding war. In fact, there were rumblings that the Redskins and Texans coveted him.
*The only things Southern Cal's Tyron Smith did at the combine was get measured (he showed up at 307 pounds—27 pounds more than his listed playing weight, and his arms measured an incredible 36 3/8 inches), go through interviews, and participate in the bench press (he got 29 reps). But that may have been enough to move him to the top of the board for offensive tackles. At least for now. Smith was so impressive physically that he created a buzz without even working out. If he brings it when Southern Cal has its pro day, Smith can secure his place as the No. 1 offensive tackle.
My Sunday Best: Combine Interviews
One general manager told me the interviews at the combine this year overall were better than he ever remembers. Part of this is players are becoming more and more sophisticated about how to interview. And part of it is there aren't as many kids with character concerns as there usually are in drafts. Here, courtesy of a group of NFL executives, is my list of draft prospects who were the best interviews at the combine. Players are listed in alphabetical order.
Jalil Brown, Colorado cornerback. This home-schooled kid impressed NFL teams as grounded and intelligent.
Anthony Castonzo, Boston College offensive tackle. Two things came across—he's smart and he cares.
Marcel Dareus, Alabama defensive tackle. He was outgoing and funny, and cracked up a few interview rooms. Dareus was very likeable and seemed mature.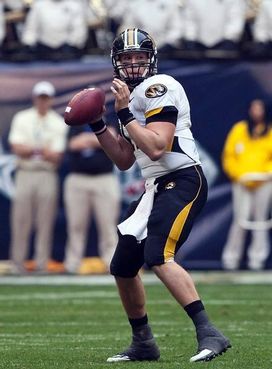 ICONBlaine Gabbert may be more impressive in the interview room than he is on the field.
Blaine Gabbert, Missouri quarterback. He took over the interview room and was the best interview among all the quarterbacks. Gabbert seemed like a natural leader, but he was so polished that one scout wondered how much of his presentation was the result of an interview coach.
Marcus Gilch rist, Clemson cornerback. The impression he left was that he is energetic, competitive and bright.
Julio Jones, Alabama wide receiver. He made it clear football is important to him, and he knows the game. Jones also has an edge to him that NFL teams like.
Colin Kaepernick, Nevada quarterback. He did well on the chalk board and appeared to be a good kid.
John Moffitt, Wisconsin guard. Likeable and smart were words used to describe him.
Danny Watkins, Baylor offensive lineman. He came across as mature and focused. NFL teams love his intangibles.
J.J. Watt, Wisconsin defensive end. He took a very business-like approach to the interviews and was highly impressive.
Scout Talk: Dropping Stock
I surveyed a group of front office men after the combine to see which players had hurt themselves the most in Indianapolis. More defensive backs hurt themselves than players from any other position.
Florida safety Will Hill is in free fall after looking out of control in his positional workout, failing to follow directions well, having a mediocre workout and interviewing poorly. The more NFL teams know about Hill, the less they like him. He isn't exactly Charlie Sheen in shoulder pads, but he's close.
Scouts want to like Hill's teammate Ahmad Black because he's an instinctive safety who shows up on tape. But 5-9 safeties who run the 40 in 4.8 seconds usually don't have a lot of success in the NFL.
Virginia cornerback Ras-I Dowling pulled a hamstring running a 40 at the combine and had to bow out of the other drills. While his 4.40 was pretty impressive, Dowling's day raised more questions about his durability rather than answer questions about his ability.
UCLA's Rahim Moore is the top safety on most boards, but there appears to no longer be much of a chance of him landing in round one. Moore didn't time very well, and he turned off some teams in the interview room too. West Virginia safety Robert Sands didn't look athletic enough to play his position, and some teams are going to be forced to consider him at linebacker.
Another man who might not fit in most schemes is Oklahoma's Jeremy Beal, who appeared to lack the explosiveness to be effective as a down end, given his size limitations, and also appeared to lack the athleticism and speed to play outside linebacker in a 3-4.
Other players who were hurt by slow 40 times include North Carolina cornerback Kendric Burney, UCLA linebacker Akeem Ayers and Wisconsin running back John Clay.
The attitudes of Auburn defensive tackle Nick Fairley and Arkansas quarterback Ryan Mallett did not endear themselves to pro personnel. One coach said he "didn't exactly get the warm and fuzzies" talking to Mallett. Another compared him to Jeff George.
One Man Yelp: The Last Lecture
Good thing about Randy Pausch's The Last Lecture: you can read it on a single plane ride, and it's so small it fits easily in any bag. Better thing about The Last Lecture: it reminds us that life is a gift, and we all should try to live like we are dying.
Pausch is a college professor who is dying of cancer, and he wants to give one last lecture, which really is a touching, humorous and inspirational goodbye to his three children. The lecture is ostensibly about achieving your dreams. But his conclusion is if you lead your life the right way, you won't have to chase them. They'll come to you.
When Pausch asked his doctor how long before he died, his doctor answered, "You probably have three to six months of good health." That brought him back to a stint he had working as a Disney Imagineer. When Disney World employees are asked what time the park closes, they are instructed to answer, "The park is open until 8 p.m." It's the mindset that Disney, Pausch's doctor and Pausch himself are fostering: focus on what you have.
There's even a football tie-in. Pausch writes about how his youth coach used to ride him hard, and how he ended up appreciating it as he aged. He said in his adult life, Coach Graham kept showing up in his head, forcing him to work harder whenever he felt like quitting and inspiring him to be better.
Pausch left a legacy with his book. He died in 2008, but his last lecture will live for many, many years.
Hot Reads
*O.J. Atogwe and LaRon Landry are the most talented pair of safeties in the NFL for the Redskins. But the most talented aren't always the most effective.
*It seems inevitable that Mike Holmgren is going to end up as head coach of the Browns. The team probably would have been best served if Holmgren gone back to the sidelines before he hired Pat Shurmur.
*If Carson Palmer is available—and it's looking more and more like he is—he's the best quarterback on the market.
*I'm not so sure cartwheels and back-flips are in order just because the NFL and the NFLPA have agreed to a seven day extension. But it beats a lockout.
Dan Pompei covers pro football for the Chicago Tribune at chicagotribune.com.