March 17, 2013 -
Dan Pompei
NFP Sunday Blitz
The Super Bowl champion Ravens are finished. They might not win a single game next year. No team could overcome the collective talent loss of Ray Lewis, Matt Birk, Paul Kruger, Dannell Ellerbe, Cary Williams, Anquan Boldin, Bernard Pollard, and possibly Ed Reed and Bryant McKinnie.
That's what the noise says. But that's not what the history of the Ravens says.
They have allowed players to walk year after year, and found ways to reload and remain one of the league's most consistent and successful franchises.
"In this environment you can't keep all your players," Ravens general manager Ozzie Newsome told me. "You just can't. The cap doesn't allow you. We've experienced it over and over. From the owner all the way down, everybody understands."
In fact, a number of the most competitive and smartest teams in the league do business the same way. The Steelers, Texans, Packers and Giants all are familiar with the storyline playing out in Baltimore.
"The reality of our business is that your roster is going to have some changes every year," said Giants Jerry Reese, who has seen Martellus Bennett, Kenny Phillips and Chris Canty bolt. "Every team has to make tough decisions, and you hope you get a whole lot more right than you get wrong. We're all in the same boat."
This is what Texans general manager Rick Smith, who has lost Connor Barwin, and Glover Quin told me about the subject last fall: "You have to look at what you can absorb as far as losing players in terms of where your priorities are, where you are strong and weak."
The Ravens do three things well that enable them to absorb the losses. They identify the players they cannot afford to lose, and they keep them. Newsome, Eric DeCosta, Joe Hortiz and their scouting staff draft as well as any team. And John Harbaugh and his coaching staff develops as well as any team.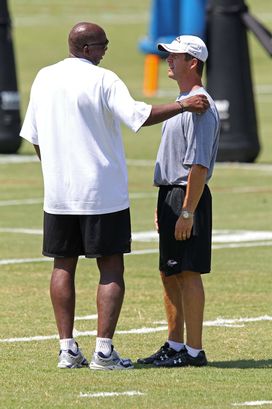 Ozzie Newsome finds the players and John Harbaugh develops them.
This offseason, the money went to quarterback Joe Flacco, and others had to be sacrificed. "What we do is take the select few players we think are difference makers, quality people, leaders, and we keep them," Newsome said. "Because they are the guys who will help the others know what it will take to win and be a professional, what it takes to prepare."
There has been some concern that the Ravens will be without leaders and fiber guys Lewis, Boldin and possibly Reed. But just as they have Jimmy Smith ready to replace Cary Williams at cornerback, they have young leaders ready to replace old ones.
"Torrey Smith knows exactly what needs to be done now," Newsome said. "He had two years with Anquan. He's been mentored by him. Terrell Suggs and Haloti Ngata know exactly what needs to be done. Jimmy Williams and Ladarius Webb, those guys, they know exactly what needs to be done. Jameel McClain, he knows. Ray Rice is now a true leader for this football team. He's already been in that role."
The vacuum created by the departures will create opportunities for others. Those also are opportunities for the Ravens to evaluate young players such as Tandon Doss, a 2011 fourth round pick who has yet to play much. Newsome believes young players will be motivated by the talk that their team will be doomed because they have been promoted to the starting lineup.
Many think this could be the biggest exodus of talent in Ravens' history. Then again, maybe not. "We're getting more attention because we just won the Super Bowl," Newsome said. "But we lose players every year. We just lose players."
In 2002, they lost Shannon Sharpe, Rod Woodson, Tony Siragusa, Sam Adams, Jamie Sharper, Qadry Ismail and Elvis Grbac. In 2011 they lost Derrick Mason, Todd Heap, Willis McGahee and Kelly Gragg. Last year, it was Ben Grubbs, Jarrett Johnson, Cory Redding, Tom Zbikowski and Haruki Nakamura who walked.
The only time they really suffered from the losses was in 2002, when they finished 7-9 after winning 10 the previous year.
The Ravens probably will get the maximum of four compensatory picks for their player losses last year, (those picks will be announced this week) including a fourth rounder. It is likely they will sit down at the beginning of the draft with a dozen picks, and have more flexibility than any team despite having the last pick of the first round.
Then the Ravens will draft players deftly. They will develop them deftly. They will lose some of them. And then they will start the process all over again.
My Sunday Best: Free Agency Winners
Almost every team that has an addition or two feels like a big winner after the first few days of free agency. But some won more than others. Here are my best winners from the first week of free agency.
1. Seahawks—With the trade acquisition of Percy Harvin and the free agent pickup of Cliff Avril, the argument can be made that John Schneider added the most dynamic offensive player and the most dynamic defensive player who switched teams this offseason. Avril and former Buc Michael Bennett, in conjunction with second year man Bruce Irvin, will make the Seahawks' pass rush considerably better on nickel with Bennett presumably shifting inside. The Seahawks should be a significantly improved team in 2013.
Mike Wallace will give Ryan Tannehill a deep threat in Miami.
2. Dolphins--There was some give and take here, as Reggie Bush, Sean Smith, Anthony Fasano and Karlos Dansby departed. But the Dolphins additions more than make up for the losses. Mike Wallace was the plum of free agency, as his five year, $60 million deal suggests. Dustin Keller gives the Dolphins offense another dimension, and signing him weakened a division rival. Brandon Gibson gives them depth at receiver. Retaining Brian Hartline was big too, and the presence of Wallace, Keller and Gibson should make Hartline a more dangerous receiver. Dannell Ellerbe was the best free agent signing that flew under the radar. He is a future star.
3. Chiefs—Nice debut performance by John Dorsey. First, he retained his two most important players with expiring contracts in Dwayne Bowe and Brandon Albert. Then he dealt for Alex Smith, who likely will be the best quarterback to join any team this offseason. Then he added Dunta Robinson, Sean Smith, Mike DiVito and Donnie Avery.
4. Bears—They went into free agency with two gaping holes on their offense, and they filled both of them within hours when they signed tight end Martellus Bennett and left tackle Jermon Bushrod. With limited cap space, they could take some hits if some of their own unsigned players walk. But so far so good.
5. Broncos—They were the best team in the AFC for most of last season, maybe the best team in football. Now they are a lot better with the additions of Wes Welker, Louis Vasquez, Terrance Knighton, Dominique Rodgers-Cromartie and others. Oh, and they retained Ryan Clady with the franchise tag. Losing Elvis Dumervil late in the week was a black eye, but the presumption is the Broncos will make a move for pass rush before long. If not, the Broncos might not belong on this list.
6. Titans—They added quantity as well as quality. Ruston Webster let Jared Cook leave and took a lesser tight end in Delanie Walker. But he upgraded elsewhere. He signed the best guard on the market in Andy Levitre. Shonn Green should be an excellent complementary back to Chris Johnson. George Wilson can help at safety. Sammi e Lee Hill has some potential at defensive tackle.
Things I Didn't Used To Know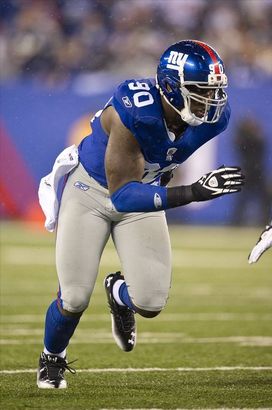 ICONJason Pierre Paul could be lining up on the left side for the Giants in 2013.
*It is expected that free agent Osi Umenyiora will not return to the Giants, so the team is planning to compensate by using its remaining pass rushers differently. Instead of playing a rotation in which three men split the snaps pretty evenly as the Giants did last year, I'm told Jason Pierre Paul and Justin Tuck will get the majority of the snaps. And Giants coaches don't want the ends flipping sides as much. The early talk out of the Timex Performance Center is Pierre Paul may become a full-time left end, with Tuck concentrating on the right side.
*More teams are stressing size at the cornerback position than ever. When the Chargers went CB shopping in free agency, word out of San Diego is they thought about facing Demaryius Thomas and Eric Decker with the Broncos, who both stand 6-3. And then they thought about defending 6-2 Dwayne Bowe and 6-4 Jon Baldwin when they play the Chiefs. That led them to making 6-1 cornerback Derek Cox their No. 1 priority in free agency. They signed the former Jaguar because they like his ball skills and athleticism, but also because he has the height and length to match up with the ever increasing number of big wideouts.
Hot Reads
*Recruiting isn't just for college coaches. Here, from a seasoned NFL agent, are the best recruiters in the NFL.
*Funny that Adrian Peterson feels like he was kicked in stomach when he hasn't been around Ndamukong Sun since the Pro Bowl.
*John Harbaugh gave Jim Harbaugh wide receiver Anquan Boldin for a sixth round pick. No truth to the rumor the trade was tied to a childhood swap of baseball cards in which John always felt he was taken advantage of.
*From now on, the tuck rule should be something that applies to toddlers being securely in bed by a reasonable hour.
*Peyton Manning hasn't been able to get all of Tom Brady's Super Bowl wins, so he settled for getting his favorite wide receiver.
*Did Bud Adams learn to make it rain from his former player Pacman Jones?
Dan Pompei covers pro football for the Chicago Tribune at chicagotribune.com