August 29, 2010 -
Dan Pompei
NFP Sunday Blitz
Players like Sidney Rice can't be replaced like an alkaline battery.
So last week when the Vikings learned Rice would probably miss half the season, they came up with a plan. They started shopping for a receiver who could fill their specific needs without being Rice.
They wanted a smart player who could learn a system quickly. They needed someone who could fit in with an established team. They had to have a taller receiver who could go up and get it. They wanted a player who would run good routes. And they wanted someone with reliable hands.
They liked Vincent Jackson (who wouldn't?), but didn't like his price tag. That led them to Greg Camarillo.
The Vikings studied each of the 163 tape cut-ups in which Camarillo showed up on a play by play sheet over the last two years. One thing stood out: not a single drop. He had 105 catches, and not a single drop.
Hence, their trade of Benny Sapp to the Dolphins for the Stanford product. Now the Vikings have to see if Camarillo can click with Brett Favre. Rice and Favre had something special going.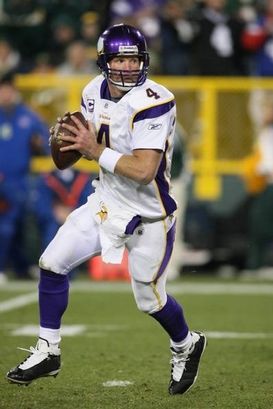 ICONBrett Favre had great rapport last season with Sidney Rice. Will the same be true this season with new addition Greg Camarillo?
"Last year Brett told me, 'I never had a guy like Sidney Rice,'" Vikings head coach Brad Childress said. "I said, 'Come on, you had had Robert Brooks, Javon Walker, Sterling Sharpe.' For some reason, he came in with that mindset. And Sid was a like a little kid going full speed all the time. Brett trusted him on every route. He said, 'The guy has such great presence when the ball is in the air. He's got length. I'm going to throw some up.' He did. There are probably five I can think of that you think, 'Holy cow.'"
Favre also told Childress he struggled to find that player when he was with the Jets. He told him he tried to throw those kinds of passes to Laveranues Coles five times, and he wound up with five interceptions.
Childress told me he has seen Favre trying to throw some up to Bernard Berrian to see if Berrian can be the go up and get it guy. And Berrian has moved over from split end to take some reps at flanker. As has the migraine-plagued Percy Harvin. With Rice never practicing in camp, Childress wanted all of his receivers to have position versatility.
This way, at least he has options.
Things I didn't used to know
*Ravens pass rusher Terrell Suggs could be poised for a big year. He's dropped 20 pounds and is down to 263, and is playing with the same kind of explosiveness he did early in his career when he was a double-digit sacker. Part of Suggs' resurgence is he's clicking with new Ravens outside linebackers coach Ted Monachino — who coached him at Arizona State.
*Perry Fewell plans on reaching deep into his bag of tricks in his first year as Giants defensive coordinator. He's already installed about a dozen packages. Among them are NASCAR, featuring speed rushers Osi Umenyiora, Mathias Kwanuka, Jason Pierre-Paul and Justin Tuck; NASCAR Nitro, featuring five down linemen and only one linebacker; and Big Base, which features three players who normally pay defensive tackle and two who normally play defensive end. Fewell said he will continue to add packages as he discovers what his players can do.
*It appears that the Packers have developed Matt Flynn into a commodity. At some point in the near future, maybe next offseason, they will be able to trade him for a decent draft pick. It would help his value if Flynn played well in a meaningful situation in the regular season. And head coach Mike McCarthy tells me he definitely has confidence that Flynn would play well if given the chance. He said the former seventh-round pick has total command of the Packers offense after just two years in Green Bay.
My Sunday Best: Exhibits in the Pro Football Hall of Fame
I had a chance to tour the Hall this week, with Hall president Steve Perry as my guide. There are so many wonderful exhibits, but these stood out to me. Check them out next time you are in Canton.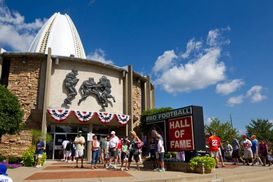 iconPro Football Hall of Fame
*Super Bowl rings. From the most modest (the rings of the Packers of Super Bowl I each had one diamond and .5 carat) to the most opulent (the rings of the Patriots of Super Bowl XXXIX each had 124 diamonds and 4.94 carats), this display shows the evolution of rewards. It also is a reflection of economics in football.
*The shoe display. Gameworn shoes of 13 greats are shown, including Marion Motley's black high-tops, Bobby Layne's square-toe kicking shoe, Walter Payton's tennis-style shoes for artificial turf and Jack Lambert's huge kicks.
*The Lamar Hunt Super Bowl Gallery. There is a display on each Super Bowl, with memorabilia and interesting facts. And on exhibit is the actual Lombardi Trophy that will be presented in the upcoming Super Bowl.
*Evolution of the football helmet. This exhibit features eight helmets, starting with the 1907 leather cap with ear flaps. Also on display is a helmet from 1950 — when plastic first was used.
*The Hall of Fame gallery. Busts of 260 Hall of Famers are on display in a classic setting. You can also look up information on each one. "What I like about this room is there is a reverence when people come in here," Perry said. "It's almost like it's sacred. Everyone gets quiet."
Numbers games: Cost per victory
The Forbes report on the value of NFL franchises includes some interesting numbers.
For instance, last year 22 of the NFL's 32 teams — 69 percent — spent between $133 million and $150 million on player costs, which includes benefits and bonuses. Only six teams (Chiefs, Bucs, Bengals, Broncos, Seahawks and Redskins) spent less than $133 million — and of those, only the Bengals had a winning record. Only four teams (Raiders, Jets, Dolphins and Giants) exceeded $150 million in player costs, and of those, only the Jets had a winning record.
Here is how the NFL stacked up in cost per regular season victory last year.
1. Colts ($10.1 million per victory) With a stable of established stars, the Colts had a relatively modest payroll of $142 million.
2. Saints ($11.5 million). It was $150 million well spent by Mickey Loomis.
3. Chargers ($11.5 million). It's going to be very challenging for the Chargers to keep that number so low moving forward.
4. Vikings ($11.6 million). Without Brett Favre, this number probably would have been closer to $15 million.
5. Bengals ($12.2 million). Marvin Lewis, who wields considerable power in the Bengals organization, clearly did a fine job.
6. Eagles ($12.8 million). This team manages the cap well and gets a lot out of its roster.
7. Cowboys ($13 million). This is a pretty impressive number given all the talent the Cowboys have.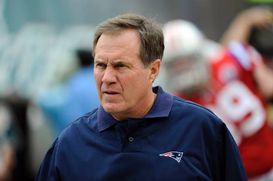 ICONNew England head coach Bill Belichick
8. Patriots ($13.3 million). You probably would have guessed the Pats had a higher payroll than $133 million.
9. Packers ($13.3 million). The only team without a true owner spent $147 million in player costs.
10. Cardinals ($14.6 million). This year the Cardinals kept their player costs down by losing some stars, but they won't be as cost efficient if they don't win.
11. Falcons ($14.8 million). They were the most cost-efficient team that did not make the playoffs.
12. Ravens ($15.3 million). Spending $138 million on that talent was pretty shrewd.
13. Steelers ($16.3 million). Year to year consistency is the hallmark of the Steelers.
14. Panthers ($16.4 million). Player costs might be down this year, but victories might be harder to come by
15. Texans ($16.6 million). With $150 million in player costs, the Texans needed to win more than nine games.
16. 49ers ($17 million). Player costs were in check at $136 million, but unfortunately victories were as well.
17. Broncos ($17.7 million). This wasn't a terrible number considering it was the first year of a new regime.
18. Titans ($17.7 million). They weren't big spenders, but they weren't big winners either.
19. Jets ($17.7 million). They were the worst-ranked playoff team, thanks to $160 million in player costs.
20. Jaguars ($19 million). Both the player costs ($133 million) and the victory total (seven) were on the low side.
21. Bears ($20.5 million). It's possible the Bears will win more but not improve this number much because of the additions of pricey Julius Peppers and others.
22. Giants ($20.7 million). They spent more than any other team on player costs — $166 million, but didn't even make the playoffs.
23. Dolphins ($23.4 million). This was another team that spent big — $164 million — but didn't win enough.
24. Bills ($23.6 million) Finishing 23rd might have something to do with the Bills having a new general manager and head coach this year.
25. Browns ($25 million). It's hard to be efficient at cost per victory with only five wins.
26. Seahawks ($25 million). See Browns.
27. Chiefs ($27.7 million). Player costs under Scott Pioli were lowest in the NFL — $111 million, but the rebuilding Chiefs won only four times.
28. Raiders ($31.2 million). Hard to believe the Raiders spent $156 million on players, isn't it?
29. Redskins ($31.5 million). The surprise is Daniel Snyder spent only $126 million on players.
30. Bucs ($39.3 million). The problem wasn't the $118 million in player costs — it was the three victories.
31. Lions ($69.5 million). Look at the bright side — they improved from the previous year.
32. Rams ($136 million). The reward for their efforts — they were forced to spend $78 million or more on untested Sam Bradford.
Scout talk: Paring down the roster
This is an uncomfortable time for front office men. The reason is they are starting to sift through the numbers on their rosters and are close to the point when they will have to cut players they have been advocates for and have invested time and money in.
"You spend all this time building up the roster and nurturing it, getting everything right," Packers general manager Ted Thompson said. "And then you start to dismantle it. It's a tough thing."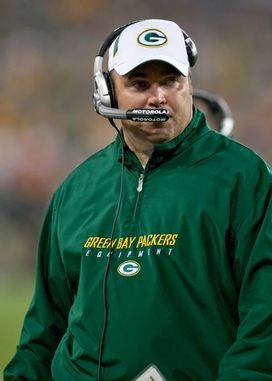 ICONGreen Bay head coach Mike McCarthy
Different teams go through the process in different ways. Usually, the general manager, head coach, assistant coaches and pro personnel men have a string of discussions about how each player is progressing and about how the overall roster is coming together. Thompson and head coach Mike McCarthy talked personnel about three times a week during training camp. Having a consensus always is the preferred goal, but not always possible.
The college scouts usually are in training camp for the first couple of weeks before they take off for campuses. Some teams will ask each of them to write a report on each player at a position.
General managers try not to have preconceived notions about who will comprise the final roster as they go through camp. "I wouldn't say I have a 53 in my mind because I don't want to disappoint myself," Giants general manager Jerry Reese said. "Injuries come into play. I really don't think about the 53 until the last week of preseason, because we don't know who will be on our team at that time."
From experience, Thompson knows some players will surprise him and work their way into the mix. Others may disappoint him.
Thompson and Reese, like many general managers, have final say over the 53-man roster. But that doesn't mean it's going to be their way or the highway.
Reese likes to go into the final meeting before determining the 53 not knowing who is going to be cut. That is an indicator his depth is strong.
The key to the process is keeping an open mind and open lines of communication.
One man yelp: Beatles
On one of my recent training camp trips, I picked up a copy of Rolling Stone: The Beatles 100 Greatest Songs. It was good airplane reading for a Beatlemaniac like me. Interesting nugget I didn't know: John thought Paul wrote Get Back about Yoko, in part because every time he sang "Get back," in the studio, he looked at Lennon's bride.
You can debate which songs were the band's greatest all day. It's really an impossible task, but I decided to try it. I didn't even include the magazine's top five (A Day in the Life, I Want to Hold Your Hand, Strawberry Fields Forever, Yesterday and In My Life). So allow me to start the debate with my top 10.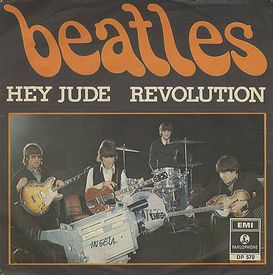 1. Hey Jude. It was No. 1 on the charts for 19 weeks. How could Rolling Stone rank it only No. 7?
2. I Saw Her Standing There. This is early Beatles rock and roll at its finest. Rolling Stone put it at No. 16.
3. Let It Be. Lennon made fun of McCartney's gospel sound, but no one else did. Rolling Stone said it was No. 8.
4. Here Comes The Sun. A classic by Harrison, this still gets heavy airplay every spring. It's No. 28 on the Rolling Stone list.
5. All My Loving. Rolling Stone put it at No. 44, but is there a song that better defines the exuberance of Beatlemania?
6. I Feel Fine. An underrated song that was mostly Lennon, and mostly out of character for him. Ranked 42nd by Rolling Stone.
7. Don't Let Me Down. This is a raw, emotional Lennon at his best in a stripped down cry to Yoko. It's No. 46 in the magazine.
8. Something. Pattie Boyd inspired some of the greatest songs ever — including this one, ranked No. 6 by Rolling Stone.
9. Got To Get You Into My Life. You have to love McCartney with a rocker's voice and a big band's horns. Rolling Stone says it's No. 50.
10. I've Got A Feeling. Rolling Stone ranks it 64th and says it was Lennon and McCartney's last great moment as a songwriting team.
And there were about 25 strong contenders for No. 11.
Hot reads

*One of the offshoots of Hard Knocks might be making Jets offensive coordinator Brian Schottenheimer a sought-after candidate for head coach openings. Schottenheimer's leadership ability has come ac ross on the show.

*Instead of requiring teams to cut rosters from 80 to 75 on Tuesday, the NFL should have just one cutdown from 80 to 53. It's not as if there is time for teams to acquire players who are let go Tuesday and get them on the field for the last preseason game for a decent evaluation anyway.
*It's better to see an umpire slow down a no-huddle play than to see an umpire laid out by a pulling guard. But the NFL might want to take a look at the new positioning of umpires.

*The Redskins furthered their reputation as an organization you wouldn't want to work for when they dismissed public relations man Zack Bolno — one of the best in the business.
Email Dan Pompei your questions at dan.pompei@nationalfootballpost.com.