April 15, 2012 -
Dan Pompei
NFP Sunday Blitz
As the NFL has changed the way player with concussions are treated, many teams are changing the way they view draft prospects with concussion histories.
Those players ultimately could less value to their teams, and they subsequently are being downgraded more harshly than ever before on many draft boards.
"The sense of awareness has been heightened for concussions," Dolphins general manager Jeff Ireland told me. "So we talk about it a lot."
There is more than just talk going on in draft rooms, however. Multiple front office men said their teams have begun designating players with concussions the same way they designate players with off field issues. They also are spending more time investigating those players' medical situations.
There is more information about players with concussions than ever before because colleges are taking them more seriously too. "Concussions are documented more, and there is more information about each one," a personnel director said. "Eight years ago, there were no baseline tests done. Now everybody has one."
Information about concussions still can be incomplete, however. Some players still do their best to hide symptoms. One front office man I spoke with said he thought one prospect he interviewed was trying to hide the truth about his head injuries.
Players with previous concussions are believed to be at greater risk for more concussions. It used to be teams could treat concussions however they saw fit, and send the player back out to play at their discretion. That is no longer the case. A player with a concussion history who suffers a new concussion could be forced to sit out for an extended period of time.
"It's become difficult to take someone with multiple concussions because the likelihood of getting another concussion increases when they have had multiple ones," a second personnel director said. "Now league policy factors in. Now you are forced to have players with concussions miss multiple games, or shut them down for the season. That didn't used to be the case. That affects the players' values.
"It's similar to a guy with multiple failed drug tests. You have a good idea that eventually he'll face a suspension and miss multiple games, so you factor that into your draft grade."
Or, you decide not to draft the player at all.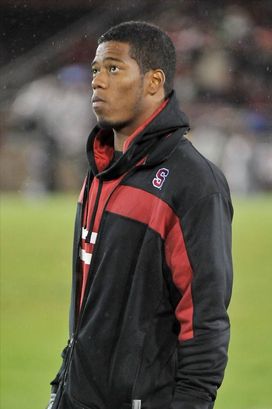 Chris Owusu on the sidelines is not an unfamiliar sight.
It will be interested to see where Stanford receiver Chris Owusu is drafted. He suffered three documented concussions in 13 months, including two last season. He has been cleared to play by a neurosurgeon, but it is inconceivable that his medical file will not affect his draft stock.
Before the injuries, Owusu was an outstanding kick returner and a dynamic receiver. At 6-0, 196, ran a 4.31 40 yard dash at the combine. But his play dropped off significantly last year. One scout said something was missing in his route running and separation. Some suspect the head traumas had something to do with how he performed.
"If he was the player he was three years ago, I'd be excited," an NFC general manager said. "This year I didn't see it. I don't really know who he is."
There is a chance he could develop into a fine starting wide receiver in the NFL. But there also is a chance many NFL teams will not be willing to take a gamble on Owusu.
"He's been cleared medically, but in today's climate you have to have doubts," a college scouting director said. "You have to try to stay away from those issues at least in the first three rounds."
This much you can bank on: Owusu's draft stock in 2012 will be lower than it would have been had this been 2002. Times have changed.
Things I Didn't Used To Know
*One of the players who has risen the most in recent weeks is South Carolina cornerback Stephon Gilmore. At one point he was considered the third cornerback behind Dre Kirkpatrick. Now he not only has passed Kirkpatrick, but he also has risen to the point where he could be a top 10 pick. Gilmore worked out well at the combine, has all the qualities teams look for in a cornerback and is relatively clean. There is no reason for him not to be chosen pretty high.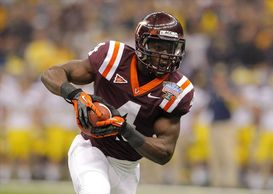 ICONDespite his lack of size, David Wilson gets yards after contact.
*Teams looking for a physical running back in the draft will be drawn to the likes of Trent Richardson, Doug Martin and Chris Polk. But perhaps they should not discount David Wilson. Because the Virginia Tech RB is 5-9, 206, he has been considered a change of pace back or third down specialist by some. Little known fact: he had more yards after contact than any runner in the country. According to STATS X-Info, Wilson had 990 yards after contact last season, or 267 more yards than Richardson, who was seventh in the country. The X-Info is being used by several teams in preparation for the draft as part of the ICE system, a personnel management and player evaluation system.
*A buzz is building in NFL front offices that the Eagles are going to take a quarterback fairly high. If they don't make a move for Ryan Tannehill in round one, the Eagles could wait until the second round and go after Kirk Cousins or Brandon Weeden. Such a move could indicate the Eagles have concerns about Michael Vick's ability to stay healthy and how he fits in Andy Reid's offense.
*All the focus in the Broncos' backfield has been on Peyton Manning, but another player could be getting quite a bit of attention come September. One of my sources inside the team headquarters at Dove Valley tells me to keep an eye on Mario Fannin. The 2011 undrafted free agent ran a 4.37 40-yard dash at the combine and weighs 235. He was the team's best running back in camp last year until he suffered a season-ending ankle injury. The Broncos have high hopes for Fannin, and wouldn't be surprised if he played a major role in 2012.
*A team that doesn't get a starting caliber guard in the draft might have a nice consolation prize in Eric Steinbach. The former Browns guard missed the 2011 season after having surgery to remove a disc fragment from his spinal nerve and was cut earlier this offseason. Steinbach is expected to be ready to work out for teams in about a month or so, which could be perfect timing. Among the teams that could be in the market include the Chargers, Seahawks, Ravens, Bears and 49ers.
My Sunday Best: Small School Prospects
If we were drafting only players who went to small schools, this is the order in which they could go off the board, according to front office men I've spoken with. Here are my best small school prospects.
1. Janoris Jenkins, CB, North Alabama. Round: second.
The transfer from Florida is a first round talent, but some teams have crossed his name off their boards and others have downgraded him because of character concerns. Jenkins is athletic, tough and has ball skills but is considered a wildcard in the draft.
2. Trumaine Johnson, CB, Montana. Round: second.
Teams that run a zone scheme and prefer big, physical corners who can break up passes will love Johnson. He is a bit inconsistent and green, but the skill set is there.
3. Josh Norman, CB, Coastal Carolina. Round: second.
This is a tall, athletic corner who can run and play some man-to-man or zone. He helped himself at the East-West game. He might be difficult t o teach, but if a coach can get through to him, Norman can be a fine pro.
4. Amini Silatolu, G, Midwestern State. Round: second.
He was a dominant left tackle at his level but is probably going to be moved inside by an NFL team. Silatolu is a little raw and needs technique work, but he is athletic and has as much potential as any guard in the draft.
5. Brian Quick, WR, Appalachian State. Round: third.
His athleticism and size bodes well for his NFL future, but he will need some time to get used to the competition. Quick never was asked to run complex routes in his team's offense, so he has a lot to learn. One scout said, "The sky is the limit, but will he take the jump?"
6. Asa Jackson, CB, Cal Poly. Round: fourth.
One scout said he looked better during the season than he did against better competition in the Senior Bowl. But Jackson does have good quickness. He could be able to have a quick impact as a punt returner.
7. B.J. Coleman, QB, Tennessee-Chattanooga. Round: fourth.
Strictly a developmental prospect, some teams think the Tennessee transfer has to mature as a player and person. He did play impressively at times. He can throw for distance and with accuracy.
8. Tom Compton, G, South Dakota. Round: fifth.
He has come on during the postseason, in part because he performed well at the East-West game. Compton might have positional versatility to play outside or in. He has the size and athleticism it takes to develop into an NFL player.
9. Ryan Steed, Furman. Round: fifth.
He has some of the traits NFL teams look for, but scouts I spoke with are split on him. Steed needs to show he has the movement skills to match up with NFL wide receivers.
10. Janzen Jackson, S, McNeese State. Round: fifth.
This Tennessee transfer may be able to play cornerback or safety in the NFL. He has the speed, explosiveness and hitting ability to succeed at the next level. The off the field issues that were behind his transfer may prevent him from ever reaching his potential, however.
Scout Talk: Pro Day Revelations
Pro days can be dangerous because what NFL teams learn in March can clutter minds and distract from the truth of the tape. But in some circumstances, pro days can be very helpful. NFL front office men told me the pro days of these prospects were particularly enlightening.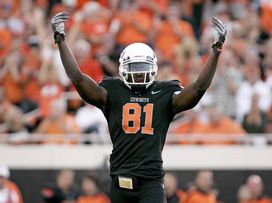 Justin Blackmon scored a virtual touchdown at his pro day.
Justin Blackmon, Oklahoma State WR. It is difficult for a team to justify taking a receiver in the top five unless that receiver has sufficient speed. And there were some questions about how fast Blackmon was. After sitting out at the combine with a hamstring injury, Blackmon answered those questions with a 4.46 40 yard dash at his pro day.
Brandon Brooks, Miami of Ohio G. He inexplicably was not invited to the combine, and he showed what a mistake that was by lighting up his pro day workout. At 346 pounds, Brooks showed he is athletic as any guard in the draft.
Vontaze Burfict, Arizona State ILB. He bombed at the combine and failed to help himself at his last chance at redemption, his pro day. Burfict did not appear very athletic in position drills. He refused scouts' request to run another 40-yard dash after running a 5.09 at the combine. At his pro day he bench pressed 225 pounds 16 times, which would have placed him 27th among linebackers at the combine.
Leonard Johnson, Iowa State CB. After running a 4.71 40-yard dash at the combine, Johnson was in danger of falling to the bottom of the draft, or out of the draft. But he saved himself with a 4.51 40 yard dash at his pro day.
Stephen Hill, Georgia Tech WR. He followed up an outstanding combine workout by impressing scouts and coaches in his positional drills at his pro day. This was critical for Hill because he was allowed to run pro style routes that he never had a chance to run in Georgia Tech's triple option offense. One front office man said Hill showed an ability to get in and out of breaks that he had never seen on tape.
Whitney Mercilus, Illinois DE. By moving smoothly in linebacker drills, Mercilus opened up his market to include 3-4 teams as well as 4-3 teams. He also improved his time in the three cone by .14 seconds.
Ryan Tannehill, Texas A&M QB. He created a buzz and showed he can hang with Andrew Luck and Robert Griffin III from a physical standpoint by completing 65 of 68 passes and running a 4.62 40 yard dash. He didn't do anything at the combine, so his pro day undoubtedly inflated Tannehill's stock.
Kendall Wright, Baylor WR. He stabilized his draft stock after his speed came in question at the combine. Wright improved his 40 yard dash to 4.42 seconds at his pro day.
Jerel Worthy, Michigan State DT. With the pecking order of defensive tackles not yet clearly defined, Worthy took full advantage with a solid pro day workout. He might have even cemented a spot in the first round.
Kevin Zeitler, Wisconsin G. A really strong positional workout probably locked in Zeitler as the No. 2 guard, and even gave him an outside chance of going in round one.
Hot Reads
*Just when you think hard work and loyalty aren't appreciated anymore, along come the Bucs with a $35,000 check,